This last summer after the 2011 VSCA National Show in Billings Montana,
Perry Hesteness/WSVSA President & Vintage Sled extraordinaire from Southern Idaho
called me and when I picked up the phone he said.....
" hey Dudeman, I picked up a TX 440 for ya today!"
The conversation was right up my ice oval and we spoke back and forth about
how cool it would be to put a PDC hood on this unit along with some other mods.
If you have ever seen any sleds that Perry Hesteness owns and restores, they
are always quite detailed and complete. Doesn't matter if he does them stock original
or mods them with customization, "Perry's Sleds are Very Sweet Eye Candy".
Since then, I have been tickled Red White and BLUE !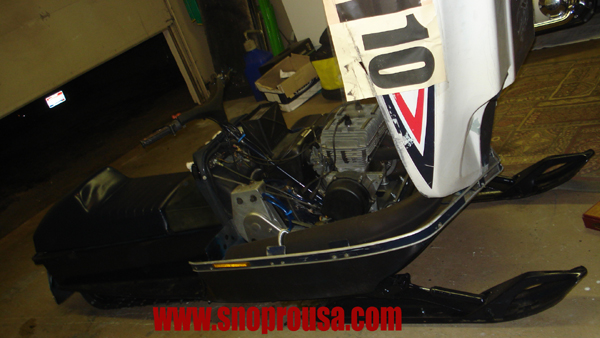 1976 Polaris TX 440 back from the race this January. Perry put's on his thinking cap and begins
planning the process to make a sweet modified / restored rider sled for Sno Pro USA.

---
PROJECT:POLARISTX "Four Four Oh!"
GOAL: Refresh / Modify to achieve the classic Polaris Race
look and maintain reliability of the TX for riding anytime & anywhere.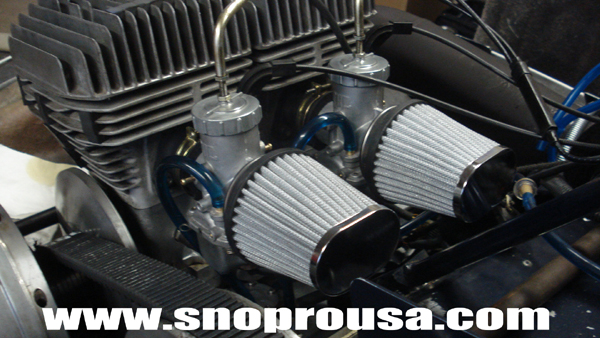 Bigger Mikuni Carbs, Clutch Rebuild and Fine Tuning.
Research and Time.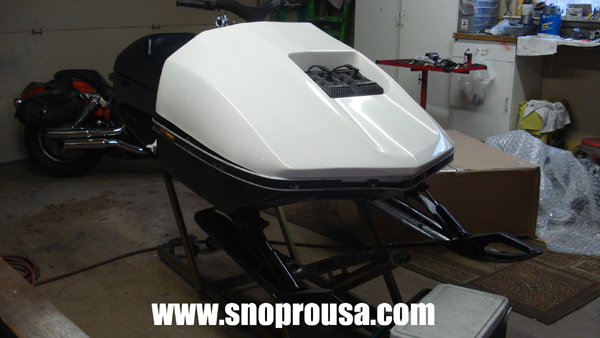 PDC Hood fitted to the original Polaris TX Belly Pan.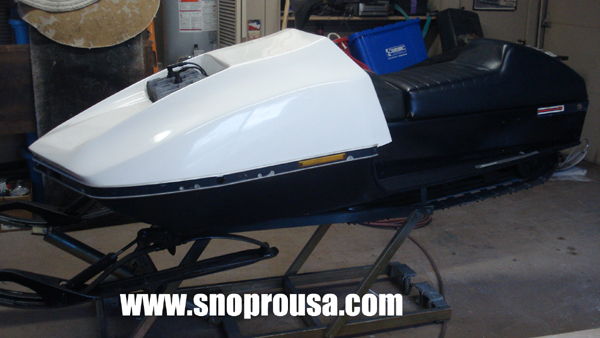 After the hood is fitted, Perry decides to shoot the entire hood with fresh white paint
then shoot the Midnight Blue Express painted section around the engine hole.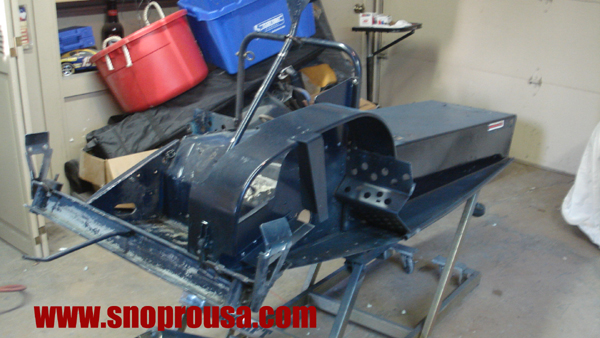 The TX is disassembled and prepped for paint.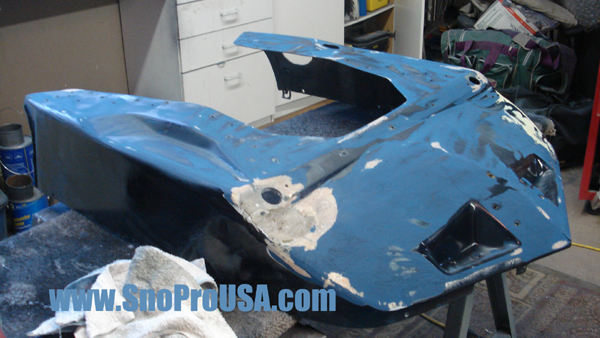 1976 Polaris TX Belly Pan gets the grinder !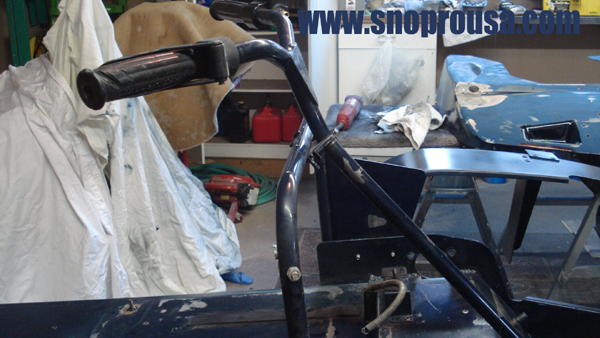 The classic 70's "Arctic Cat" Sno Pro bend to the steering shaft.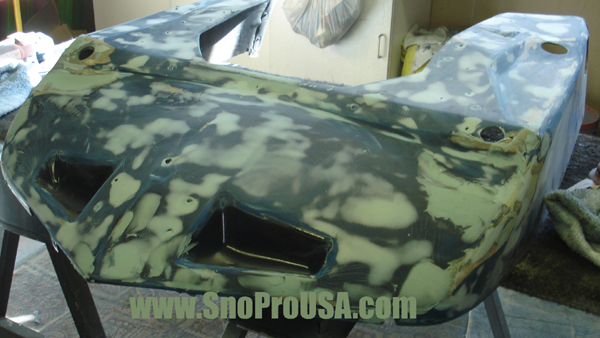 Fiberglass Dope & Sand, then Fiber Glass Dope & Sand some more.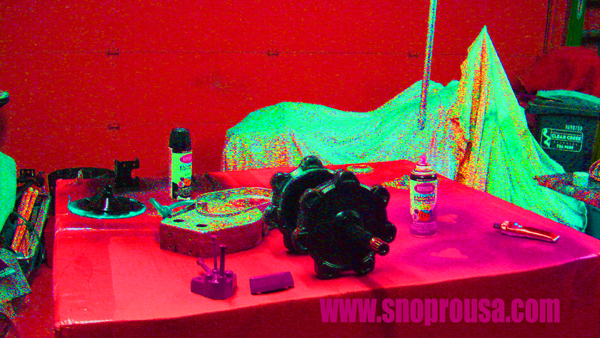 Chain Case, Disc Break, Caliper, Cog are all scrubbed and freshened up !

Bearings & Fabrication !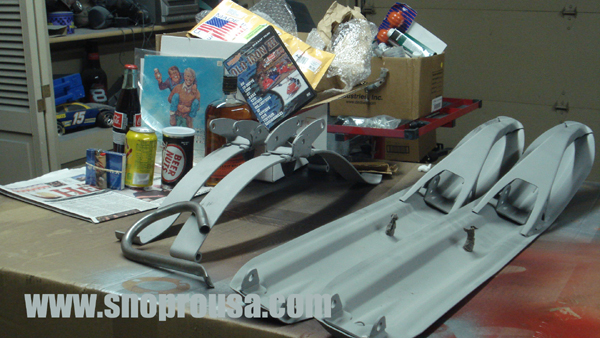 The Polaris TX Starfire Shovel Head Skis. Just like the 1974 Polaris Race Promo back in the day.
Add a Starfire H-Bar loop them some Beer Nuts and Hang On !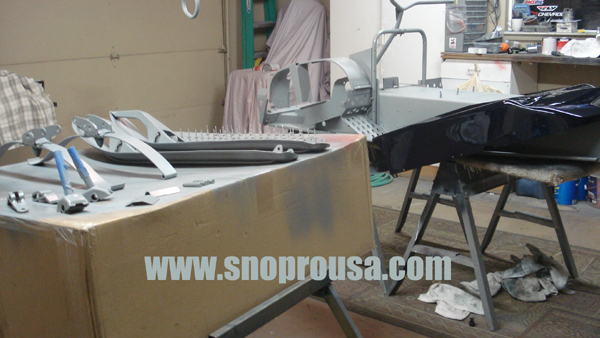 Primer on the skis, spindals and chassis.
The belly pan is now fresh with PURE POLARIS BLUE !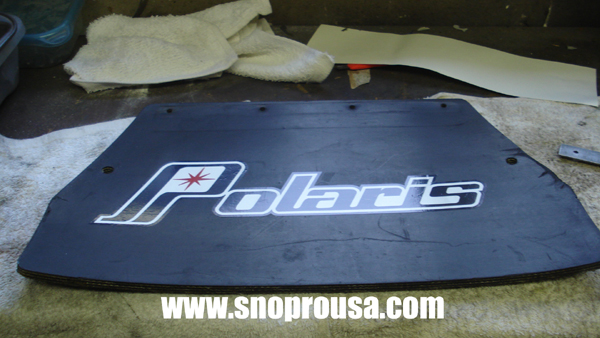 Scrub up the Snow Flap and then the new decal is applied.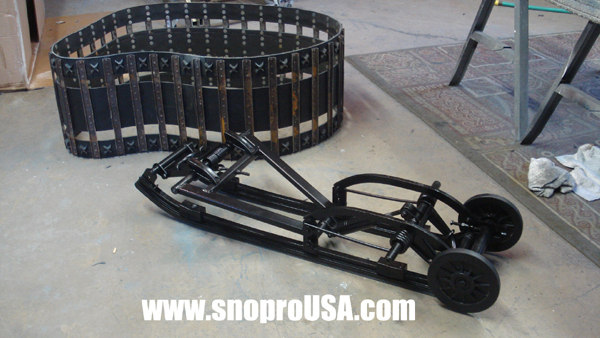 New Bearings and lube with some black paint for the TX Suspension.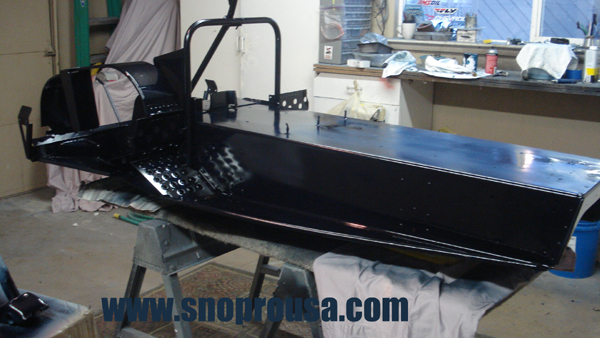 The Chassis & Bulkhead First Coat of BLUE !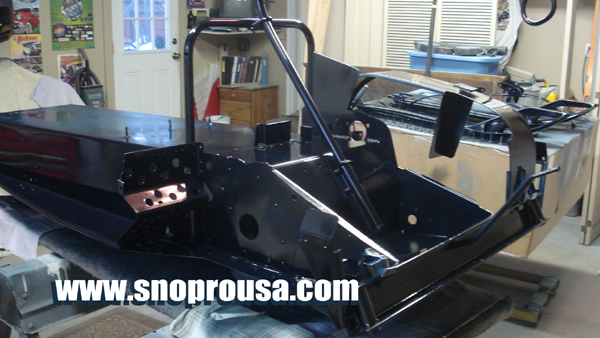 Looks like a Factory 1976 now !


Skis assembled and fresh Chrome Shocks just like back in the day.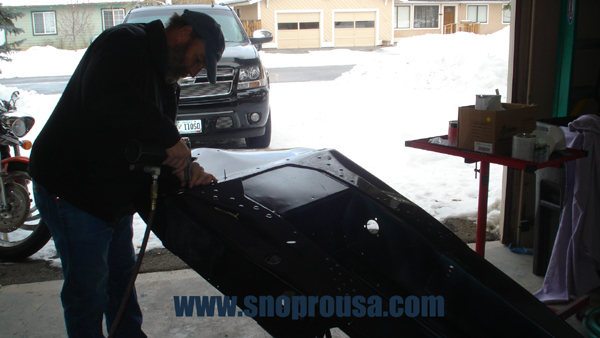 Gary mounts the belly pan.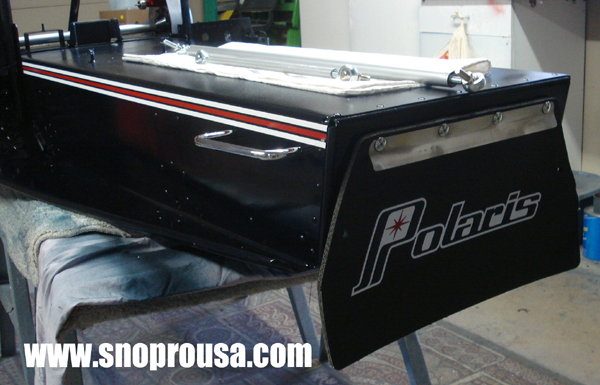 The back bumper was deleted and the TX Starfire side handles were added.
Fresh steering rods and ends are ready for intallation too.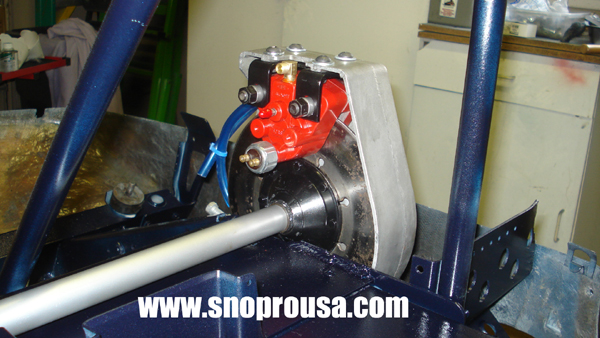 Chain case, jack shaft, brake caliper installed.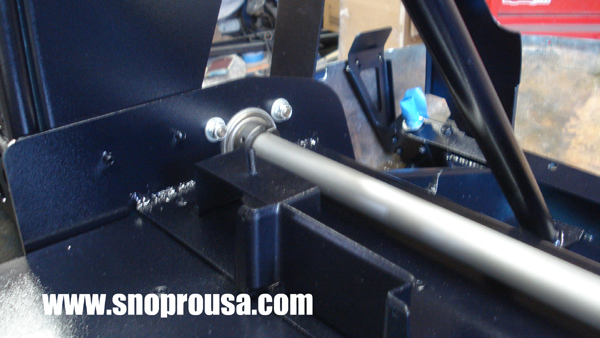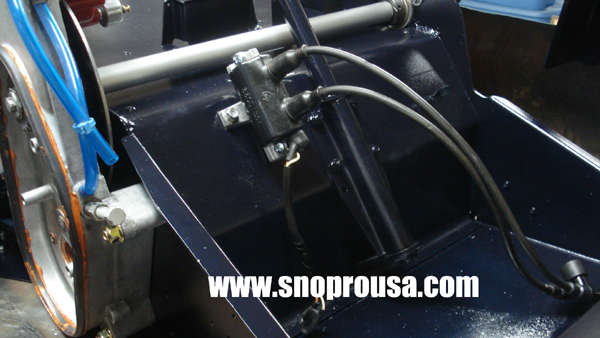 Ignition !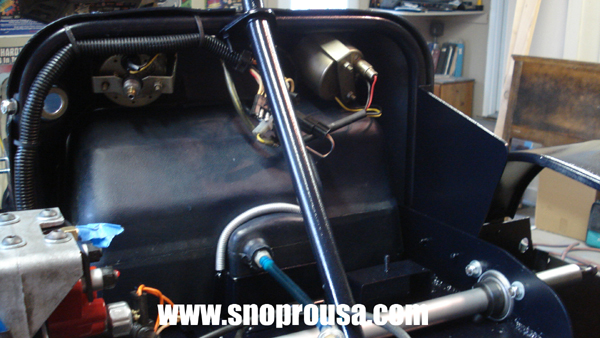 Original 1976 Polaris TX Dash and Fuel Tank back in place.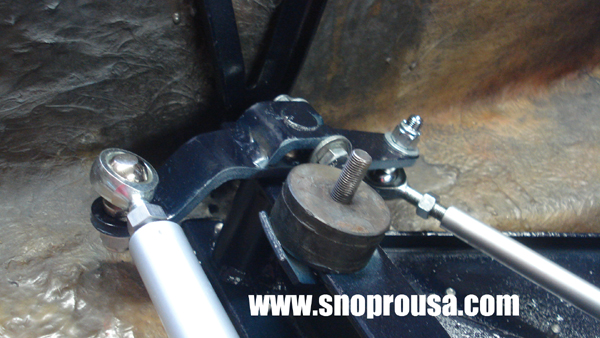 Fresh front end parts for "ultra" tight steering and control.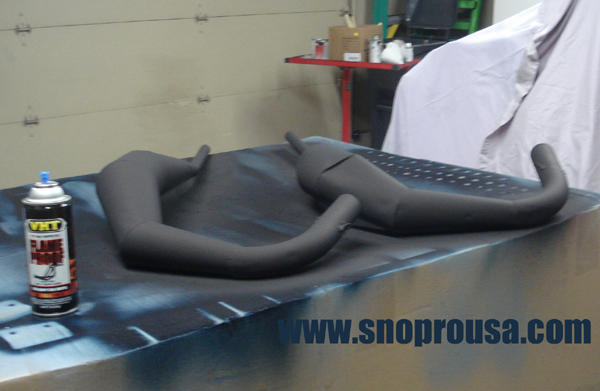 Vintage ENDO pipes for Polaris TX 440's sourced and restored !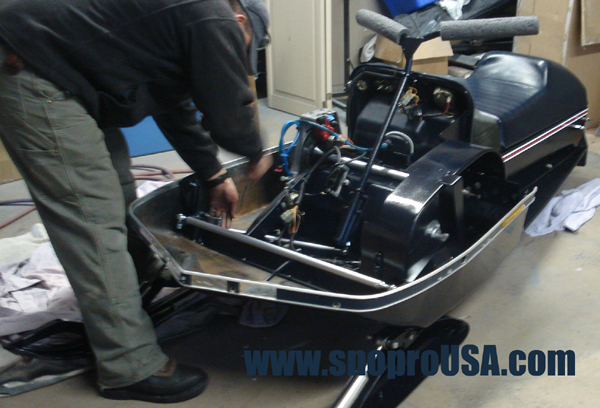 On the ground for the first time for final adjustments before engine installation.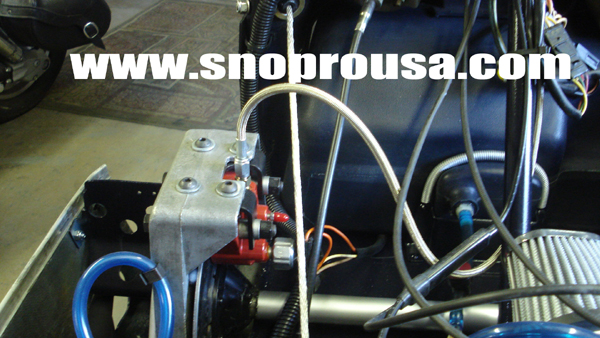 Steel Braided Brake Line.

The hood with fresh white and midnight blue paint is fitted.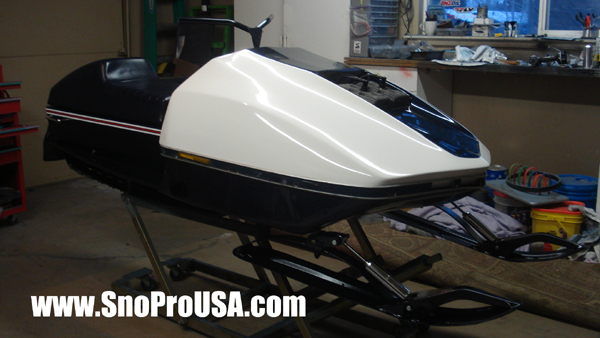 In less than 20 days this unit is now ready for the finals.
Decals, pipes, brakes and throttle and the clutch set up session.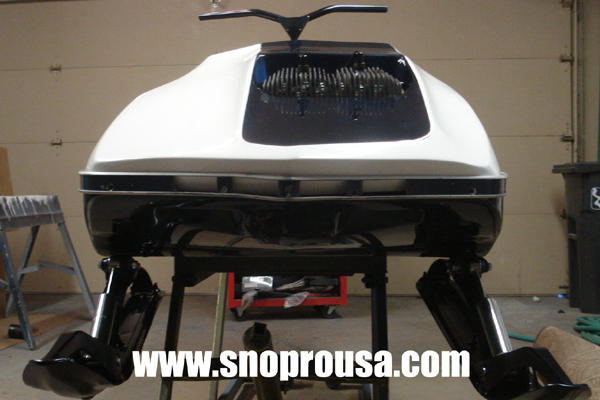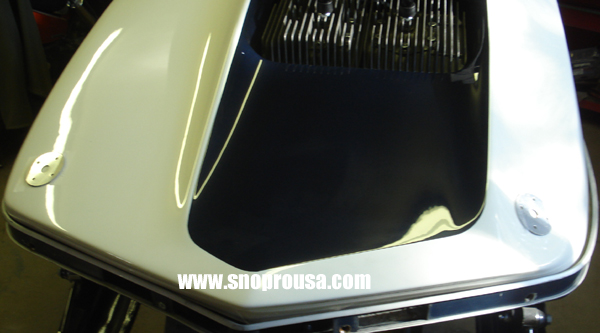 Bracket Fabrication Time !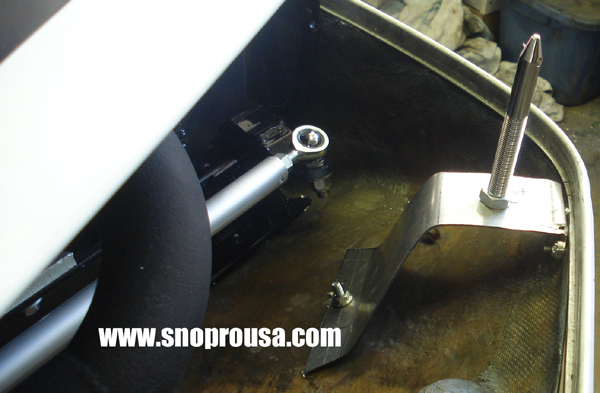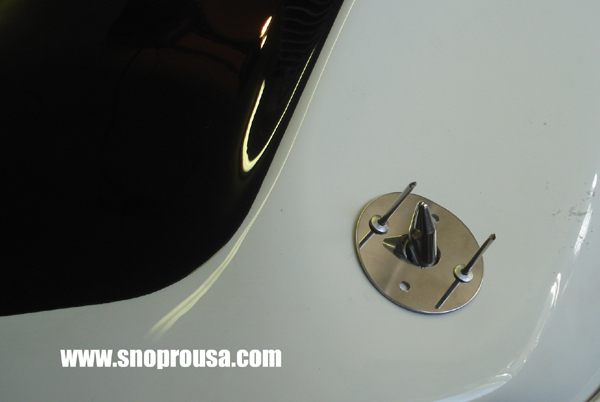 Next Step Decals and Finish Touches,
Load into Trailer then roadtrip to Pomeroy Washington....

---
10th ANNUAL
Mount Misery Snowdrifter's
Vintage Snowmobile Show-N-Ride
Pomeroy, Washington - ROSE SPRINGS SNO PARK
February 18th, 2012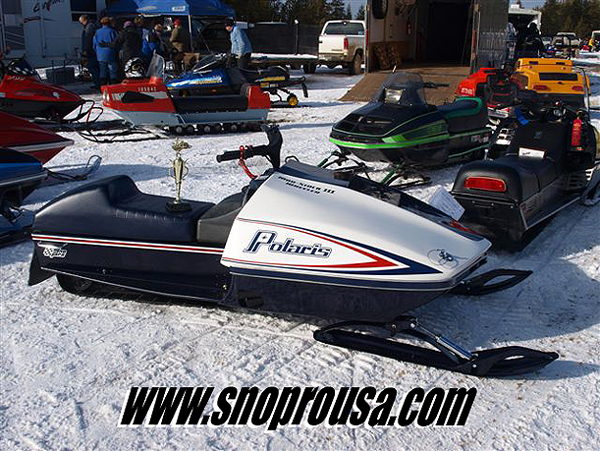 2012 WINNER - Race Sled
NAME: Joel Wheeler
MODEL: 1976 TX MOD STOCK III Custom
MAKE: Polaris
CLASS: Race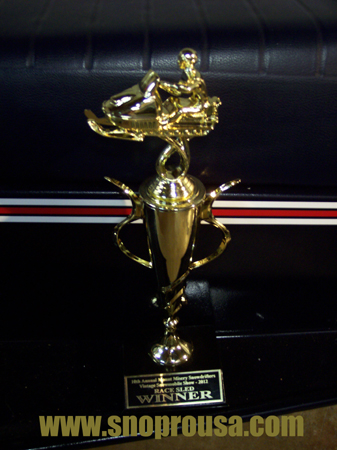 Thank You Willie & Emily Ruchert
Special Thanks to Perry Hesteness

---
A POLARIS IS BORN !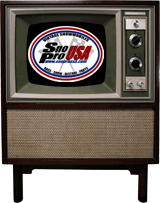 ~Delivery Session~
click above for video
---
Now time for some Finishing Touches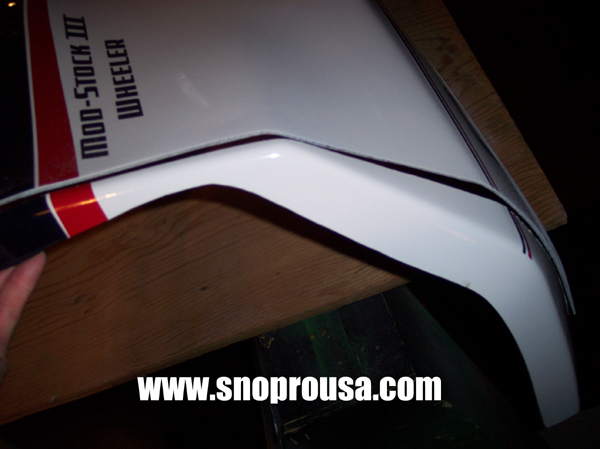 Add the rest of decals, then cut the back of the hood.
1975 Polaris PDC Red Stripes on the sides of the Blue Paint.
# 75
Champion Spark Plug decals were common on the Factory Race Sleds.
Sand the edge with a little 400 grit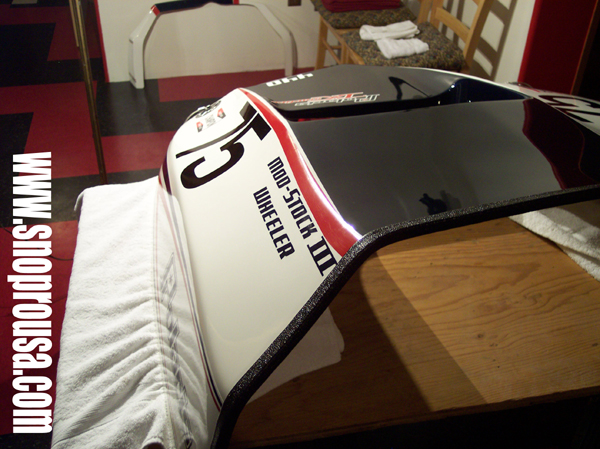 Rubber edge fitted into place.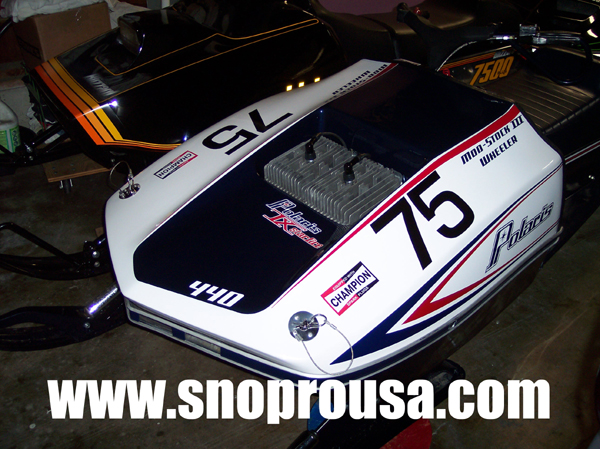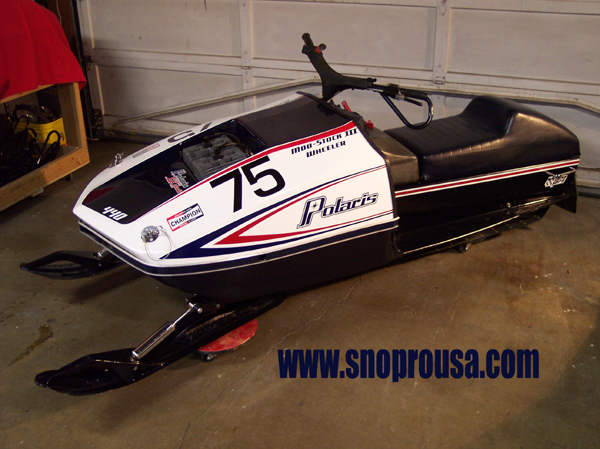 This Sno Pro USA Unit is custom made from an original 1976 Polaris TX 440.
The original 1976 Starfire Seat, Chrome Tunnel Grab Handles & the Starfire Handlebar Loop
were added. These items were on the 1976 Polaris TX Starfire 250's & 340's.
In '76 Polaris didn't make the "Starfire" version of a TX in the 440 Class.
Additional Performance parts include:
Bigger Mikini Carbs
Modified Original Polaris Clutch
Endo Twin Pipes
1975 Polaris PDC Twin Hood.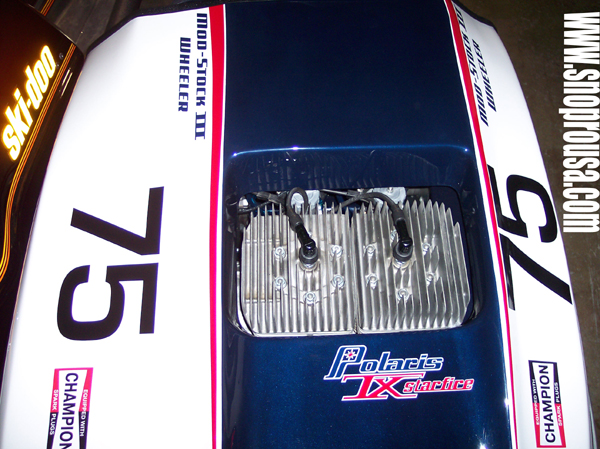 Pre-Midnight Blue Express. . .
PURE Polaris Blue with low-fi metal flake.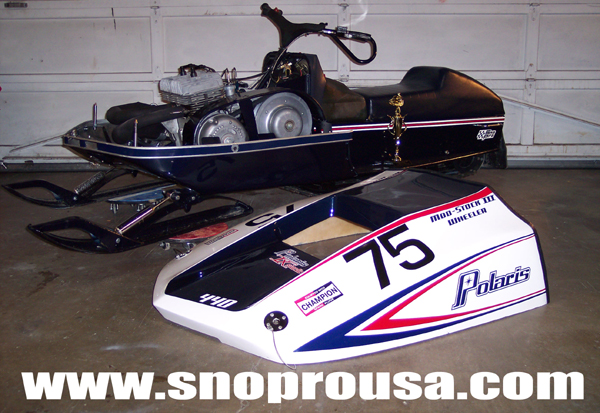 Under the Hood !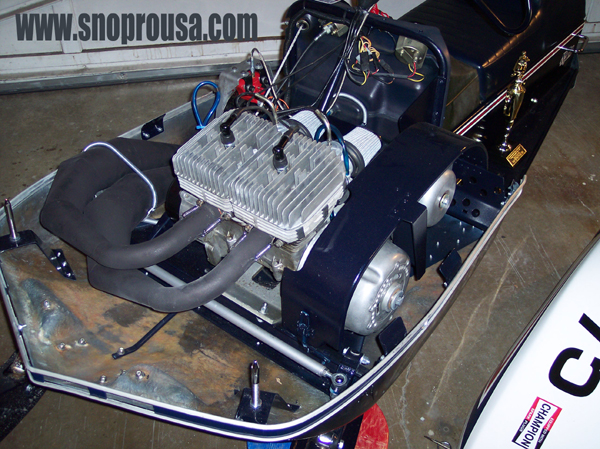 Original ENDO Pipes from back in the day. [ pre Aaen ]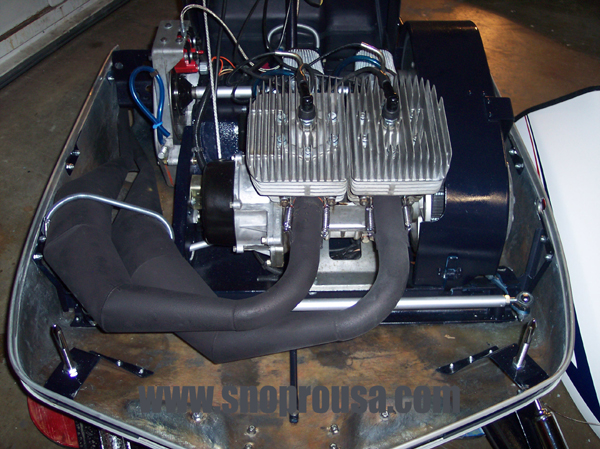 Clean and Simple !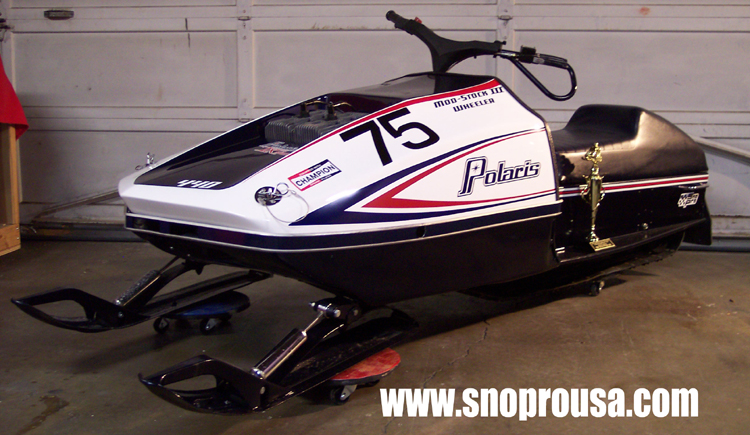 "Ain't She Sweet"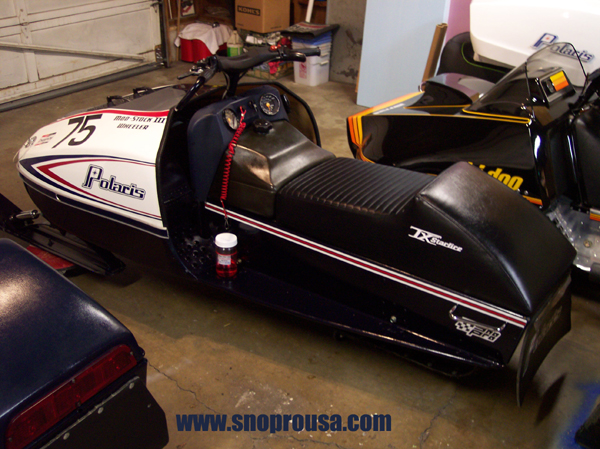 TX Starfire PDC with the new seat from Conrad Van Batavia
SEATS BY CONRAD
Specializing in Exact Duplicate Restorations for Vintage Snowmobiles
csvan@arvig.net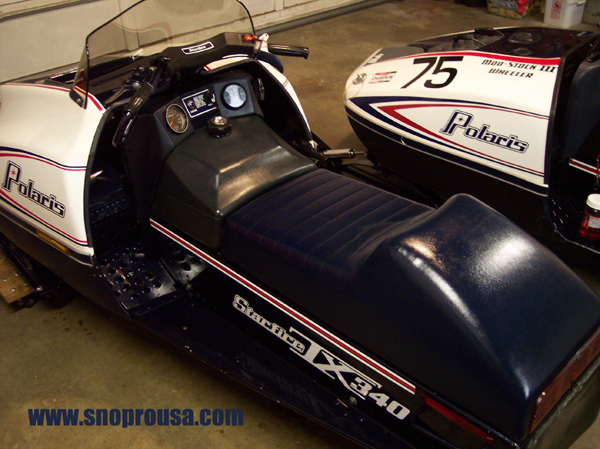 Now the 1976 Starfire has it's seat back.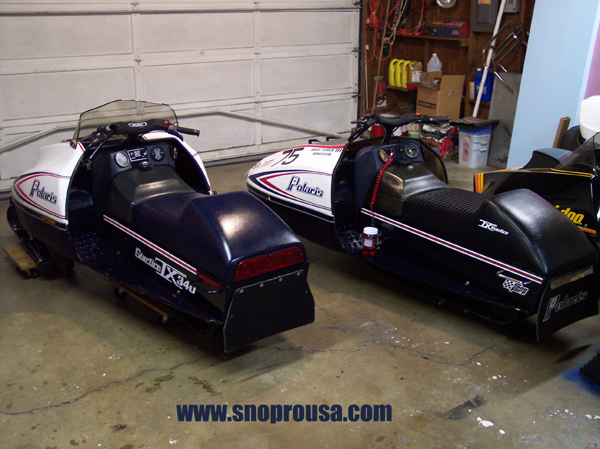 POLARIS - Red White and BLUE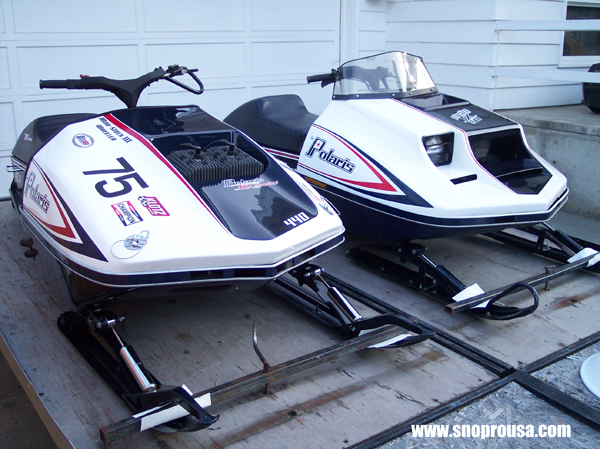 Polaris TX 440 F/A MOD and Polaris TX404 SLP Liquid MOD
On the Trailer and Ready to Show.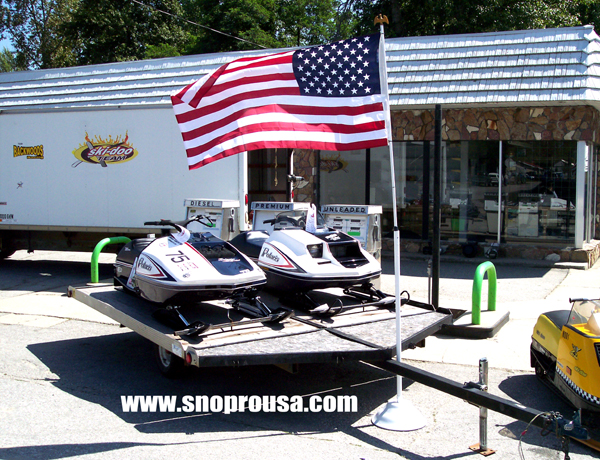 Priest River, IDAHO
Vintage Snowmobiles of the Inland Northwest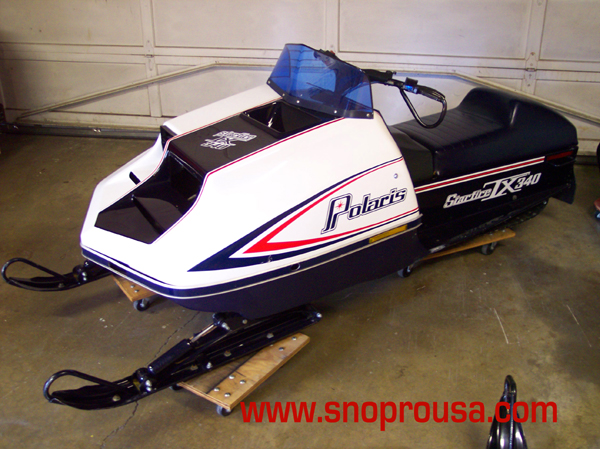 1976 TX 340 Starfire - Updated Blue Windshield.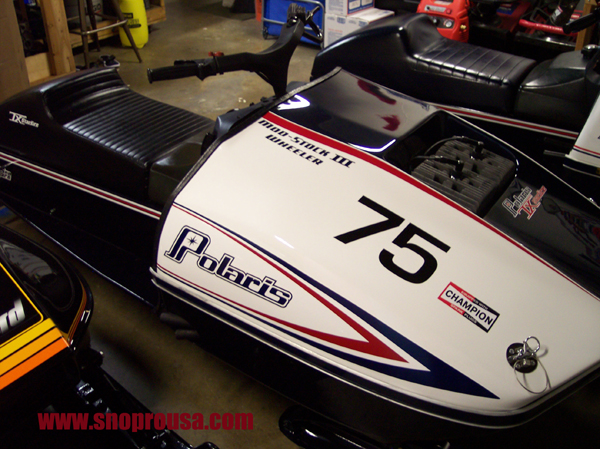 "Quality Gargage Time" Polishing, Lube - Grease, tighten bolts.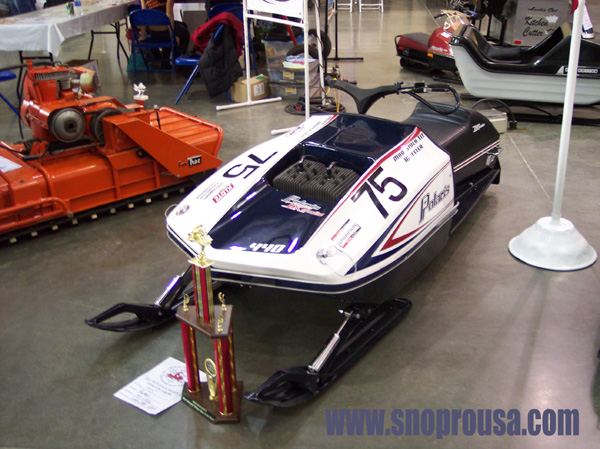 Winter Knights 2012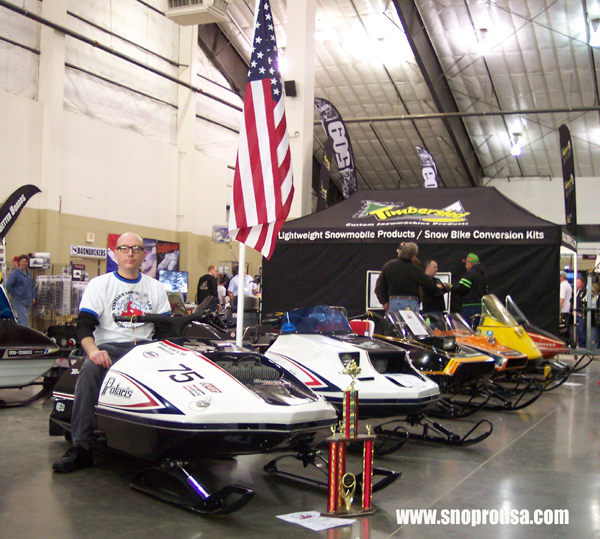 Sno Pro USA sleds all lined up.
1976 Polaris TX PDC 440, 1976 Polaris TX Starfire 340 MOD, 1979 Ski Doo Blizzard 7500 Plus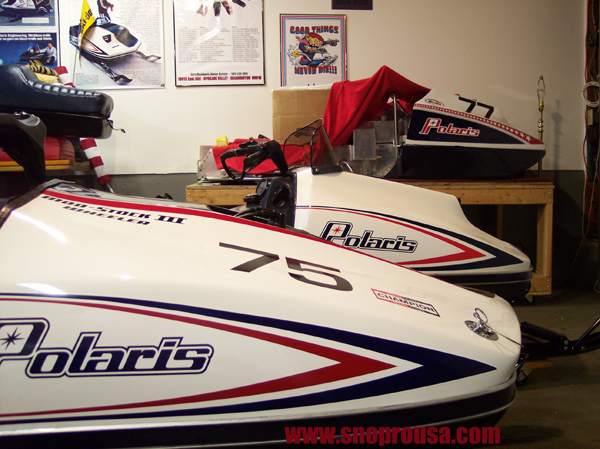 POLARIS - Red White and Blue !

---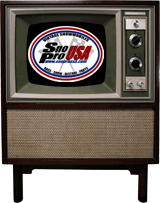 1976 POLARIS TX Starfire "Four Four OH!"
[click above for youtube video]
---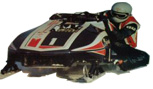 RETURN

all rights reserved - www.snoprousa.com