PAGE 2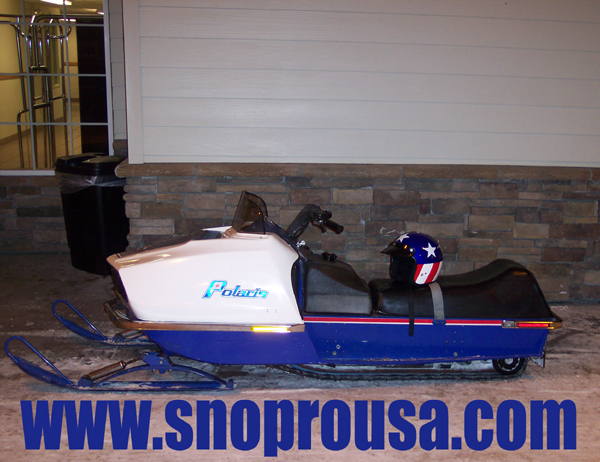 6AM Bright, Early and Time to Eat.
The weather is clear to the west of the hotel with a breeze heading southeast
The Sunshine is going to be on us from the South today in Good Fashion.
Between 7:00 and 7:30AM the weather cleared off and it was perfect
blue skies for 7+ hours.
A few blocks down Madison from the Days Inn, take a right and you are
at the event grounds.
The Vintage Snowmobile Show on the left side of road at the US Park Trail entrance
and
The Snow Cross Races with the Free Style Competition was on the right.


They had a grandstand full of spectators watching Sno Cross.
Throughout the day Sno Cross Spectators visited the Vintage Snowmobile show,
voted on sleds and bought some tickets to the sled raffle. It is always cool to watch
the new sled folks see some "old" sleds for the first time in their life.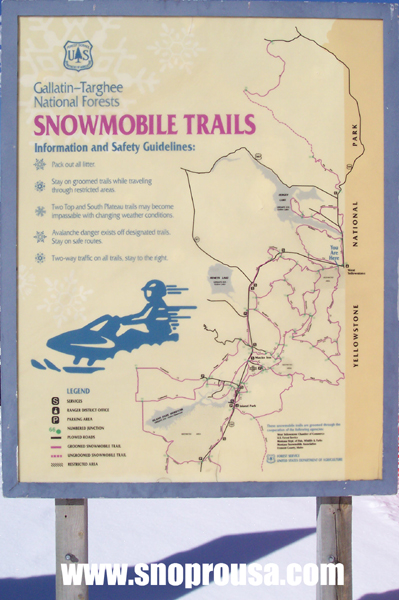 West Yellowstone National Park Snowmobile Trail Entrance Map / Legend.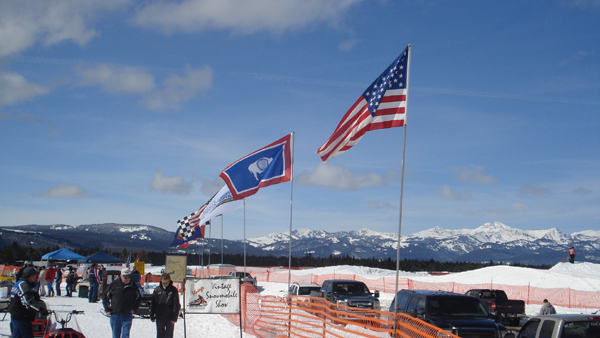 The Flags raised and the Vintage Sleds started heading to their event parking space.
The sound & smell of the 2 Stroke Engines revive the memories of the track and trail.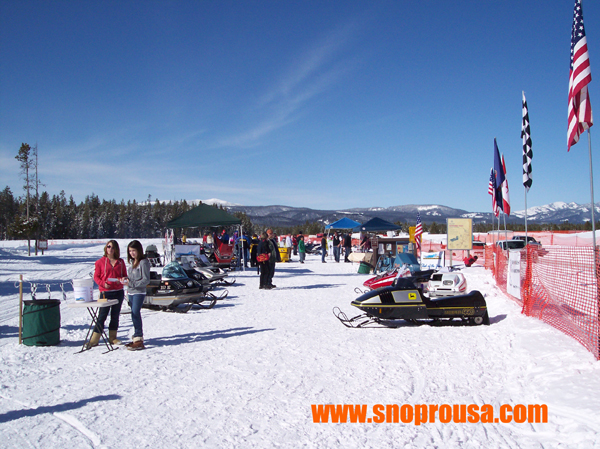 Two long rows of vintage snowmobiles and a nice straight line of vintage sleds in the middle.
Sleds from all over the USA entered the show and another large population of vintage sleds
were zooming around the show venue and heading out on trail rides.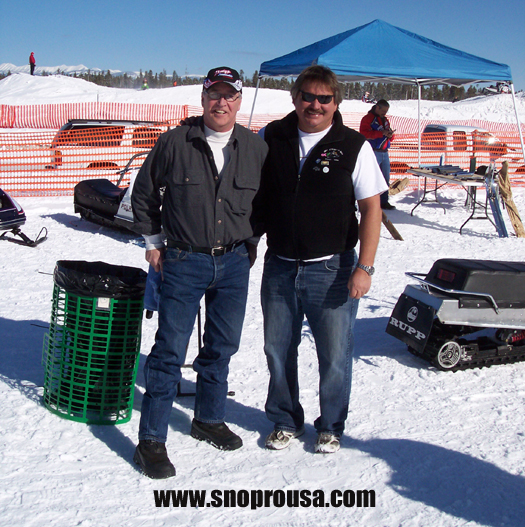 JIM SMITH & PERRY HESTENESS
Western States Vintage Snowmobile Association
Welcome to their World !

1976 is this show's Feature Class Year.
Perry brought this sled along for SnoPro USA to Enjoy.
What a super running machine. Thank You Perry !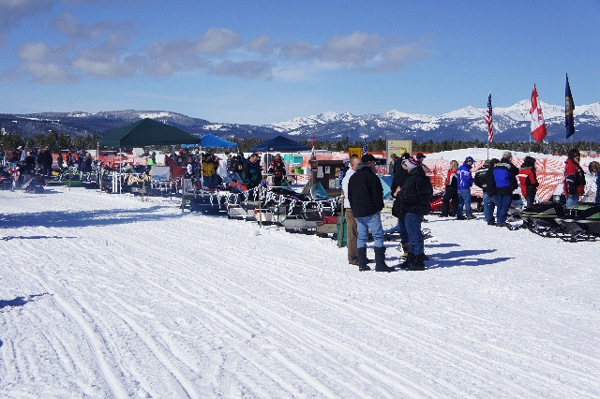 At 10:00AM people were in circulation. Time to starting looking at some vintage sleds.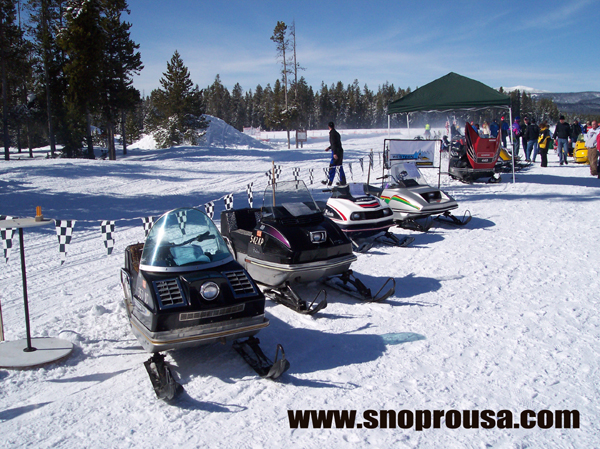 Arctic Cat, John Deere & Scorpion Snowmobiles capture that Vintage Vibe upon sight.
You can never have enough Polaris sleds at a show....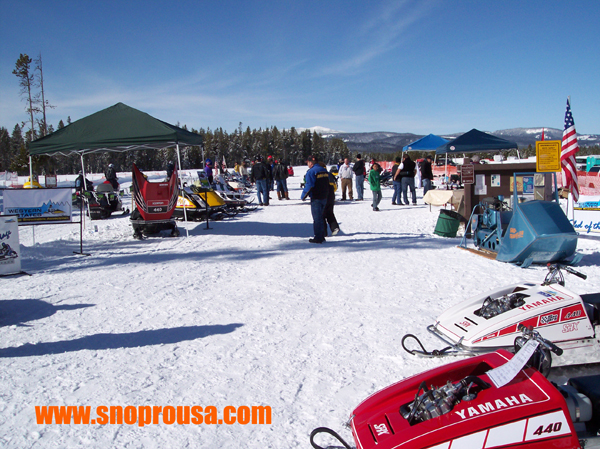 A perfect day for a show on the snow.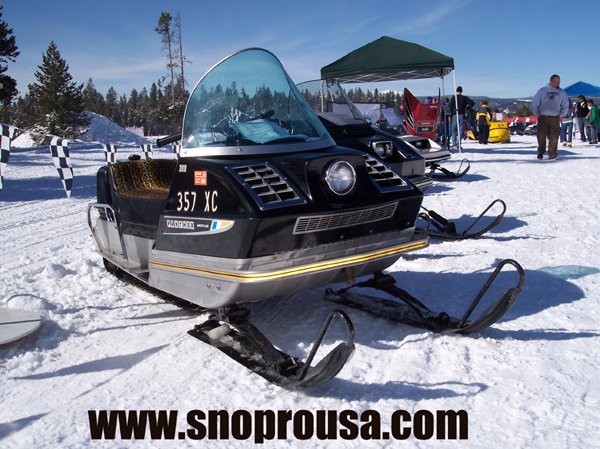 1970 Arctic Cat Panther 399 - Michael Shanks / Humble, TEXAS

Both of Michael Shanks Vintage Arctic Cat Snowmobiles are Un-Restored Class.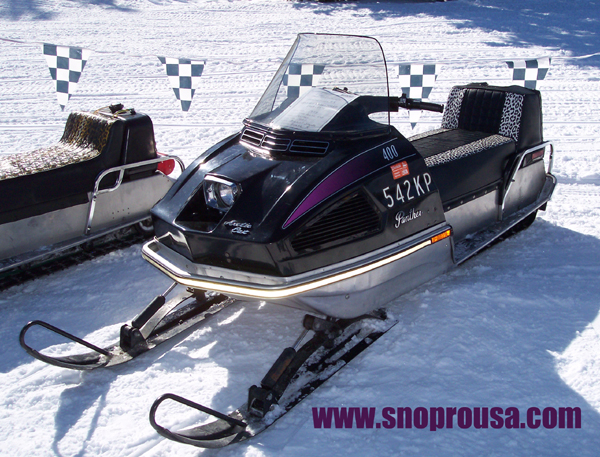 1973 Arctic Cat Panther 400 - Michael Shanks / Humble, TEXAS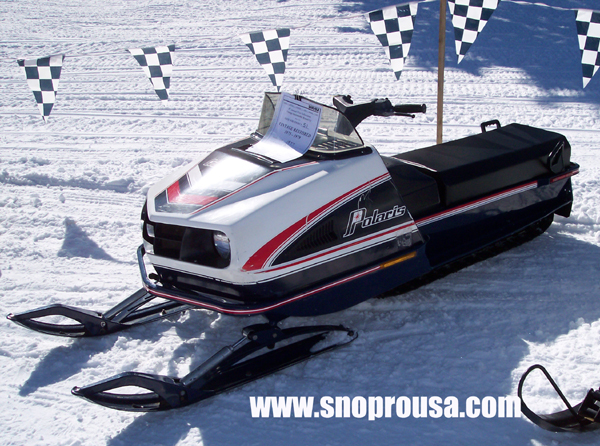 1977 Polaris Colt SS 340 - Curtis Tate / Layton UTAH, USA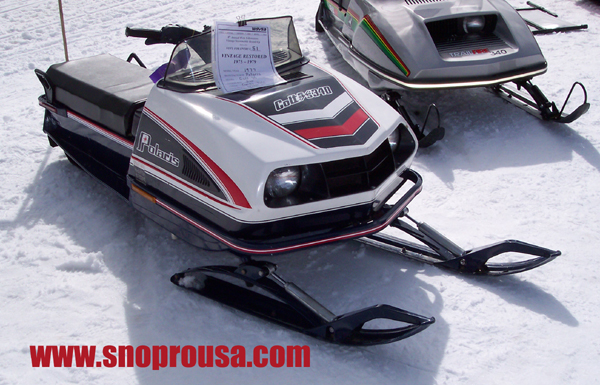 Polaris Colts are great running and riding Snowmobiles. This sled is very fresh looking.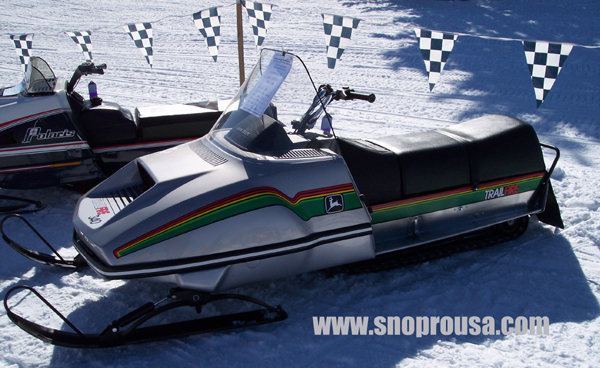 1981 John Deere TRAIL FIRE 340 - Paul Tate / Roy, UTAH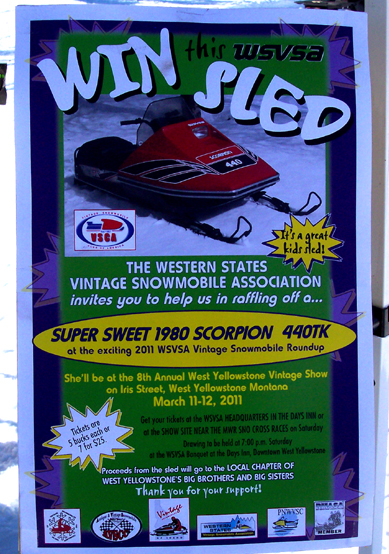 An incredible amount of effort goes into all shows by the WSVSA.
WSVSA + Vintage Snowmobile Show = Enjoyable Entertainment
The Winning Formula for Vintage Sled Enthusiasts in the Western States.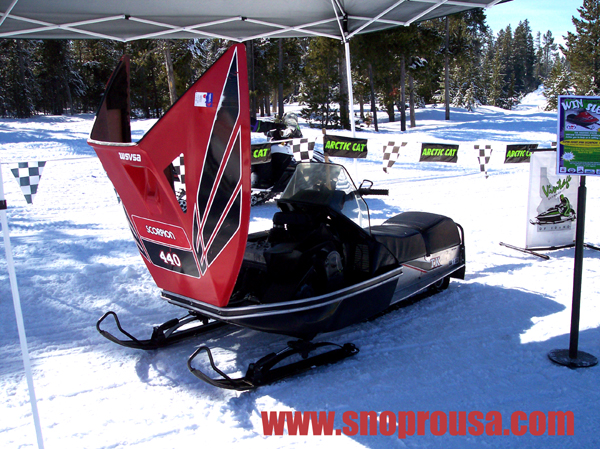 The WSVSA Raffle Sled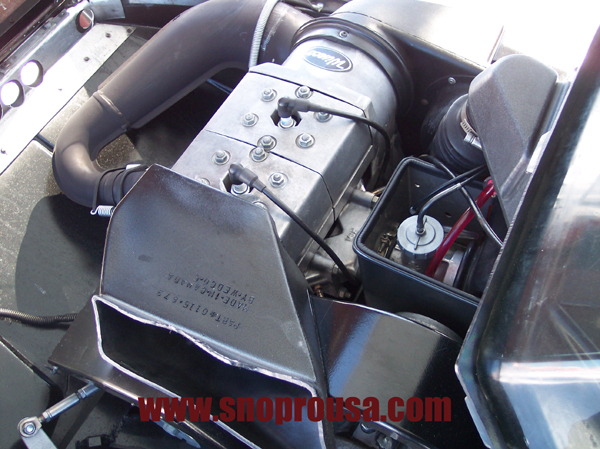 Precision Snowmobile Innovation inside Scorpion Sleds.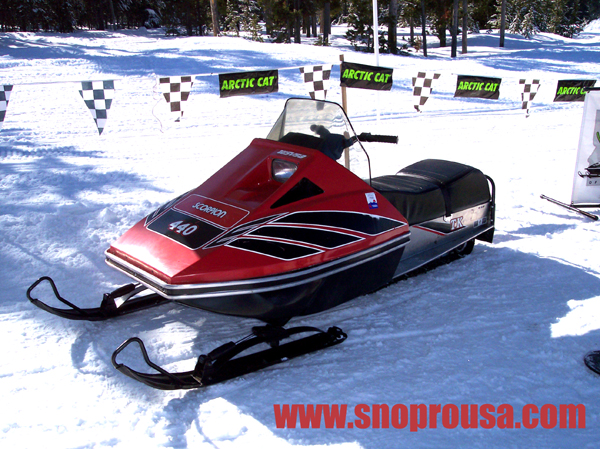 1980 Scorpion 440 TK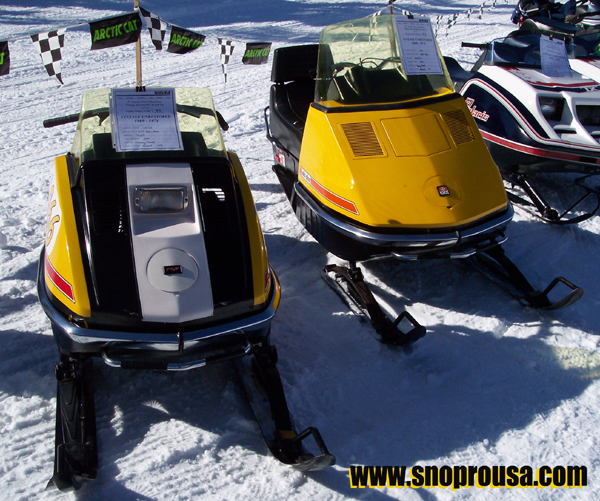 Tony and Lisa Cook from UTAH had four great looking Vintage Sleds at the show.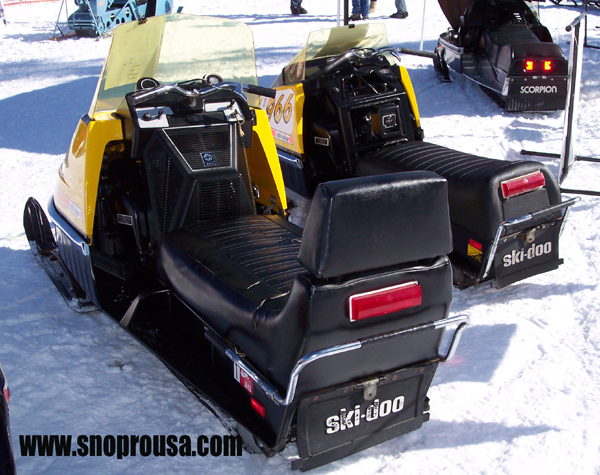 The Cook's Ski Doos are great looking and running Vintage Sleds.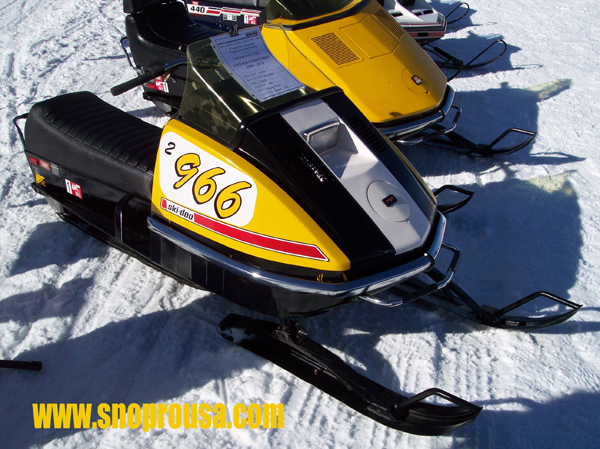 1972 Ski Doo TNT 440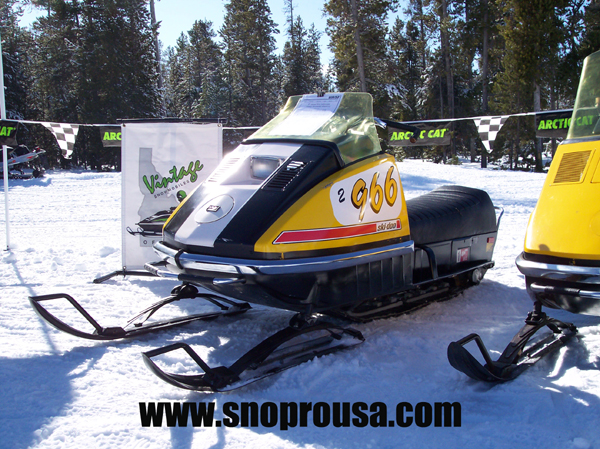 1972 Ski Doo TNT's bring back great memories of Yellowstone for us here at SnoPro USA.
My Dad had a 1972 TNT 775cc version of this sled back in winter of 1971/72.
It was the 2nd sled in our family. This particular 440 of the Cook's is clean, fresh
and their Vintage Racer. The Cook's had just been racing the prior weekend to this event.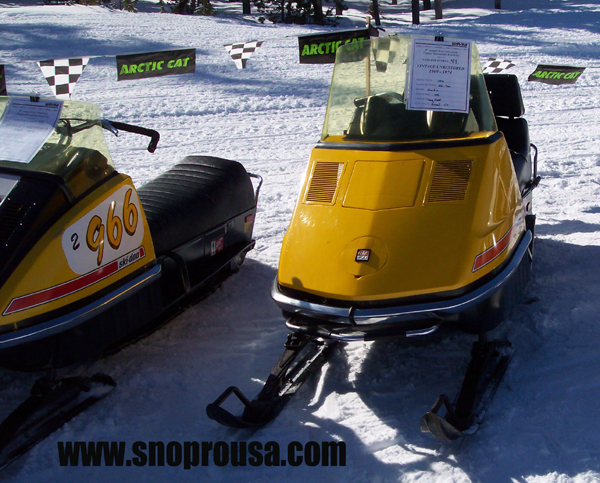 1972 Ski Doo Nordic 440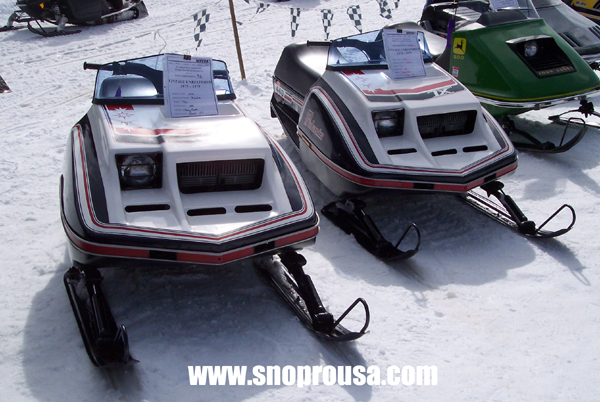 Tony and Lisa Cook's 1979 POLARIS TX 440 Twins.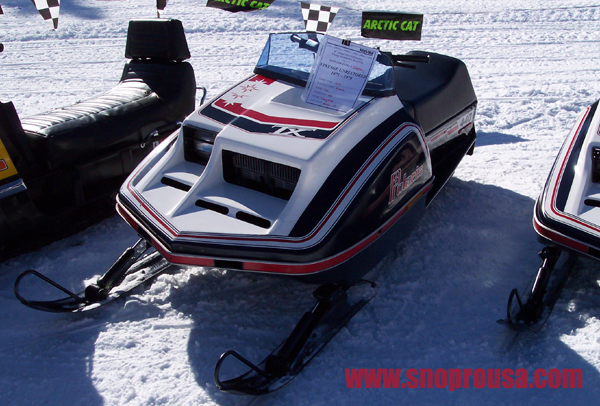 1979 POLARIS TX 440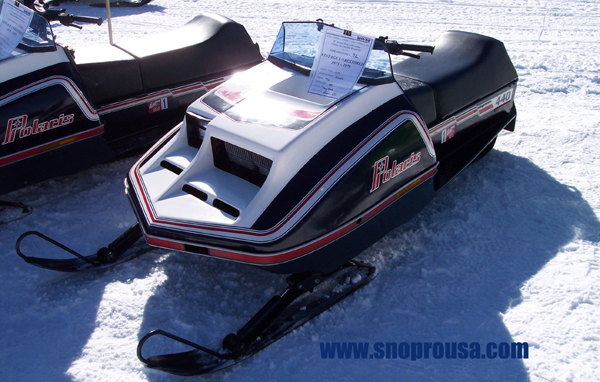 1979 POLARIS TX 440 [The Twin]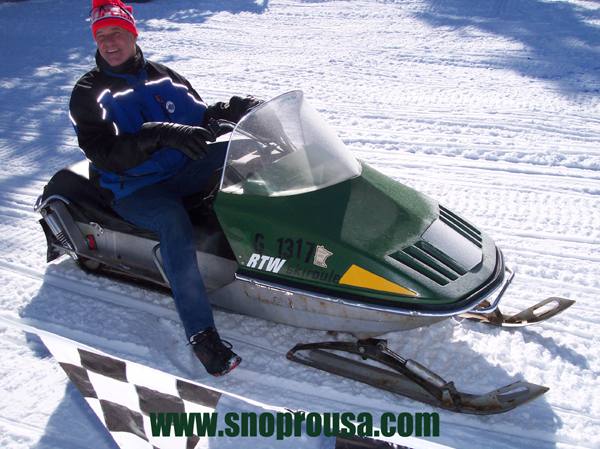 Hey ! Here comes John Schneider all the way from Colorado on his SKIROULE RTW !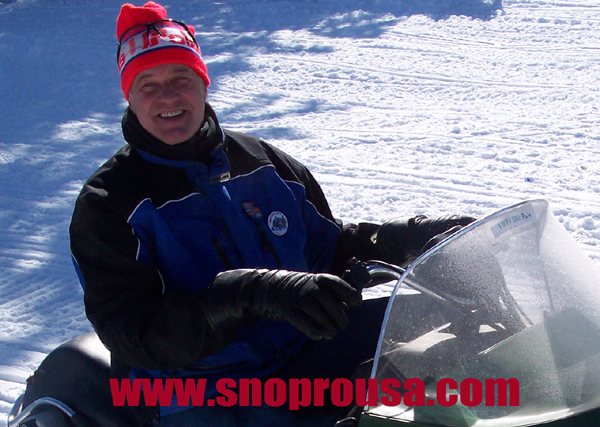 John Schneider - Denver, Colorado USA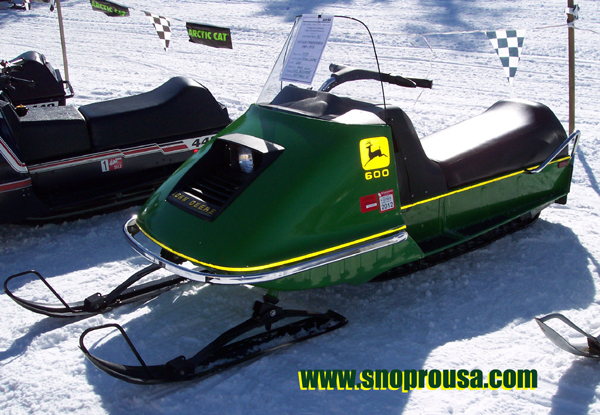 1973 John Deere 600 - David Brummer - Coeur d Alene, IDAHO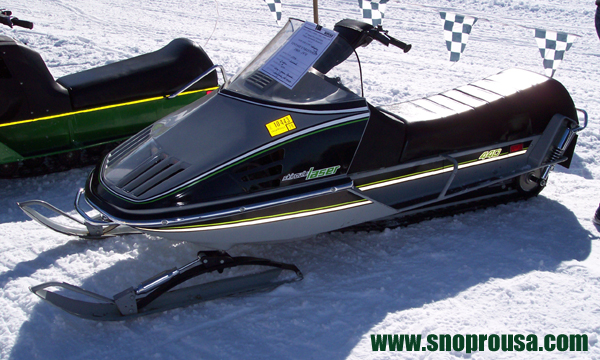 1974 Skiroule Laser - Michigan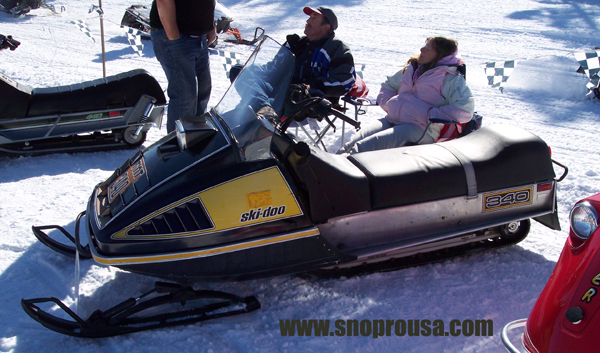 1974 Ski Doo TNT 340 Fan - Debbie Ginder / Kimberly, Idaho
The Ski Doo TNT's from 1974 were great sleds.
TNT Fan Cooled engines 300, 340 & 440 CC and the TNT Everest 400 & 440.
Deep snow, hill climbing machines from the 70's that were awesome on the
mountain and lake trails in the winter.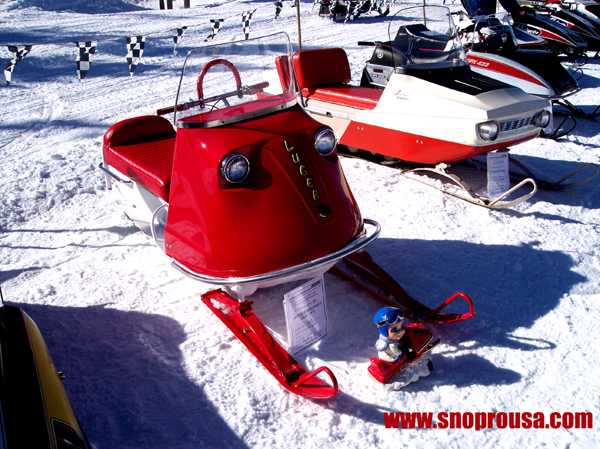 1969 LUGER 223 - Debbie Ginder / Kimberly, Idaho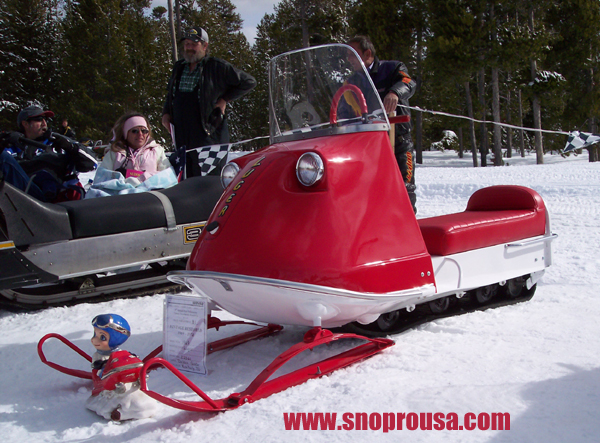 1969 Luger 223 - Vintage Snowmobile Perfection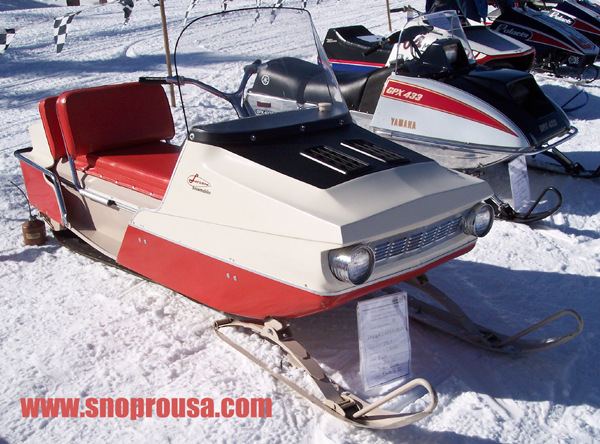 1967 Larson Eagle 372 JLO - Debbie Ginder / Kimberly, Idaho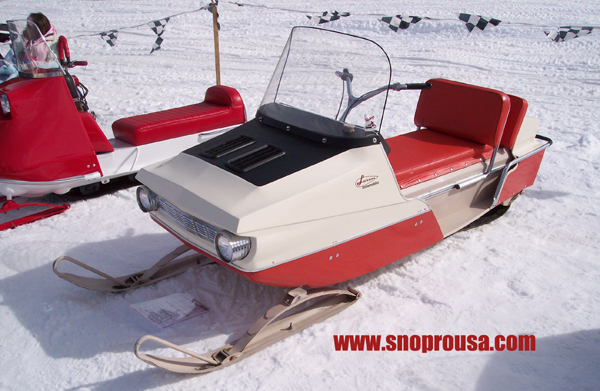 The Larson Boat Company Owner's Grandson started making Larson Snowmobiles in the 60's.
The slide adjustable back-rest and mild color scheme makes this sled a total family cruiser.
The headlight mounts are new Coffee Cans that the designer would purchase from
the local coffee plant for the snowmobile assembly.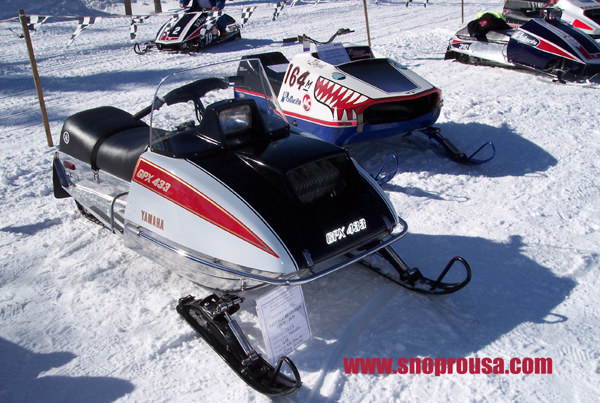 1975 YAMAHA GPX 433 - Craig Ginder / Kimberly Idaho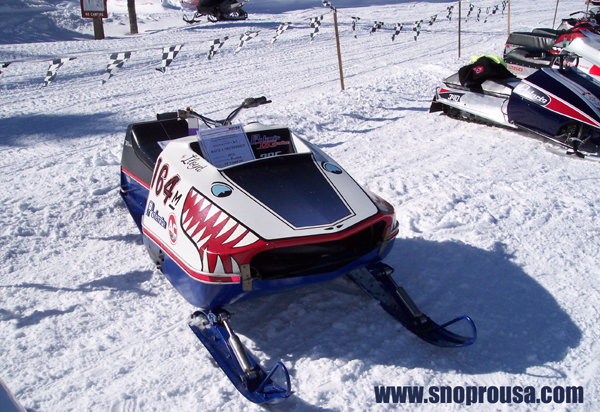 1973 POLARIS TX Starfire 295 - Ken Jacobsen / Missoula, MONTANA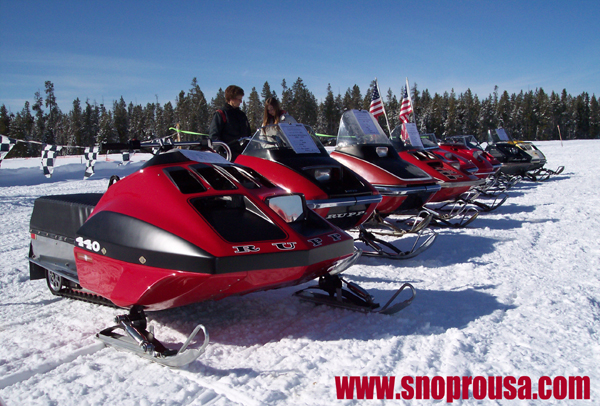 The Grooms Family and their Fleet of Vintage RUPP Snowmobiles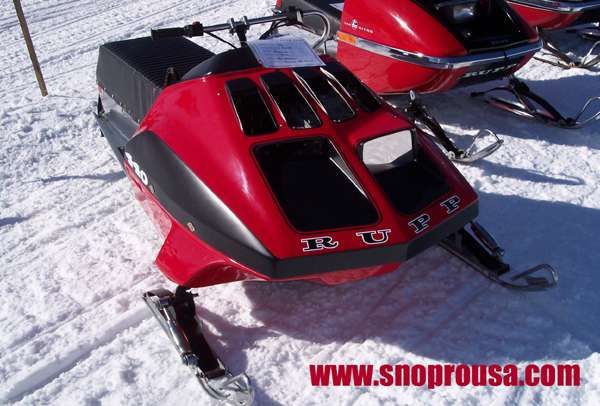 1976 RUPP Magnum 440 - Dan Grooms / Bozeman, MONTANA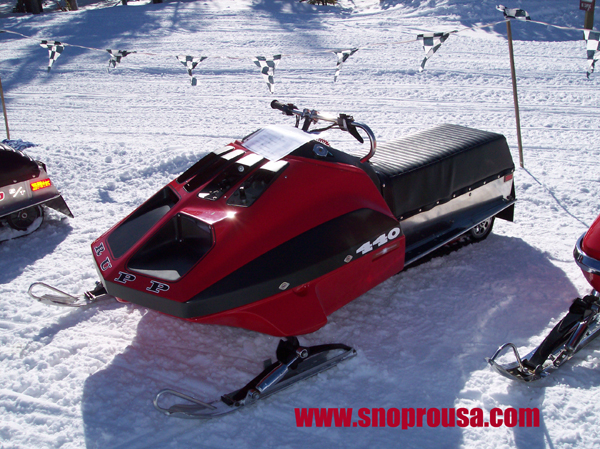 1976 RUPP Magnum 440 - Vintage Snowmobile Race Machine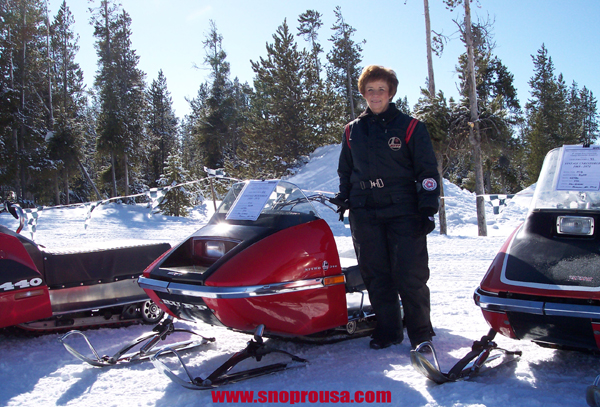 Barbara Grooms dressed in her original Rupp Snow Suit, stands with the very sled
she drag raced 20 years.
1972 RUPP Nitro 340 - Dan Grooms / Bozman, Montana
1973 RUPP Nitro 440 - Dan Grooms / Bozeman, Montana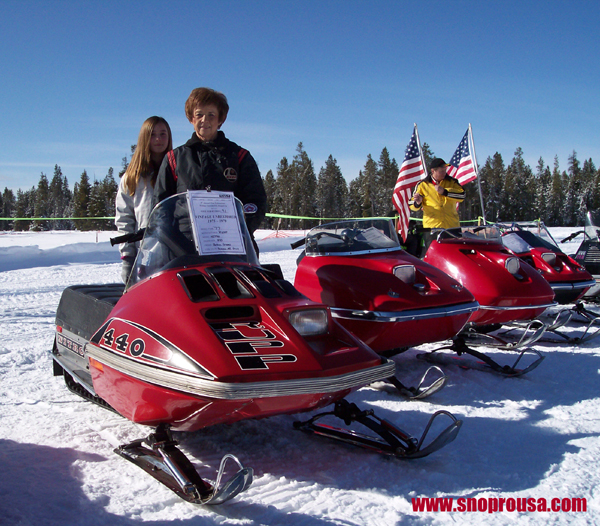 Barbara Grooms and Grandaughter with her un-restored Rupp.
1977 RUPP Nitro 440 - Barbara Grooms / Bozeman, MONTANA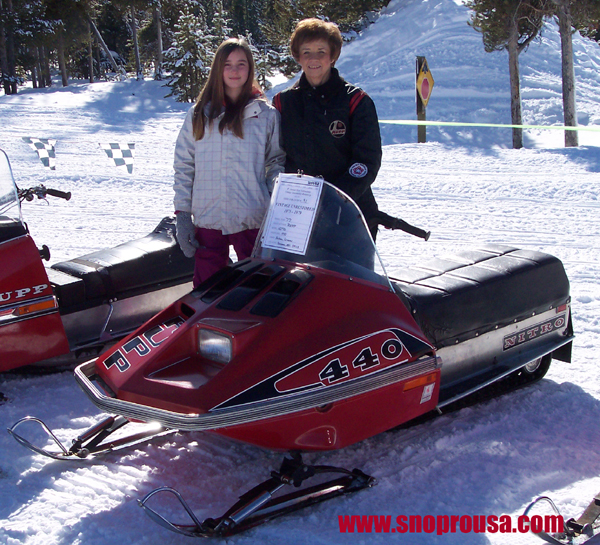 Barbara Grooms and her Grandaughter with her un-restored sled.
1977 RUPP Nitro 440 - Barbara Grooms / Bozeman, MONTANA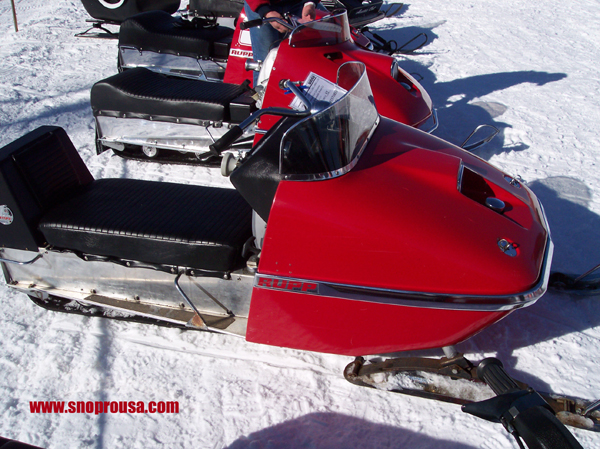 1970 RUPP WT 634 - Larry Grooms / Sheridan, WYOMING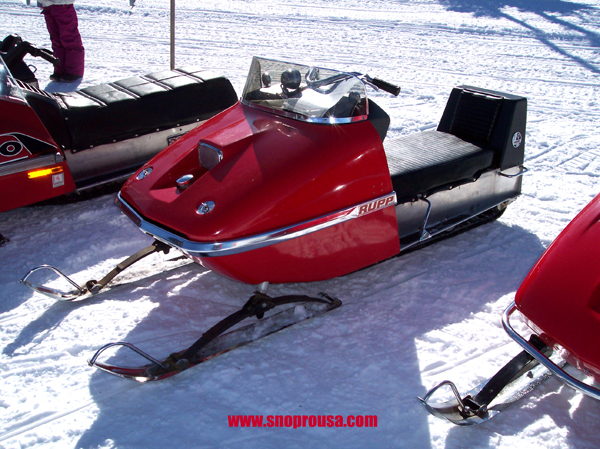 1970 RUPP WT 634 - Larry Grooms / Sheridan, WYOMING
The hoods and belly pans on these Rupp's are amazing.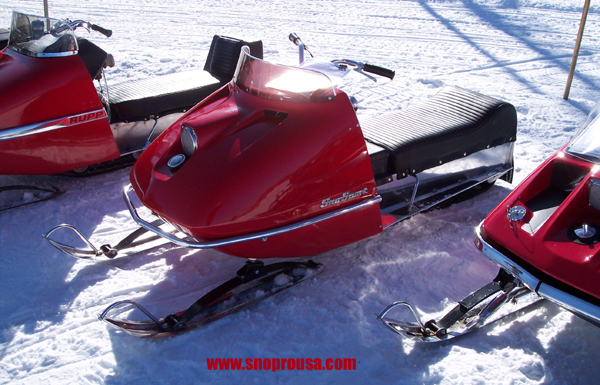 1969 RUPP SS 370 - Larry Grooms / Sheridan, WYOMING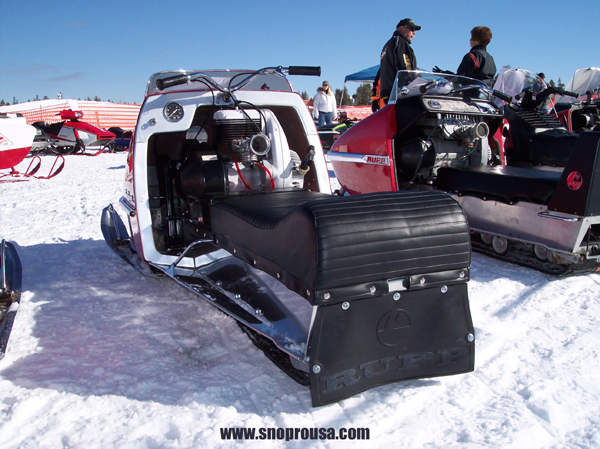 1969 RUPP SS 370 - Amazing detail with fiberglass and aluminum.
This restored sled from Bozeman, Montana looks Better than a '69 Rupp did new.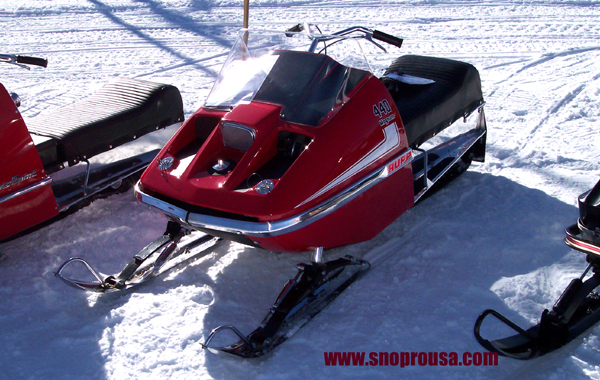 1971 RUPP Magnum 440 - Larry Grooms / Sheridan, WYOMING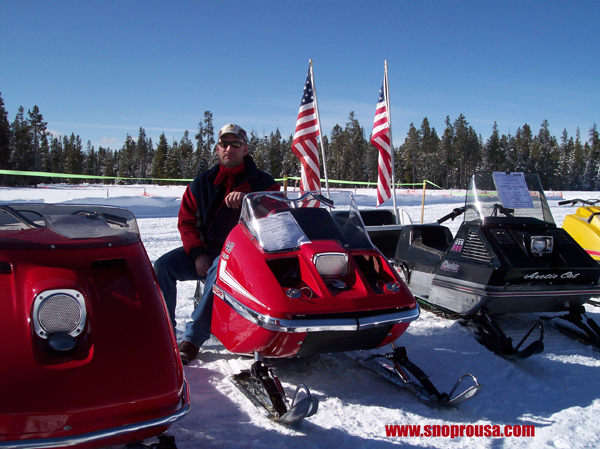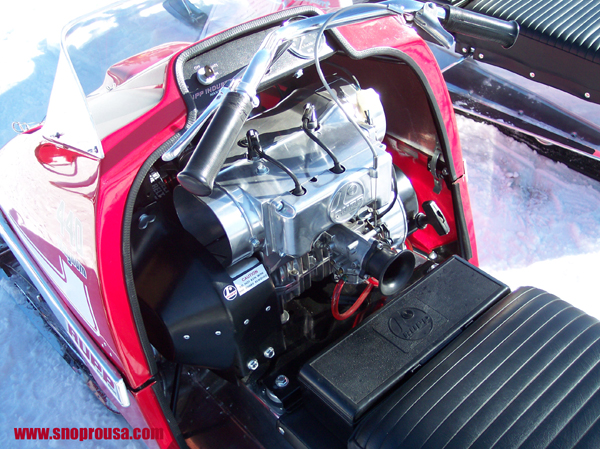 This RUPP Snowmobile Family have serious attention to detail.
These sleds exhibit years of knowledge combined with excellent restoration skills.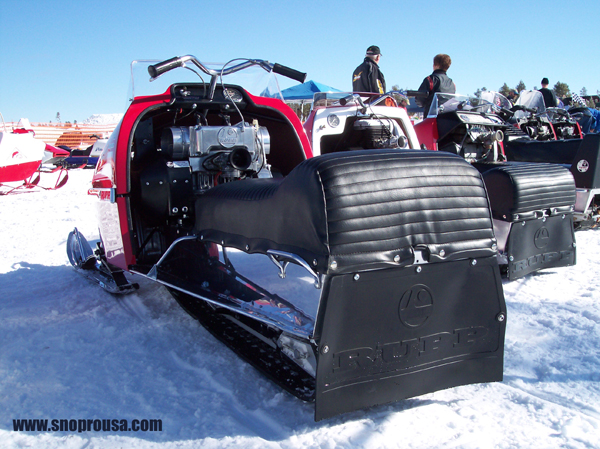 The Chassis on these units are Fantastic.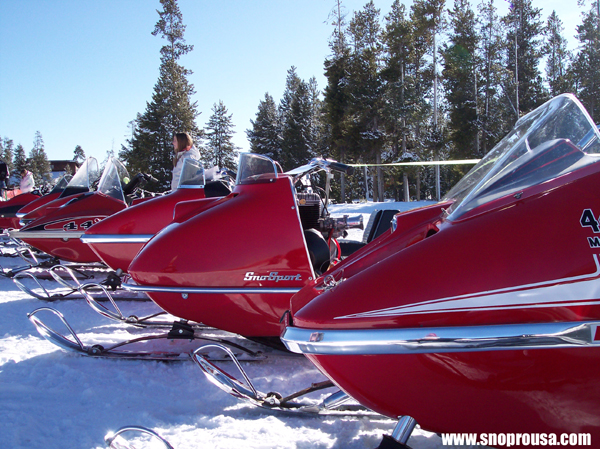 The Grooms Family brought Seven beautiful RUPP Snowmobiles to Yellowstone.
Earlier this year they made the travel to Waconia. This year the featured sled theme
at the show in Waconia Wisconsin was RUPP.
It was a pleasure to meet the Grooms and photograph their beautiful red sleds.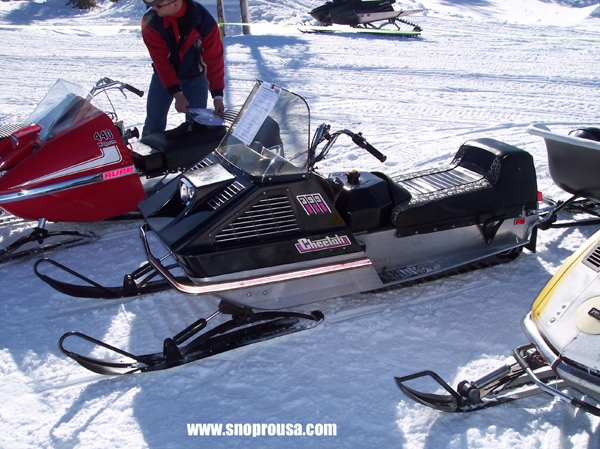 1972 Arctic Cat Cheetah 399 and Cutter - Jerry Schneider / Idaho Falls, IDAHO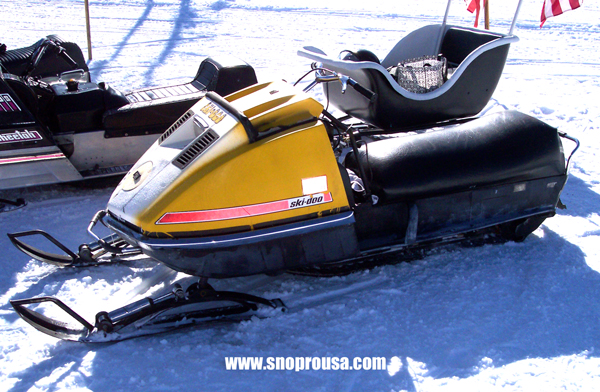 1972 Ski Doo TNT is still fast on the snow.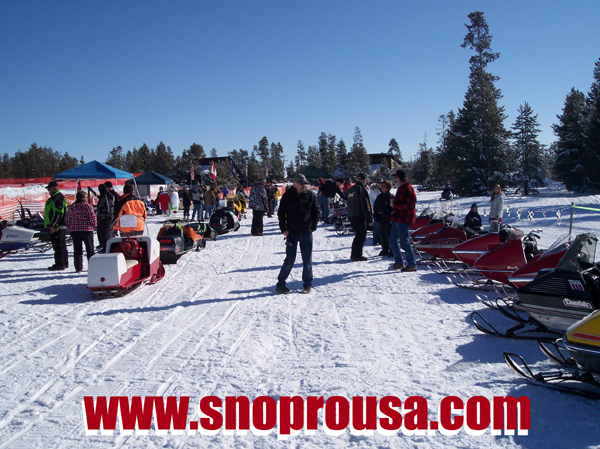 Almost 11:00 AM and more sleds are pulling into their parking spaces for the show.
Click on the NEXT image below and continue the Vintage Sled view at West Yellowstone.

---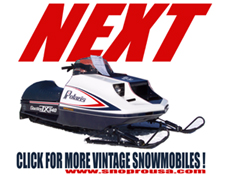 all rights reserved 1999 - Sno Pro USA
WEST PRODUCTONS, INC.