SNO PRO USA - RACER INTERVIEW
John R. Anderson #8-80 from Bowler, Wisconsin
Racing Vintage Polaris TX's
---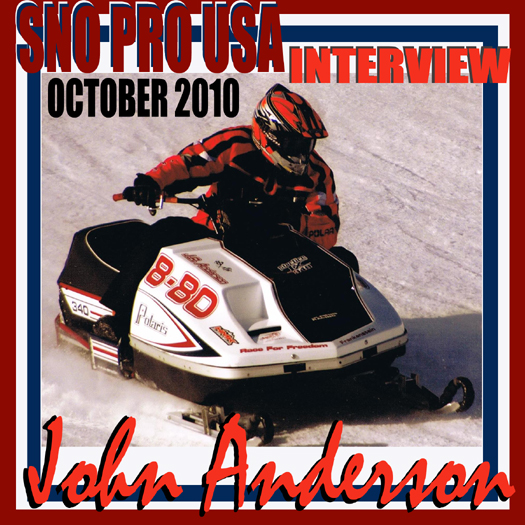 Early in 2009 I met John online and purchased some fine vintage TX 440 parts.
Since then he has been a great resource and during this time it became apparent,
this dude must be doing some racing.
One afternoon Sno Pro USA received a photo of John's awesome fleet of Vintage Polaris TX's.
The passion runs deep for Polaris TX's here at Sno Pro USA, so the quest began.
John Anderson brings family spirit, effort & style to the oval with his Vintage Polaris Race Machines.
His life long interest in snowmobile racing has come alive and Sno Pro USA
is especially excited to share this interview with the you.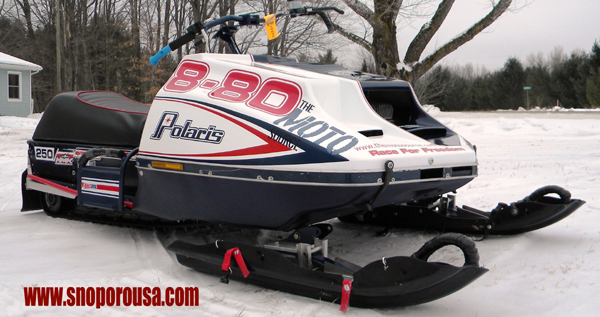 John Anderson's #8-80 - 1976 Polaris TX 250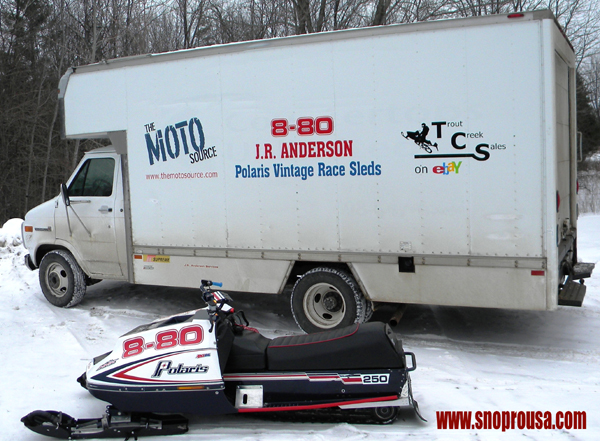 John Anderson of Bowler, Wisconsin

---
Vintage Oval Racer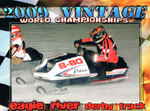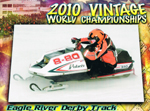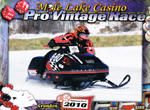 CLICK EACH IMAGE TO ENLARGE
---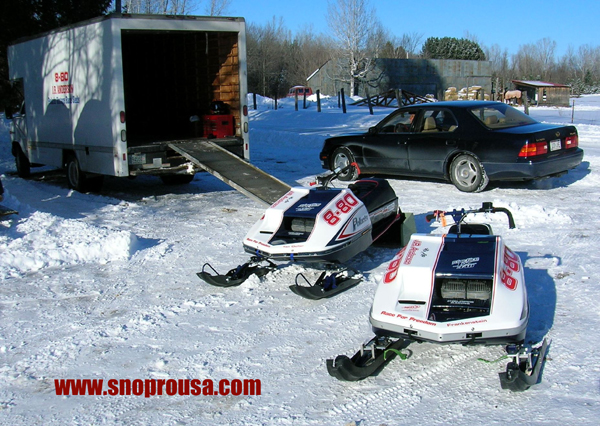 John Anderson's Vintage Polaris Oval Racing Machines.
Notice the hood has the light hole un-cut.

1976 Polaris TX 250, 1976 Polaris TX 340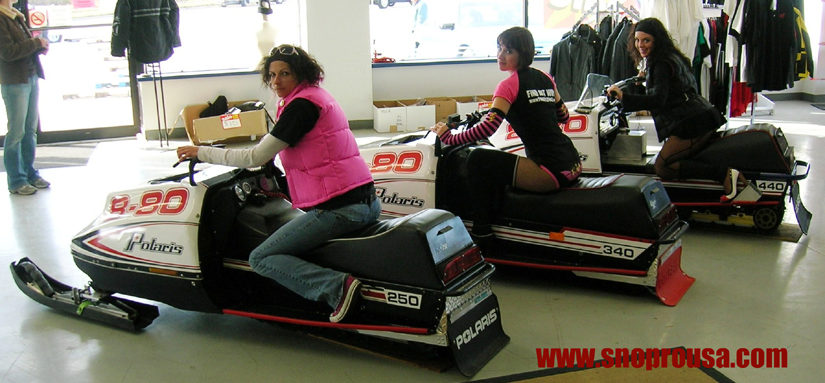 John Anderson's Vintage Polaris Snowmobiles on Display in good fashion at a midwest dealership.
Polaris TX 250, Polaris TX 340 & Polaris TX 440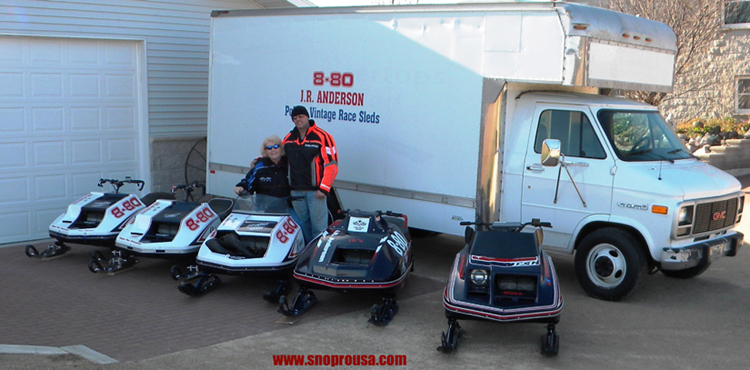 John Anderson has alot of family support behind his oval racing.
A very exciting fleet of Vintage Polaris Race Machines.
The 1980 TX-C and 1979 TX-C are some of the coolest TX-C's we have seen.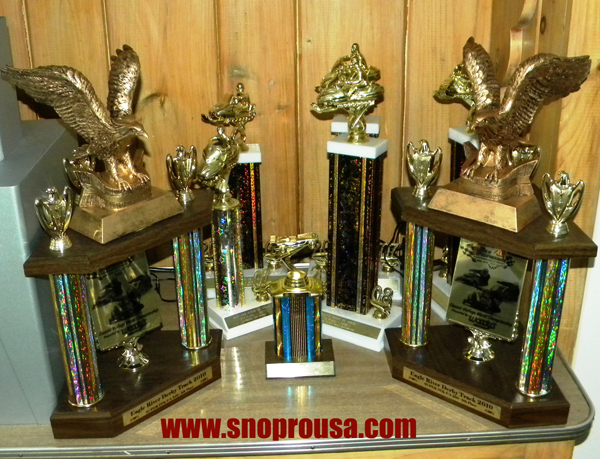 John Anderson has accumulated a nice trophy collection in a short time.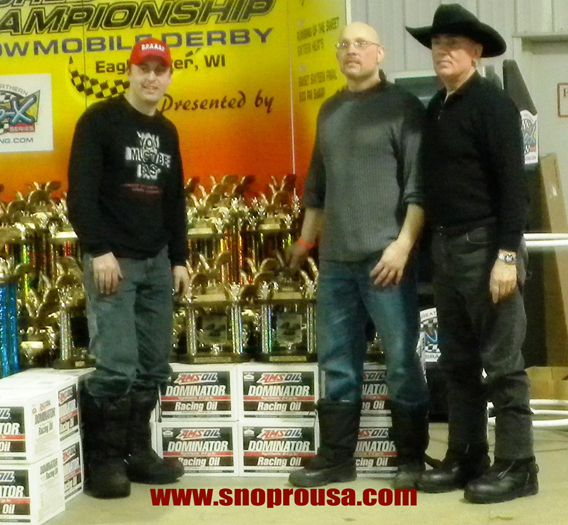 John Anderson 8-80 Polaris Vintage Racing with the
Amsoil Trophy Award joined by his Dad.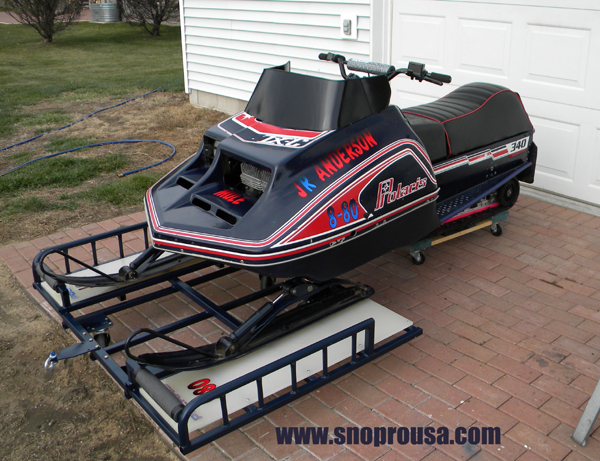 1979 Polaris TX-C 340 / JR ANDERSON

---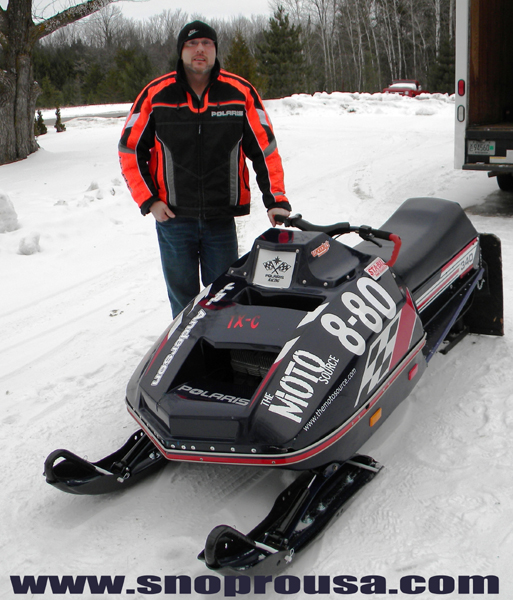 John Anderson / 1980 Polaris TX-C 340 Cross Country Racing Machine.
---
SNO PRO USA
Racer Interview:John Anderson
09-09-10
Q. When did you first hear about the sport and start to snowmobile?
A. Well, I guess I was born into it. My dad actually raced ovals in the late 60's and 70's
in USSA Central Division. He got out of racing when he had kids so I was too young to
remember him race, but we went to several races in the 80's and 90's as spectators.
It was about the only thing we saw eye to eye on and enjoyed together.
Q. What was the first snowmobile you ever rode?
A. The first I was on may have been my dad's 72 EXT Special, but
the first I remember was a crappy one lung Rupp when I was about 3. My
first sled was a 1971 Olympic 300 one lunger with the slide rail suspension.
Lots of fun and more than a few rollovers.
Q. When did you realize that you wanted to start racing?
A. I am 39 year old, so about 39 years ago. It just took to my mid 30's to be able to afford it.
Q. Where and when was your first race and what type of sled was it? Outcome?
A. My first real oval sled race was at Conservation Club in Appleton, WI about 4 years ago.
We raced a Stock TX 340 on a nasty little Tri Oval track lined with trees just feet off the track
where they ran Mods with stockers. Dangerous, but a fun track. We had no experience setting
up an oval sled and the handling was WAY OFF.
I can't remember where we finished but I know it was not last.
We seem to be getting the set up thing down a bit better now.
Q. When was your first pro race and what type of sled? Outcome?
A. Well, I can't really remember so I will just say my first Eagle River race 2 seasons ago.
We raced the 340 Free Air and Liquid Super Stock Classes. I was running well and
won my quarterfinal race in the Free Air but by the time the semi's came along I was
dead tired and failed to make the finals.
Q. What Class did you run on your first Pro Race? Outcome?
A. Super Stock 340 Free Air and Liquid. I was eliminated in the semi-finals.
Q. Where you ever factory sponsored or have other sponsors?
A. Not even close to good enough to get big sponsors.
I am sponsored by two eBay stores "The Moto Source" and "Trout Creek Sales"
out of Green Bay, Wisconsin.
Q. How many races have you been in?
A. Racing a limited oval schedule, I would guess I have been in less than 30 races so far.
Q. How many first places?
A. I have one first in PVR Pure Stock at Lilly last year with some top 5's in PVR as well
as two top 5's in Last year's Eagle River Finals.

I also won a non sanctioned Le Mans type lake race last year in Maniwa, Wisconsin,
as well as a bunch of local drags.
Q. What is your favorite track and event that you always looked forward to.
A. No brainer. It has to be Eagle River. So many great sleds show up and the track
is without question the greatest oval in snowmobile history.
Q. What was/is your toughest race?
A. Eagle River because all the big guns show up.
Q. Did you ever race cross country or drag race / grass drag race ?
A. Some ice drags here and there but after you do ovals, you just don't get excited
about the straight stuff. The Le Mans in Maniwa is a real fun race and kind of like
a cross country only flat and on snow covered ice.
Q. What is the most memorable race you have and how was the weather,
conditions and what were you riding at the time.
A. Last year at Eagle River.
My TX 340 was running very well Friday in the colder temps, around 10 degrees,
but because I didn't lean it out enough for the final in the warmer mid 20 temps
on Sunday, we developed a bog that cost us. Still a top 5 in the 340 Free Air final.
We also ran a 250 TX in the 250 Free Air class to a top 5. We have since sold that
sled to focus on the big 340 class. The sled should have placed 3rd or better there
but we had it way too rich. We bogged so bad off the line we started dead last but
picked our way to 5th place.
Q. Do you work on your own sleds?
A. All the work is done be either my Dad John, my cousin Rob or myself.
Q. What are you favorite type/brand of sleds to work on ?
A. I Race Polaris but I truly love all brands. I have absolutely no brand loyalty.
If you have brand loyalty you limit yourself. Think about all the great models:
Stafire, EXT, Blizzard, Thunderjet, Z, RV, RXL, SRX, GPX, Wild One.
I could go on all day.
Q. What is your favorite all time trail sled? Favorite all time Race Sled?
A. I am Not really a trail guy but believe it or not, the most fun I have had on a trail sled
was on a mid 80's Phazer.
Race sleds is tough to answer. I love the Starfires and Thunderjet/SR singles, but if pushed,
I would say the RXL because it was the last sled that did it all. It won lake races, drags
and was all but unbeatable in ovals. It changed the snowmobiling landscape.
Q. Did you do trail riding and do you still ride?
A. I use to trail ride but I sold all my trail sleds to race. Besides, if I am not racing,
I'd better take some time for my wonderful wife and my chores.
Q. Do you feel you have brought any innovations to the industry? IE: make a
part or technique that makes/made your sled better.
A. Not really.
Q. How did you physically and mentally condition yourself for racing?
A. I have been a fitness buff for years so other than doing more cardio than usual,
not much physically different. Mentally, I just try to stay as calm as possible and
control my emotions before a race. If you just keep your whits about you, you'll be fine.
Q. Did you have any accidents, or injuries racing or riding for pleasure?
A.Last year was tough for me with accidents. I got taken out hard at Lilly Wisconsin,
when a nice young driver lost it and hit me. We got up and tried to do the restart only to
wreck again because I could not see. My helmet and glasses got totally fogged from pulling
my sled out of the infield. A bent spindle didn't help much either.
Then the next race at Mole Lake I crashed out of the lead in 340 Pure Stock when
my hand slipped off the hook. My confidence was taking a big hit but we righted the
ship at the last race of our season. A Le Mans course in Maniwa, WI that we won running away.
Q. Who are some of the other Pro Riders that you admired and raced with
during your career?
A. No big names race Super Stock but I must say that Ron Keil, Jr. is a driver
to look up to as well as Rick Lutzow. They have won a lot of races and have great sled control.
Q. What do you think of the current buzz in the USA over Vintage Sleds and Racing ?
A. I like all the buzz in the vintage world but I think some of us are getting way too whiny.
I say shut up and race!
Q. What class are you racing now and what type of sleds do you run ?
A. I race Polaris TX 340's in PVR Pure Stock 340 F/A, Super Stock 340 F/A and Liquid.
Q. If you could replicate a sled of your choice without any hassle or finance issues, what would it be?
A. Either an RXL of any size or a one lung Thunderjet or SR.
Q. What is it that triggers you to think "Snowmobiles" ?
A. guess I don't really know since it's almost always on my mind. Really kind of a disease.
I wonder if there is a 12 step program to fix me ?
Q. What is your favorite 2 stroke oil.
A. I run Redline in my sleds but the smell of Klotz racing castor is second to none.
Very fond memories there.
Q. Do you run special fuel ?
A. Sunoco 110 and it works great.
Q. How do Snowmobiles fit in your life ? Do you belong to any snowmobile
clubs or associations ?
A. I am a member of PVR just so I can race but I am not a "club" kind of guy.
Usually when I see a bunch of people going in one direction, I turn tail and go the other.
Q. Do you have any secrets or advice to share about snowmobiles and racing them?
A. Just get out there and try. Ask questions and listen to the answers from the
guys running out front. Always stay calm and cool on the track, don't let your emotions take over.

---
Now that I have the Q and A complete, let me elaborate what vintage racing means to me.
"It means family." My dad and I have not always had a great relationship. In fact, growing up,
I was a pain in the ass punk who rarely if ever did what I was suppose to.
I could have tried Mother Theresa's patience. I was not a bad kid, just a wild kid.
The only thing my dad and I had in common was a love for speed and snowmobiles.
He is 63 now and I am 39, so time is not on our side to do things together.
We saw the vintage scene growing and got the idea to do something together.
So we went out and got a couple of TX 440 basket cases and started the team.
Those 440's are long gone but we are still racing.
To say this was a seamless endeavor would be a blatant lie. In fact, we have had so many
fights along the way you'd think we hated each other, but that could not be further from
the truth. I really respect him and what he does. Racing and building race sleds is not easy.
I almost threw in the towel last year, but because we stuck it out, we have a great
understanding and are really looking forward to this season.
Last year we brought in my cousin Rob as our engineer to further the family connection.
The three of us have made great strides in our sleds by learning to listen to each other.
It is not always easy when you have three guys that are use to doing things their way.
Most important we have figured out we are better together than apart.
So, snowmobiles have given me great relationships forged and strengthened in
the fire of racing that I would not have without vintage ice oval competition.
A very special thanks goes to my wife Charity and Mother Gettie for being so understanding.
Without their patience and permission, none of this would be possible.
I would also like to add a special thanks to Tom, owner of Trout Creek and The Moto Source, for his support.
Sincerely,
John R. Anderson
8-80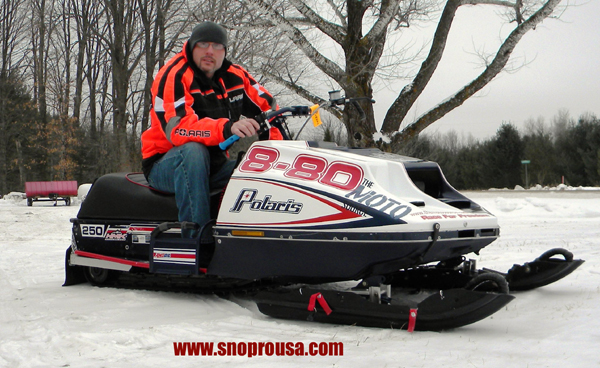 John Anderson #8-80
1976 Polaris TX 250
The Pursuit of Excellence!

---
John Anderson 8-80
Bowler, Wisconsin
OVAL RACE Photo Gallery
Photos by Dawn Cross Photography
Courtesy of J.R. ANDERSON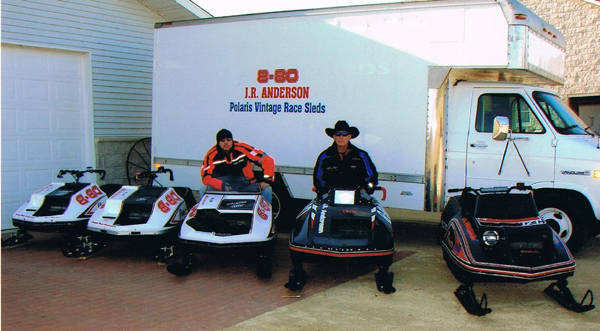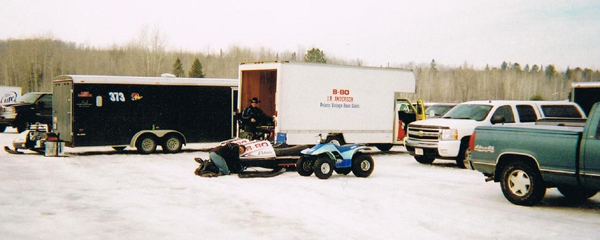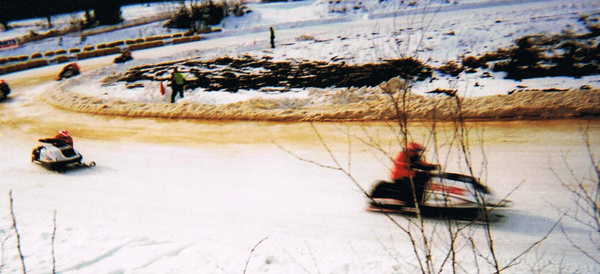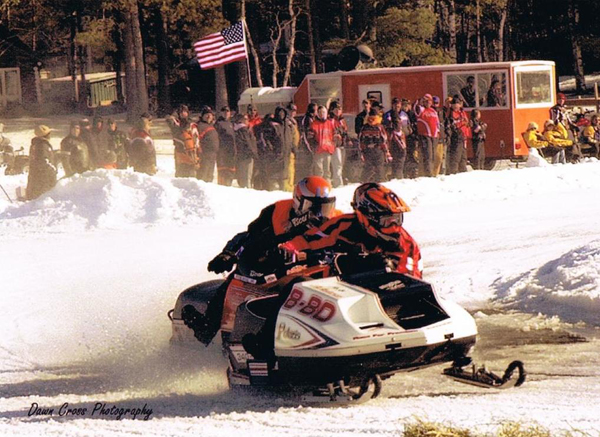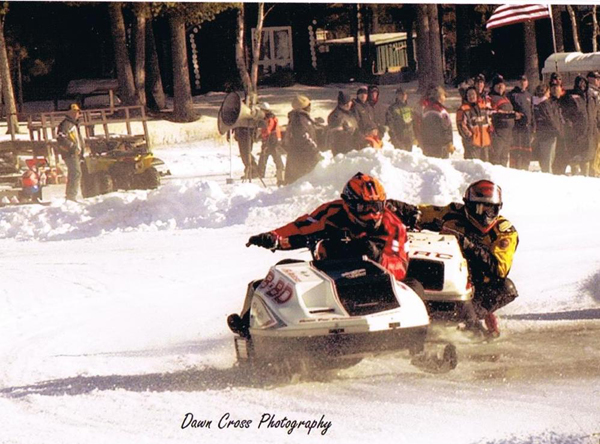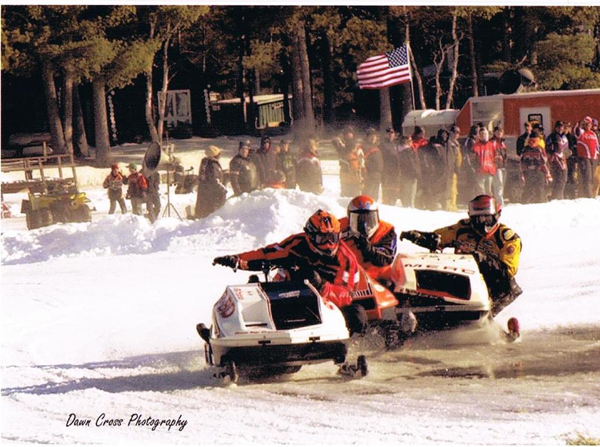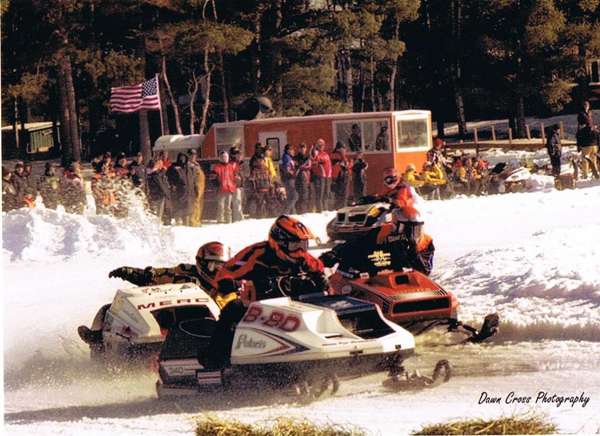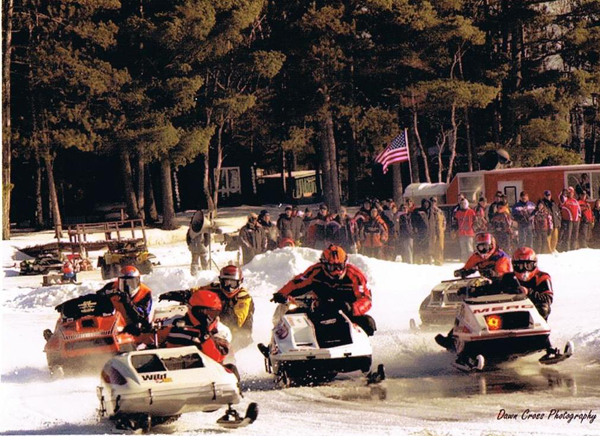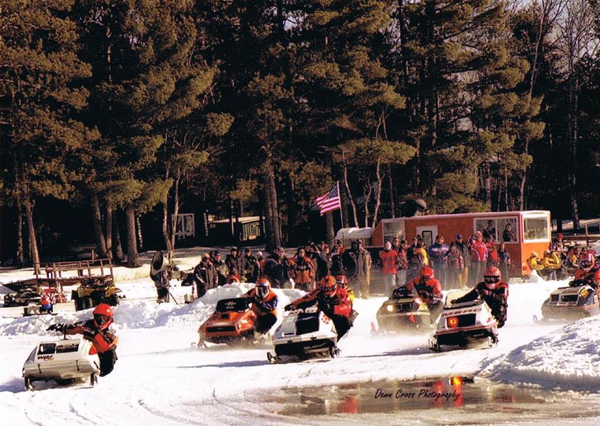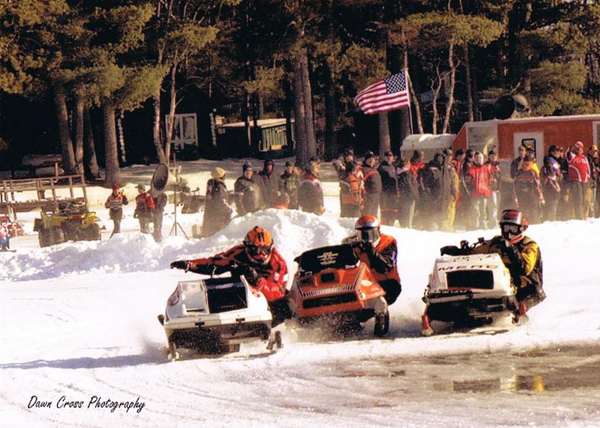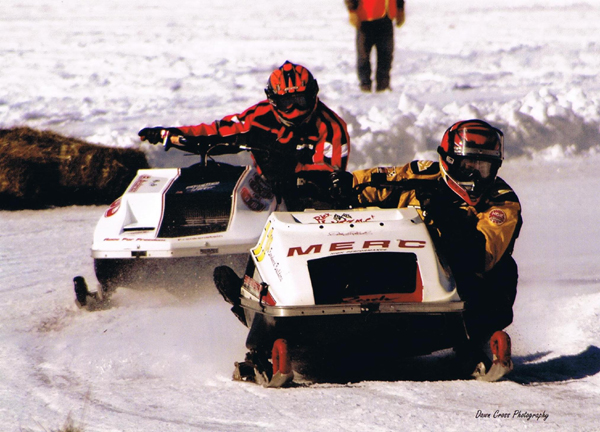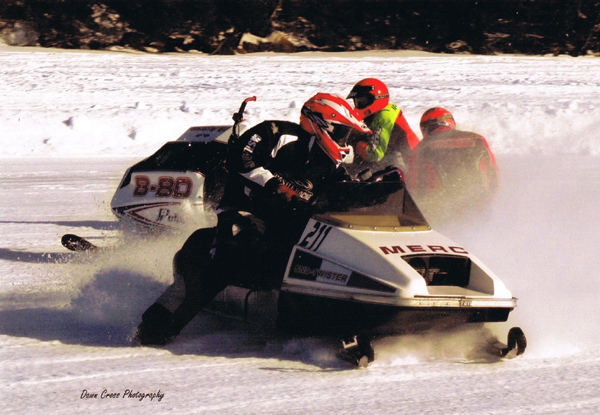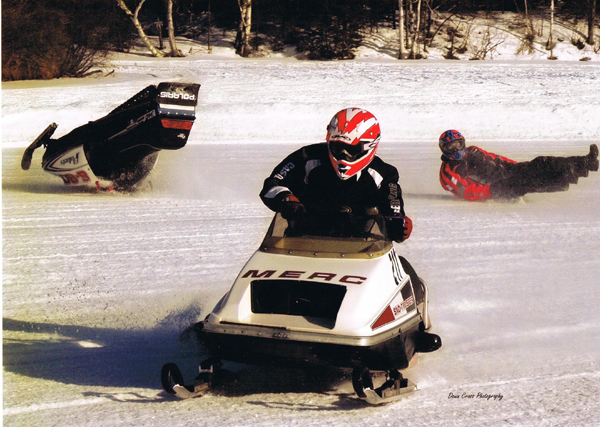 ---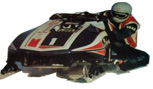 RETURN TO MAIN
---
all rights reserved - www.snoprousa.com