---
~ RollOFlex ~
Annual Reunion
Regina, Saskatchewan - CANADA
July 6th, 2013
---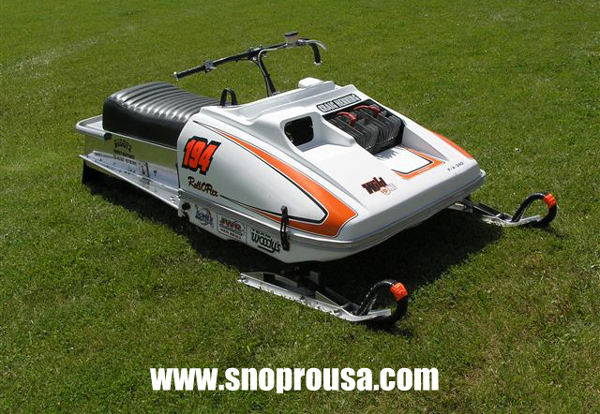 1974 Roll-O-Flex WILD ONE F/A 340 Super Mod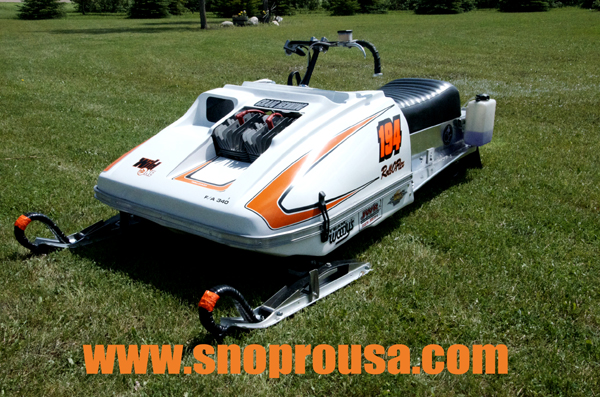 1974 Roll-O-Flex Wild One F/A 340
Craig Henning - Wisconsin
Craig races this sled on The Eagle River Derby Track.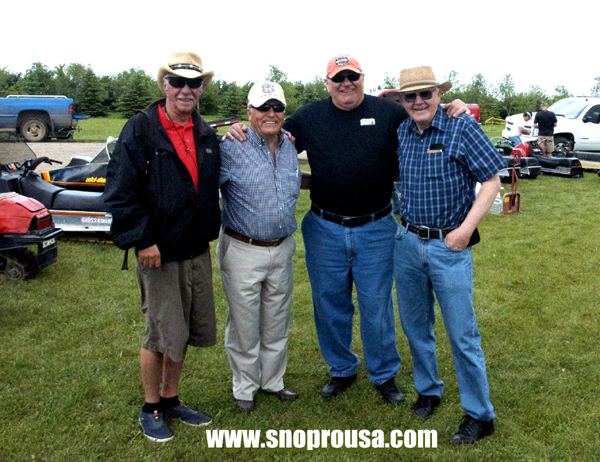 ROLL-O-FLEX Snowmobiles
Regina, Canada
GENE, Larry, MOOSE & Wade
Gene Glaze ~ Vice President
R&D Specializing in Exhaust and Clutching.
Larry Mauws ~ R & D Manager
Developed Roll-O-Flex and raced extensively in Manitoba.
Fibreglass specialist and helped design the hoods and belly pans.
Bob "Moose" Sanjenko ~ Race Sleds and Testing
AKA: "Dr. BOB"
Factory Race sled set up, testing and managed all of the trailers
for moving the sleds to races and events.
Wade Collins ~ Production Supervisor
Established Assembly Lines, R&D Department, Factory Racer
contributed to exhaust, clutch and wiring designs.
NOT PICTURED
~ Barry Thuen ~
Main Factory Racer and Test Rider / Consultant.
Involved with the R & D and the Factory Racing effort.

---
ROLL-O-FLEX ~ Regina Canada
1968-1975
Roll-O-Flex had a nice run of sleds back in the day.
MODELS:
Apache
Cherokee
Comanche
Wild One
Roll-O-Flex Websites:
Roll-O-Flex Forum
Roll-O-Flex Information

---

1974 Roll-O-Flex Wild One F/A 340
Richard Gehl - Saskatchewan, Canada
~ The Host of the Roll-O-Flex Reunion 2013 ~
You're looking at a Roll-O-Flex
Factory Sno Pro Race Snowmobile
1 of 2 made and this sled is the only one left.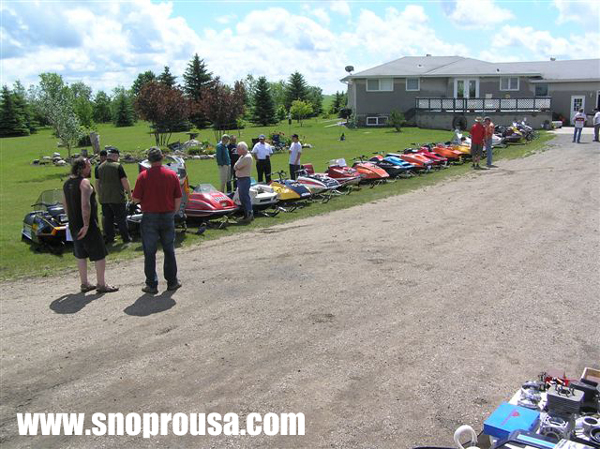 Each year the show is larger. This year there were 60 Vintage Snowmobiles on display.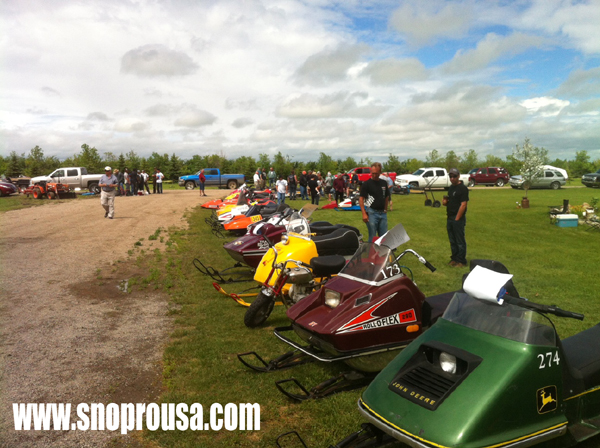 Roll-O-Flex - Reunion !
John Deere, Mini Bike, Ski-Doo, Moto-Ski, Mercury, Cats & Ya-ma's !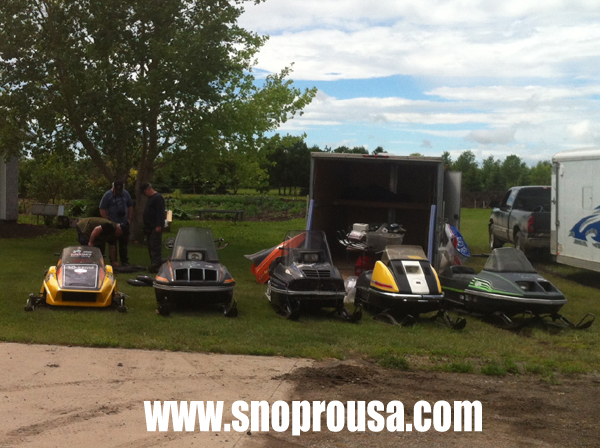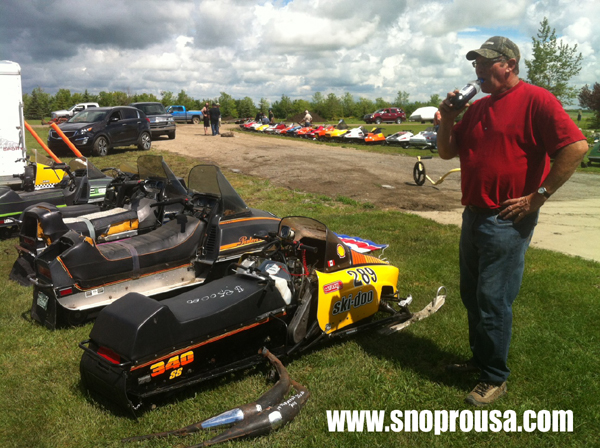 The Canadian Bottle Draining Technique in Action.
Just like the way we do it in the USA !
IS that BLIZZARD 4 SALE ?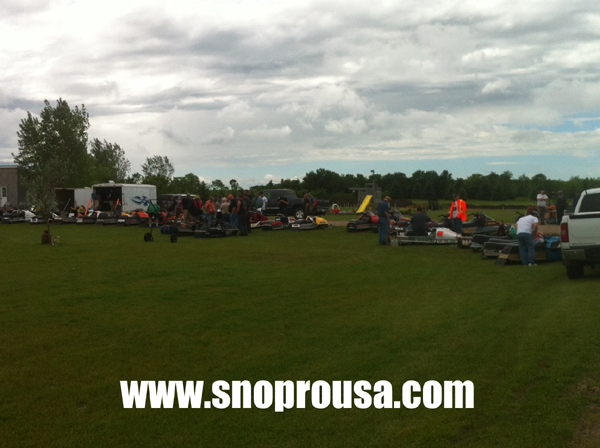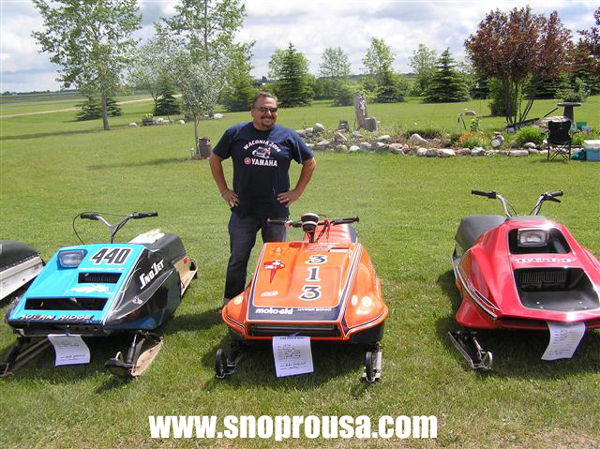 ~ SNO JET, MOTO-SKI, RUPP ~
MIKE STRATYCHUK - Southey, SK. - CANADA
Vintage sleds "Oh So Sweet and Fast!"
Mike is SnoPro USA's "Vintage Dudeman" connection in Canada.
He travels at warp speeds to visit the Northwest of USA
to share the joy of Vintage Sleds and that smile.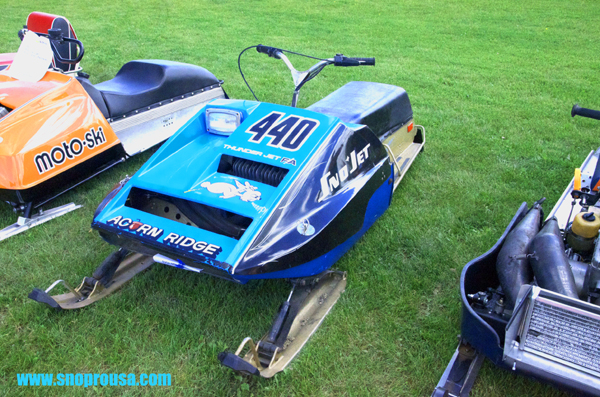 1974 Sno Jet THUNDER JET F/A 440
MIKE STRATYCHUK - Southey, SK. - CANADA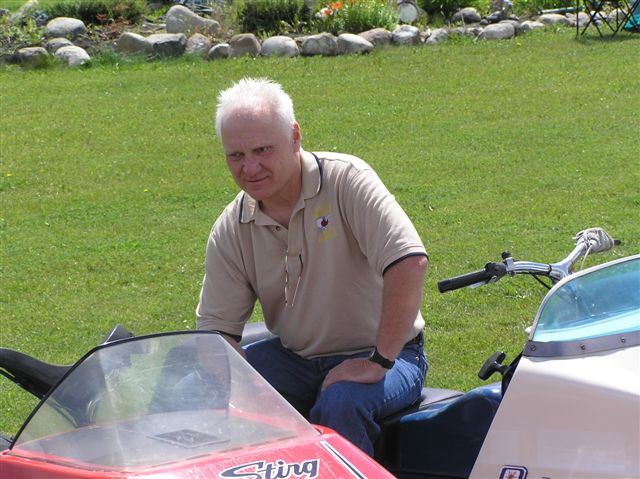 Valdi Stephanson - Stacy, Minnesota
Valdi shares an incredible amount of knowledge about Vintage Sleds on
the OLD IRON Vintage Snowmobile DVD's featuring The Waconia Show.
Buy the DVD's and watch them.
Strong Enthusiasm and alot of details about Vintage Snowmobiles.
Valdi also does some great restorations and teaches the craft to his grandchildren.
SnoPro USA is a big fan of Valdi !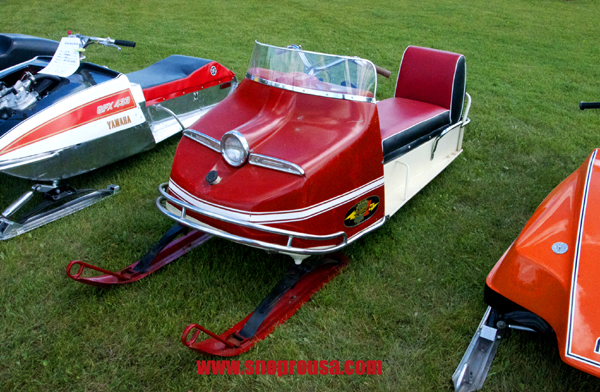 1968 Roll-O-Flex WILD ONE
Valdi Stefanson - Stacy, Minnesota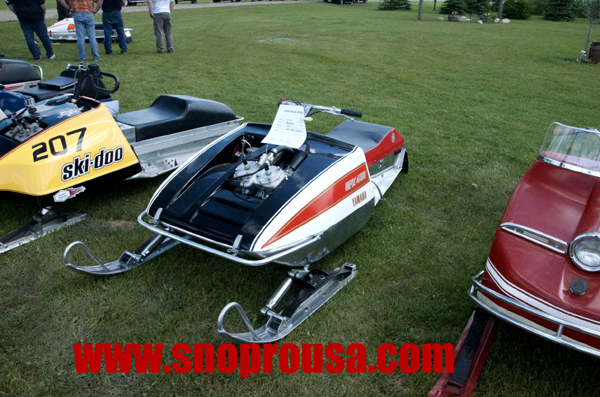 Yamma- LicSquid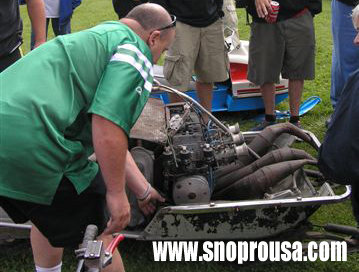 ROLL-O-FLEX PHANTOM
Notice the engine is backward.

---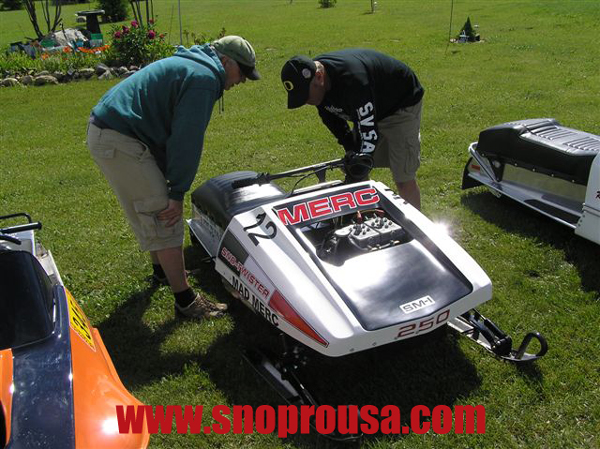 Jeff Biddiscombe looks over the sled he, built, raced & won the 1978 World Series
at West Yellowstone, Montana that year. Jeff raced this sled for two seasons.
Brent Duryba from Saskatchewan Canada purchased this Mercury
in July 2007. Brent spent 9 months restoring this race relic.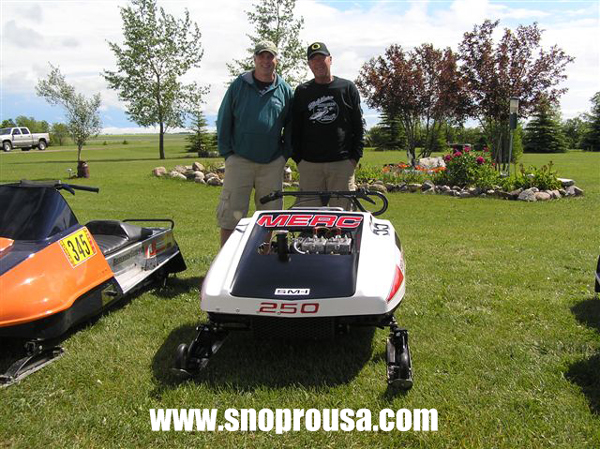 Brent Duryba and Jeff Biddiscombe stand behind
1 of 6 of the Mercury Factory Race Sleds from 1976.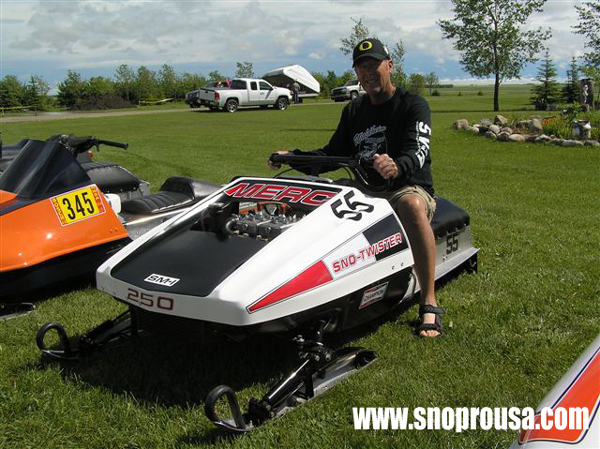 Brent Duryba is the current owner of the Merc Sno Twister and restored
it back to the fashion that it was raced by Stan Hayes who raced this sled prior
to Jeff Biddiscombe. Stan raced the sled as #55.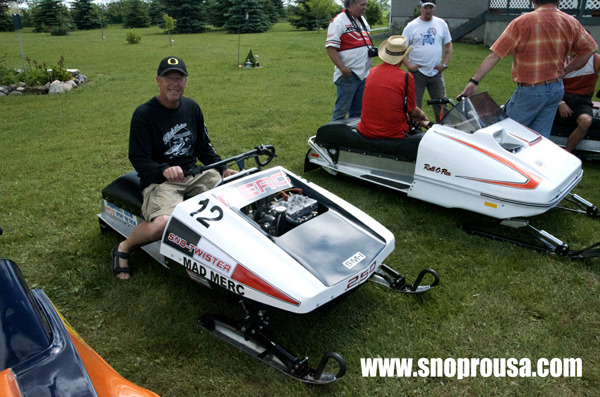 Jeff Biddiscombe raced this sled as #12 also known as "The Mad Merc".
Brent placed #55 on the left side and #12 with the Mad Merc title on the right side.
This sled clearly illustrates it's race history by Stan Hayes and Jeff Biddiscombe.
Great Vintage Snowmobile Restoration !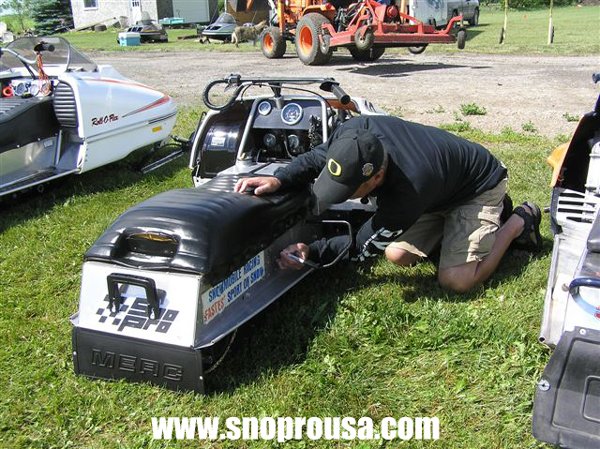 SNOWMOBILE RACING, Fastest Sport on Snow.
Jeff Biddiscombe signs the sled.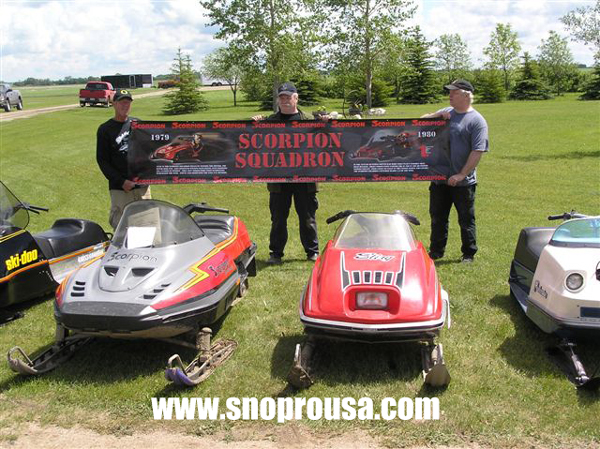 Jeff holding the Scorpion Squadron Banner with Les & Jim Pratt.
Two loyal fans from Canada.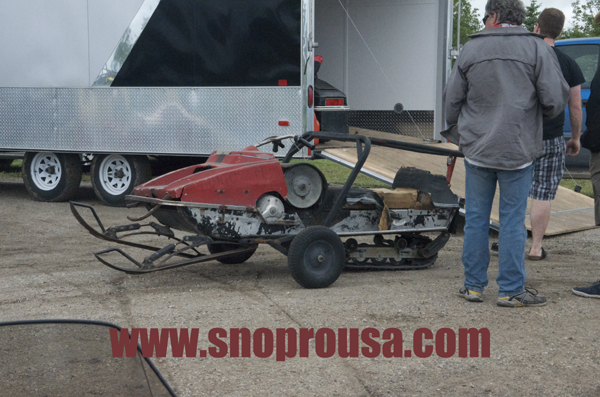 Roll-O-Flex PHANTHOM 793 Hirth Factory Race Sled
Blaine Cooper - CANADA

---
SnoPro USA would like to give special thanks to Roger & Jeffrey Biddiscombe
for their vintage sled passion that took them so far north to be at this show.
Special Thanks to Mike Stratychuk, our good buddy in Canada.
These three guys and all of the Roll-O-Flex Reunion participants at the show
made this article possible.
Very Special thanks to the Host of this 2013 Roll-O-Flex Event
Richard Gehl & the Gehl Family
Thank you !
Keep on Sleddin' !
---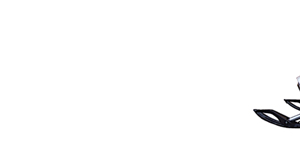 BACK TO MAIN PAGE
---
all rights reserved - www.snoprousa.com