EVEL KNIEVEL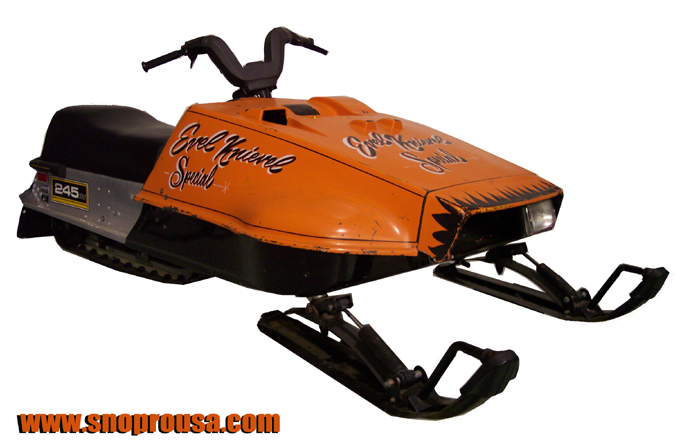 SNOWMOBILE JUMP 1977


Evel Knievel, Professional Daredevil
October 17, 1938 - November 30, 2007
Evel Knievel was as close to being a Super Hero
as a real living man could be in the 1970's.
Born Robert Craig Knievel from Butte, Montana
he became the World's First Professional Daredevil.
His white jump suit was trimmed in red, white and blue with stars.
Sporting a cape and cane with large sunglasses, it seemed
evident that Elvis might have raided Evel's closet in the 1970's.
Evel Knievel influenced alot of media entertainment and
was an International Icon.
Evel was a determined showman with a plan.
All of his events required a very large amount of planning and funding.
Evel was not just a guy jumping onto a motorcycle
and acting cool, he was involved in all aspects of his profession.
I remember those summers and the excitement waiting
for his events to broadcast. Doing the chores on a Saturday and knowing
that after supper, Evel Knievel was gonna be performing a stunt.
It was a "family event" for alot of households in America and
folks would watch the event then talk about it all week long.
As a kid in the 1970's, Evel Knievel was the direct
influence & motivation to build a ramp from old plywood
and jump the bicycle you had at the time. After you bit
the gravel a few times for your neighbors to view, learning
to ride wheelies like Evel seemed alot safer.
Later in 1989 I met Evel and would see him often up until 1992.
He always had something interesting to talk about.
The majority of our conversations were in regards to the
topic of how he was "self insured". It was a topic I was
versed & educated, so it made for interesting conversation.
When the weather was nice Evel would roll into town
driving his red '63 Split Window Corvette
with the personalized plate that said "EVEL1".
Evel Knievel had style and a high level of standards
in regards to his performance and the performance
expected from others.
Evel was best known for his Motorcycle Stunts and the
famous Snake River Canyon attempt. However,
movie production, merchandise promotion and his
television appearances were also his additional occupation.
In 1975 Evel Knievel was presented with the opportunity to host
and perform stunts on his own show.
The show was called Evel Knievel's Death Defiers
and would be broadcasted on CBS.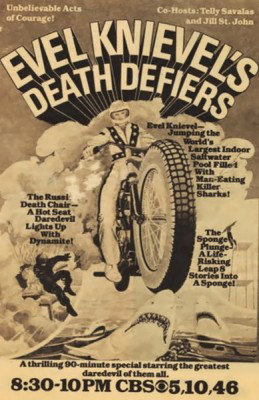 To make a long story short, the show aired in 1977.
The show had some big name 1970's TV and Movie Entertainers
involved [ Telly Savalis & Jill St. John] hosting the show
AND
there were a buffet of stunts to be performed by new
upcoming daredevils.
Evel Knievel unfortunately on Monday January 31, 1977 broke both
of his arms and crashed into a camera man during rehearsal.
The stunt jump was to clear a 90 ft. salt water tank full of 13 sharks.
This stunt was Evel Knievels last motorcycle jumping event.
One of the stunts on the show
was a Snowmobile jump performed by
Ron Phillips.
This is where our story begins and the providence
of a particular 1975 Ski Doo TNT 245 RV is explained.
---
1975 SKI DOO TNT 245 RV
Evel Knievel Purchased this 1975 Ski Doo TNT RV from Dave Leipheimer in Butte Montana.
The sled was set up with a different set of handlebars for jumping and had mods completed
by the SKI-DOO Factory and the Butte Montana Dealer.
SKI-DOO offered Evel Knievel $10,000 to use the sled the way it was sent
to him for the television show. Evel Knievel counter offered at 1 Million Dollars.
SKI-DOO told Evel to "take a hike".
Evel was not a big fan of snowmobiles. In fact he thought they disturbed Elk.
To date this is believed to be the only snowmobile Evel Knievel ever owned.
This very sled was then stripped of all SKI DOO Decals and the hood was painted orange
by Tommy Barkell at Interstate Body Shop in Butte, Montana.
One of his trusted crew members named Ron Phillips would be performng the stunt on
this Ski Doo RV in Chicago, Illinois for the TV program.


Ron Phillips was paid $25,000 by Evel Knievel.
Ron Phillips was born in Butte Montana September 22nd, 1945.
He had a long history of snowmobile racing.
In 1968 Ron began racing snowmobiles in Butte Montana.
Ron started out racing Ski Doos.
In 1970 he progressed to racing Polaris Snowmobiles,
then in 1975-1976 season was racing a Yamaha SRX 440.
Over the course of the years he raced in the northwest at:
Butte Montana's National Track, Elk Park, Idaho Falls & Clarkia's Fossil Bowl Oval.
The furthest distance he traveled to race was Weedsport New York for the World Championship.
Ron competed against other factory racers in Butte and Yellowstone Montana.
In 1971 Ron Phillips won the Western Round-UP 440 Class in Yellowstone Montana
riding a 1971 Polaris.

During his 9 years of racing in the Northwest he competed against
Duane Eck [Ski-Doo], Meryl Schroeder, George Mungus [ Polaris ] and alot of
Montana locals including his good friend Tommy Barkell who ended his race career after
a crash during testing with Darrell Triber of Triber Tiger's Race Team from Washington.
Ron raced some Cross Country Snowmobile Races too and recalled racing in Elcho Nevada
through the brutal course over very little snow on top of the desert mountain dirt and rocks.
The jump in Chicago on January 31st, 1977 was a semi success.
The sled landed on it's tail end and damaged the rear of the tunnel.
Ron claims that it really knocked the wind out of him during the landing.
He landed on his back 5 feet from the sled and thought his rib was broken
and had punctured his lung. It took 20-30 minutes for him to start breathing
in a correct pattern. He said that during this period on his back the only thing
he could hear was Jill St. John in his ear phone asking if this jump was a test
or if he was going to try again.
Ron wound up with a spinal injury and never rode or raced snowmobiles again.
Ron Phillips photo with the Ski-Doo RV was published in the
Waukegan News Sun, Section B
On Tuesday February 1st, 1977.
To Date I have not been able to locate this photo online.

---
This snowmobile was loaded into Evel's Cadillac Eureka Body Automobile.
and hauled back to Butte Montana.
[Cadillac vehicle used typically to haul flowers for funeral motorcades]

Evel Knievel gave the sled to one of his relatives in 1977 and they put it up for sale.
Dave Quick from Anaconda, Montana purchased the sled.
He rode it daily and would pick up his children at thier grade school on this sled.
The neighbors got quite a kick out of seeing Evel Knievel's snowmobile go down the streets.
In 1979 Dave Quick traded Evel Knievel's Ski Doo to Maurice Eddie of Kalispel Montana
for a 1941 Plymouth 4-Door.
In the year 2001 Maurice Eddie sold Evel Knievel's Ski Doo and a 1973 Ski Doo Blizzard
to Michael Johnson from Washington who then sold the sled to Jerry Kienbaum.
Since 2001, Jerry Kienbaum has remained custodian
of
Evel Knievel's Only Snowmobile.

---

Photo outside Dave Quick's Home in Anaconda, Montana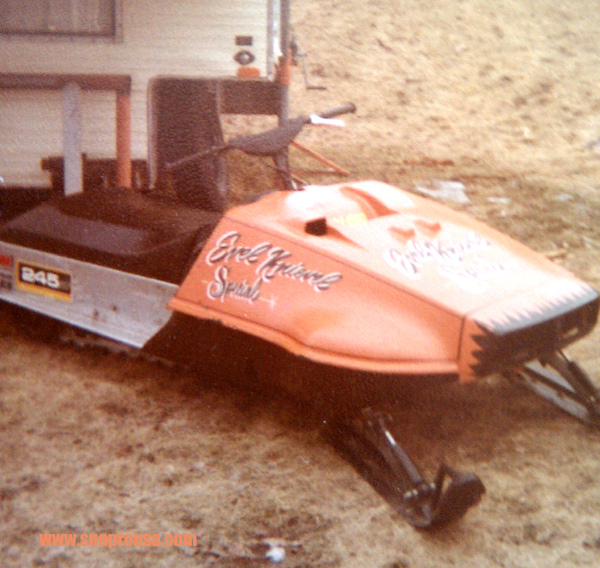 Photo Courtesy of Dave Quick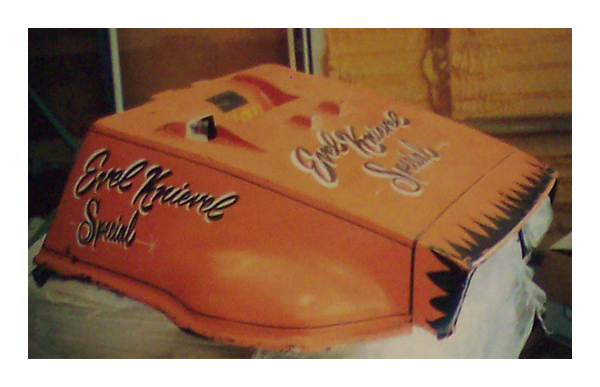 The Hood painted by Tommy Barkell - Interstate Body Shop - Butte, Montana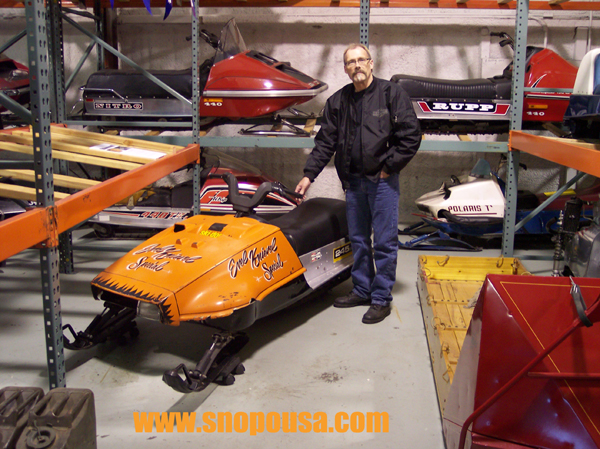 Dave Quick at the Northwest Museum of Vintage Snowmobiles 2013,
to verify that this was the sled that he bought from the Knievel Family.
He explained that he put the SKI-DOO decal in the carb intake vent
in the middle of the hood and still has the 2nd matching decal at home.
The handlebars were verified changed by the Eddies'.
---
Evel Knievel's
1975 SKI DOO TNT 245 RV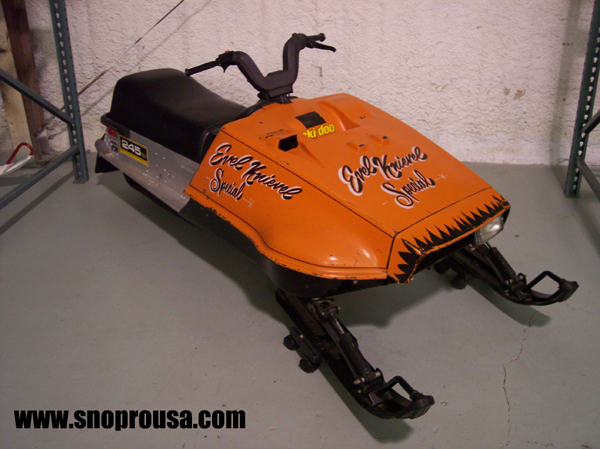 The One and Only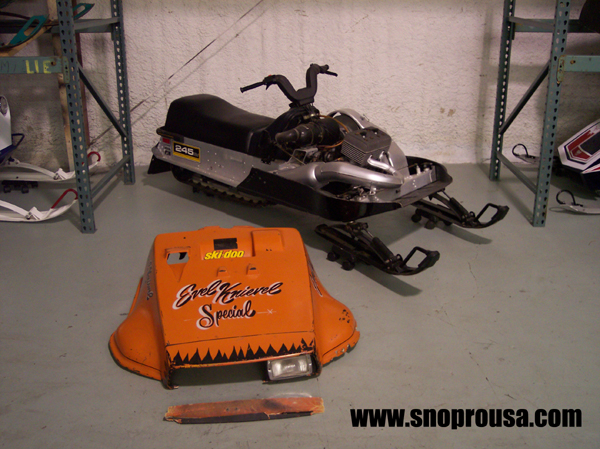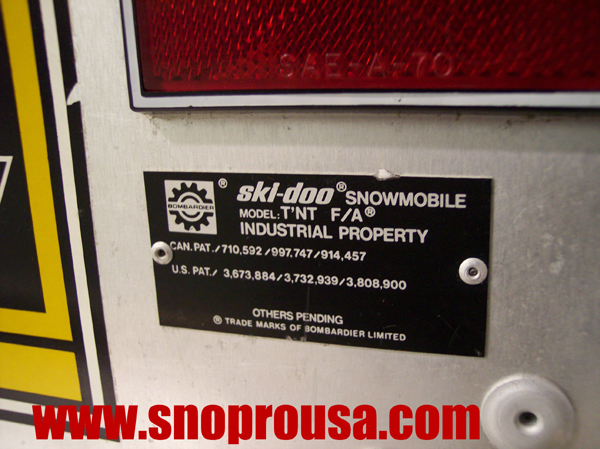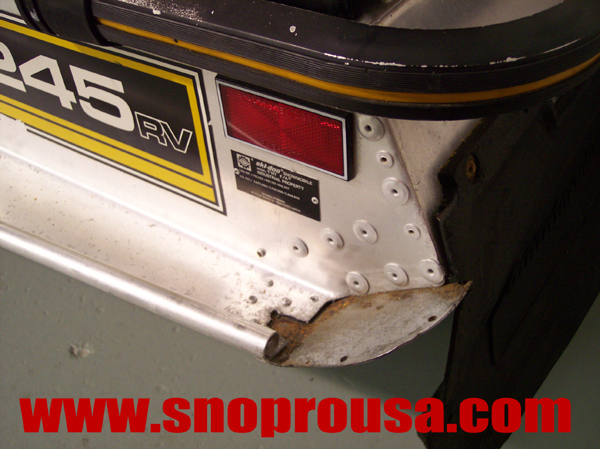 ---
If you would like the opportunity to own this unit call:
TEL: 509-455-7469
or go to:

---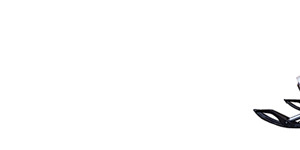 all rights reserved - www.snoprousa.com