SNOW PRO USA Goes To Walla Walla Washington to Interview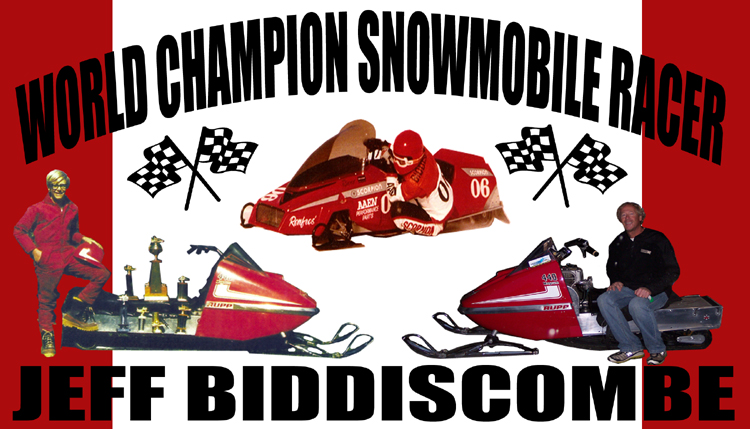 World Champion Racer, Trail Rider, Mechanic, Enthusiast & Collector

In the Northwest and across the North America, when you hear or read the
name Biddiscombe you think Snowmobiles. Specifically a talented Snowmobile Racer
with driven pursuit that broke trails in the fastest sport known to man on snow.

Jeff Biddiscombe has a fourteen year race career under his suit that started
when he was thirteen. The laws of nature are said to be strict and it was a natural
transition for Jeff to become a true checkered flag victor from the start.

Jeff's father Roger Biddiscombe had just purchased a 1971 Rupp 440 Magnum.
Dealer pressure was on from Rupp to have a solid race team and they kept tabs
on the 440 Rupps sold that year. Rupp had contacted Mr. Biddiscombe for the
return of his newly purchased sled for their Montana race team. Roger didn't
want to return their newly owned Rupp, they really liked it. Additional pursuit for the
return of the sled was made and Mr. Biddiscombe informed Rupp that they were
keeping the sled and his son Jeff was going to race it as an independent junior.

December 1970 at an oval track in Grangeville Idaho, Jeff and the 71 Rupp
440 Magnum completed with a classic photo finish and his first checkered flag.
Jeff's first race season was full of victories as a driver and as a family team.
That winter the early stages of the winning formula that sustained 100 more first places began.

Jeff's entire family was dedicated to snowmobile racing. Jeff's mother Clara Mae
was his biggest fan and supporter. Prior to snowmobiling, sledding down hills and
trudging in snow shoes was the Biddiscombe family winter recreation.

In 1967 Jeff's dad Roger discovered snowmobiles. Jeff explained that it was
February of 1967 when a local dealer in Lewiston Idaho took his family out to the
trail with two snowmobiles, a 1965 Polaris Mustang and 1967 Rupp.
"It was an easy choice for Dad", Jeff recalls, "here was this Ferrari for a sled
next to a lawn tractor".

The first Rupp went home, then later a 1970 440 Sprint and the third was the
1971 440 Magnum. With everyone riding in a family of five the momentum and
passion had a strong start for the Biddiscombes.

During high school Jeff would spend 100 hours per week dedicated to snowmobile racing. Drawing during class the plans for the current race sled in the garage,
thinking about sled parts and keeping good grades was a full schedule.

During the fourteen years of snowmobile racing, Jeff Biddiscombe raced machines
made by Rupp, Polaris, Sno Jet, Mercury, Yamaha and Scorpion. Turning wrenches
on all of the sleds with added innovations, Jeff developed strong mechanical sense and rider know how. He combined different brands of snowmobile parts on one machine
to attain peak performance results. The quick deductive reasoning to cease something that wasn't working was part of the winning formula too.

Jeff recalls hours of phone conversations with Jim Adema, who was an American household snowmobile name in racing during the 1970's. Complete comprehension
of the clutch, gears and the engine to support Jeff's natural driven instinct to win races was an enormous part of racing. Every minute on the track stemmed from several long hours of research and work on his sled.


The Biddiscombe sisters, Lisa and Shelley riding Jeff's 1973 Polaris TX race sled.

Jeff Biddiscombe #12W on his 1976 Polaris Starfire TX 340.


1975/76 Race Season Jeff Biddiscombe raced his sleds for Langley Racing, Spokane Washington.


Jeff recalls being fast racing the TX, but always having a sled, usually a little Merc right behind him.


Mercury closed down, and the Spokane dealer Buzz Rodseth had the opportunity
to get the 6 MERC Factory race sleds. Jeff was first to purchase one.
1976 Liquid Cool Mercury Sno - Twister.


The next level of racing performance for Jeff Biddiscombe began.

The knowledge, the race talent and machine performance present and accounted.
There were MERC's on the track and then there was Jeff's Merc... way out front.

Jeff Biddiscombe on the MAD MERC. Photo courtesy of Jim Beilke BEST of Sno Pro 1973-1978
---
JEFF BIDDISCOMBE
CHAMPIONSHIP TITLES
1978 West Yellowstone Montana, World Series/Champion in A-STOCK & MOD III.
1980 Idaho Falls Idaho, Silver Dollar 30 Lap Feature Race/Champion.
1980 Waldheim Saskatchewan World Champion/FORMULA II.
1981 Eagle River World Championship/#1 Driver/Independent/FORMULA II.
1981 Roetin International Cup/Champion.
1981 Waldheim Saskatchewan World Series /FORMULA II
JEFF BIDDISCOMBE
CAREER HIGHLIGHTS
200+ Races from 1970 to 1984
1971 North American Junior Champion/West Yellowstone Montana Junior 440.
1978 USSA-NW Driver of the Year / Awarded Gold Bib #1
1980 USSA-NW Driver of the Year / Awarded Gold Bib #1
1980 Eagle River World Championship / 3rd Place Qualifier
Jacques Villeneuve/Champion, Brad Hulings/2nd Place
1981 Eagle River World Championship/ #1 Independent Formula II
1982 Kawartha Cup / Peterborough Ontario / 2nd Place Qualifier.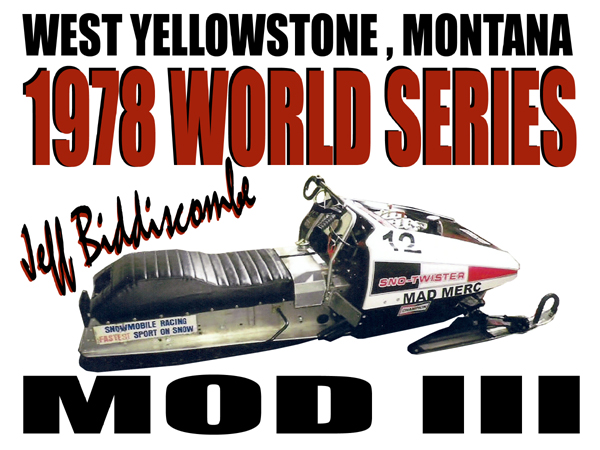 1978 Jeff raced the MERCURY Sno Twister/ MOD III, Yamaha SRX / A-Stock.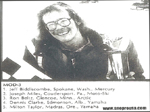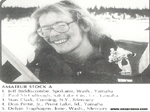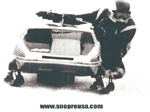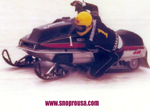 CLICK ON SMALL IMAGES TO ENLARGE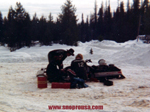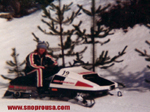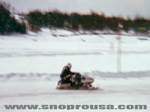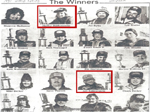 Late 1970's and early 1980's Jeff attained sponsorships with Belmont Engineering,
Aaen Performance,Yamaha and Scorpion, and his biggest sponsor Grab On Grips.
He competed at three World Class Events and won 4 Championship Titles.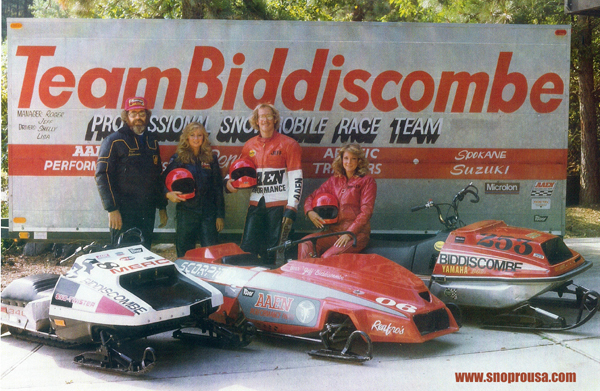 TEAM BIDDISCOMBE - Independent
Roger managed snowmobile champs, Lisa, Jeff & Shelley Biddiscombe.
Lisa Biddiscombe placed 3rd/Womens II at Eagle River World Championship in 1979 .
Shelley Biddiscombe was the 1980 Waldheim Saskatchewan World Series Champ in Mens E-Stock.
Jeff Biddiscombe now racing Scorpion Formula Snowmobiles takes racing to the highest level.
1980, 3rd Place at Eagle River World Championship and in 1981 Jeff went back to
the Eagle River World Championship to become World Champion in FORMULA II.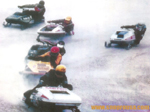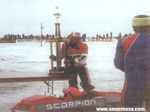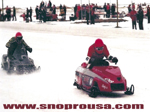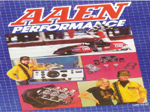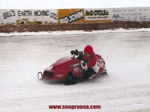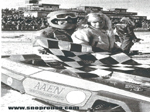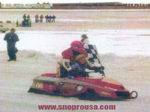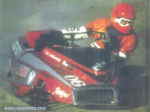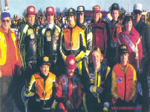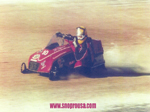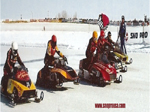 CLICK ON SMALL IMAGES TO ENLARGE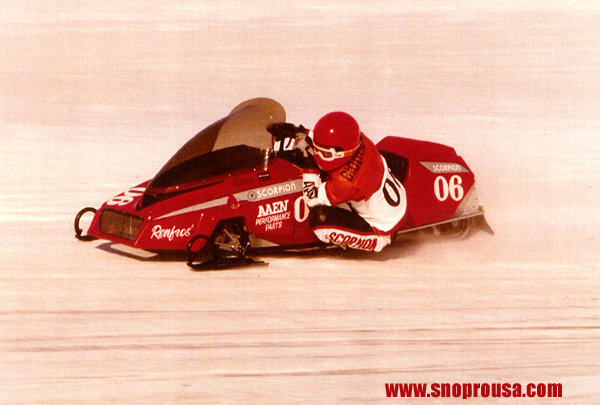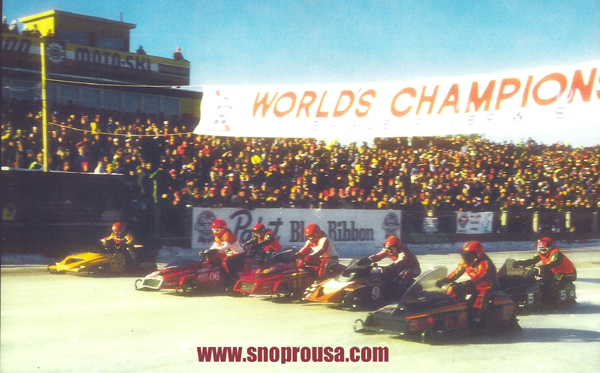 1980 Eagle River World Championship Snowmobile Race Jeff Biddiscombe on the #06 Scorpion placed 3rd
in the bright sunshine of that day behind Brad Hulings/Scorpion 2nd place & Jacques Villeneuve/Ski Doo 1st.
Photo courtesy of Jim Beilke BEST of Sno Pro 2 1978-1982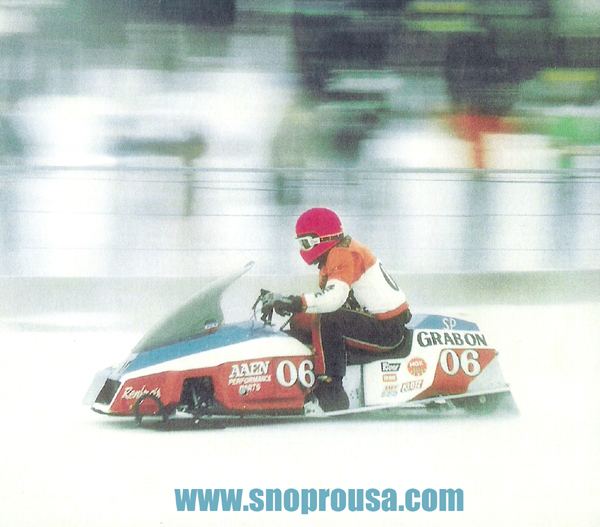 Jeff Biddiscombe's Red White & Blue GRAB ON Sponsored Formula Snowmobile.
Jeff and his father Roger Biddiscombe spent an incredible amount of time everyday
for several months building this race machine.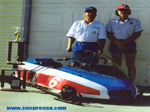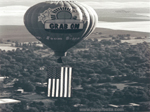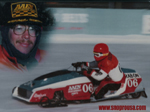 CLICK ON SMALL IMAGES TO ENLARGE

---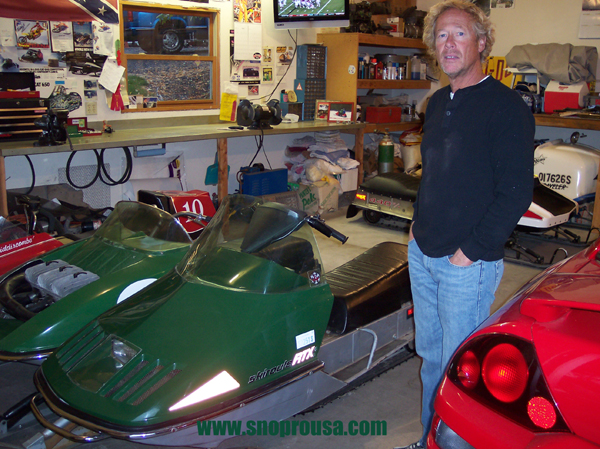 October 2009, Jeff Biddiscombe still holds the passion for snowmobiles.
A couple of Vintage Skiroule sleds and his #10 Scorpion are all ready to ride.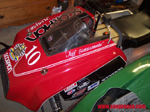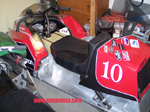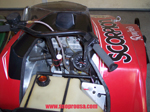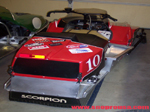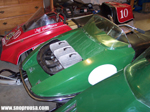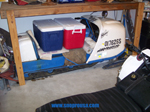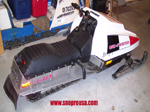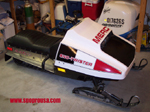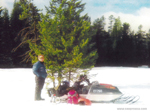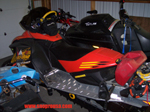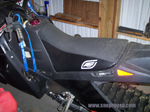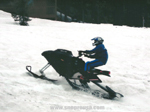 CLICK ON SMALL IMAGES TO ENLARGE
A few years back Jeff's dad found a 76 Merc Sno Twister that had barely been driven.
Jeff likes to ride it as a trail sled. Currently Jeff rides various vintage sleds,
and for his snowmobile outings, rides a Ski Doo 800 REV.
Jeff also rides a Snow Hawk for extreme snow - entertainment.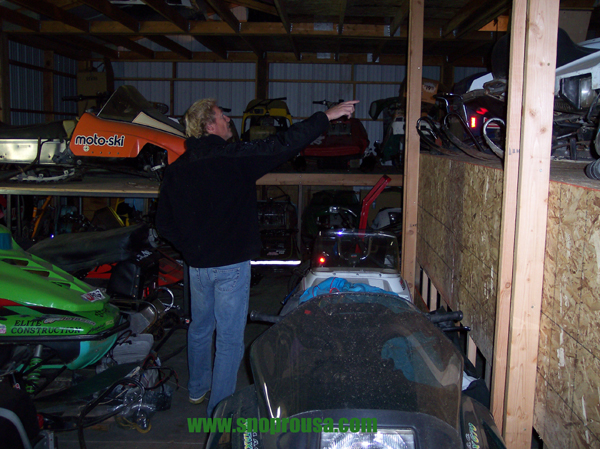 Jeff Biddiscombe has a collection of over 70 Snowmobiles. Some are for riding,
some are projects in process and others are future projects or parts sleds.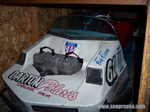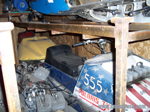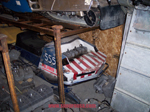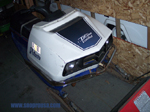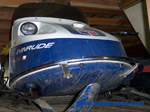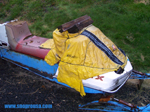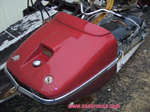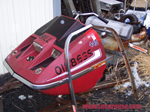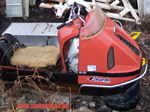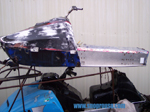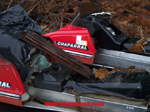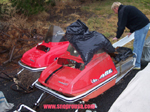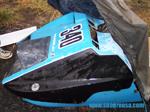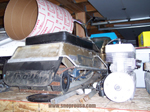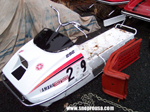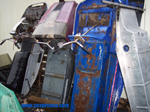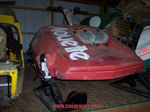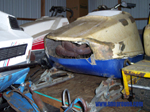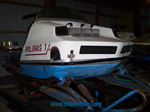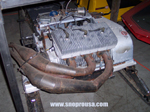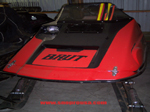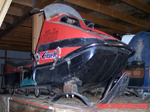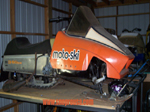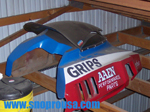 CLICK ON SMALL IMAGES TO ENLARGE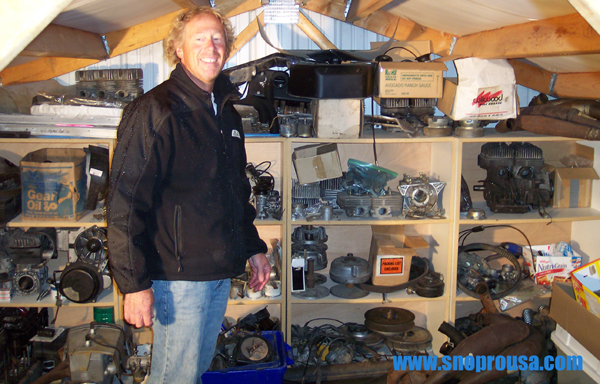 Parts and organizing parts is all part of the restoration process.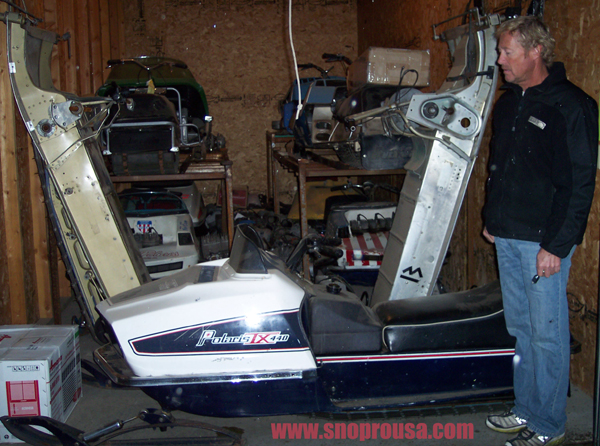 Jeff sometimes rides a great running 1975 Polaris TX 440.

---


SNO PRO USA: Q & A
Q. When did you first discover Snowmobiles and start riding?
A. February 1967 in Lewiston Idaho.
Q. What was the first snowmobile you ever rode?
A. 1965 Polaris Mustang
Q. What was the first sled your family owned?
A. 1967 Rupp , 1970 Rupp Sprint 440, then a 1971 Rupp Magnum 440
Q. Where was your first race and what sled did you race?
A. December 1970 Grangeville Idaho racing a 1971 Rupp Magnum 440.
Q. What was the outcome of that race?
A. First place just ahead of the local rider on a 71 Arctic Cat 440 EXT Special.
Q. What was your first professional Sno Pro event and how old were you?
A. 1977 Yellowstone Montana at age 19.
Q. How did you do at the 1978 World Series in West Yellowtone?
A. I finished 1st in A-Stock and 1st in MOD III.
Q. Were you ever factory sponsored by any of the snowmobile manufacturers ?
A. Yes in 1979 by Yamaha and I rode a 1979 Yamaha SRX that year.
Q. How did you do in 1979.
A. Eagle River World Championship, 2nd in A-Stock and 4th in MOD III
Q. How many races have you been in and how many where completed in first place?
A. 200 + and at least 100 first places.
Q. What is your favorite track and event you always looked forward to when you raced?
A. West Yellowstone's 1 mile oval because you can hold it wide open at 100 MPH.
Q. What was your toughest race track in your career?
A. Eagle River because of every corner is different on the 1/2 mile banked oval.
1 & 2 being so gnarly, then 3 and 4 sweep.
Q. What is your most memorable race, how was the weather that day
and what where you riding?
A. 1980 Eagle River World Championship at Eagle River Wisconsin.
It was 25-30 degrees and clear with sunshine. I was riding the 1979 Scorpion 340.
Q. What is your all time favorite sled, and what brand of sleds do you like to work on?
A. My favorite would be the 1975 Sno Jet/Thunder Jet. I like to work on Skiroule sleds.
Q. Did you ever have any accidents or injuries riding or racing ?
A. Yes, 1982 Eagle River 3rd round the sled rolled and I broke my thumb &
stretched some muscles.
Q. Who are some of the pro riders you admired when you were racing?
A. Bob Eastman and Yvon Duhamel
Q. Did you ever compete against a racer you admired as a kid?
A. Yes, Brad Huling and Jacques Villeneuve
Q. If you could replicate a sled of your choice without any hassle for parts, what would it be?
A. 1974 Twin Track Alouette
Q What is it that triggers you to think "snowmobiles".
A. My relations with Dad, along with snow and speed !
Q. What is your favorite 2 Stroke Motor Oil.
A. TF 580
---
Trail Riding with The BIDDISCOMBE FAMILY.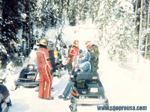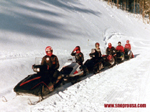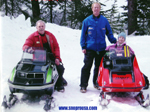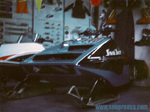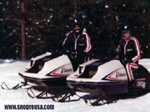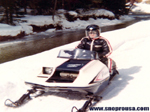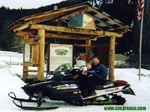 Jeff conditioned himself for racing on the trails. The Biddiscombe family rode
performance sleds on the mountain trails . Jeff's Mom and Dad rode 1976 Polaris TX Starfires.
The Merc Sno-Twister, Sno-Jet & SRX were out on the trail mixed amoung Jeff and his sisters.
The day after we met with Jeff, he went out riding with his daughter in the Blue Mountains.

JEFF BIDDISCOMBE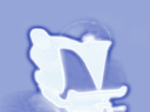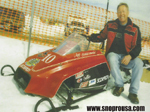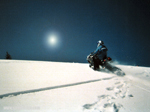 Snowmobile Enthusiast, Sno Pro Racer & Modern Snow Rider
---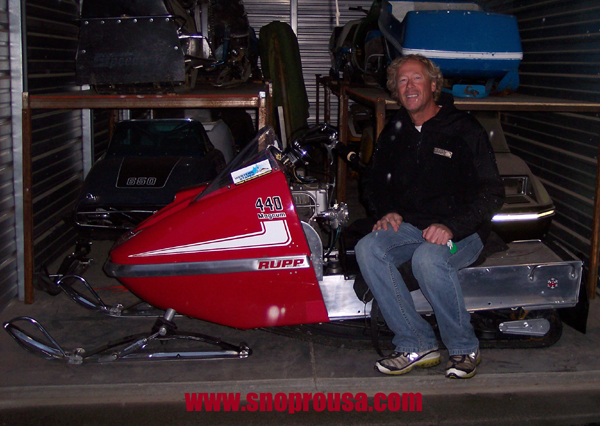 Jeff Biddiscombe sitting on a Rupp 440 Magnum he and his dad Roger restored.
Alot like the sled that started it all back in 1970.
It was an honor to meet with Jeff Biddiscombe and have him share so much race
and family snowmobile history. Spending the afternoon looking at 70 sleds and
the story's attached was a super exclusive event.

Having the privilege to review photos for this interview with Roger Biddiscombe
was insightful and an equal honor. Roger ironically had 1967 Rupp on the bench
he and Jeff are restoring for upcoming Vintage Snowmobile Shows.
---
RETURN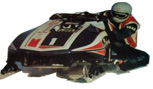 all rights reserved - www.snoprousa.com