MIKE HUBINAK
Polaris Brother from Bend, Oregon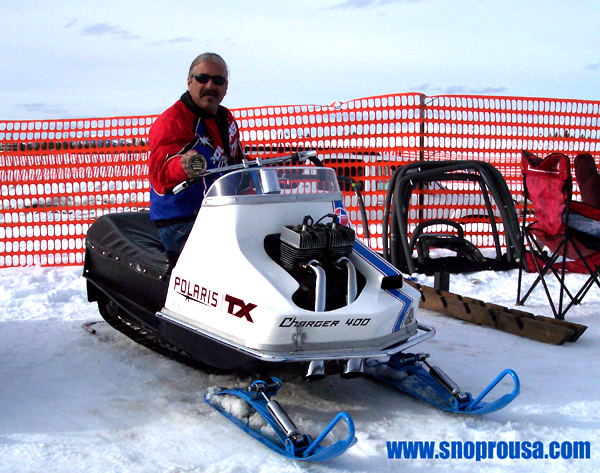 Michael J. Hubinak
March 17th,1958 - July 14th,2014
---
R.I.P.
~Mike Hubinak~
AKA: "PTM" [Pony Tail Mike]
AKA: "MM" [Megaphone Mike]
---
Mike was a Super Spirit to know and do business with.
I first met Mike in 2009 and we had the strong common interest of Polaris.
Over the next five years we had some good conversations
at Vintage Sled Events.
~VOLUME and the math behind making an engine loud with pipes
like a giant pro-audio concert !
~The prep time and "fine finishing" to metal that makes the difference
before it is sent off to the chrome plate shop.
~Tequilla and the reasons to Drink from the Top Shelf bottles !
~Fishing !
Just a few topics that always come to mind when
I think of PTM.
Mike was just one "Cool jewel" and I was fortunate to know him.
He was always even with his mannerism and was one of the guys
in the vintage sled scene that consistantly maintained
true hospitality to my family.
Mike always had a laugh at the end of his' sentences.
Just a great vibration and sense of humour.
One thing for certain, when Mike entered a room or arrived at the
show/event he put SMILES on Everybody's Face that knew him.
With his Charisma, Mike would Magnetically draw attention to those
that would meet him and grow to know him.
Mike had that Commitement to Excellence that Polaris
promotted as their slogan in 1977-78.
I bought quite a few items from him over the years.
A bumper for our Colt, bumper and bars for the 72 Starfire,
tunnel handles for three Starfires and 7 of those
SnoPro Handlebars. I was always thrilled to be able
to hand over cash for his craftsmanship.
It was a very sad day in December of 2013 when I found out
Mike had cancer. I did all of my crying that day.
It continued into the next day too.
It hit me like a brick and i wasn't even a close friend.
The year to come was the crushing lesson for everyone
around Mike and most of all himself,
waiting for the other foot to fall.
March of 2014 Mike was in Yellowstone for the Round-up
and the First National Show on Snow. Full of energy
and even racing on the oval, Mike Hubinak made every
minute count in the Caldera of Montana this year.


When we met up, he gave me a real tight hug and as we shook
hands he said, "hey Dudeman, if I stick around much longer, I am
gonna have a hair-style like you!" The same 'ol Mike with his
laughter at the end of his sentence, making light of his situation.
It was a tough moment that reminded me of the impermanence
of Life and the True Courage Mike Hubinak chose with his life.
My deepest sympathy goes out to Mike's Family and his Friends.
He had ALOT of Friends and I am certain that the loss is an impact
for the many people he has left on Earth.
Mike would drive from Oregon to Wisconsin or Minnesota like
it was just up the road to the lake. On those trek's Mike touched
alot of lives and was a real Spark to ALL of Our Lives.
The Spirit of Mike Hubinak will live on through many of us
as we ride our sleds with the fine parts that he put so much energy into.
His production of such great snowmobile parts is just a portion
of the many talents Mike had under his belt.
I know for certain that here at SnoPro USA when I fire up my Polaris Sleds
with his SNOPRO bars and ride, there will be a part of him with me forever.
~ Long Live & Bless the Spirit of Mike Hubinak ~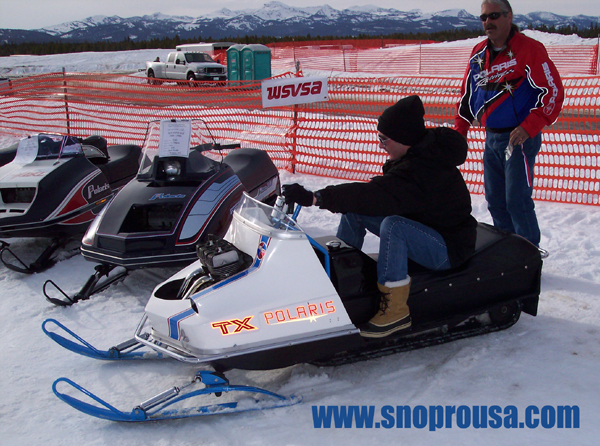 Mike had just won an award with his sled, hence the photo at the top of this page.
As I was taking photos, he looked at me and said,
"hey has your son ever rode a sled this old?"
Next thing little Bob is takin' off on Mike's Polaris.
Lifetime highlight for my son in Yellowstone.
Mike was always generous like that.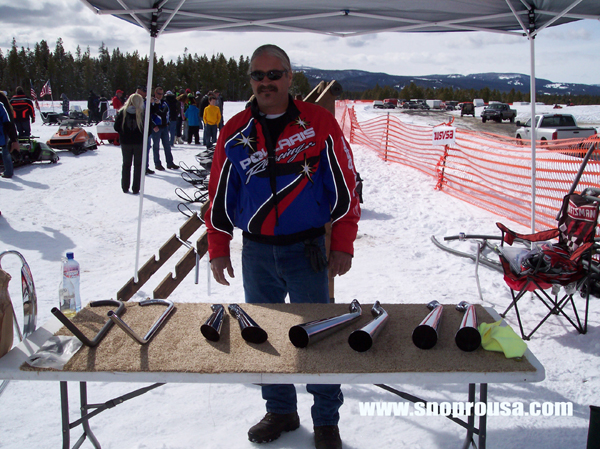 Mike with his MEGA-PHONES and my first 2 handlebars !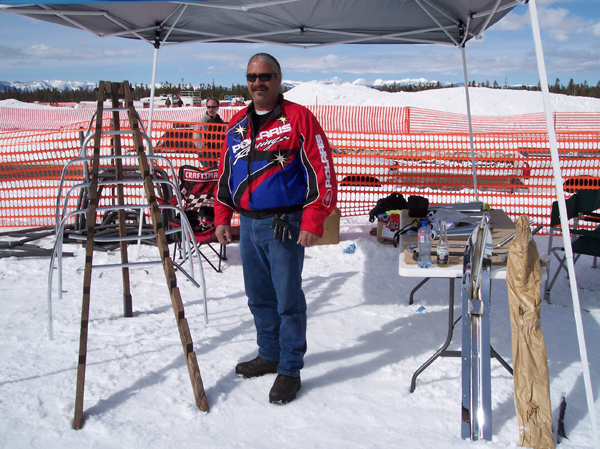 Mike Hubinak - West Coast Vintage Sleds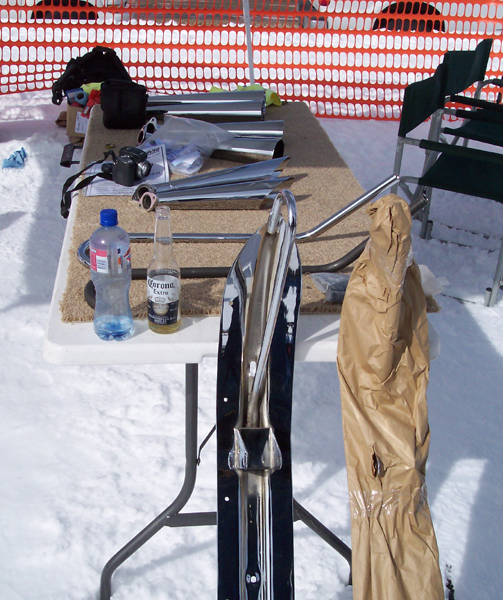 Megaphones, Handlebars, Skis, White Tequilla and a Corona.
Funny little story about this weekend and that water bottle.
I had been taking photos all day and it was a bright one on the snow that afternoon.
Mike comes up to me and says "hey Dudeman you are looking dehydrated!"
I said, "man you are right I am super thirsty !" He cracked the lid and I started chuggin' !
It was cold and went down like water so I sucked down a good couple of inches before
I could feel the heat. I handed the bottle back and said "that firewater ain't gonna hydrate me!"
We laughed and laughed. Mike was full of good natured enjoyment.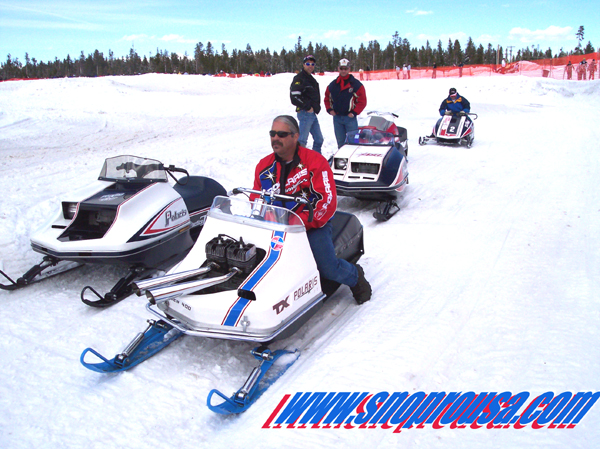 Mike sitting on his Polaris in front of the crowd at the Expo in Yellowstone.
Around noon in Yellowstone a few of us rode over to the Sno-Cross track
and went around the perimeter of the course with our Vintage Sleds.
WSVSA had shirts rolled up and as we would go by the crowd
we would toss shirts up to them.
If you notice by looking at the first two photos above,
[which were taken later in the day after this photo]
Mike had changed his Megaphones to a set that went through the pan.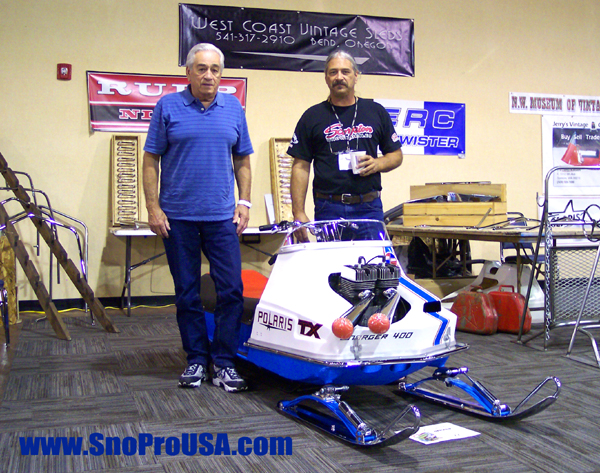 2011 VSCA National Show ~ Billings, Montana
Mike brought his Dad to the show and introduced most of us to him.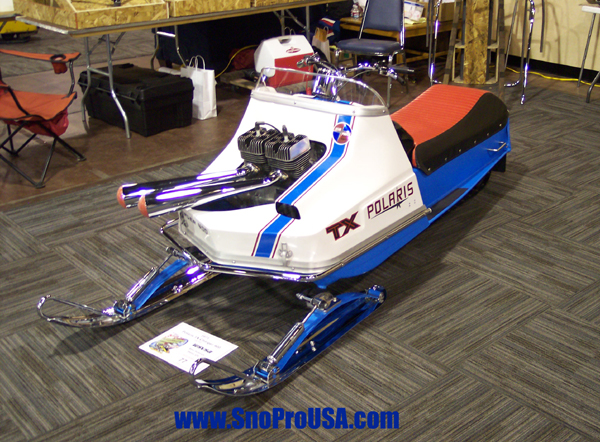 Mike Hubinak's Polaris TX Charger 400
Over the years this sled evolved into something greater to view for each event.
Originally it had a black tunnel and belly with a textured trunk paint surface.
Painted pan and tunnel, chrome skis and the red and black seat.
He was ready for the National Show in Good Fashion.
Whenever I see one of these sleds, I think of Mike.
I will now always think of Mike when I see a Charger.
Most of us will for certain.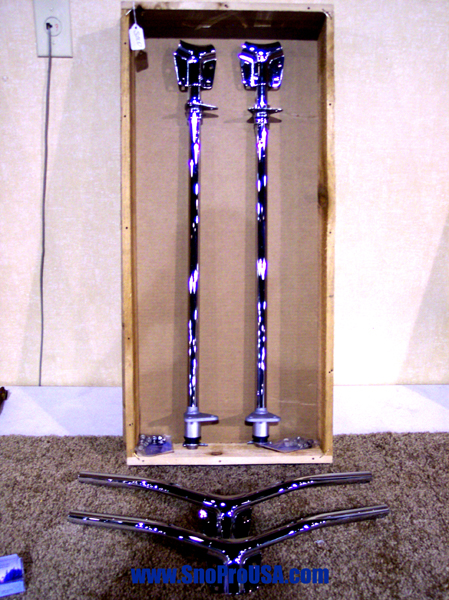 Mike Hubinak's Craftsmanship on Display.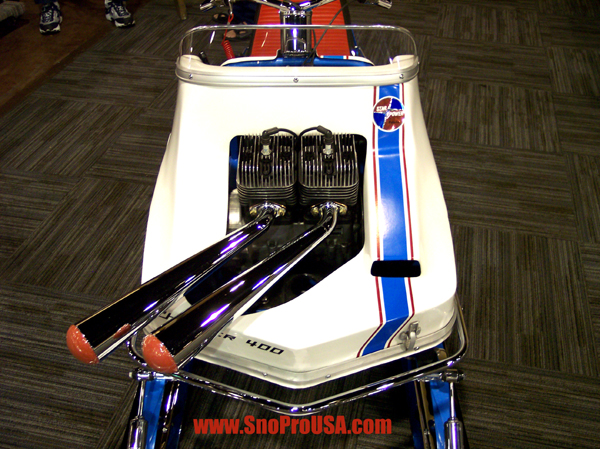 Megaphone Mikes "signature" Sled.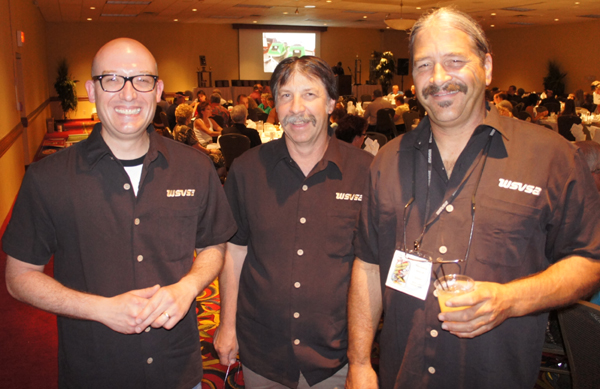 2011 VSCA National / Billings, Montana
Self, Tony & Mike
If I smiled any bigger I would have needed stitches !
At this stage of the show we were exhausted but ready to party.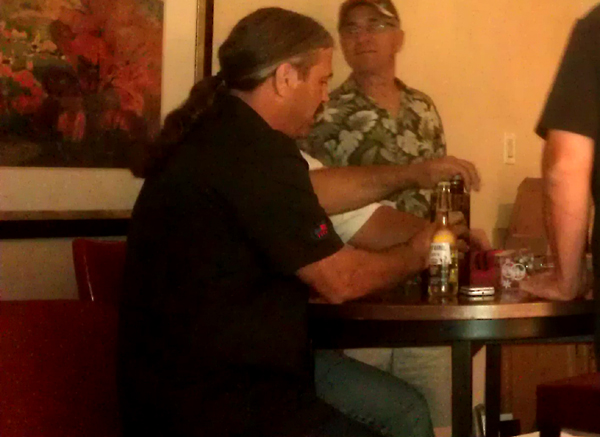 And PARTY WE DID !
Mike with his hands on the Tequilla and a fresh Corona.
That night he and I drank alot of Tequilla and was literally the last time I have ever had Tequilla.
My wife was speaking Spanish to us and Mike just kept those Corzo shots coming.
With each shot Mike had additional "educational" information about his Tequilla !
When the bottle went completely upside down empty I was invisible.

---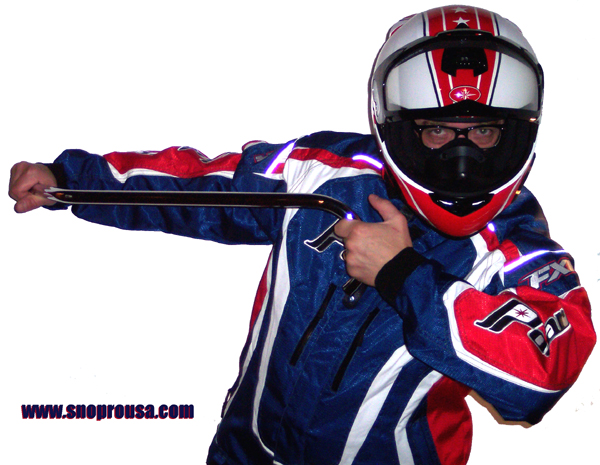 The first set of chrome SnoPro bars I got from Mike.

---

During Mike's productive life he made contributions to our lives that are now
left behind to always remind us of his dedication, skill & pursuit.

I am thankful to have known Mike Hubinak and to have given all my respect
to him as a person and friend while he was alive and healthy.

It is a huge reminder of while we are alive to maintain the good relationships
and show your appreciation to those you care about.
Mike was a special guy and he touched alot of lives just because he
cared and shared his innovatons, talent and most of all himself.
My sincere condolences go out to Mike Hubinak's Wife, Family and Friends.