POLARIS INDEPENDENCE
CHRIS DILEO - Bozeman Montana


---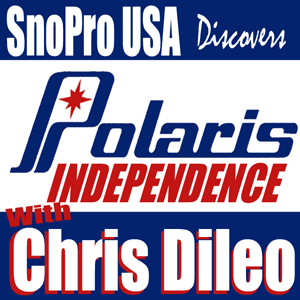 There is no way to capture the full throttle passion that Chris Dileo has for Polaris
with photos from any camera. However, in this interview it is possible for you to capture the
Indy Vibe that Chris has Created. The premium collection of sleds that you will see
on this web page illustrates only "part" of his passion. The elegant way they are stored and
maintained is the other part of the equation that makes Chris Dileo's Polaris Fever & Passion
as Brilliant as the North Star on a clear Montana night.
I first met Chris in Spokane at the North West Museum of Vintage Snowmobile's
2010 Open House. It was the year after the "Racers Reunion" and Chris was there
picking up a Polaris Indy 400 sled from one of Oregon's finest Polaris Brothers', Racer & Collector
Jim Smith from the WSVSA.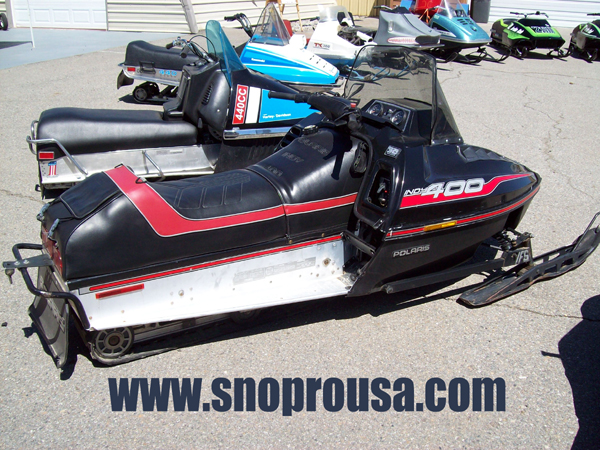 Polaris INDY 400 - July 17th, 2010 - North West Museum of Vintage Snowmobiles OPEN HOUSE
Chris and I immediately started talking "Indy Sleds" and ironically we were both s a v v y
to the very same 1980 TXL 340 INDY that was listed online in some
vintage sled classified that week. It was great talking to Chris and seeing
how connected he was from coast to coast in regards to Polaris INDY Sleds.
March of 2011 we met up again in West Yellowstone, Montana. I will never forget
how crisp, cold and clear it was that morning in Yellowstone as the sleds lined up for the show.
There it was.... a fleet of Polaris Sleds . . . .
The 8th Annual Western Round UP SHOW entry tags on the windshields said,
"CHRIS DILEO - BOZEMAN MONTANA"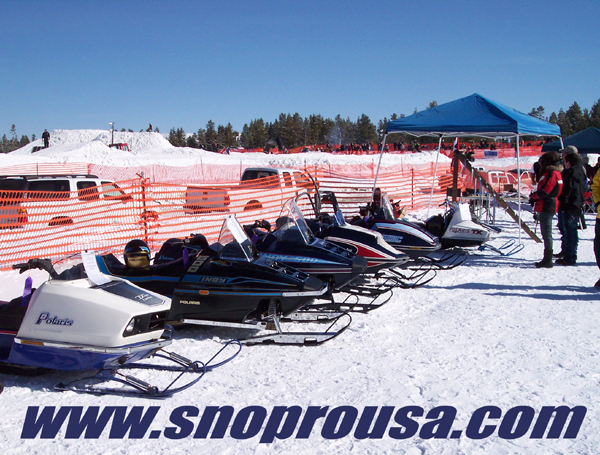 Dileo's four Polaris Snowmobiles in Yellowstone Montana at the 2011 WSVSA Western Roundup
1985 Indy SE - 1981 Centurion Indy 500 - 1978 TX-L 340 - 1980 TX-C 340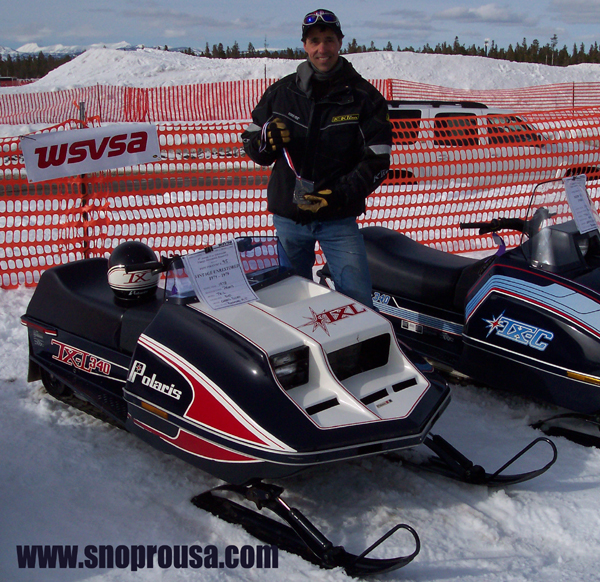 Winning Hardware with the 1978 Polaris TX-L 340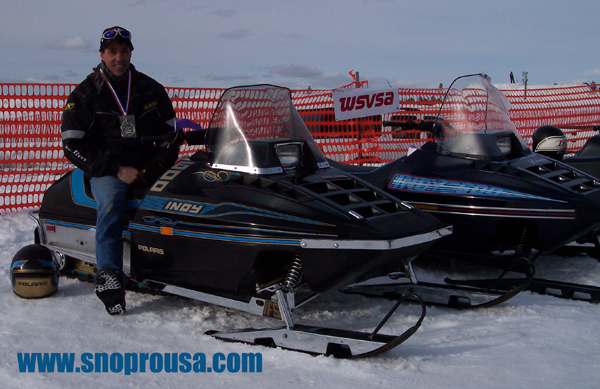 Additional Winners Circle Awards for the 1985 Polaris INDY SE 600
The 3rd Time meeting up with Chris Dileo was at the 2011 VSCA National Show
hosted by the WSVSA in Billings Montana. Chris shows up with three Polaris Sleds
and went home with three pieces of National Winning Hardware at the banquet that night.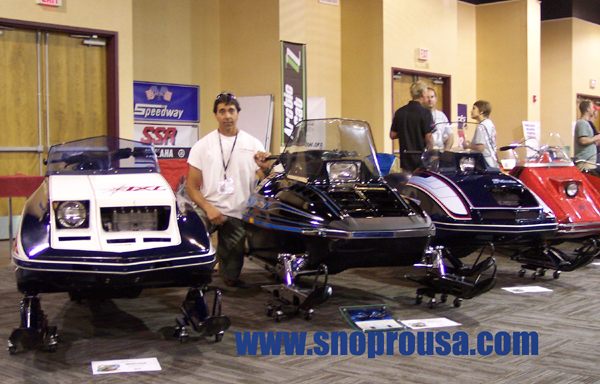 VSCA National Championship Show - July 2011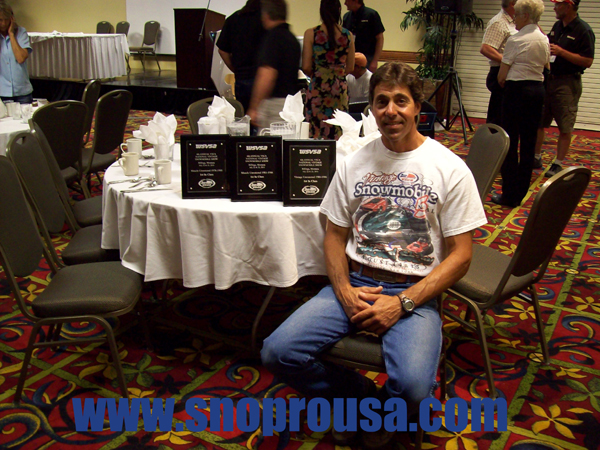 VSCA National Championship Show - July 22, 2011 - Billings, MONTANA

---
As the photos accumulated via email to complete this review
the changes and progress of Chris Dileo's Polaris Snowmobile garage changed also.
The time, effort and focus to create such a great sled collection with a functional work and storage
area is overwhelming. It is exciting and an inspiration to see the energy from this Polaris
collection and the next era of VINTAGE SNOWMOBILES that will
be at future Vintage Sled events.
I always have a blast talking to Chris, so if you see him at a show with his Indy Sleds
and need some info, he is the source.
Enjoy this story about a guy that is True Blue Polaris and enjoy
these photos of what is considered the most Premier POLARIS Indy Collection
we have ever seen.

---
CHRIS DILEO - The Early Years Riding Polaris Snowmobiles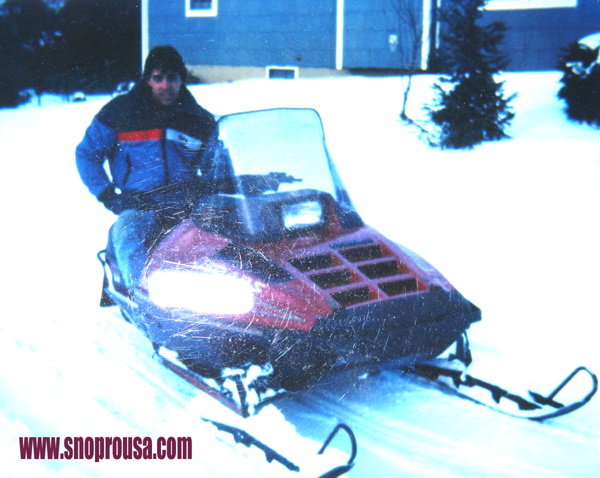 Chris Dileo at 19 years old - 1984 Polaris Indy Trail 440 - His First Polaris
White House Station, New Jersey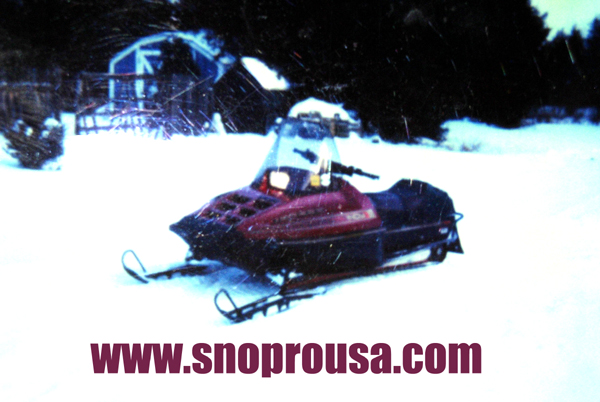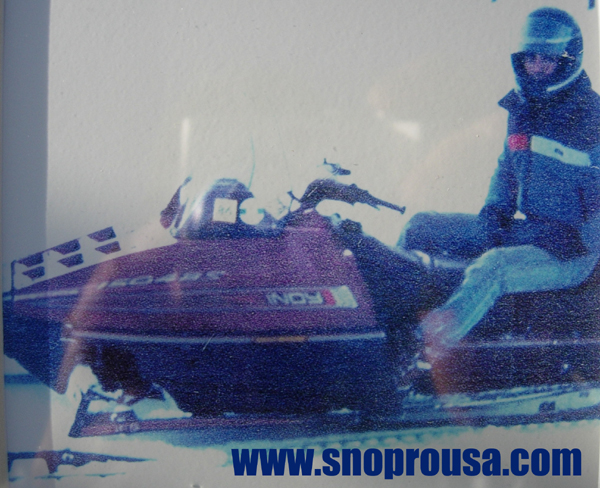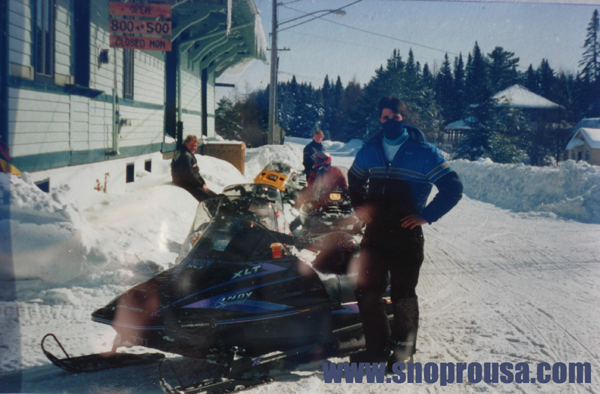 1993 - Big Moose, New York - 1993 Polaris Indy XLT Special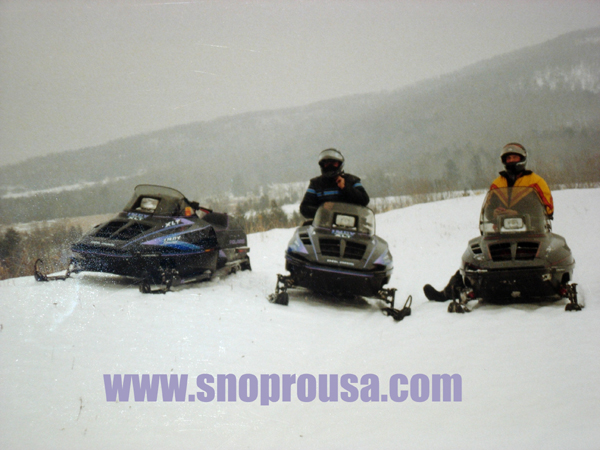 1993, Chris out riding with his brother and friend in Pennsylvania.
1993 Polaris XLT Indy Special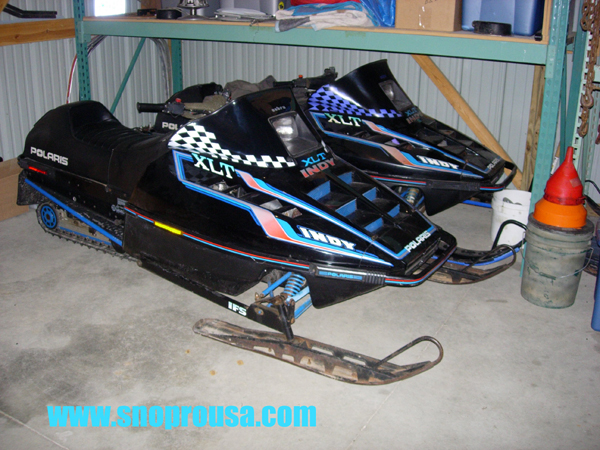 1992 Polaris XLT Indy PROTOTYPE 580 Mono Block 3 Cylinder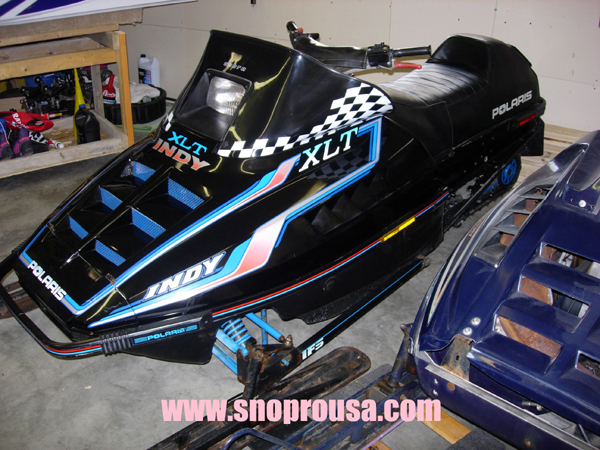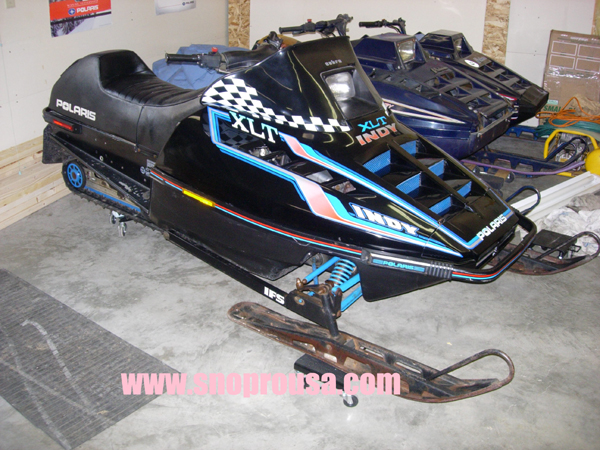 ---

RIDE MONTANA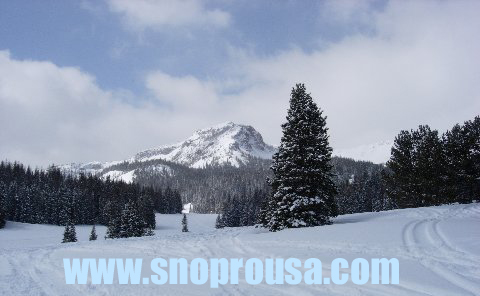 Lone Mountain - Bozeman Montana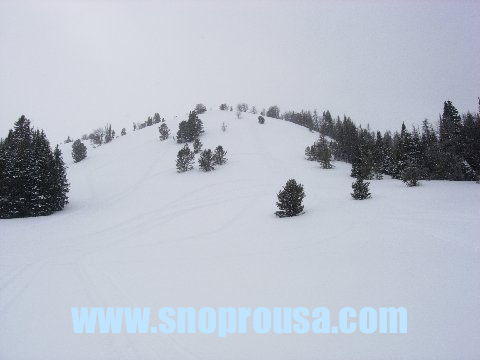 Photos from the ridge where Chris rides in Montana.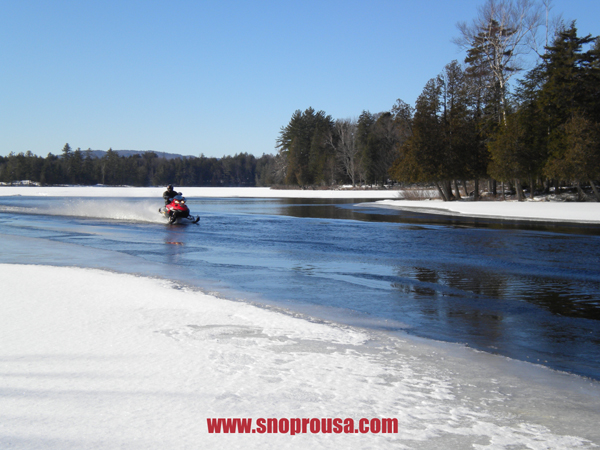 2008 Polaris IQ 600 - Old Forge, New York - The end of Long Lake in the Adirondack's.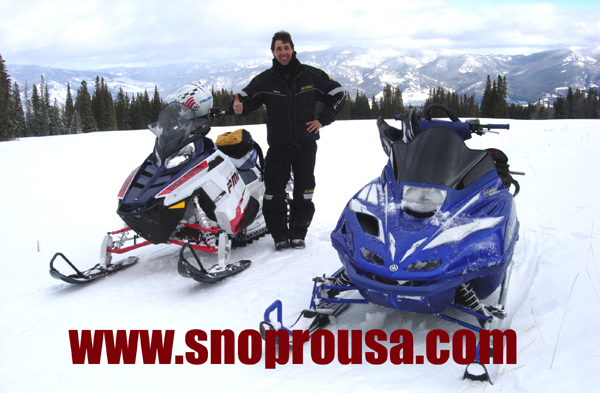 Chris Dileo out for a ride on his new 2012 Polaris !

---
POLARIS INDEPENDENCE


CHRIS DILEO - Bozeman Montana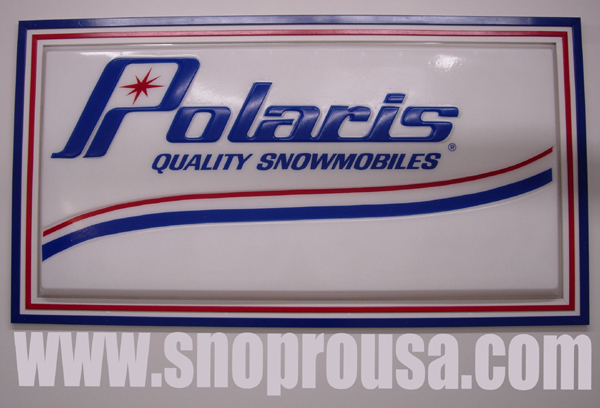 The Pursuit of Excellence ! The Way Out !
---

1975 Polaris TX 500 Limited - First Year of the Midnight Blue !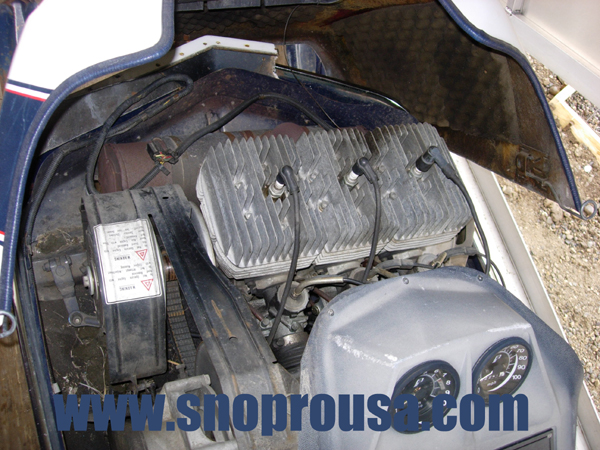 Polaris 3 Cylinder 500cc Free Air Engine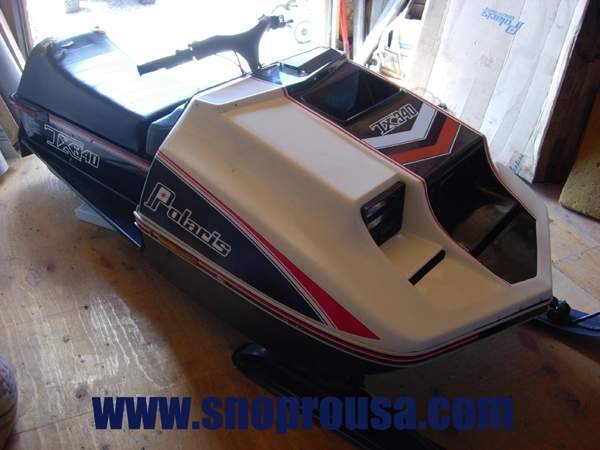 1977 Polaris TX 340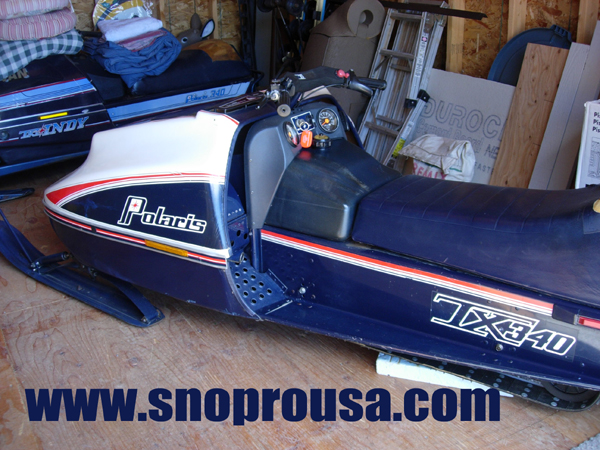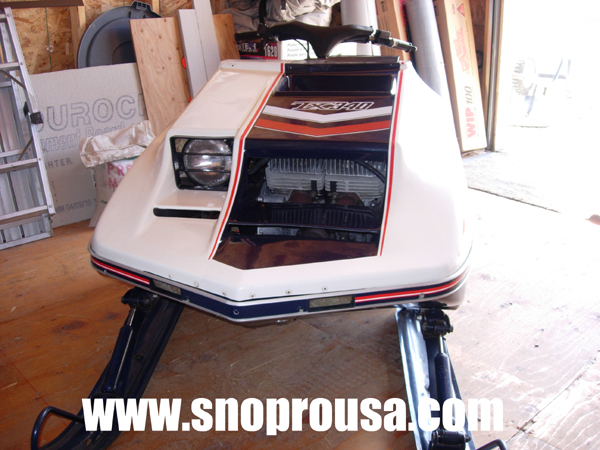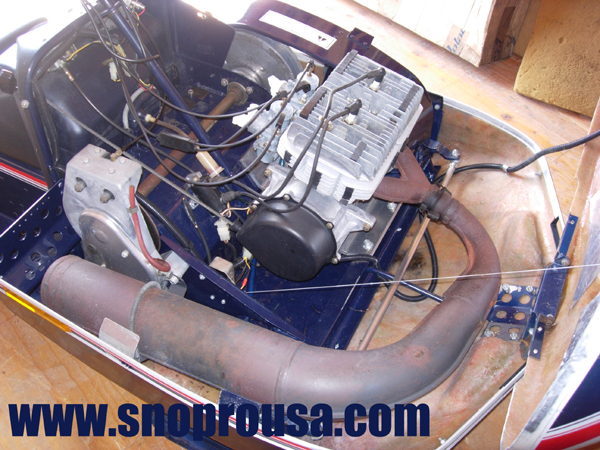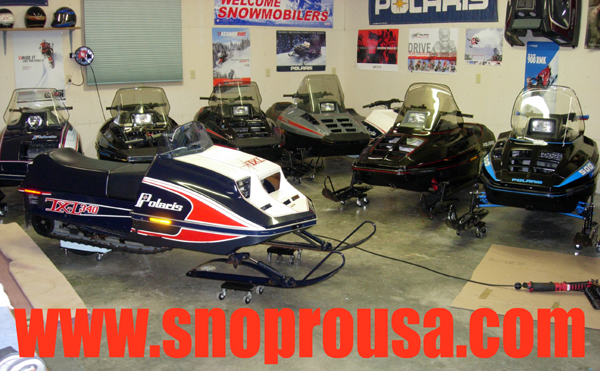 Early photos inside Chris Dileo's Private Polaris Showroom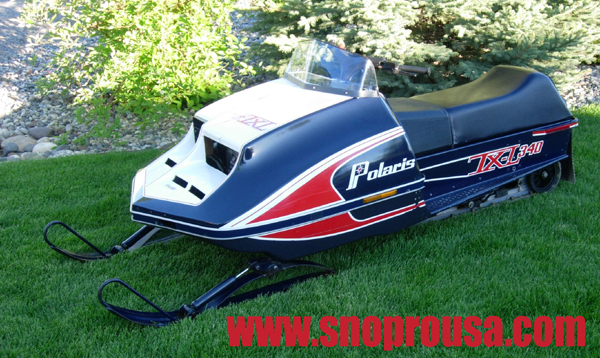 1978 Polaris TX-L 340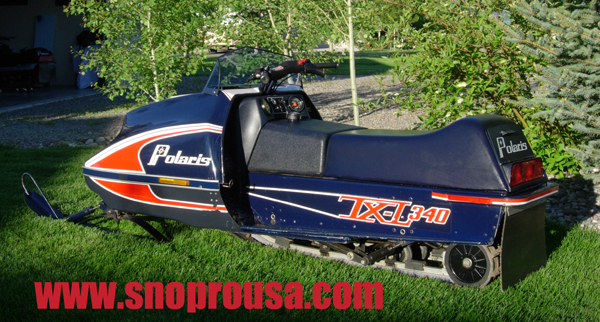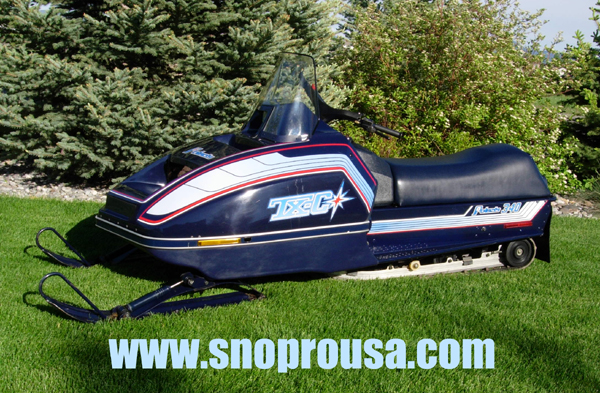 1980 Polaris TX-C 340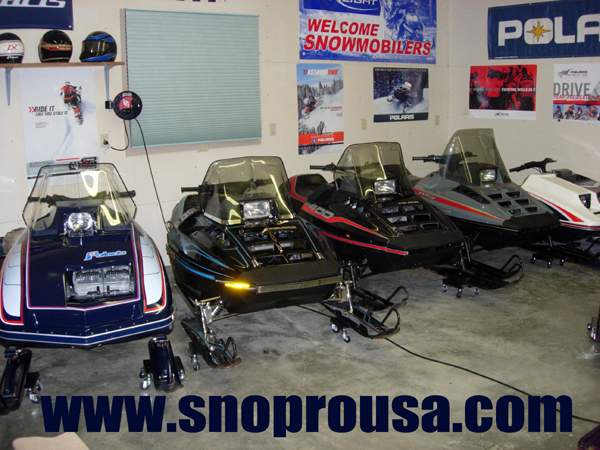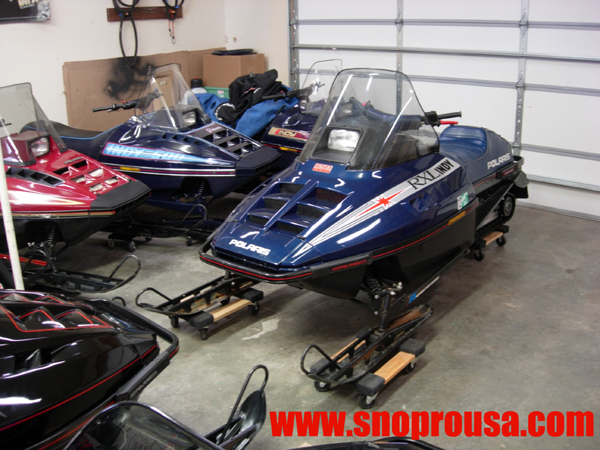 1991 Polaris RXL Indy 650
First year of fuel injection. 400 original miles.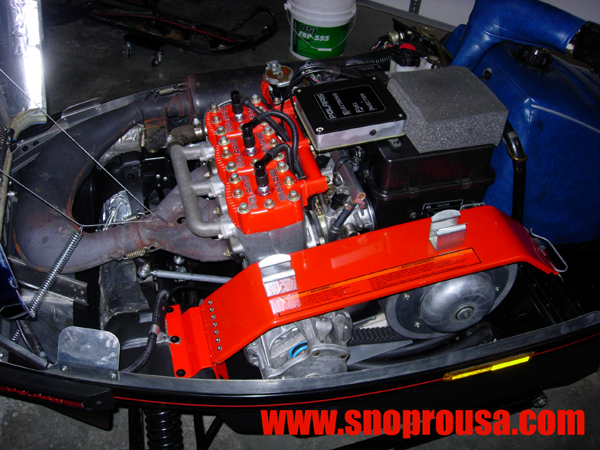 RAIL Fuel Injection System.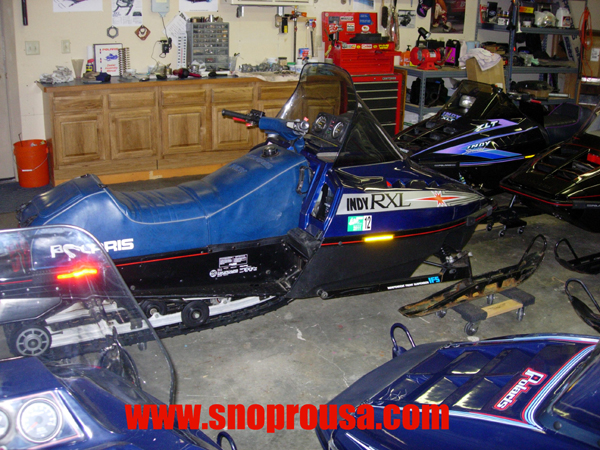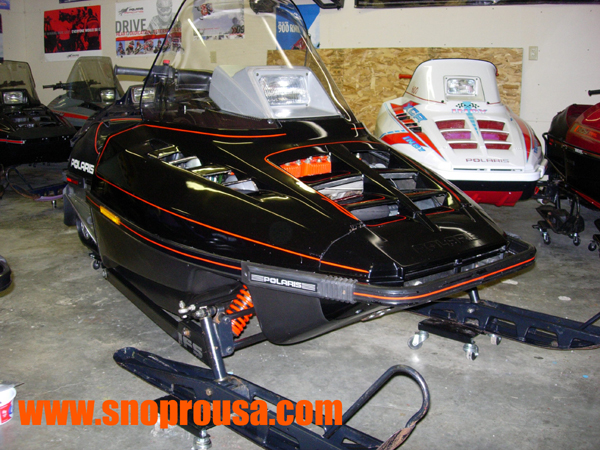 1988 Polaris Indy 650 [ first year of the 650 3 cylinder engine ]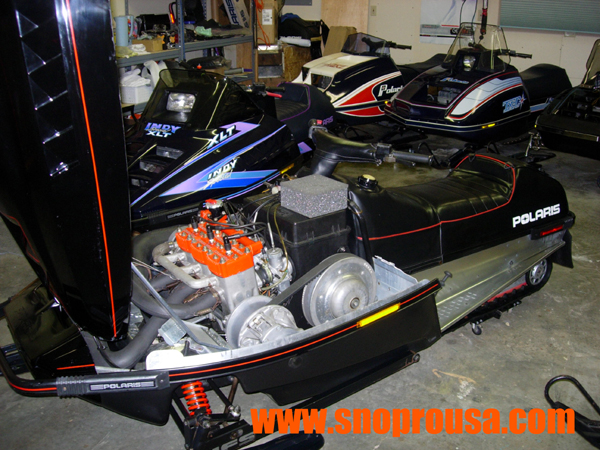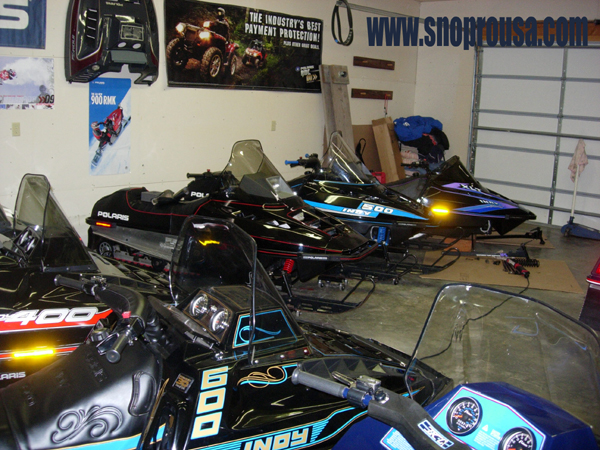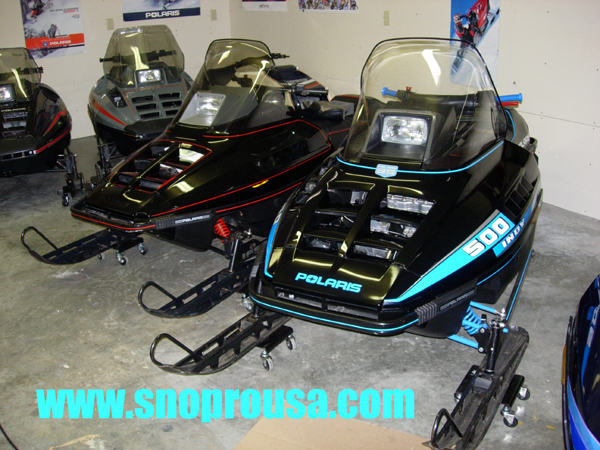 1991 Polaris Indy 500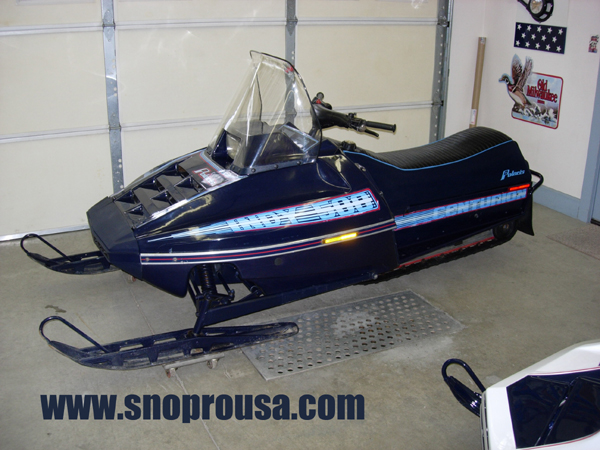 1981 Polaris INDY 500 Centurion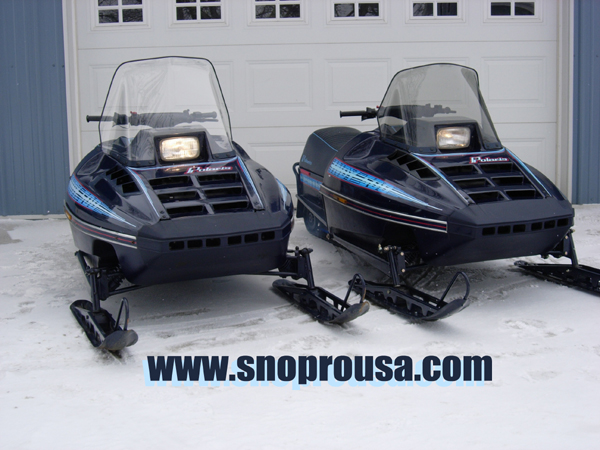 Engines running for the Ride of Independence !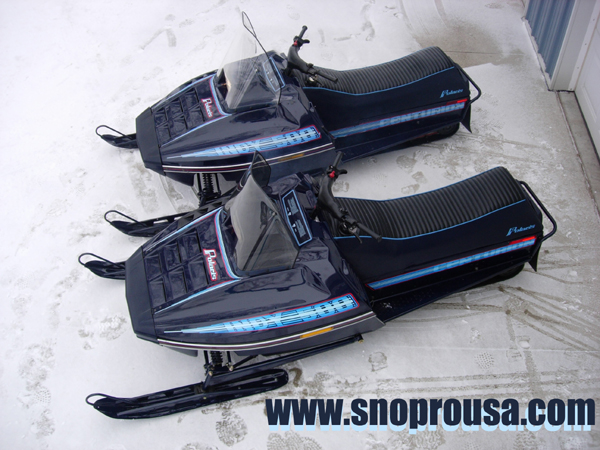 1980 Polaris released this independent suspension to the consumer market with the 340 TX-L.
This was the begining of the changes to the next generation of snowmobiles.
These two 1981 Polaris Indy 500cc 3 cylinder sleds are in better than show room
condition 31 years later.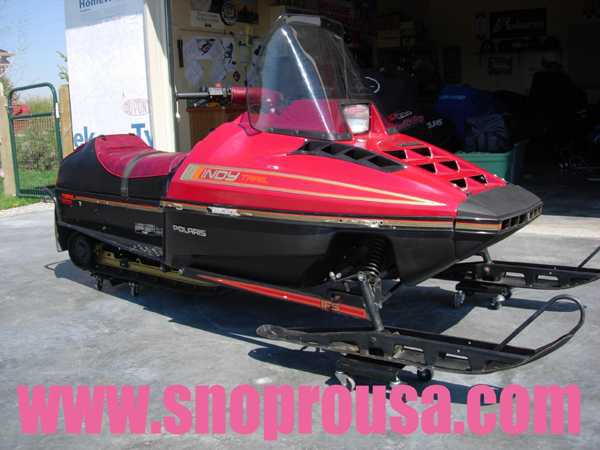 1984 Polaris Indy Trail - 440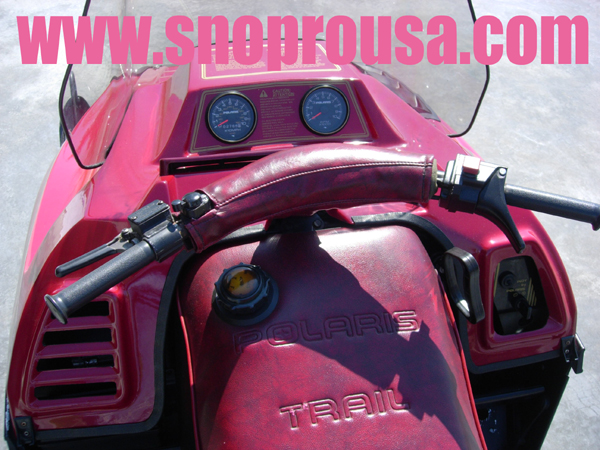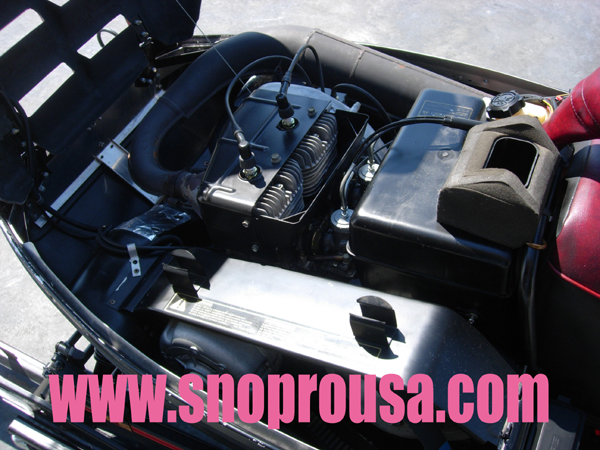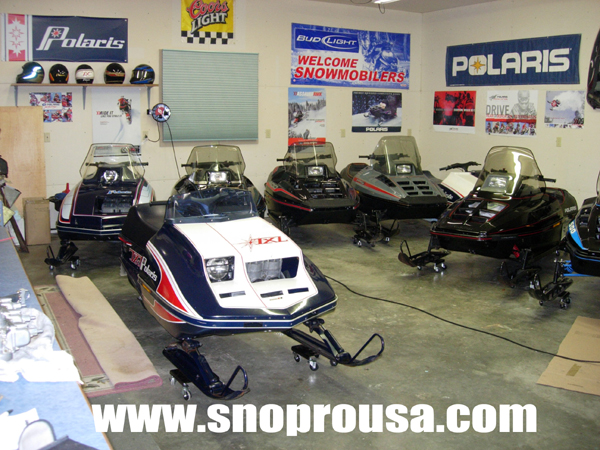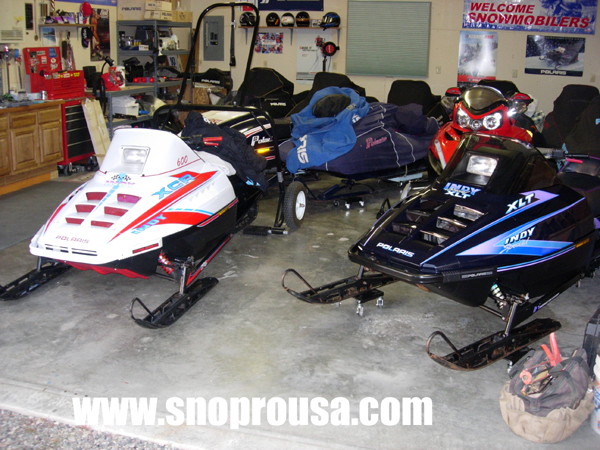 Left:1994 Polaris XCR 600 [Limited Build] - with ice oval race kit.
Right: 1993 Polaris Indy XLT Special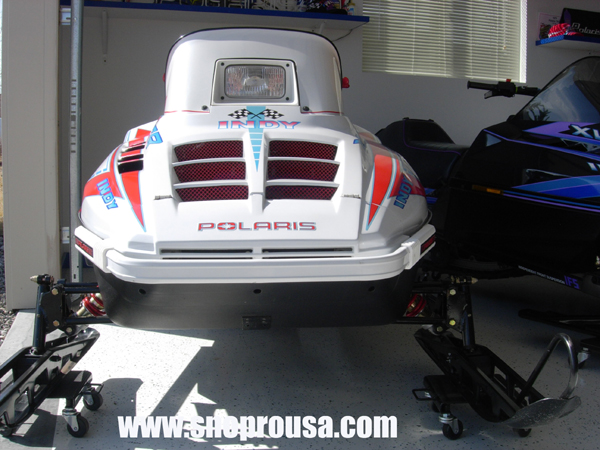 1994 Polaris XCR 600 [Limited Build] - with ice oval race kit
Let's Take a Closer Look at this white machine. . .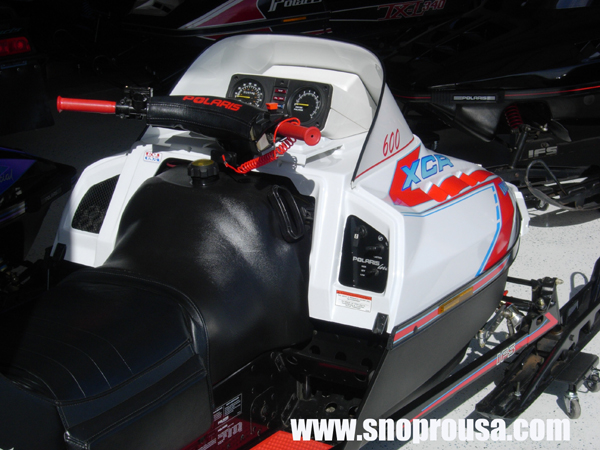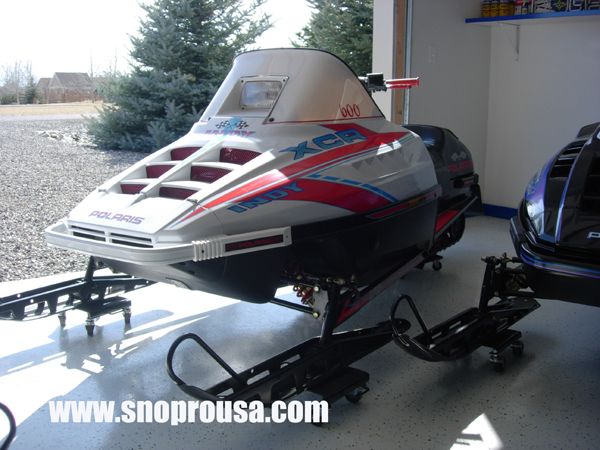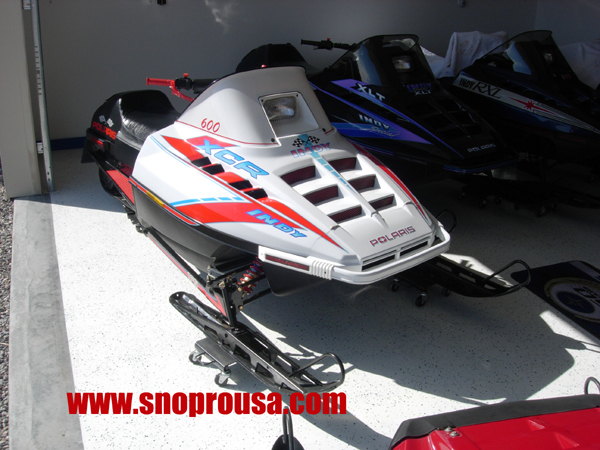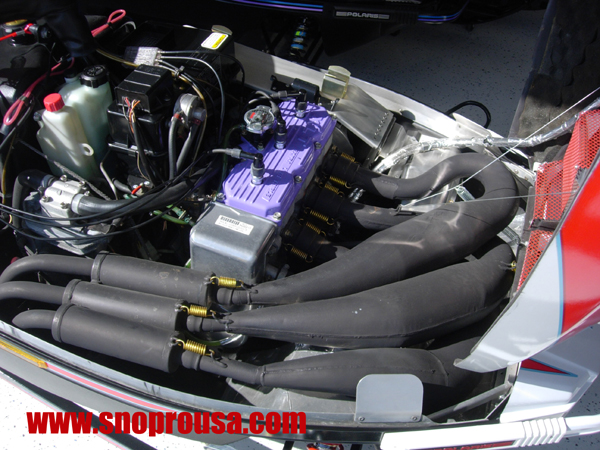 1994 Polaris XCR 600 [Limited Build] - Triple Pipes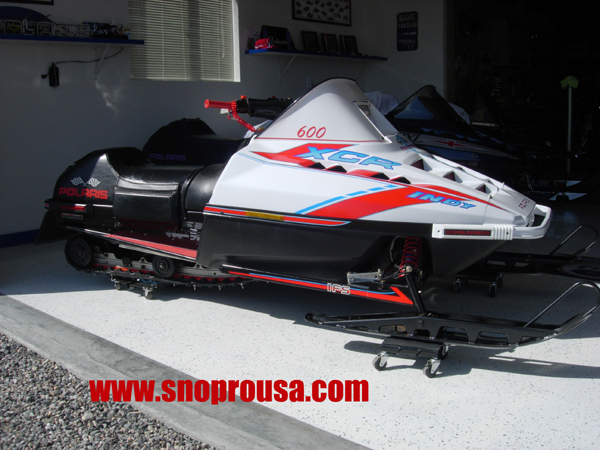 ---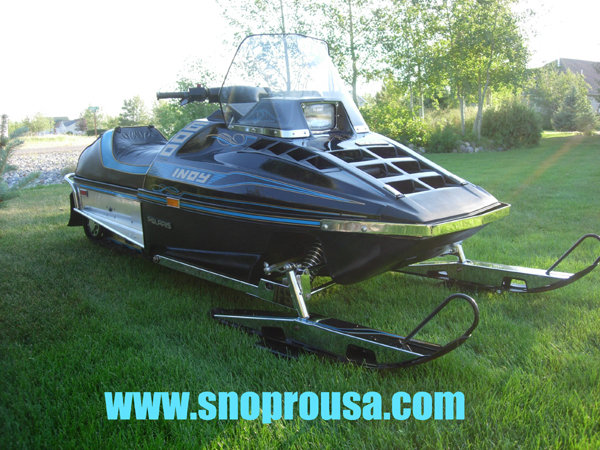 1985 Polaris INDY 600 SE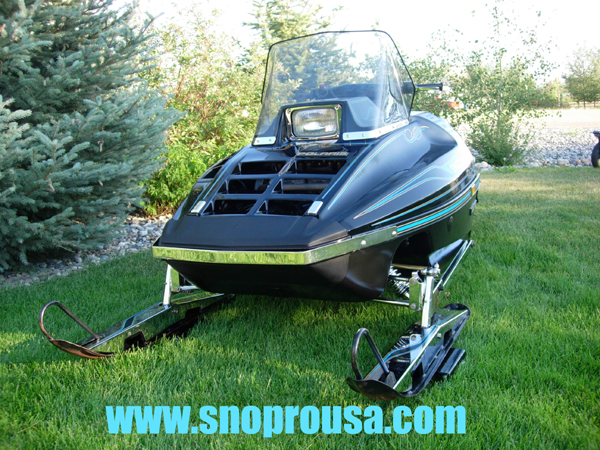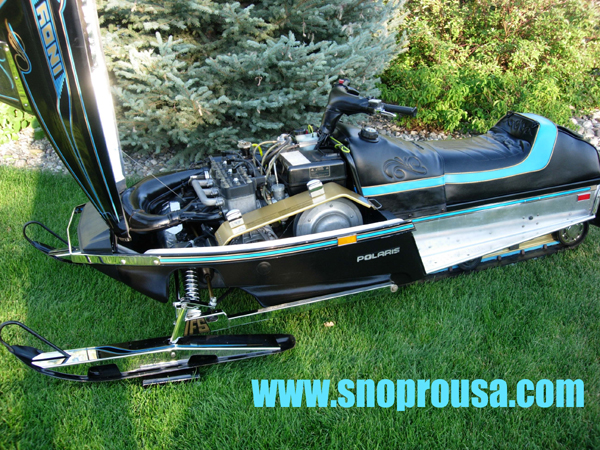 ---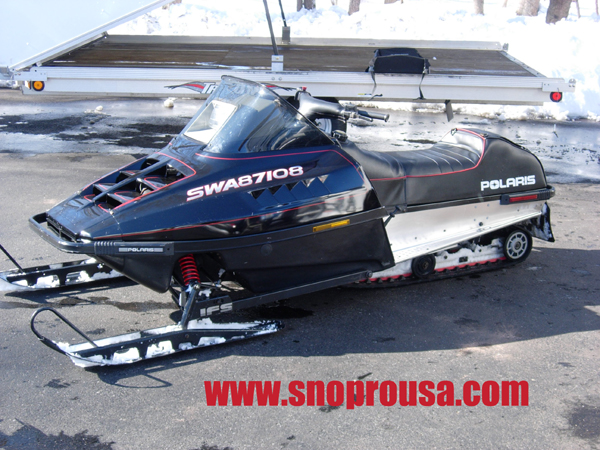 1988 Polaris Indy 650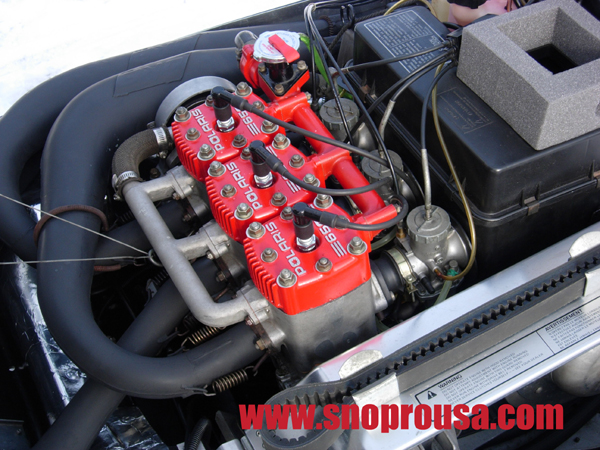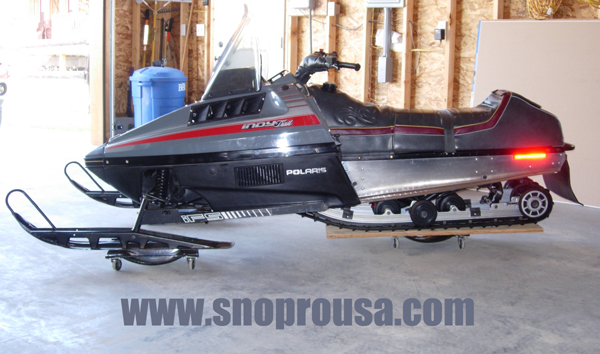 1987 Indy Trail 488 with a 1988 Hood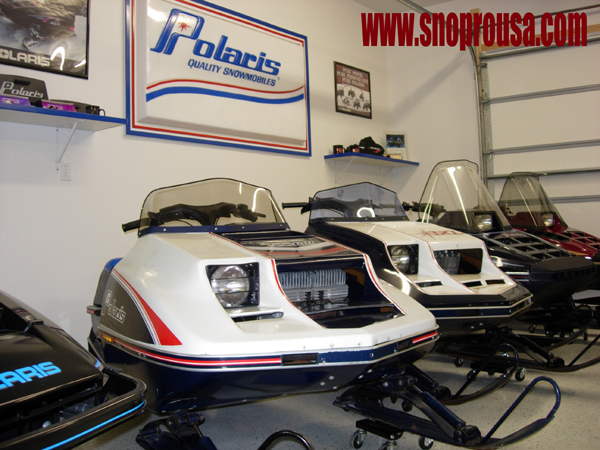 1977 Polaris TX 340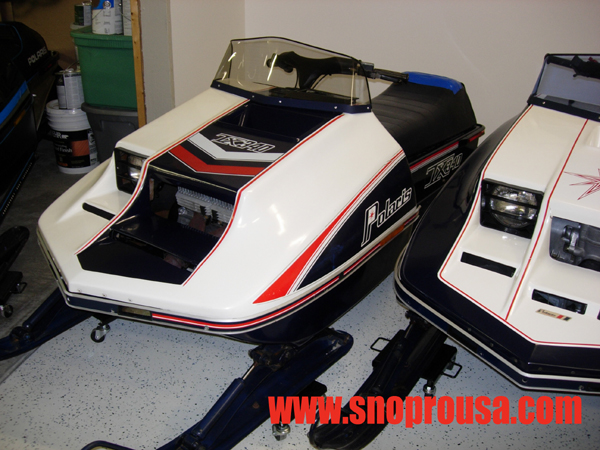 ---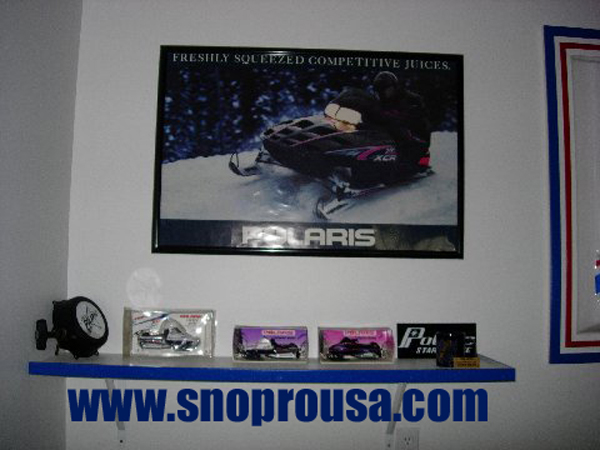 Polaris Memorabilia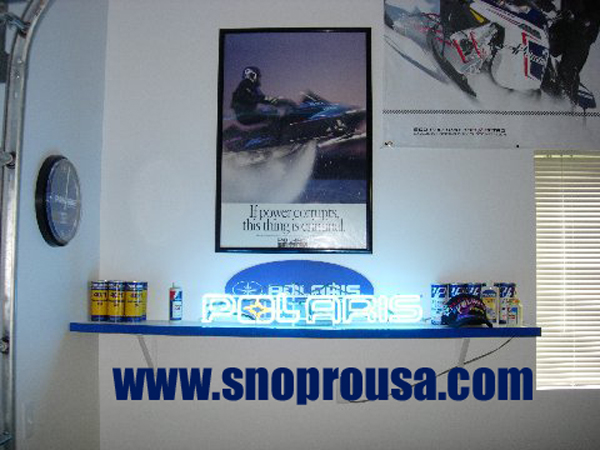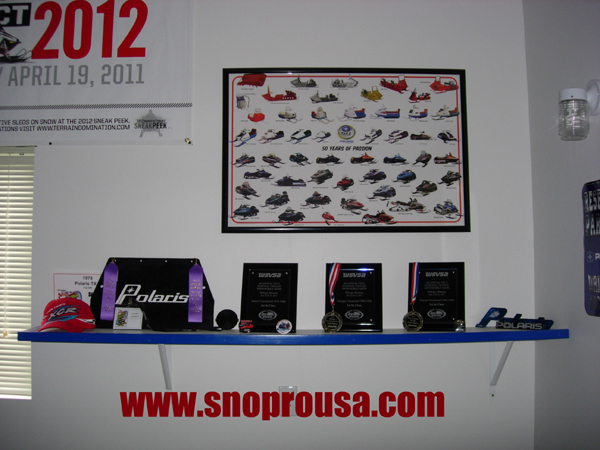 Show Awards
---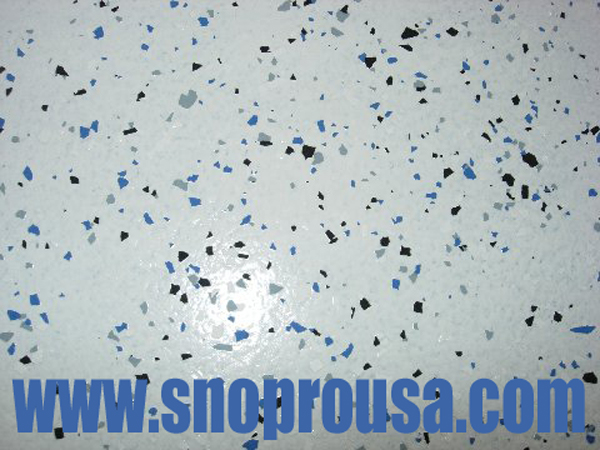 Matching Floor....
---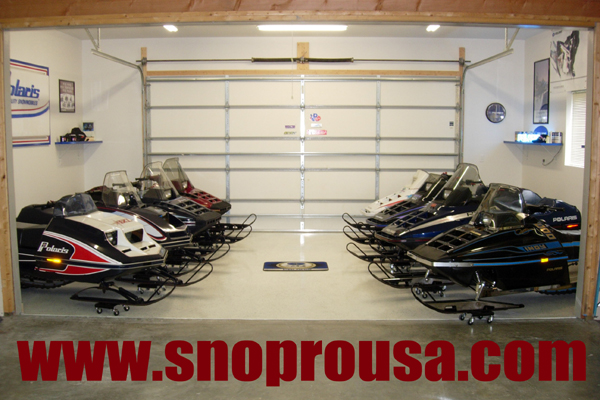 The Addition to the Snowmobile Garge.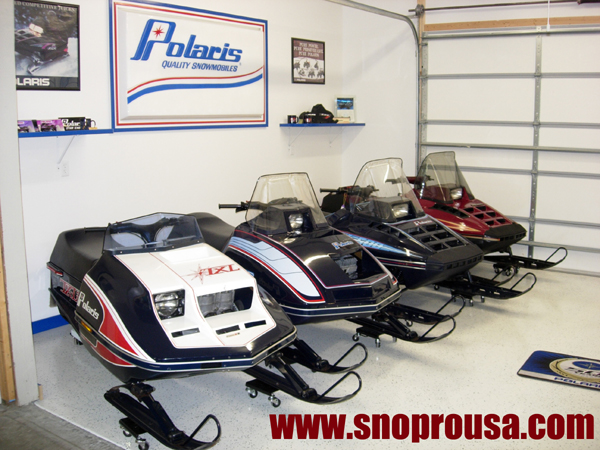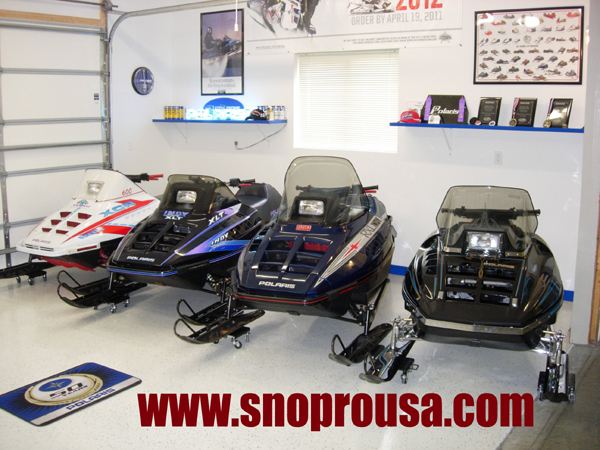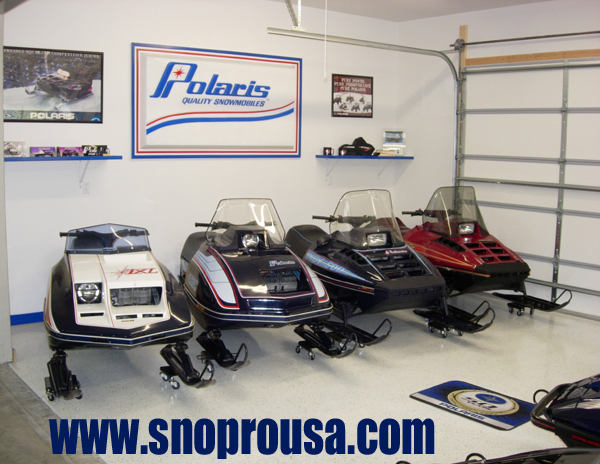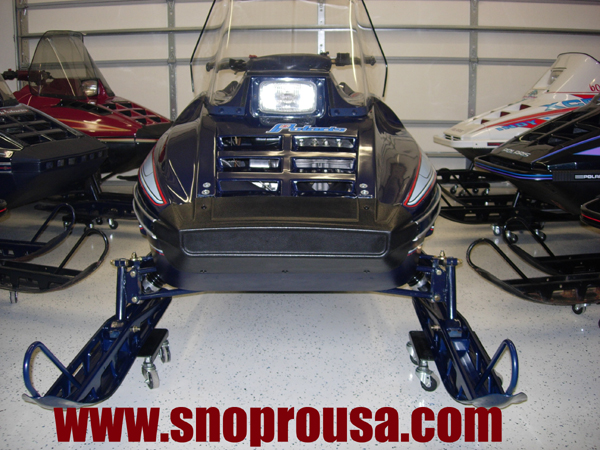 1980 Polaris Indy TX-L 340 - 153 Original Miles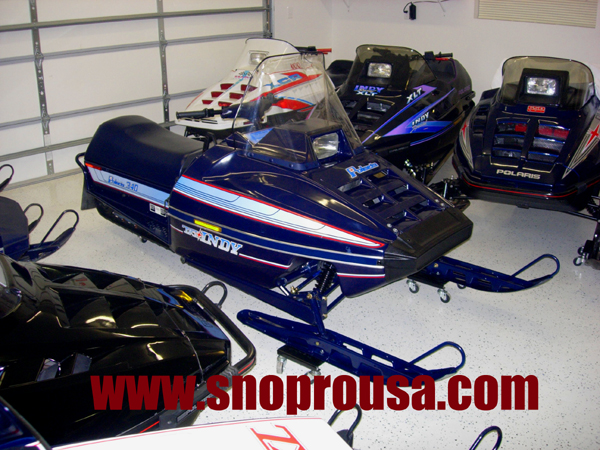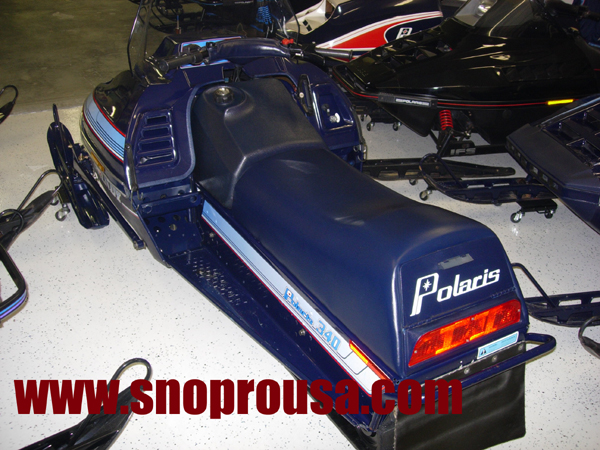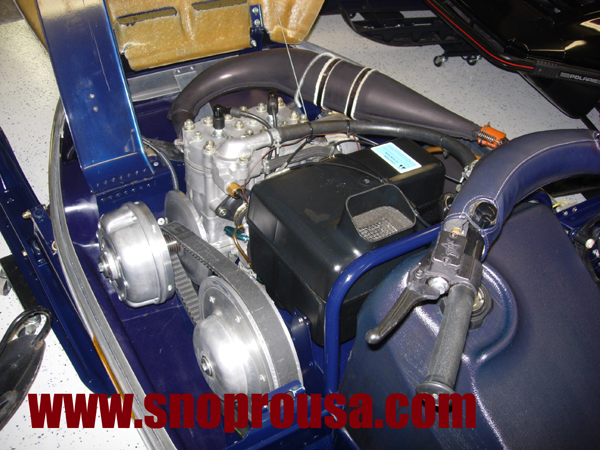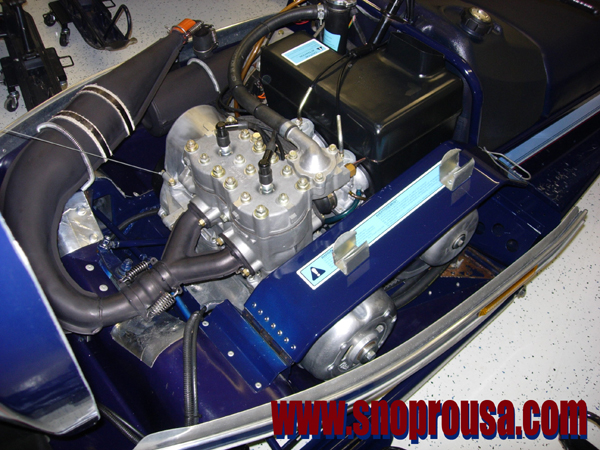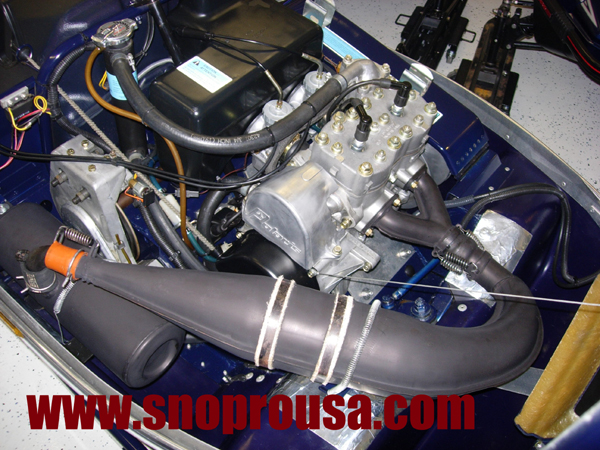 ---

CHRIS DILEO Visit's POLARIS INDUSTRIES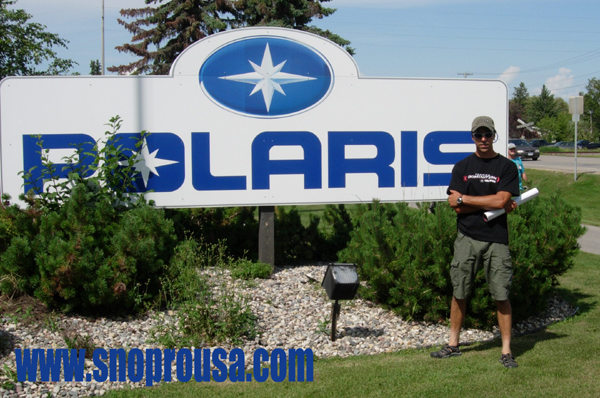 August 2011 - Roseau, Minnisota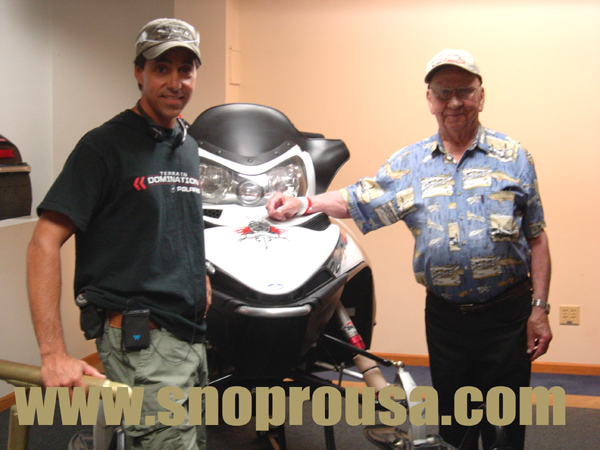 David Johnson - One of the three Original Founders of Polaris.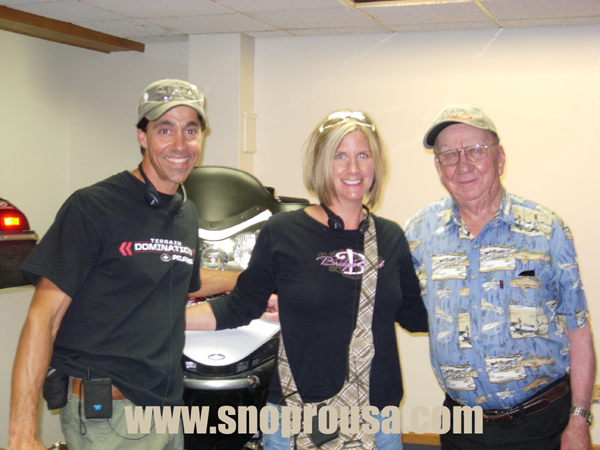 Chris and his wife Amy with David Johnson
---

Q & A
Q. When did you first see and start riding a snowmobile ?
A. At 14 Years old in 1979, I saw a guy riding an old
El Tigre' and that sparked interest. Then around 15 years old during 1980
I bought a 1974 Ski Doo Elan 250.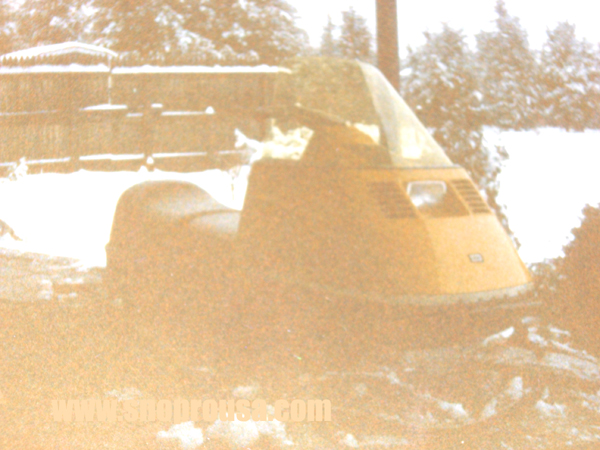 Chris's 1974 Ski Doo Elan
Q. Do you have family members that snowmobile too ?
How do they feel about your passion ?
A. Yes my Brother Frank. When he rides, he rides Polaris.
He thinks I am Crazy !
Q. Why are you full on Polaris ?
A. I just have a deep love for the name and spirit of how it
brings me back to the good times in life. Being in my shop
puts me in a spell and then I am in a good mood.
Q. Where did you grow up and how long have you lived in Bozeman ?
A. I grew up in White House Station, New Jersey and moved to Montana in 1999.
Q. How many sleds do you have ?
A. 16 !
Q. Do you race or have you, and / or do or did you ever go watch races ?
A. Never professionally raced sleds, but I was a pro jet ski racer for 7 years.
[ Racing Kawasaki JS550 Stand Up style Stock and MOD Class].
Q. Do you still have a Jet Ski ?
A. Yes, it is a Yamaha Super Jet 700
Q.What is your favorite 2 Stroke Oil for your vintage sleds and why ?
A. KLOTZ Snowmobile Oil. Used Klotz from 1989 to current and they
were a sponsor during my jet skiing days.
Q. Do you mail order most of your rebuild parts or do you buy them local ?
A. Mail Order all kinds of online sites !
Q. Are most of your sleds fresh or do you rebuild/restore them yourself?
A. Combination of Both !
Q. Do you have any sleds besides true blue POLARIS ?
A. No not anymore.
Prior I had a 1969 Scorpion MKII and my wife had a 2007 Arctic Cat M6
Q. IF you had to nail it down to 3 favorite sleds in your collection
what would they be ?
A.
1.1993 XLT Special
2. 1985 Indy 600 SE
3. 1982 Indy 500
Q. What is your all time favorite Polaris and do you own it ?
A. 1993 XLT and I have one 93 XLT Special and one 1992 Prototype.
Q. Do you have any sleds in mind or in the cross hair for the future that
you are going to get?
A. Looking for a 1986 600 LE , a 1978 RXL ice oval race sled
and I would love to have a '76 Starfire !
---
FRESH NEW TECHNOLOGY from POLARIS !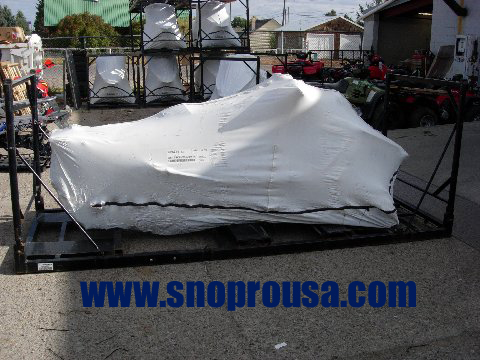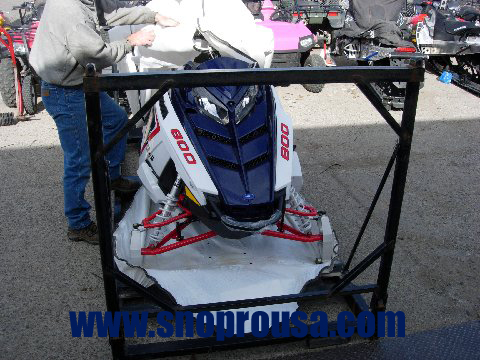 Chris unveils the new Polaris !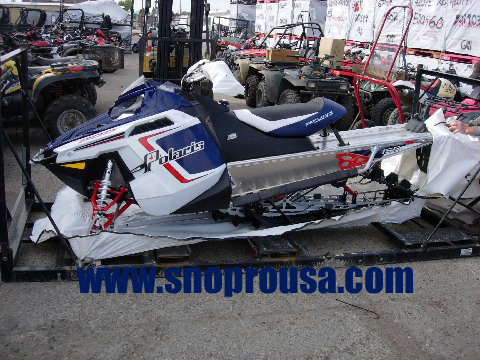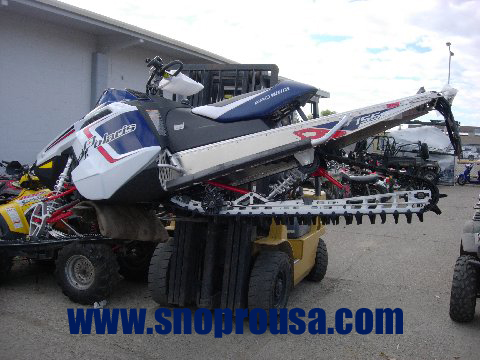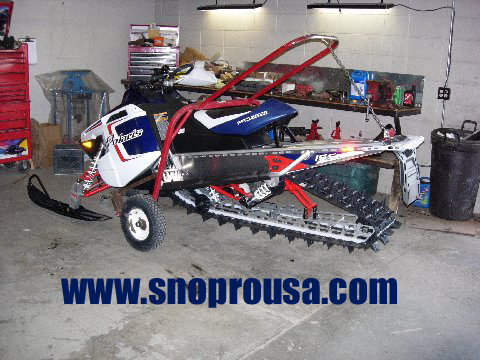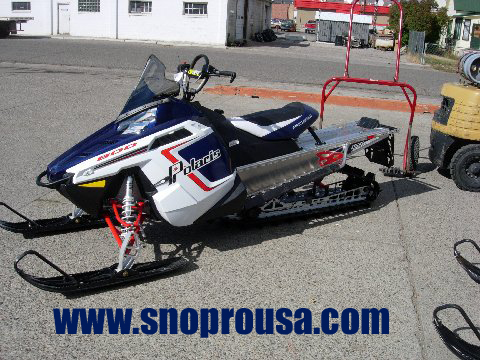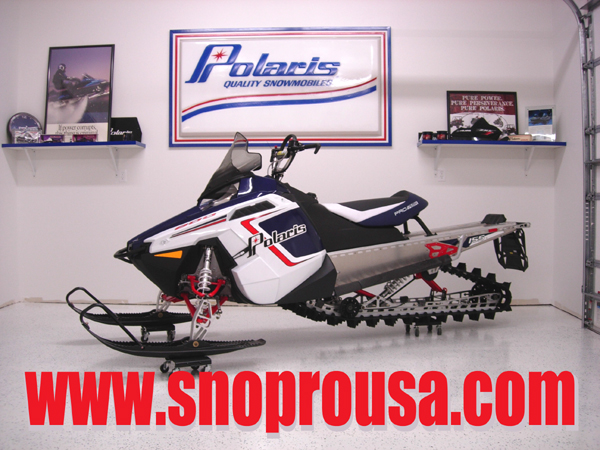 2012 Polaris !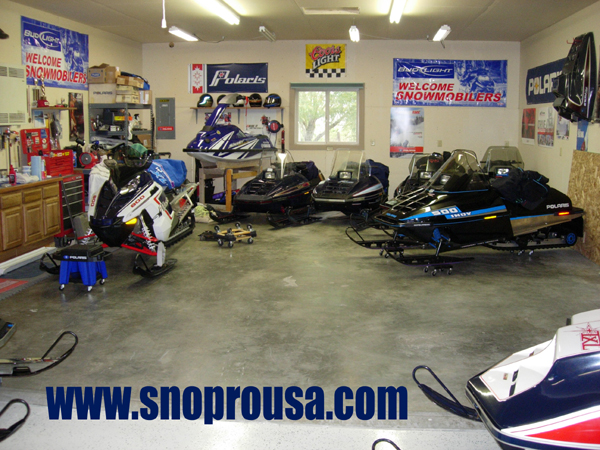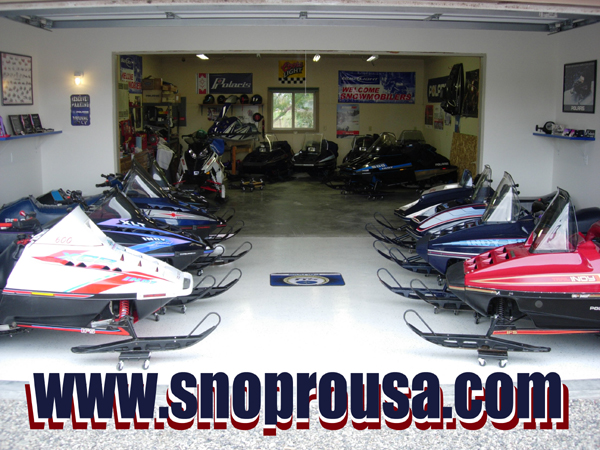 Thank you Chris Dileo for sharing your FANTASTIC Polaris Indy Collection with Sno Pro USA !

---

RETURN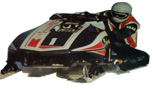 all rights reserved - www.snoprousa.com