---
Vintage Snowmobiles of The Inland Northwest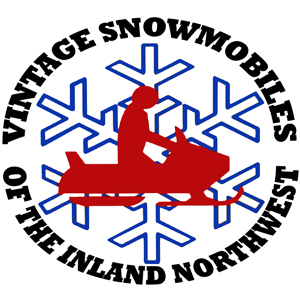 2012
PRIEST RIVER, IDAHO
The stage was set perfect in Priest River, Idaho for Saturday July 28th, 2012.
Timber Days the Annual Festival Celebration, was brilliant with Blue Sky and
alot of Sunshine. Local Hot Rod's from the Asphalt Angels' Auto Club cruised
up and down the strip with some beautiful cars and great sounding engines.

There was a parade featuring horses, floats and a few logging trucks from the local companies.
It continued with a caravan of Priest River Idaho Fire Department vehicles.
On the corner there was a stand selling fresh fruit and veggies that secured the
thought that there are people in America still holding on to good traditions.
That basic good home town feeling from the 1970's was alive & well in this small community.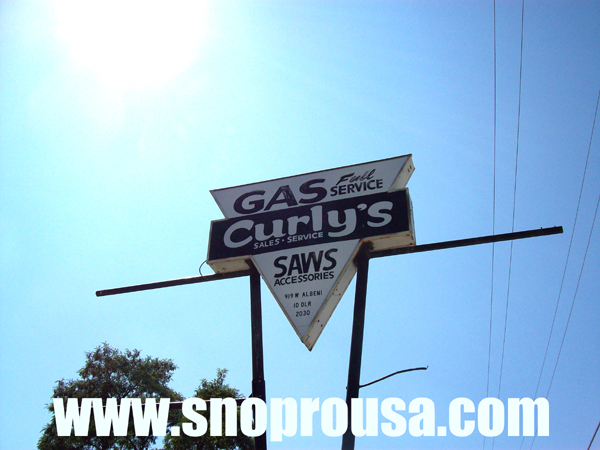 This Year the Vintage Snowmobiles of the Inland Northwest club was a new feature
on display at Curly's Service Station. The friendly folks of this club always hold
an event that you look forward to and then always go home excited that you went.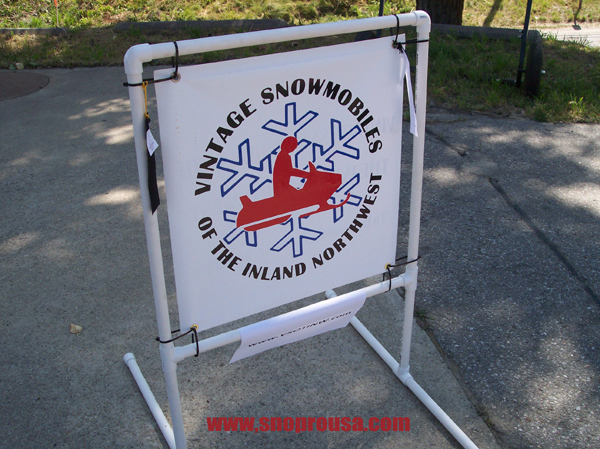 Vintage Snowmobiles of The Inland Northwest


There was a Sizzling display of 1970's Race and Trail Sleds combined with the folks that
rode snowmobiles back in the day & ride them still keeping the spirit alive.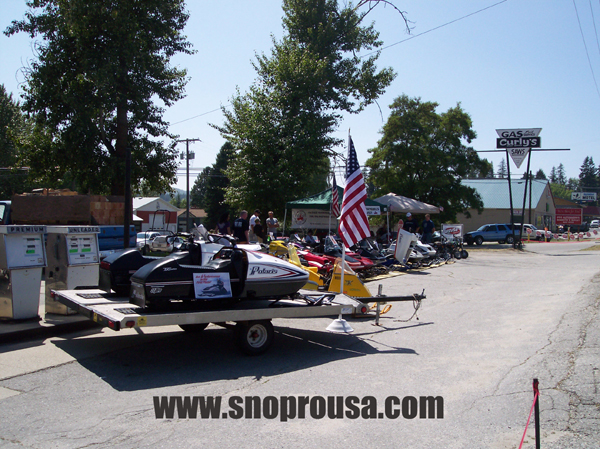 Sno Pro USA was there with a total of 844cc's divided between two sleds
and a perfect measurement of water to keep cool with.
This event was super e n j o y a b l e !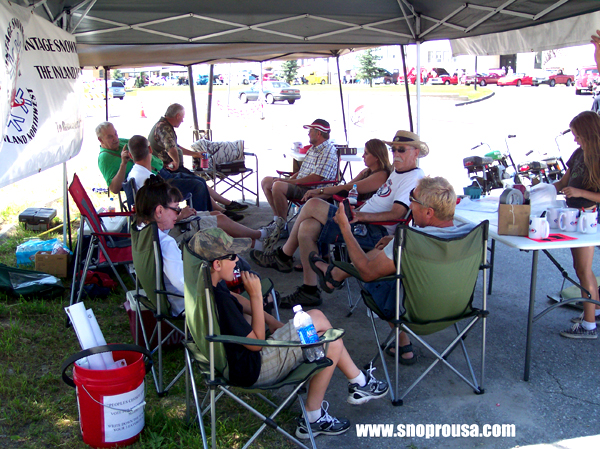 CLOCKWISE FROM THE TOP : John Bushby, Ken Jacobsen, Emily Ruchert, Roger Biddiscombe,
Jeff Biddiscombe, Billy Ruchert, Theresa Wheeler, Dave Brummer, Larry Fitzgerald.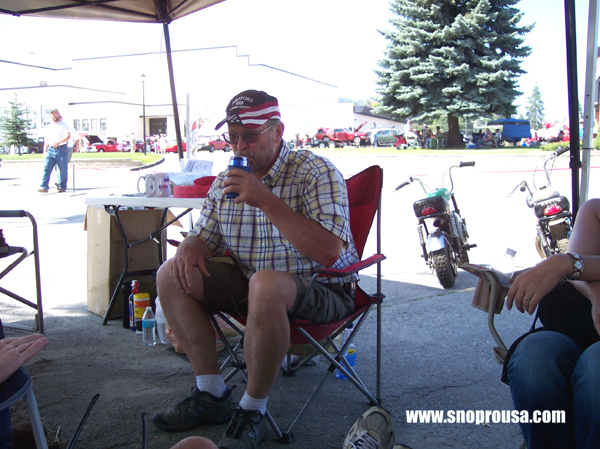 Kenny Jacobsen staying hydrated between pulling the rope and squeezing the throttle
on his 1973 Polaris Starfire 650 every hour. That 3 cylinder sounds engine GREAT !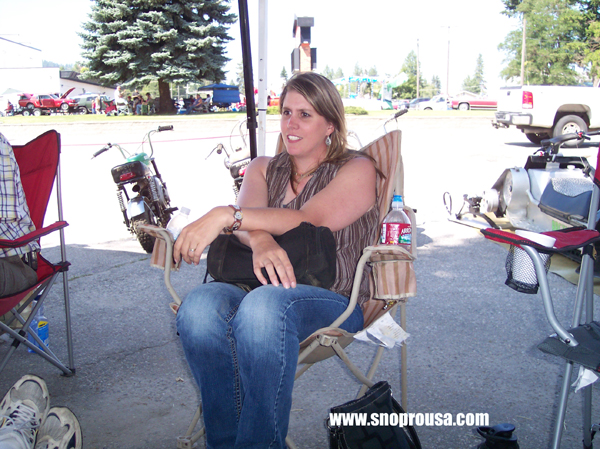 Emily Ruchert having a good time in the shade.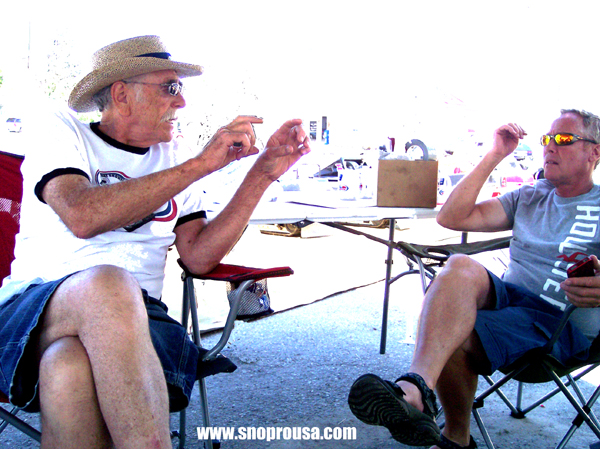 Roger Biddiscombe and son Jeff talking sleds, riding sleds, sled parts,
racing sleds, restoring sleds, etc.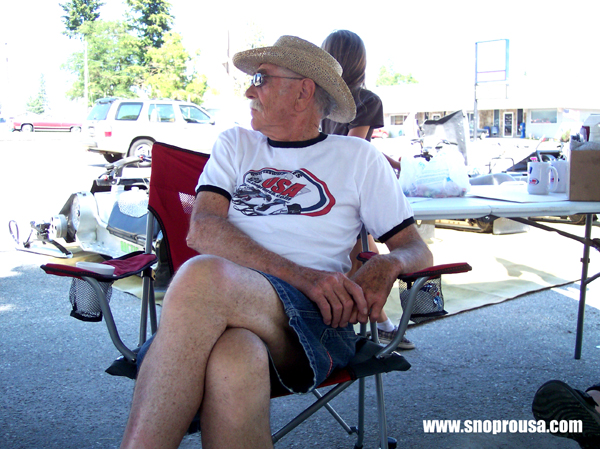 Roger Biddiscombe
Original President and Founder of Vintage Snowmobiles of the Inland Northwest.
Established January 2001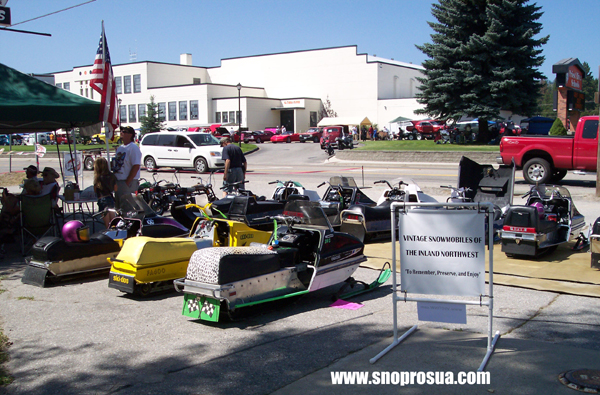 The school across the street was loaded with plenty of hot rods
that everyone could watch and listen to from Curly's location.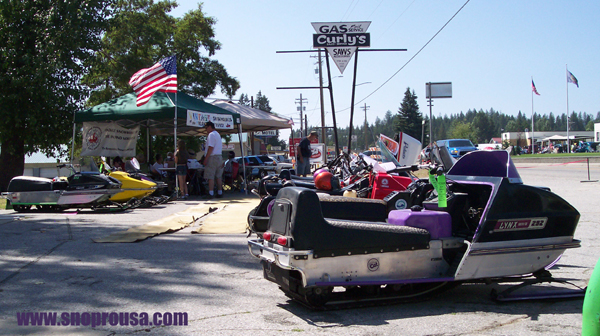 Great Attendance Turnout !
It is really cool to go to an event and have met everyone before.
Everyone smiling, laughing and talking sleds.
You want to meet some nice folks, join this club.
Thank you Inland Club !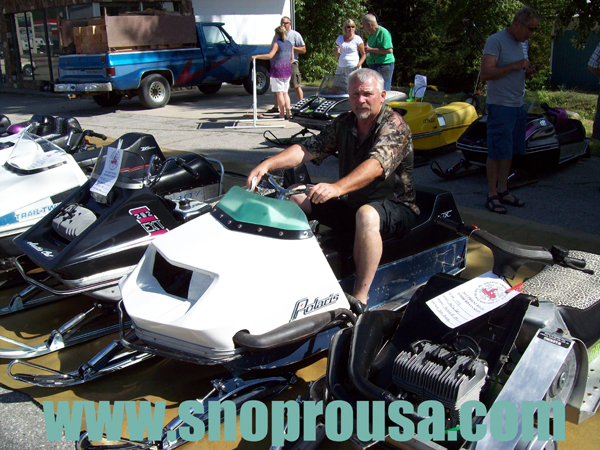 John Bushby - Vice President
Vintage Snowmobiles of The Inland Northwest
John did a great job organizing this new event.
Sitting here on his current restoration, the 1972 Polaris TX 335, next to his '73 Arctic Cat Formula
and on the right side his latest 1971 Arctic Cat EXT 292.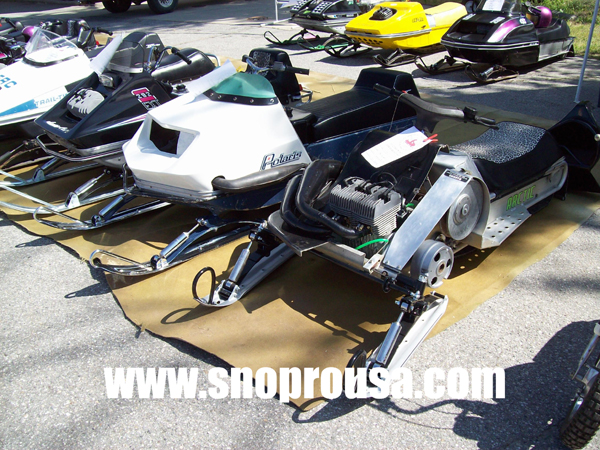 John & Brenda Bushby - Bushby's Racing - 3 Great sleds on display.

1973 Arctic Cat Formula 290 with 1/2 of the hood removed.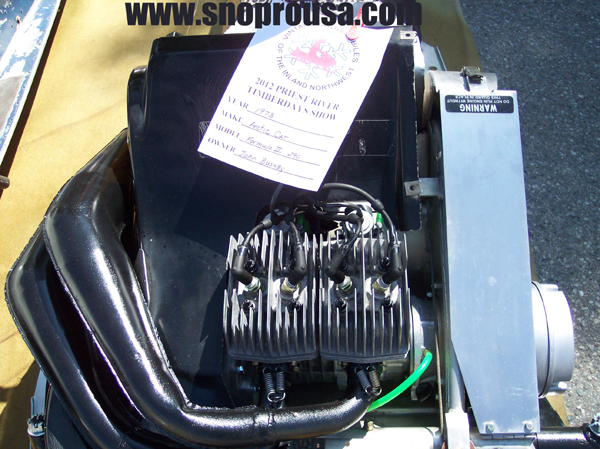 1973 Arctic Cat Formula II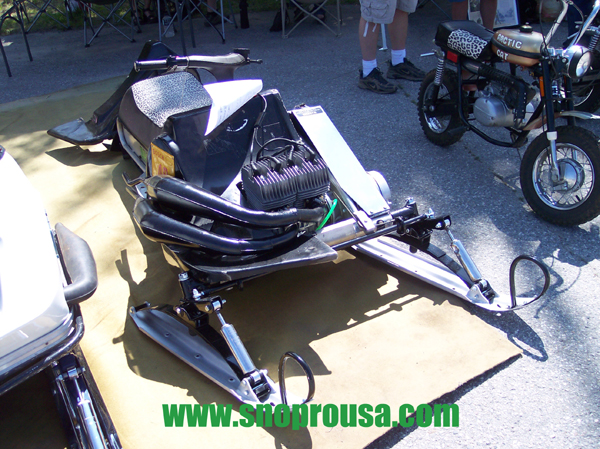 1972 Polaris TX with the Eastman Pipes raced by Jim Noble.

1971 Arctic Cat EXT 292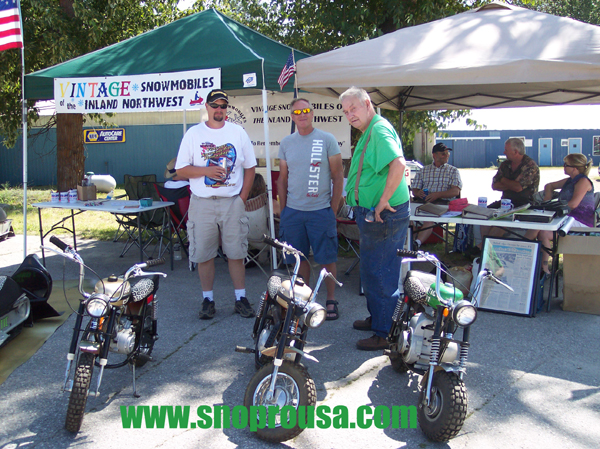 Willie, Jeff and Larry getting ready to wager a race on the Arctic Cat Mini Bikes.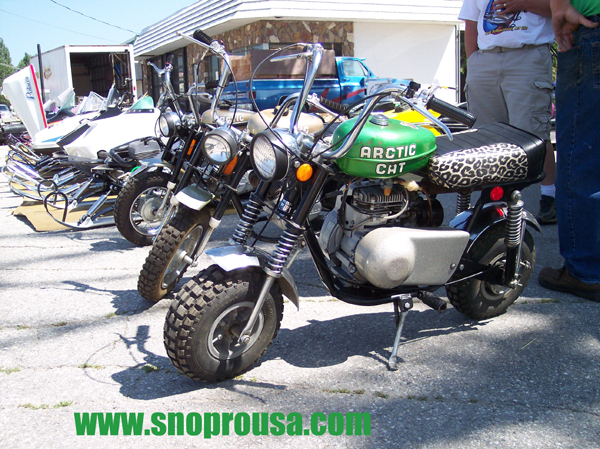 Linton rolled these out of the service station to show for the day.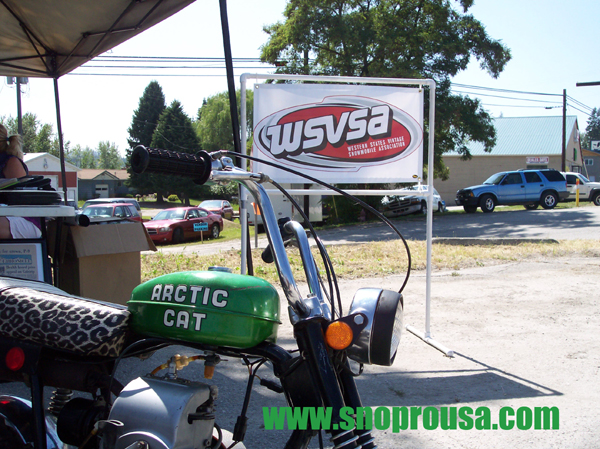 Vintage Sleds of the Inland Northwest are Proud Members of the WSVSA.
WSVSA - Western States Vintage Snowmobile Association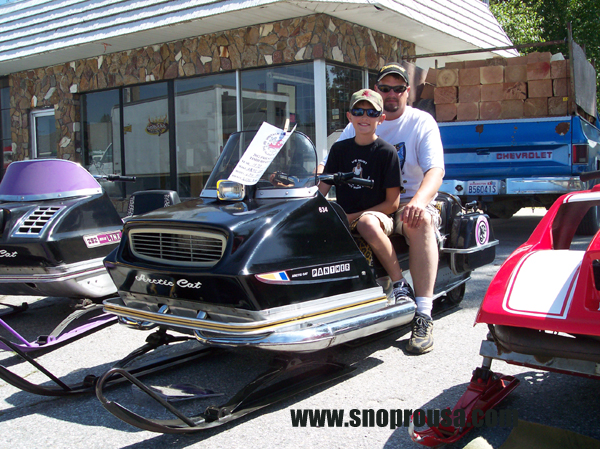 Father and Son sharing the spirit of Vintage Snowmobiles.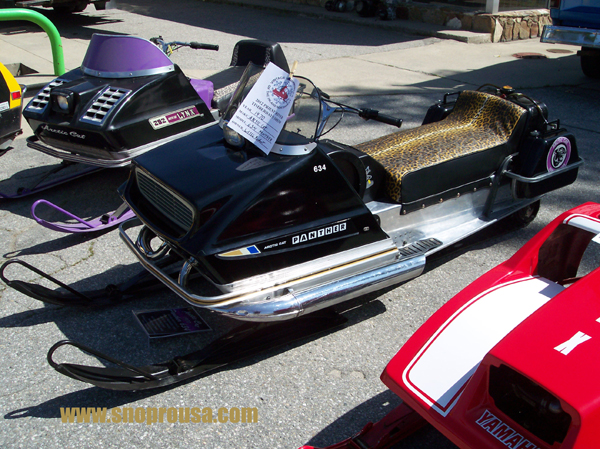 Willie Ruchert's 1970 Arctic Cat Panther 634 with the Montana Pipes.
The Saddle Gas Tanks makes this sled a real distance cruiser.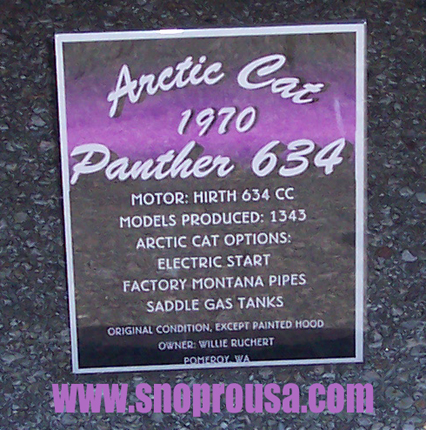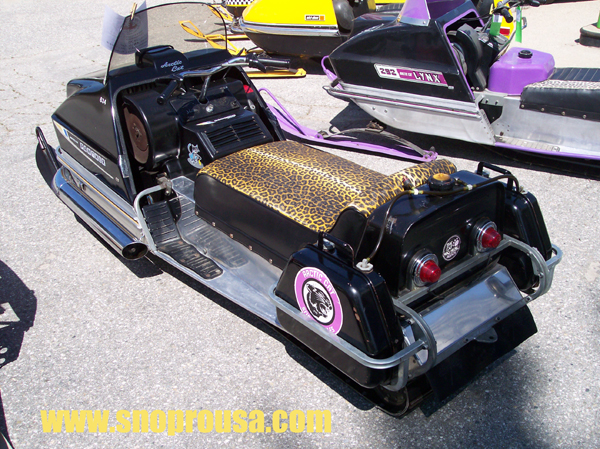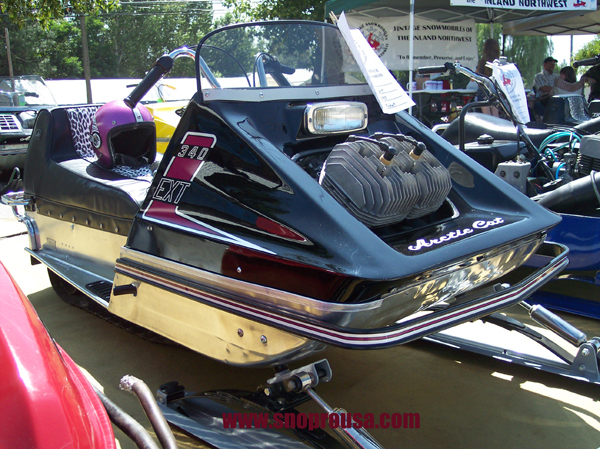 Willie Ruchert : 1971 Arctic Cat EXT 340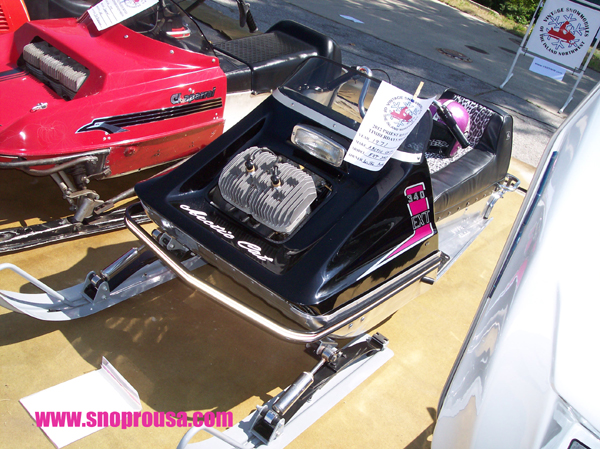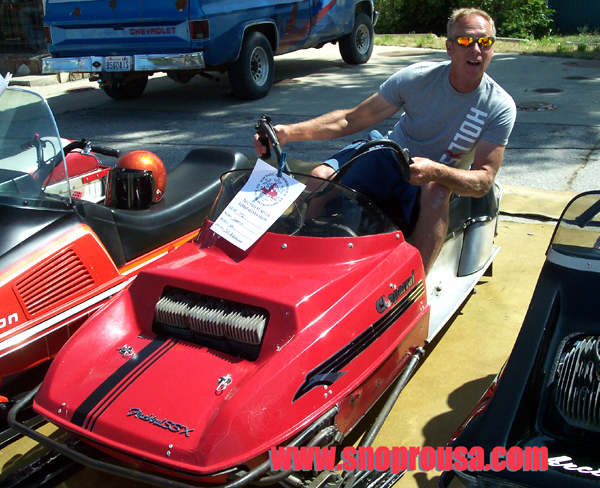 Jeff Biddiscombe : 1972 Chaparral Firebird SSX 650
You can take the racer off the ice oval, but you can't take the racer off the ice oval sleds.
~ World Champion Snowmobile Racer ~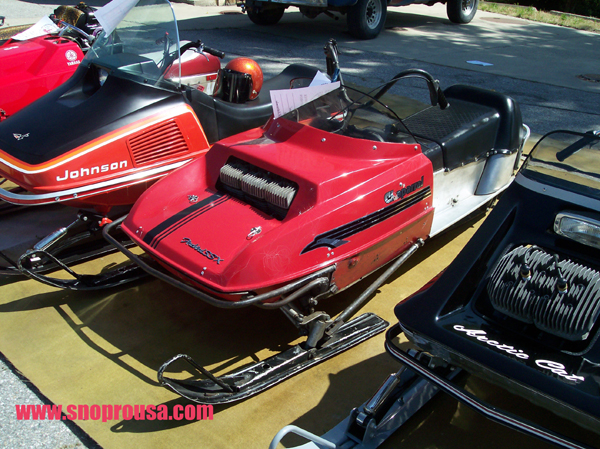 In 1972 Chaparral created the FIRST Indy front end suspension.
This red beast is loaded with innovation. Really glad to see this sled at the show.
Notice the handlebars and rear suspension.
This sled required the "right" mustache and sunglasses in 1972 in order to ride.

Plastic Hood, Diamond Heat Pleated Seat, Indy Front End, 3 cylinder Engine.
This sled was way ahead of itself back in 1972.

1972 Chaparral: Tachometer only sleds say - "Let's Go Racing"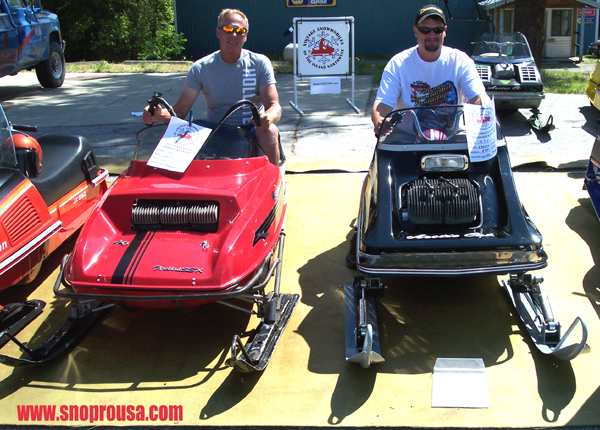 Two Vintage Sledder's holding on to their Bunny Ears !
Jeff and Willie traveled quite a few miles to be at this event.
Sure was great to see these guys.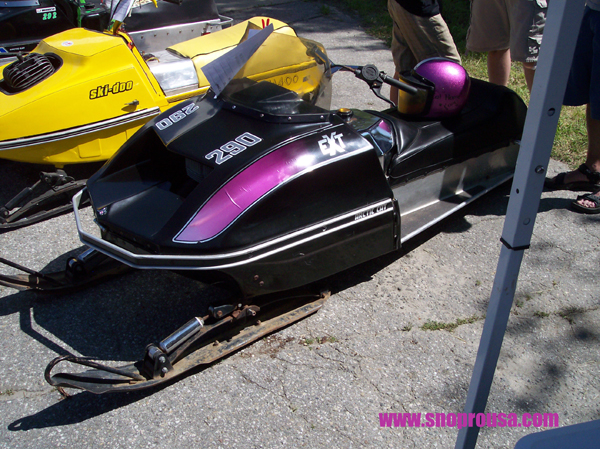 John Bushby : 1972 Arctic Cat EXT 290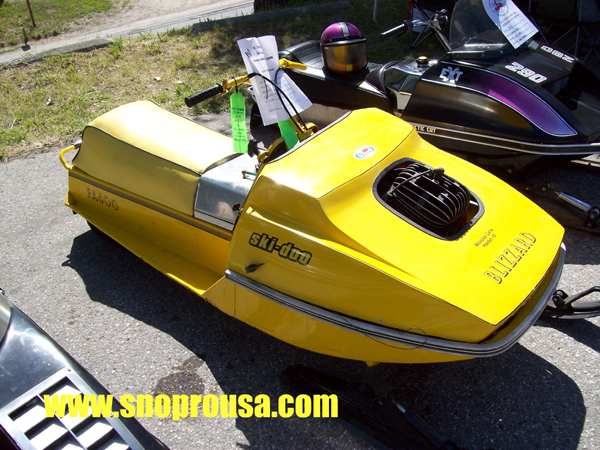 Larry Fitzgerald : Ski Doo Custom 1 Cylinder Grass Drag Sled.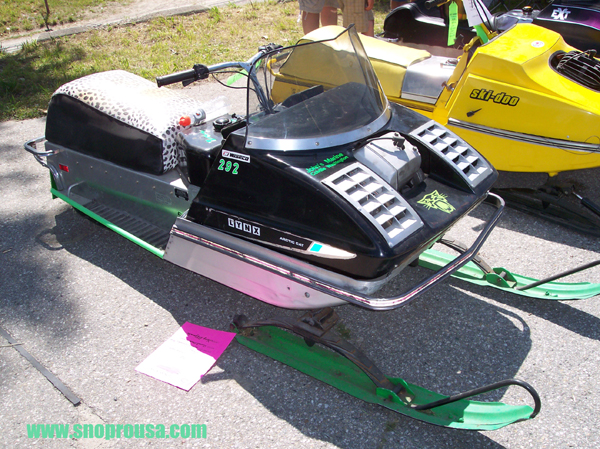 The 1971 Arctic Cat Lynx Custom by Larry Fitzgerald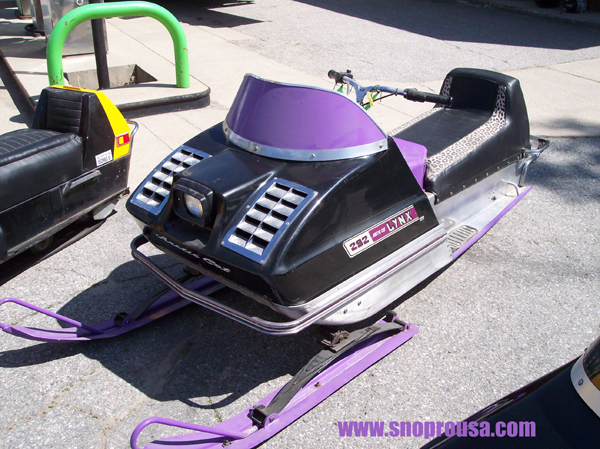 Another Custom Arctic Cat Lynx from Larry Fitzgerald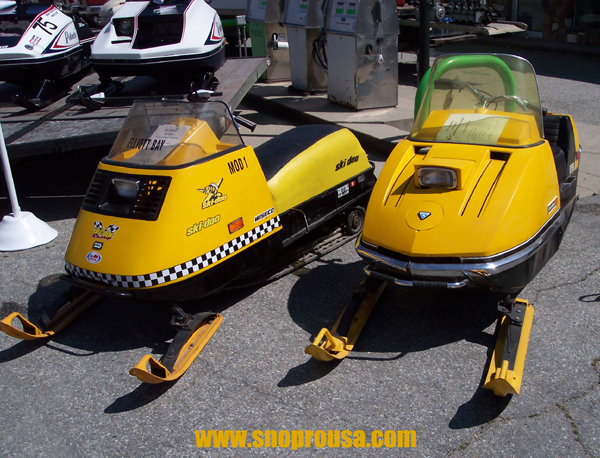 Early 1970's Ski Doo Sleds from Larry Fitzgerald.
You can't help but look at these sleds and think of Dennis Dial from Elliot Bay
if you grew up in the Spokane area. Spent hours and hours with my Dad
when I was a kid talking with Dennis every week at his shop.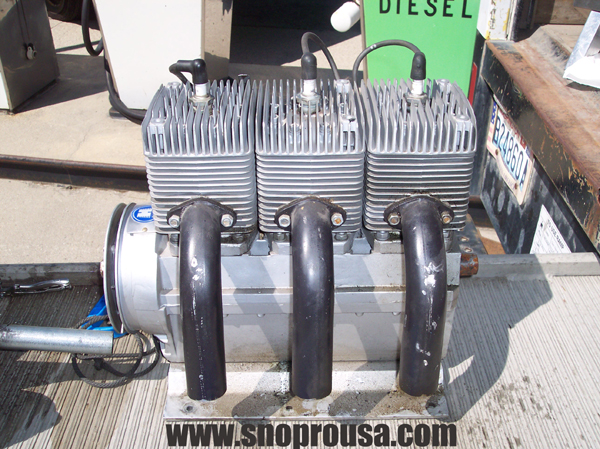 Larry's 3 Cylinder Hirth ready for Bench Start.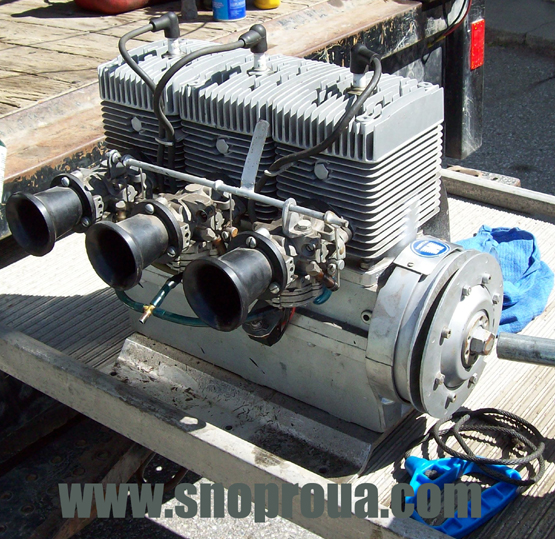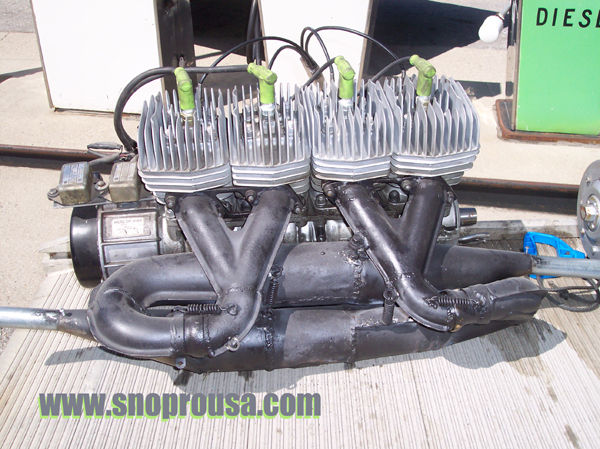 Larry Fitzgerald - Another Amazing Engine Innovation
Two Arctic Cat Jag Engines joined at the case and crank.
When bench started, you can really here some fast and smooth RPM's !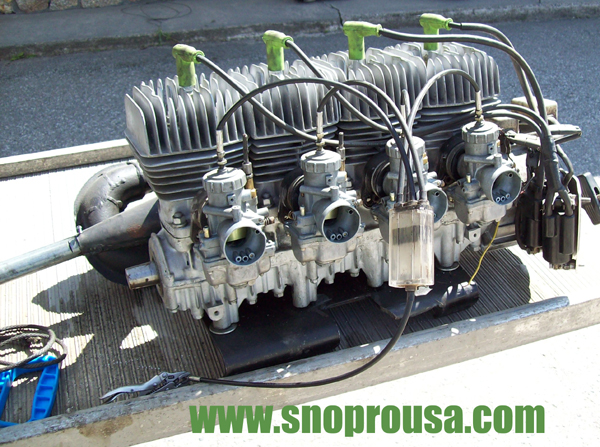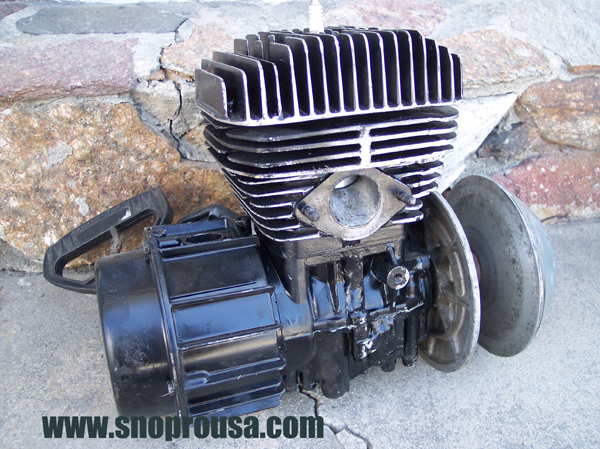 Larry Fitzgerald : Hours of Innovation from the woods of Colville, Washington.
Polaris TX Engine Shaved in half to form a 1 cylinder unit.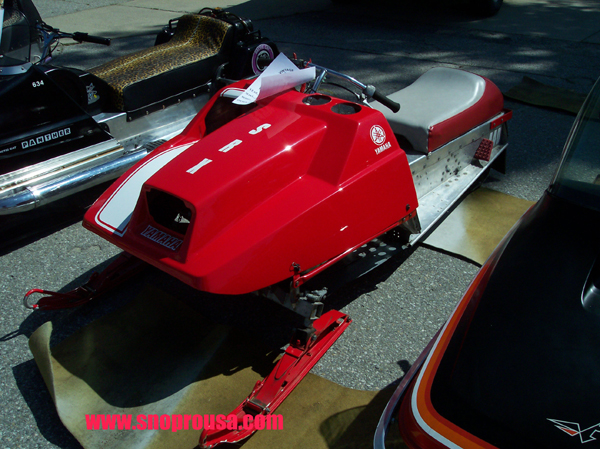 Custom 1976 Yamaha SRX Grass Drag Racer.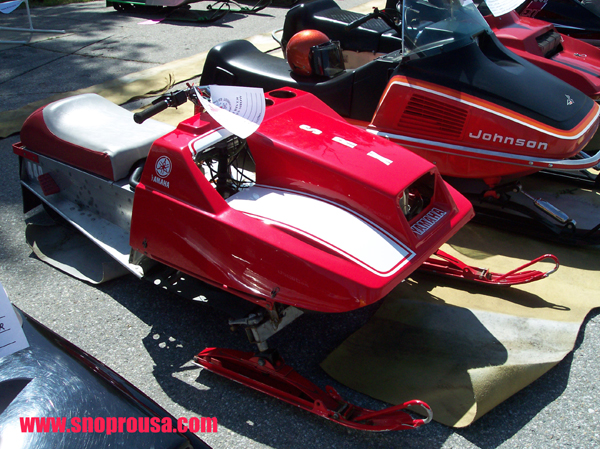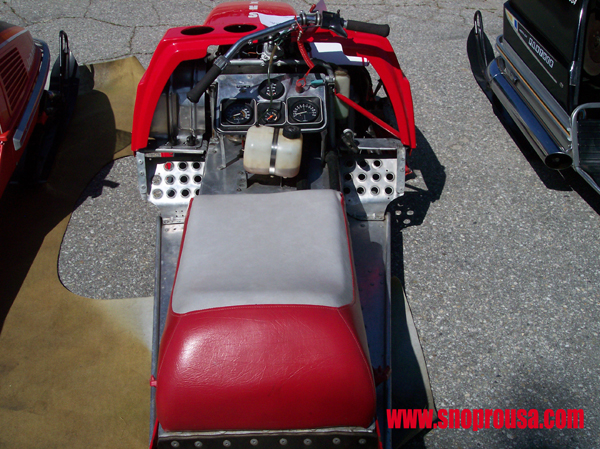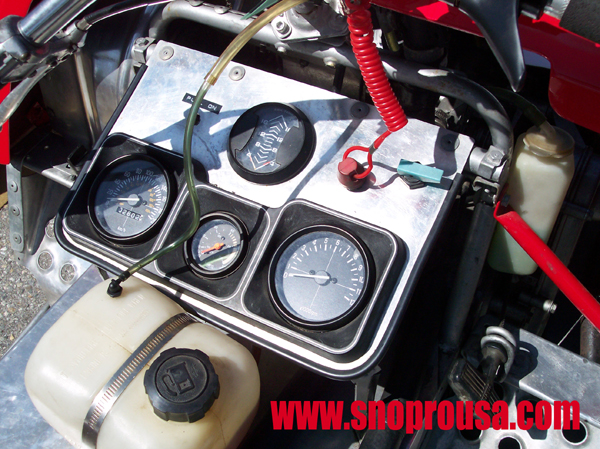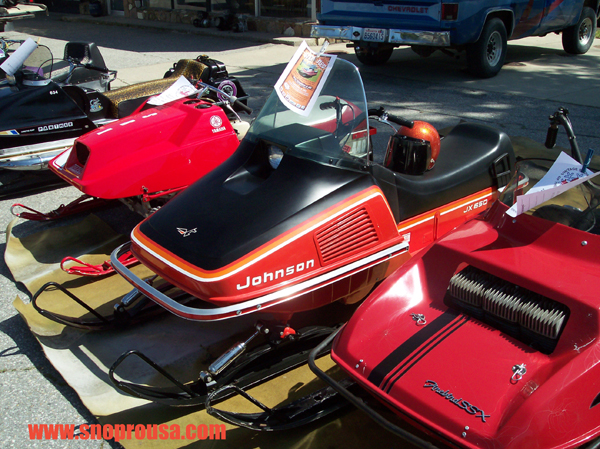 How would you like to own this Johnson 650 ?!?
~ Electric Start cruiser with 118 original miles ~
Well you can !
Buy plenty of Raffle Tickets
from
Perry or Jim
www.wsvsa.com
Starts nice, super clean and ready for the snow.
Visit the WSVSA site for the details
for this September Drawing and WIN a Big JOHNSON !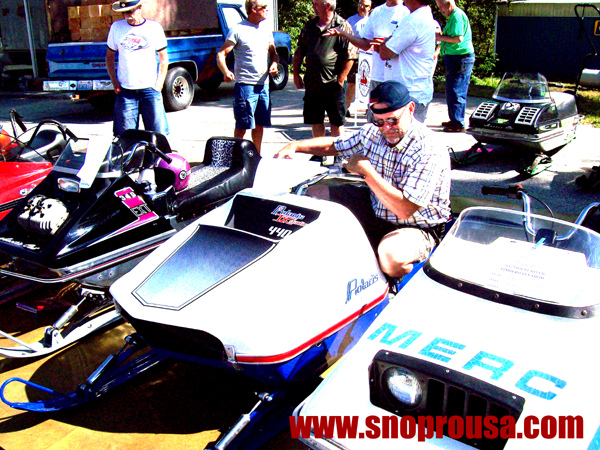 Ken Jacobsen - Spends alot of time in the corner.
1973 Polaris TX Starfire 440
This 3 Cylinder Snowmobile Sounds Mean !
Everyone in Priest River got a chance to hear this engine echo down the river.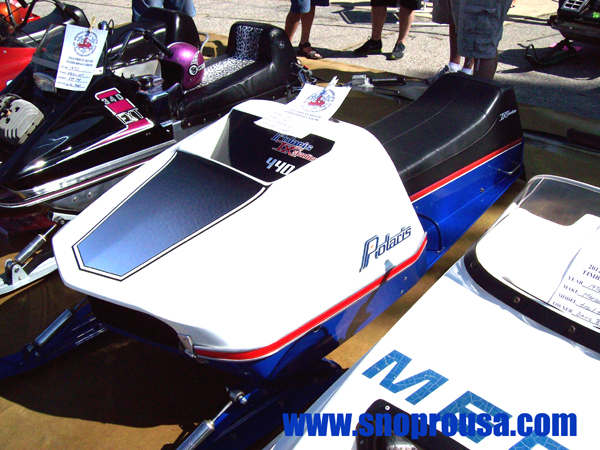 Kenny and his Brothers have the sweetest Polaris Race Sleds.
The Jacobsen's : Montana Starfires
When it comes to Red White and Blue Restorations, take notes and learn.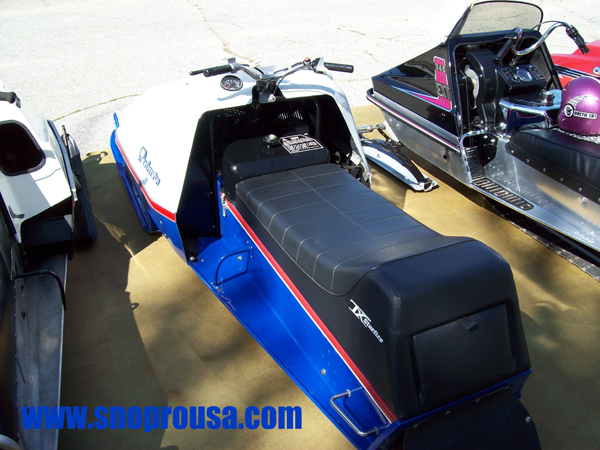 1973 Polaris pefection from snow flap to ski tip !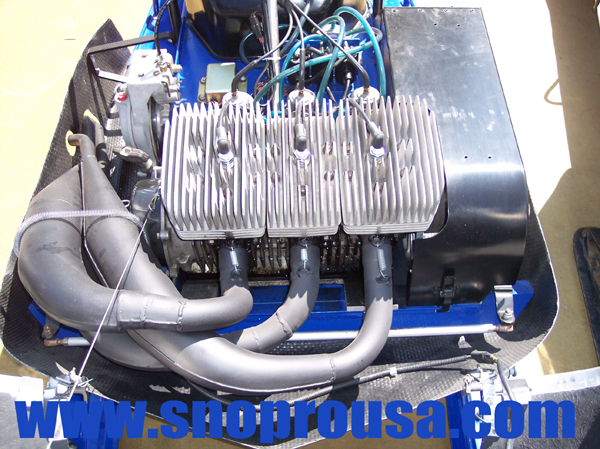 Looking at this sled under the hood is just as exciting as hearing it run.
Ken started this sled quite a few times. It was GREAT !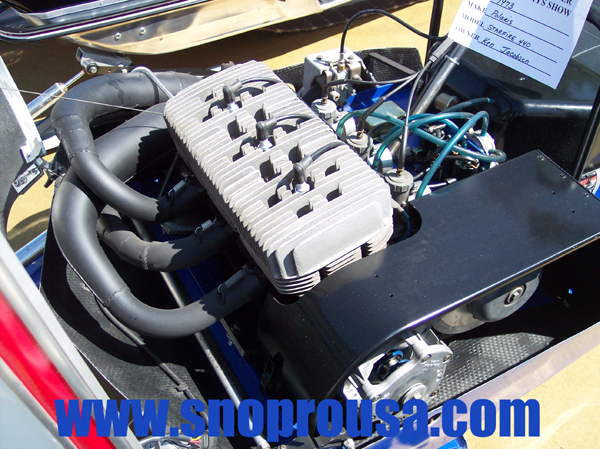 NOW THATZA TRIPPPLE !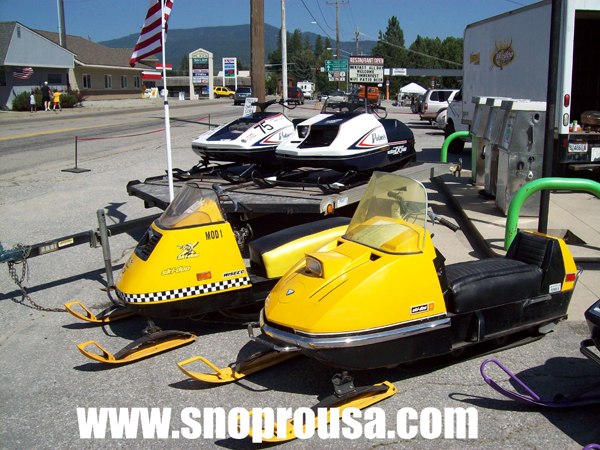 Red, White and Blue & Smells Like KLOTZ Benol'....
Sno Pro USA on the trailer making it's debut. Thank you P.H. !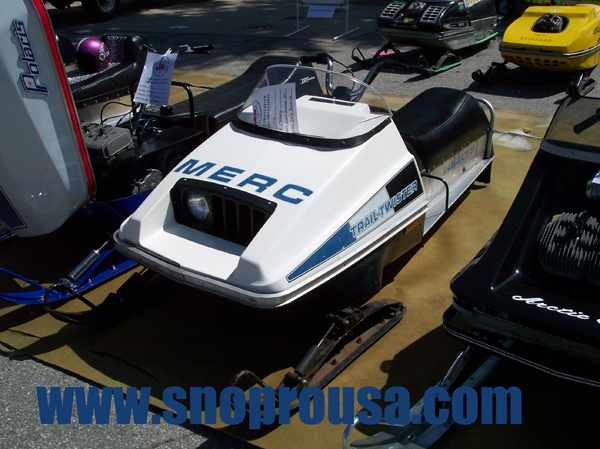 Mercury Trail Twister - 440
Owner: Dave Brummer VSOTINW Treasurer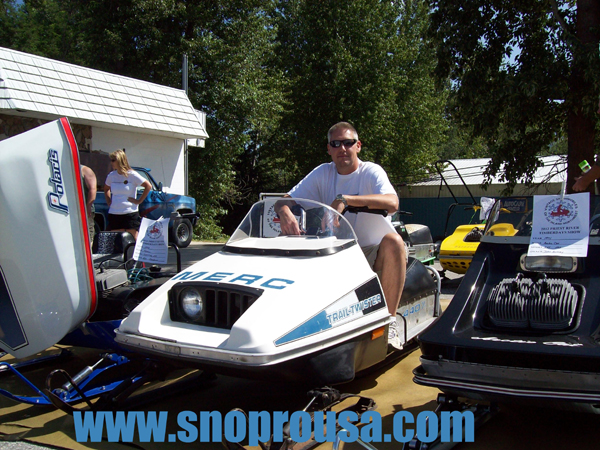 The Merc Owner - Dave Brummer
Dave has a super nice fleet of vintage sleds. He explained to us how he only
permits "one" trailer queen. All of his sled's are riders except his 1973 Polaris TX !
He rides alot of nice sleds that most would park on a stand.
Always great to see Dave.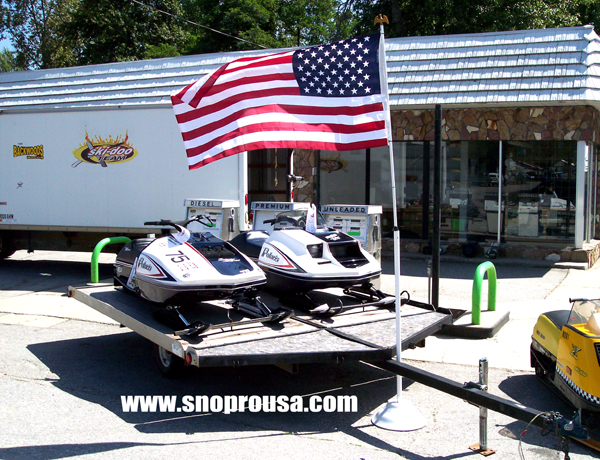 Sno Pro USA with Ol' Glory Flying !
1975-76 Polaris TX Starfire PDC MOD III
1976 Polaris TX Starfire with Liquid SLP 404cc Kit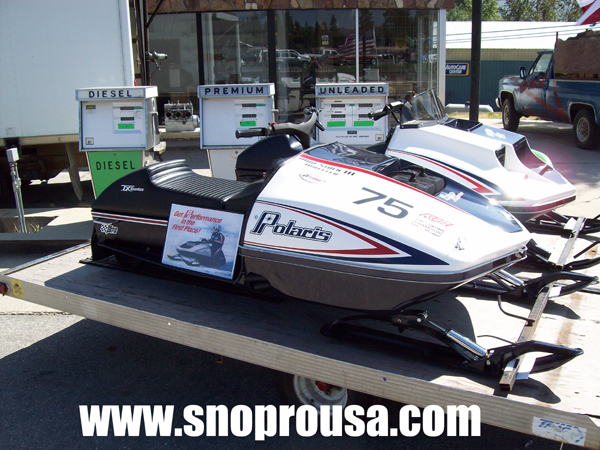 Everyone comments on the shovel head ski set up.
Take a look at the 1974-75 Polaris Promo Photo and you will see the same set.
When I was 9 years old this hood lit my F-I-R-E like no other sled's hood.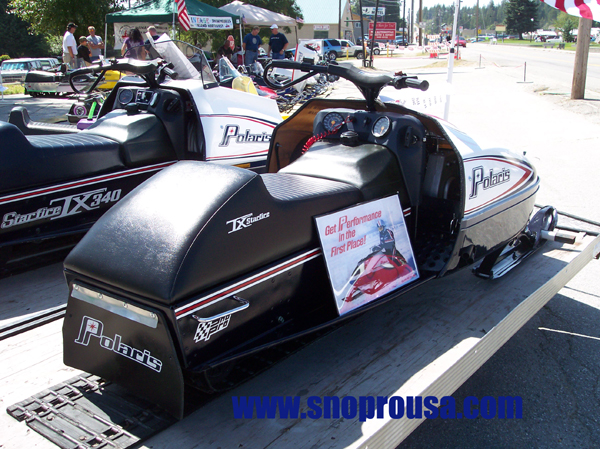 Seats By Conrad
"Specializing in Exact Duplicate Restoration for Vintage Snowmobiles"
Conrad Van Batavia - Verndale, MN.
csvan@arvig.net
"Great Guy, Great Service and Great Product !"
Tell Conrad Sno Pro USA sent you !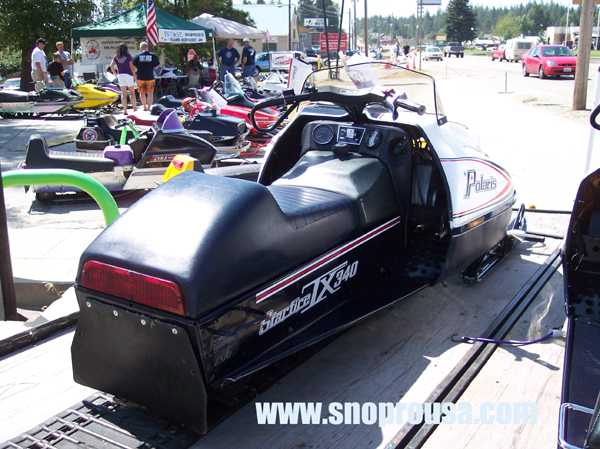 1976 Polaris TX Starfire
Hopped up with the liquid engines that came available to the racers that year.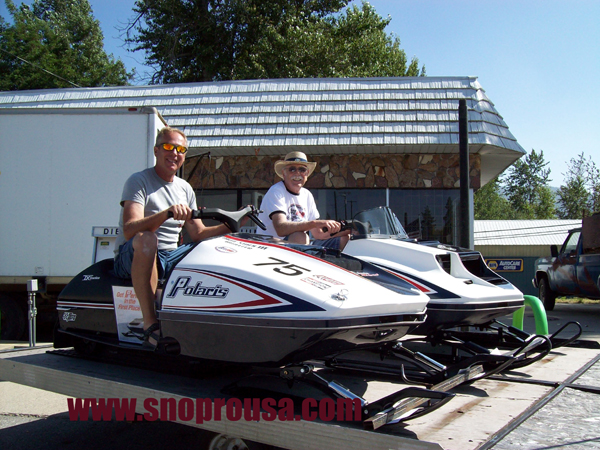 Jeff & Roger Biddiscombe
Back in the winter of 1975-76 Roger and his wife rode Starfires like the one on the right.
Jeff raced those Polaris Starfires for a season before moving on to
his first Championship sled, The Mad Merc !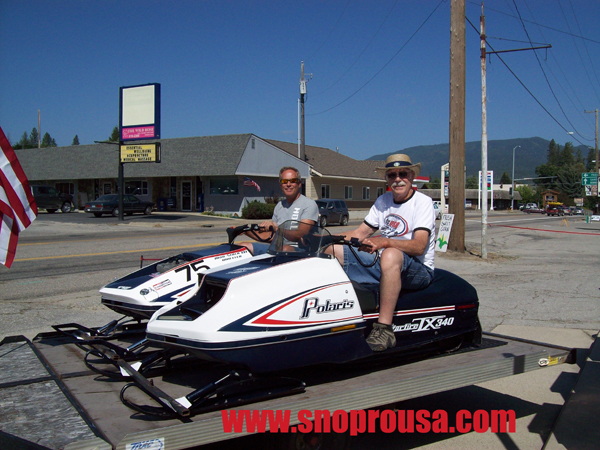 Roger, lookin' good and what a great T-Shirt !
Thanks Roger !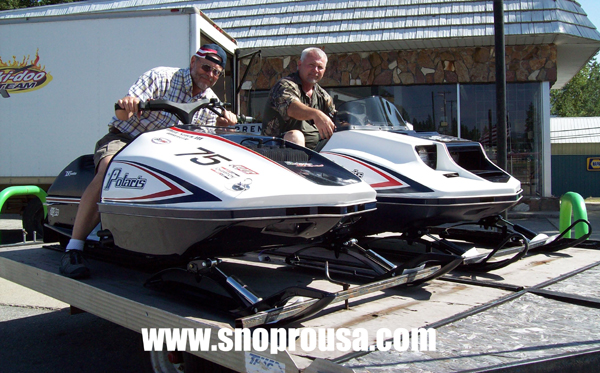 Kenny Jacobsen is in the corner again.
John Bushby looking comfortable on this Starfire.
John raced a 1977 Polaris TX-L 340 on most every oval track in the USA.
You know what happens when you let these guys get on your sleds?
They pull the rope and start them !
Everyone needs a little Klotz Cologne at a Vintage Snowmobile Show.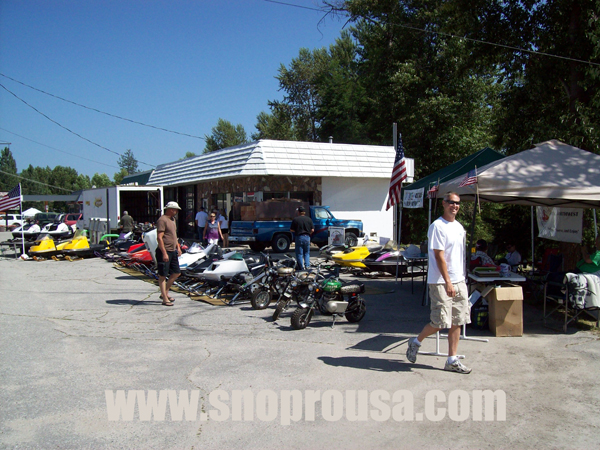 All AmericanDave Brummer always has a smile to share.
Dave is always responsible for alot of enjoyment at these events.