SnoProUSARestoration Review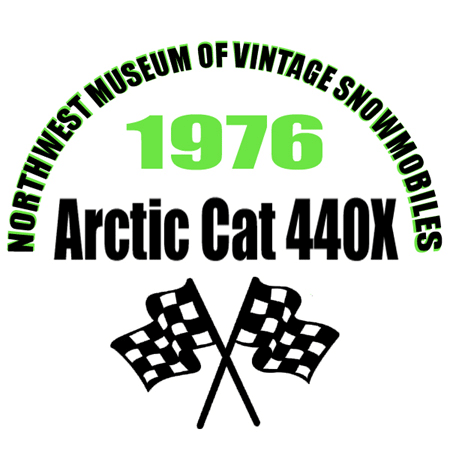 Owner:Jerry Kienbaum - Northwest Museum of Vintage Snowmobiles
Made: 1976
Make: Arctic Cat
Model: 440X Twin Track Sno Pro
Design Engineer: Roger Gage
Restored: 2010
Coordinated by: Jerry Kienbaum
Chassis Restoration: Roger Gage
Fiberglass Restoration: Arthur Bonenfant
Decals: Frank Sadlon, E-Graphics LTD.
---
Arctic Cat 440X Twin Track
"X for eXperimental"
During the year 1976 this one and only Arctic Cat Twin Track 440X was designed and built in
Thief River Falls Minnesota by Roger Gage in coordination with the Arctic Cat Research and
Development Department.

Roger Gage and the Arctic Cat Advanced Racing Department built five different twin track
race sleds during the years 1974 to 1979.

Mike Hornai of Arctic Cat was instrumental in the design and development of the original
fiberglass body for the 440X. The twin track and roll cage design was a 1970's era of innovation
to help create safer race sleds for the drivers in the professional circuit.

Sno Pro Racing and the consumer snowmobile market took a dive during the fuel crisis of
the mid 1970's. As a result, Arctic Cat was faced with financial troubles and ended
R&D programs like this, eventually closing it's doors in 1980.

This particular sled was sold in 1980 by Dave Thompson who was in the Arctic Cat
Race Department. A farmer near Thief River Falls Minnesota purchased the sled,
retiring the 440X to the farm for personal enjoyment.

In 2007 Mike Johnson [aka: Sled Digger] located the sled and contacted Jerry Kienbaum
in Spokane Washington to take a look at the 440X. The sled was routed to Eastern Washington,
then wound up being purchased by an individual from the midwest. The ' 76 440X was then
transported back to the midwest. Two years later the gentlemen that had bought the sled
in 2007 decided to sell it and call Jerry to see if he still had interest.

Jerry indeed purchased the sled this time around, routed the sled to Eastern Washington
and accumulated the correct OEM parts necessary to do a complete restoration. By October
2009 Jerry had the sled, plenty of parts and "the" plan. The entire contents and outline was
then transported to Western Washington to it's original innovator, Roger Gage at the
beginning of 2010.

Jerry Kienbaum is an expert at snowmobile restoration and sourced the detailed parts
required for authentic OEM restoration. Roger Gage recreated his original design with
complete chassis restoration. Arthur Bonenfant completed the incredible fiberglass
craftsmanship. Custom decals special ordered from Frank Sadlon at E-Graphics.

Within the first 60 days of 2010, this sled was ready to be tested by Jerry's designated
driver, Jeff Biddiscombe in West Yellowstone Montana.

Friday March 12th, 2010 the Arctic Cat 440X arrives early for the show in West Yellowstone.
Jeff & Roger Biddiscombe met with Jerry and unveiled the sled for Saturday's display
at the 7th Annual Vintage Snowmobile Roundup.

It received the WSVSA 1st Place Race Restored Trophy that Saturday in West Yellowstone.

The following Wednesday SNO PRO USA was there to get the scoop from Jerry, take
some fresh photos and roll the 440X back into the museum until it's next event.

This is a true one of a kind race snowmobile and X marks the spot for all of the Xcitement
that surrounds it. Jerry Kienbaum coordinated another eye popping restoration that will
provide a fresh archive of snowmobile history and innovation.

On Display Now:
Northwest Museum of Vintage Snowmobiles
19013 East Alki
Spokane Valley, Washington
Call to Schedule your visit: Jerry Kienbaum, Owner Curator / TELE: (509)220-7091
---
Click Each for Larger Image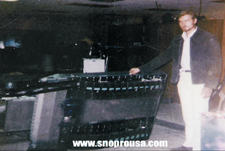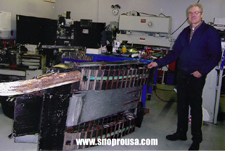 1976 Roger Gage 2010
Roger Gage went to college and studied to be an engineer. He graduated in 1970.
After graduation he went to work for Arctic Cat in the New Product Department.
In 1974 he was promoted to the Advanced Research and Development Department. Later in 1978
he became chassis engineer for the race team. Two years later Arctic Cat closed down.
In 1980 Roger went to work for Bayliner Boats for a period of 9 years.
Roger also had his own business building custom car trailers.
Next he went to work for Basketball Products as Vice-President of Engineering.
The company sold to new owners back east.
In 1990 Roger went to work for Boeing and maintains employment there currently.
January 2010 Roger was able to turn back the clock and restore one of his
own innovations he engineered for Arctic Cat in the 70's.
The restoration turned out incredible and has renewed a 34 year old
race snowmobile into a fresh archive to show everyone "How It Was" in 1976
---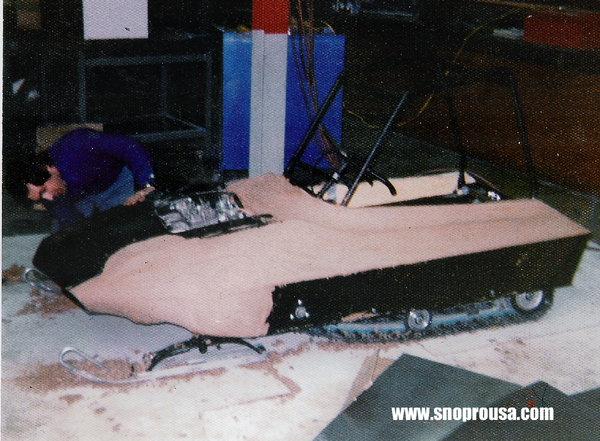 The Arctic Cat 440X Twin Track fiberglass fitting process at Thief River Falls in 1976.
---
BEFORE January 2010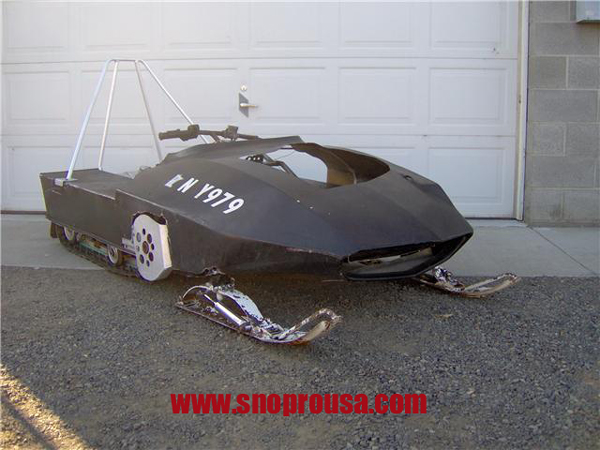 1976 Arctic Cat 440X when Jerry purchased it in 2009.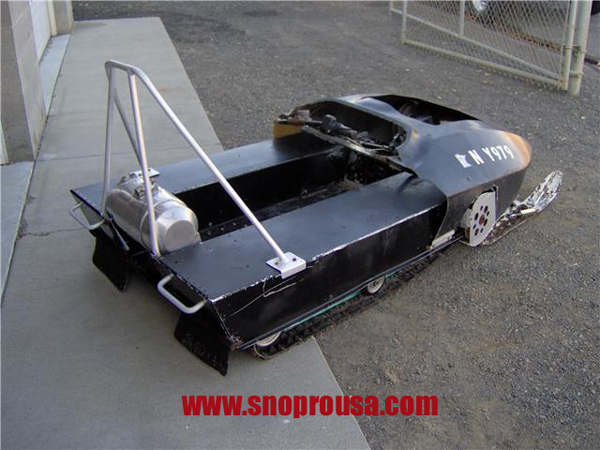 The Arctic Cat 440X had plenty of "DIY" Mods from 1980 to 2009.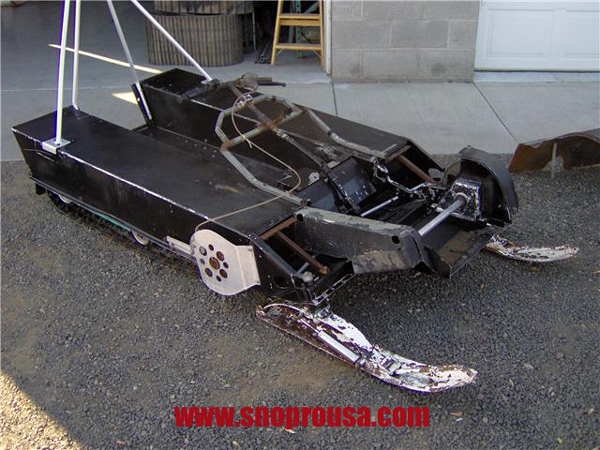 Plenty of mods to resolve damage showed this sled had seen a whole lotta fun on the farm.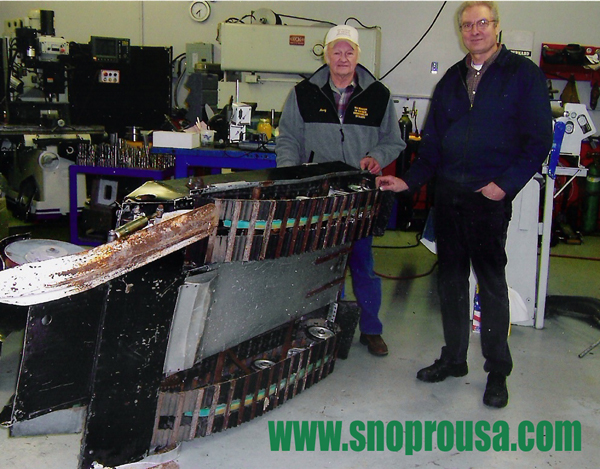 Jerry Kienbaum and Roger Gage begin the restoration January 2010.
---

The 7th Annual Vintage Snowmobile Round Up
West Yellowstone Montana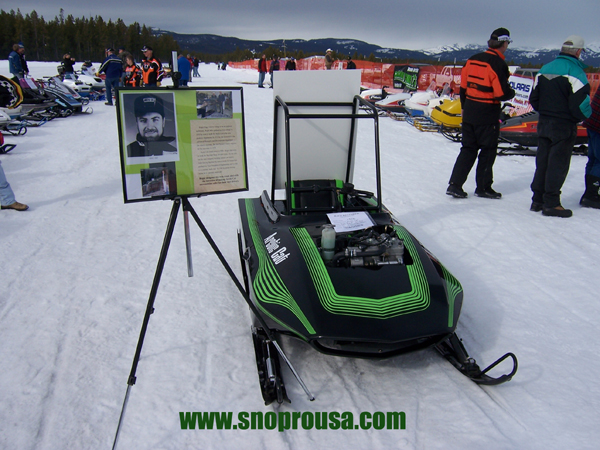 March 13th, 2010 in West Yellowstone, Montana.
Jerry's display of the Arctic Cat 440X Twin Track at the 7th Annual Vintage Snowmobile Round Up.
The display included photos of Roger Gage from 1976 and the restoration outline.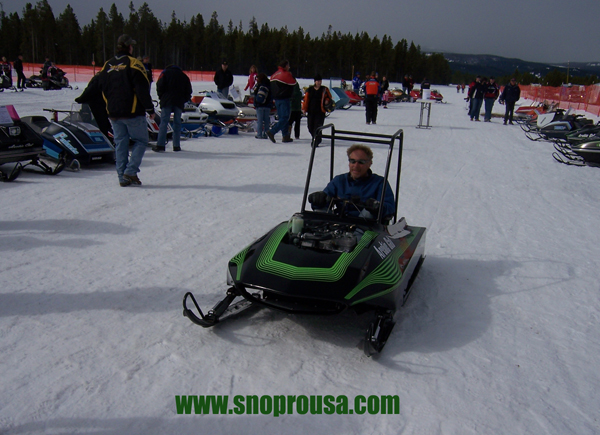 Jeff Biddiscombe takes the 440X for a ride and shows everyone how the left clutch release
permits this sled to turn on a dime to the left.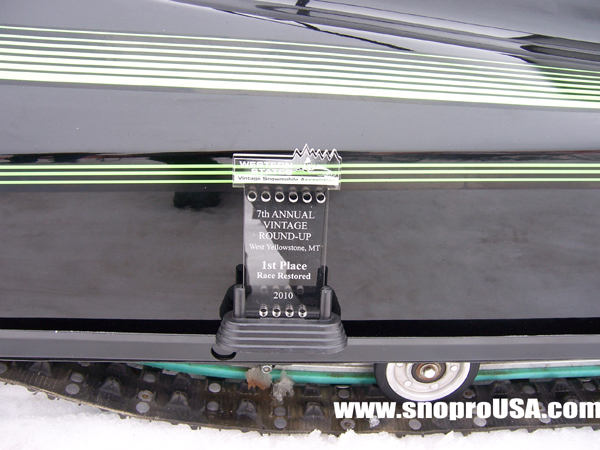 Western States Vintage Snowmobile Association
WSVSA - 2010
1st Place "Race Restored" Trophy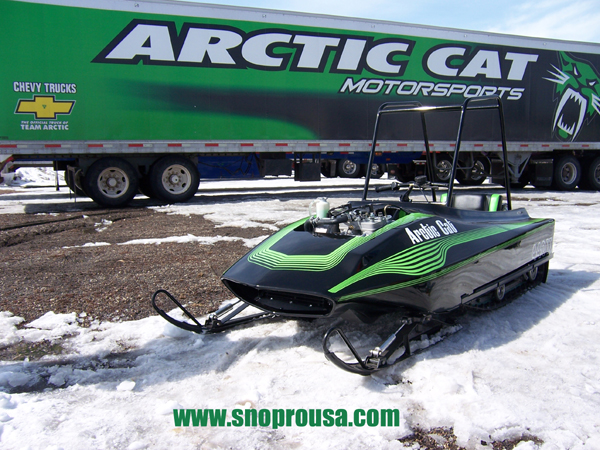 Epic photograph of the 440X in front of the Arctic Cat Semi in West Yellowstone, Montana.
---
Arctic Cat 440X Twin Track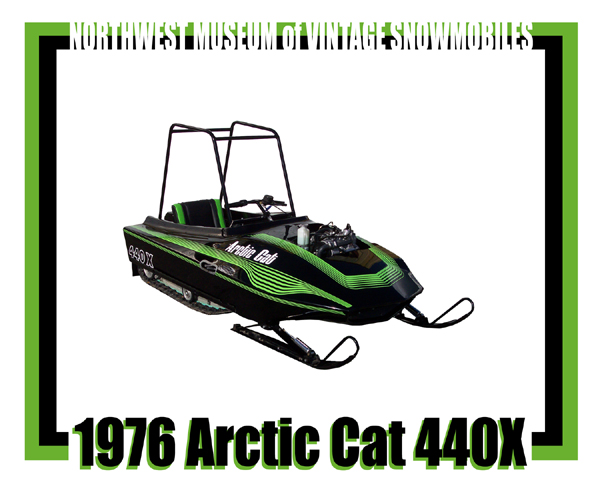 CLICK IMAGE[s] TO ENLARGE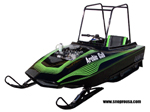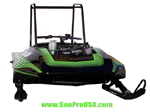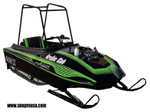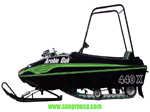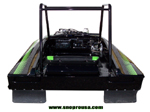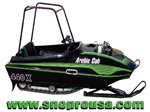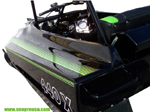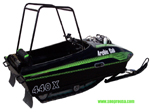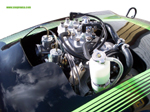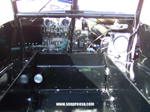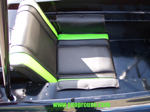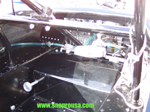 The round aluminum pedal shown on the left of the cockpit floor engages the left clutch.
This stops the drive to the left track and permits it to corner eXtremely tight.
---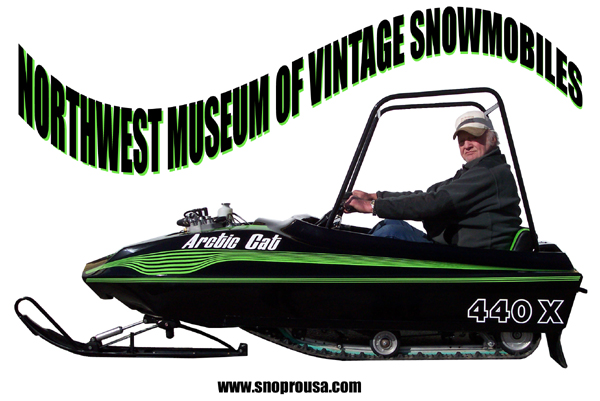 "You wanna hear this sled or what ?!"
CLICK ON JERRY AND HIS 440X TO VIEW VIDEO CLIP.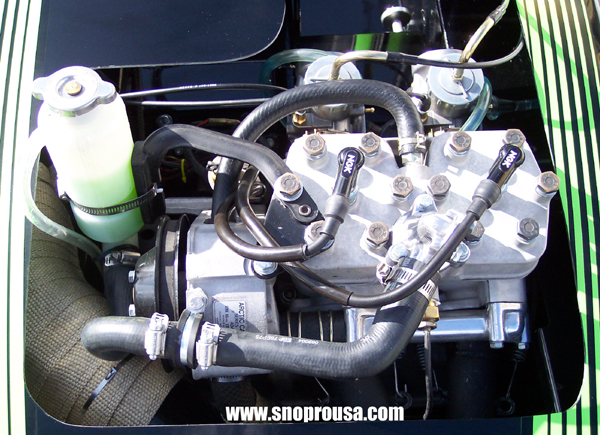 Arctic Cat 440 Liquid Cool Engine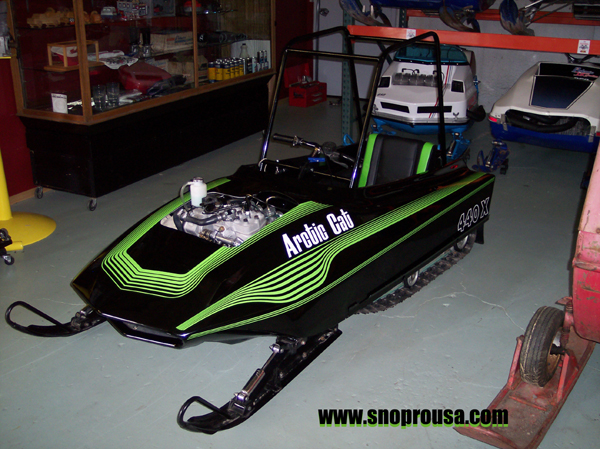 This '76 Arctic Cat 440X and 100+ more Vintage Snowmobiles can be seen at
the Northwest Museum of Vintage Snowmobiles in Spokane, Washington.
Call Jerry and schedule a time. TELE: (509)220-7091.
---

RETURN

---
all rights reserved - www.snoprousa.com