VSCA
Vintage National Show #9
Hosted by the WSVSA
[ updated 04-03-14 ]

---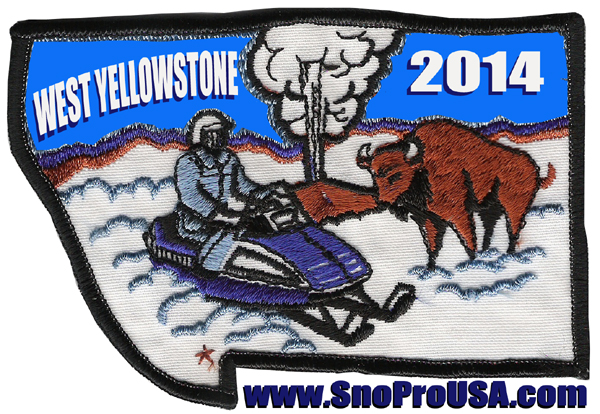 Yellowstone, MT. Patch from 1982-1983 Modified by SnoProUSA-INC.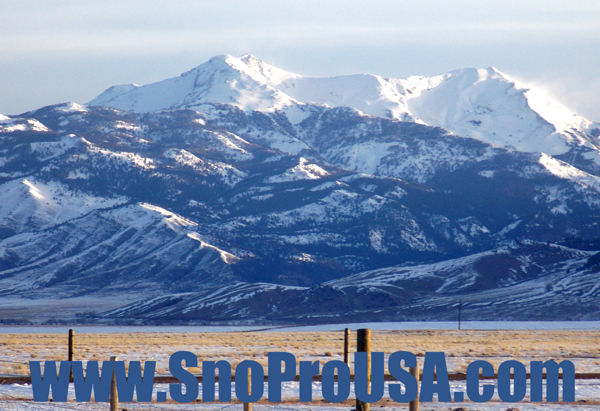 The Mountains of MONTANA!
---
YELLOWSTONE ! - THE SHOW ! - THE RACES ! - THE BANQUET !
THE SPONSORS
---

WELCOME TO THE SHOW !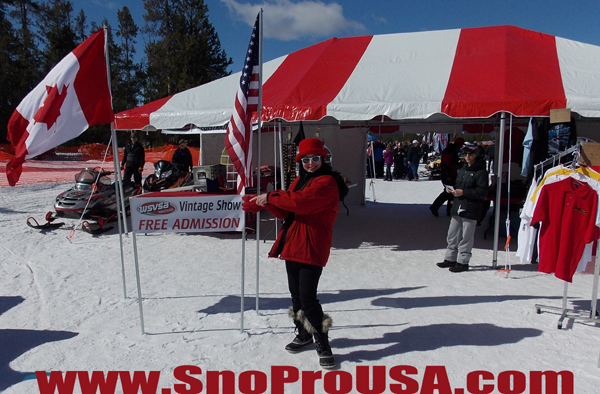 Theresa from SnoPro USA on the SNOW in Yellowstone!
TIME TO MEET Some of The People at the Event.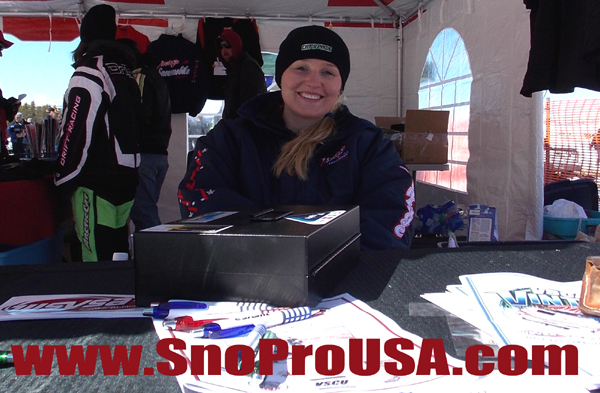 Ashley Hesteness ~ WSVSA
Always nice to see her smile. Good to see you again Ashley !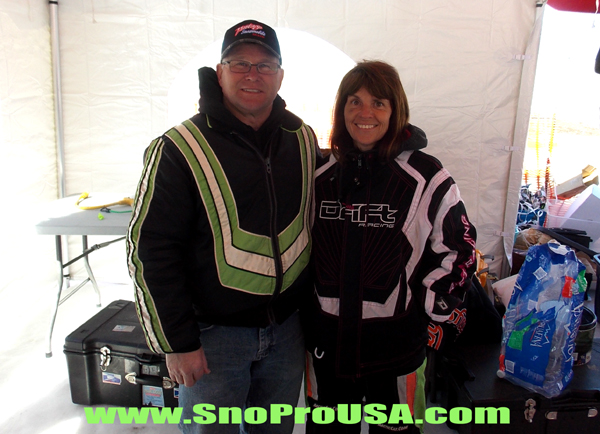 Mike & Judy Meagher - VSCA
Great to see you both again and experience another great National Show.
Thank you for everything you do all year long for the Vintage Snowmobile World !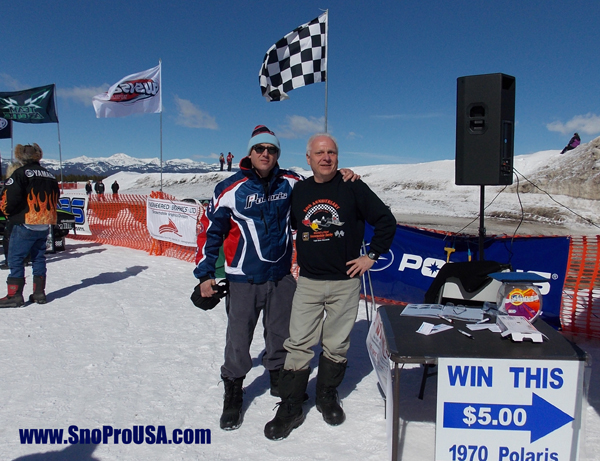 Valdi Stephanson !
Strong Enthusiasm and Supporter in the Vintage Snowmobile Scene.
OLD IRON DVD Series. Check them out !
Great to meet Valdi in person. Thanks for traveling West.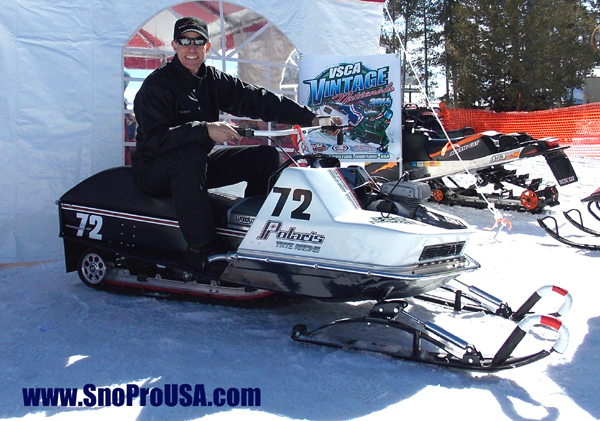 Curtis Tate ~ WSVSA
Curtis runs the numbers and makes them count.
This is the 1-Cylinder Sled that he might be racing next year.
Curtis Rocked the Caldera with us later on the #79 Sno Pro TX 440 !
Great to see you again Curtis !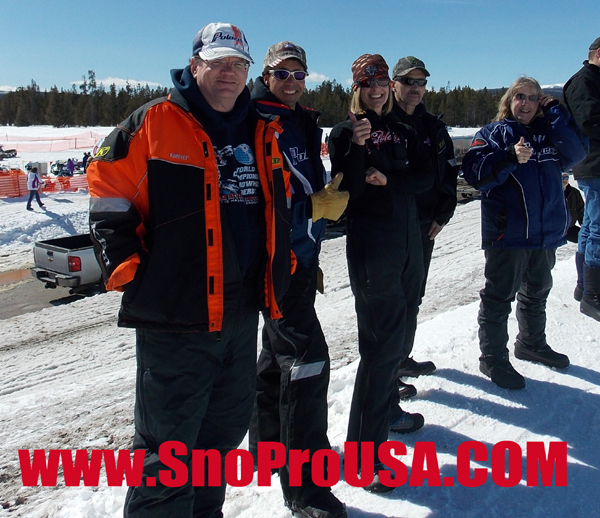 Vintage Polaris Comrads !
[left to right]
A.J. Emrick, Chris Dileo, Amy Dileo, Frank Dileo & Cathy Emrick.
These folks make the web pages of www.SnoProUSA.com look great
with their awesome Vintage Sled Restorations and great smiles.
Thank you for the support and positive vibrations !
THUMBS UP !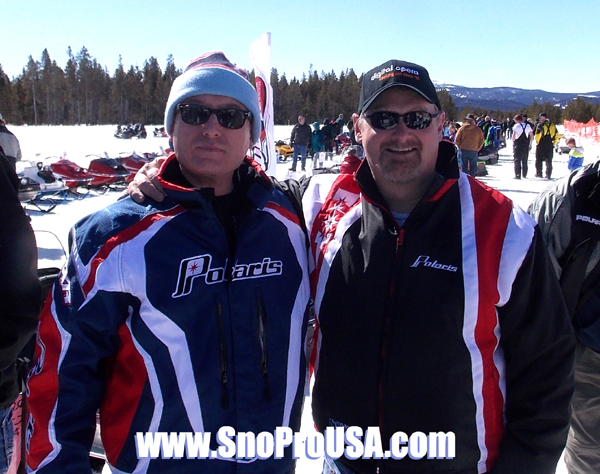 Larry Preston [aka Boy Wonder]
Founder of VintageSleds.com & Author of Starfire Kids.
It was great to see Larry at the show. He has always been a positive influence.
Thank you for your support and friendship.

Theresa / SnoPro USA - 1979 Polaris TX 440 MOD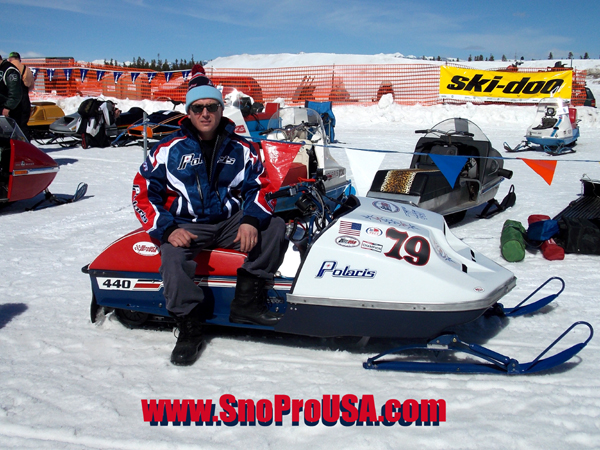 Joel / Sno Pro USA - 1979 Polaris TX 440 MOD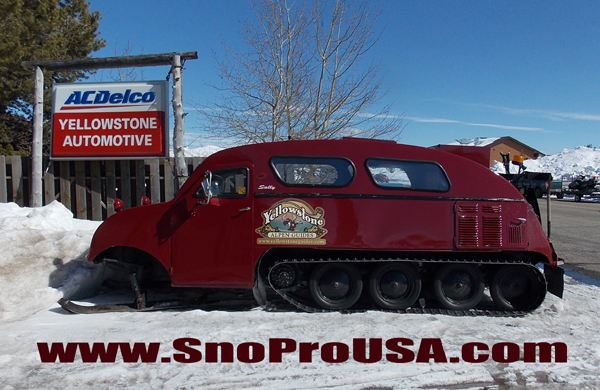 NICE!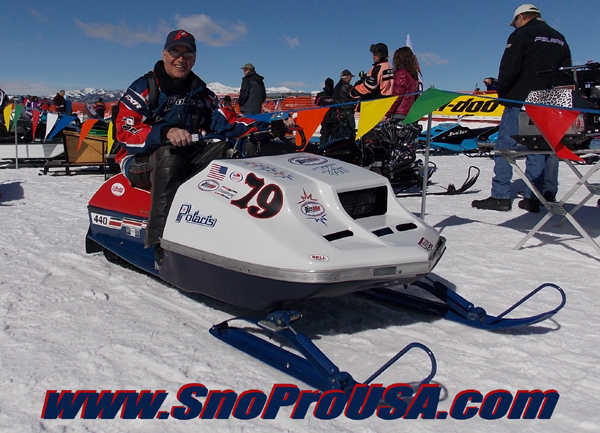 JIM SMITH ~ WSVSA Vice President
Gettin' Ready to ride the latest Polaris TX to join the SnoPro USA fleet !
Thank you for the warm greeting, smiles & great time at West this year Jim!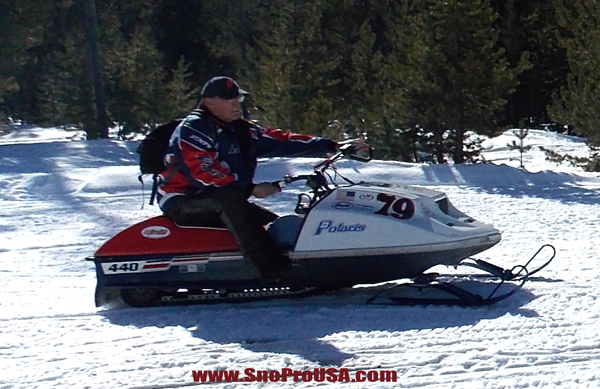 Jim Smith testing the throttle, clutch & suspension of the SnoPro USA unit.
Jim Smith : "Winner Winner Chicken Dinner!"
Later on, Jim Smith showed everyone how it is done in the Masters Class
on his own 1979 Polaris TX 440. Congratulatons Jim !
Check out the cool GoPro Videos of this race available online to view.
MASTERS RACE #1
MASTERS RACE #2
[click each to view]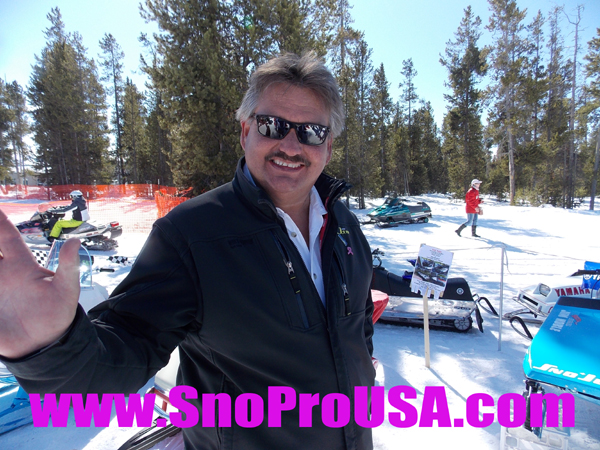 Perry Hesteness ~ WSVSA, President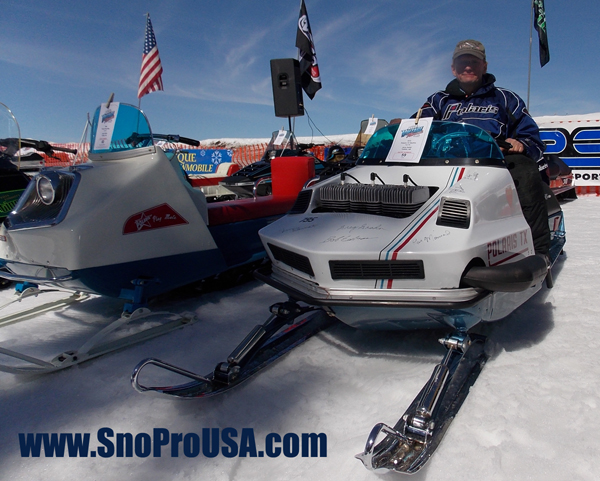 Jerry Kallal - ALBERTA CANADA - 1971 Polaris TX 2+1
Jerry drove 12 hours from Canada to bring his fine Polaris sleds to West Yellowstone.
Oval racer from the 1970's and has super restoration talent that keeps the spirit alive.
This Polaris TX 2+1 is signed by the Starfire Kids !
Great to see you again Jerry.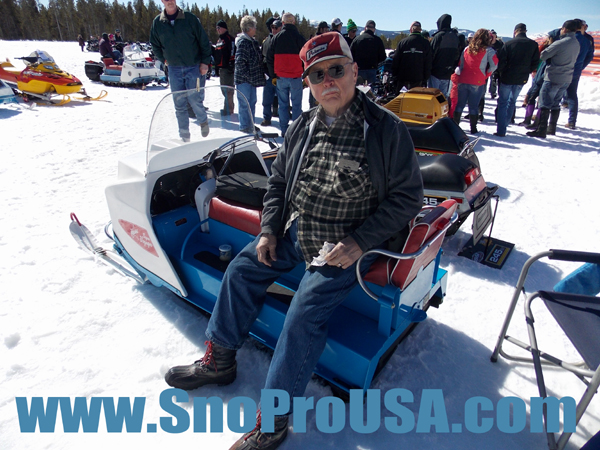 Ellis Vawter ~ St. Maries, Idaho
Polaris Dealer from "The Day".


KENNY J.
"Pure Polaris"
Missoula, Montana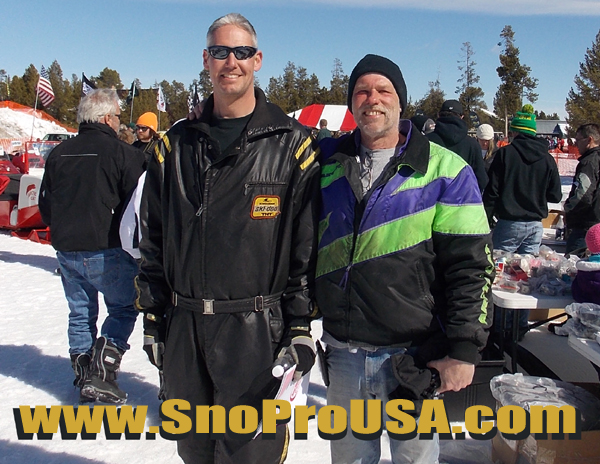 DAVID BRUMMER~Post Falls, IDAHO & GREGG BRUMMER~Spirit Lake, IDAHO
Vintage Sled Brothers of the Northwest!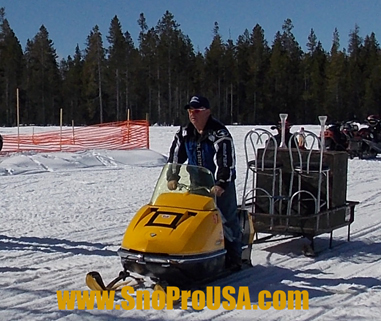 Dinner for Two behind the Ski-Doo !
Trailer Races are part of the Comedy Entertainment on the Oval.
---
THE VINTAGE SLEDS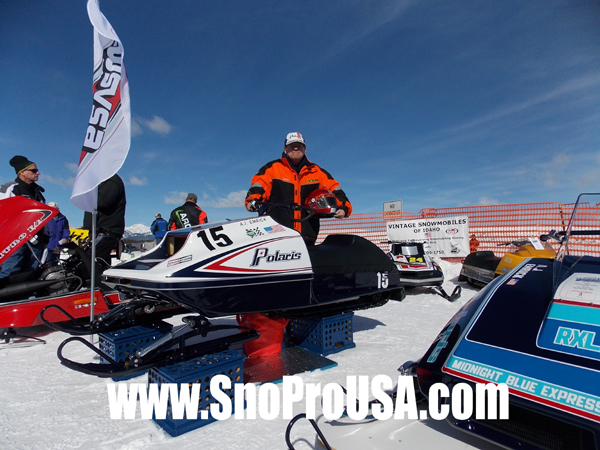 A.J. Emrick ~ Show Sleds at Their Best.
This National Champ Melts Snow.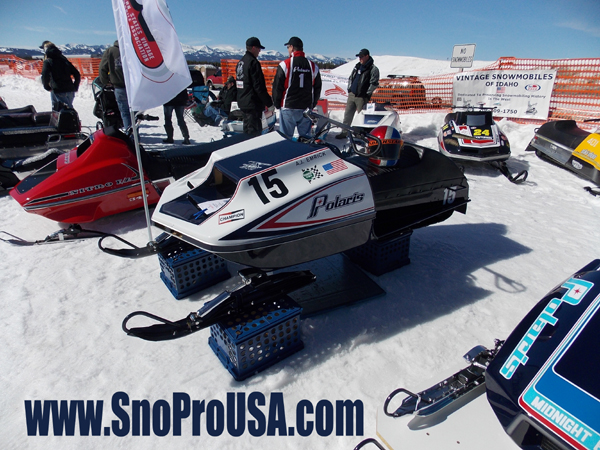 1976 Polaris TX SNO PRO ~ A.J. EMRICK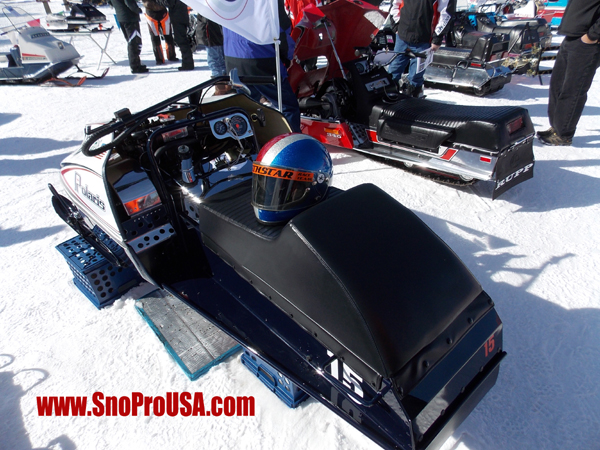 Last year SnoProUSA did a Feature Story on this sled.
It is a real treat to see it in person on the snow at West Yellowstone.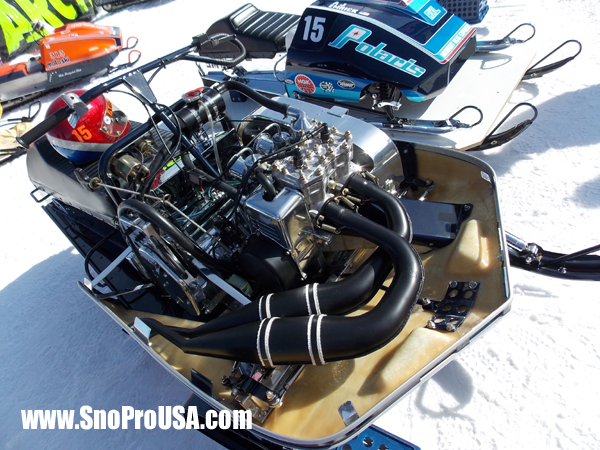 A.J. Emrick's Craftsmanship is on It's Own Level.
Within seconds of looking at this sled you realize why he is a consistant National Champ.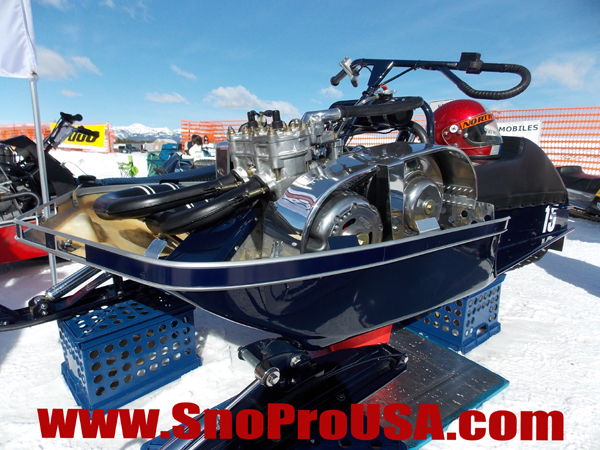 Polished Perfection at every angle.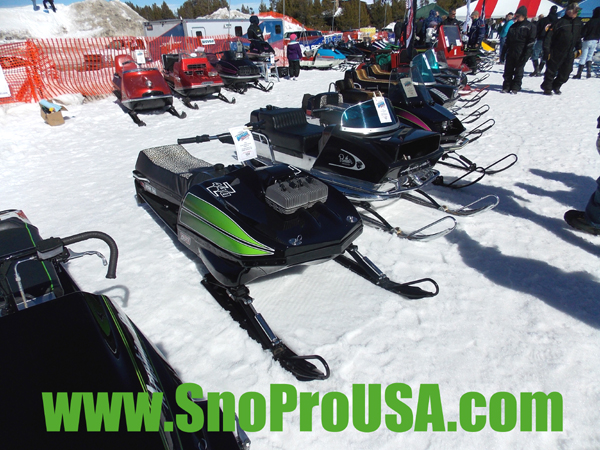 That is "The CAT! "
This Fleet of Arctic Cat's
is
The Real Deal ! WOW !

---

SPECIAL FEATURE!
DUANE ECK - Snowmobile Racing Legend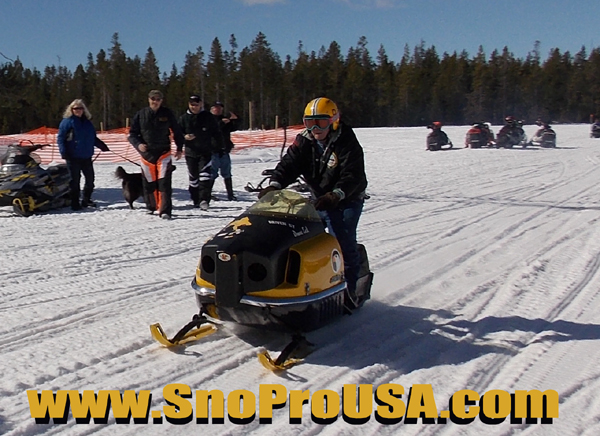 The Legend Duane Eck rides the SKI DOO Double Eagle
that he set the speed record on back in 1969.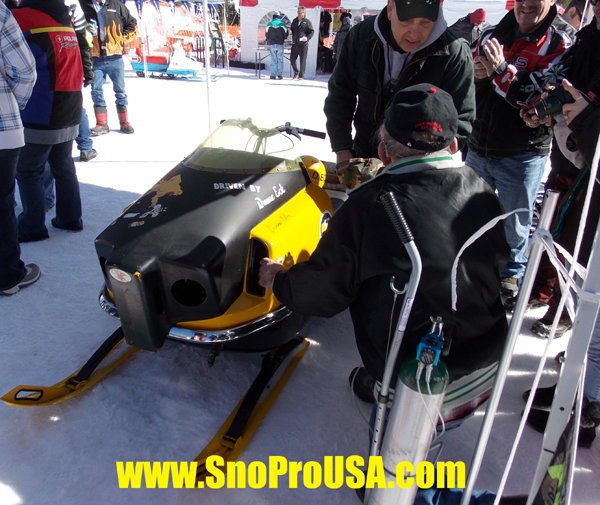 Duane Eck with Brad Warning as he begins to sign the Ski Doo Double Eagle.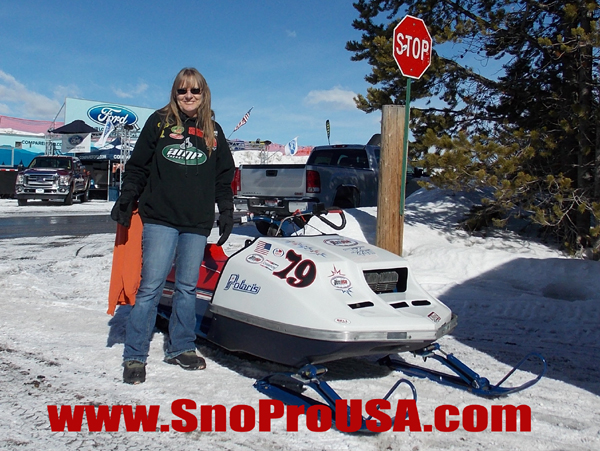 Duane Eck's daughter Lisa Reynolds
First person we met up with at the show was Lisa.
The TX 440 was pulled out of the trailer by some cool Polaris Racers
from down south and while fueling up Lisa was walking by in the sunshine.
This was the first photo taken at the show.
Great way to start the show !
---
VINTAGE SNOWMOBILE OVAL RACING !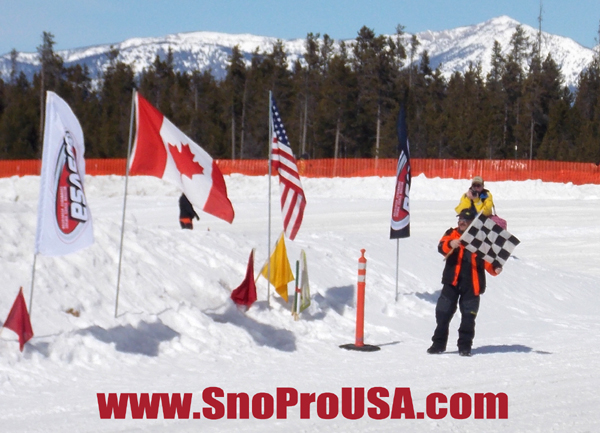 Vintage Snowmobile Racing - West Yellowstone MONTANA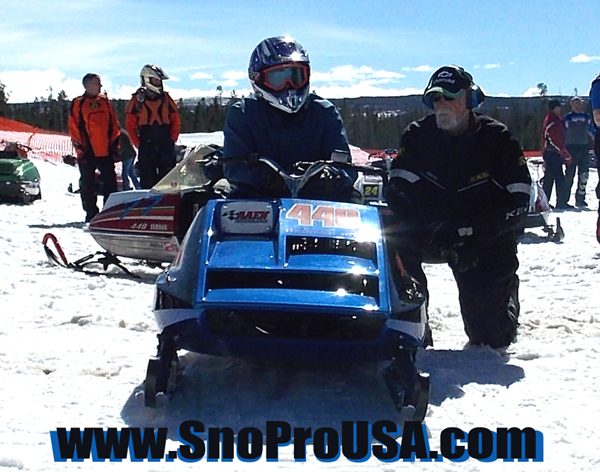 Jeff Biddiscombe with his father Roger Biddiscombe prior to the final race.
30+ Years Later, this Father & Son Team displayed the same determination and focus
to bring home the gold again. Congratulations Team Biddiscombe.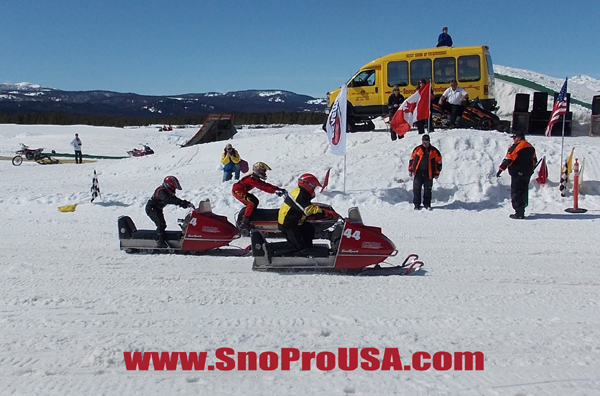 The Kids get ready to launch from the starting line.
Ruchert Racing in the Pole Position with his #1 fan right there at the starting line.
The Future of Snowmobile Racing.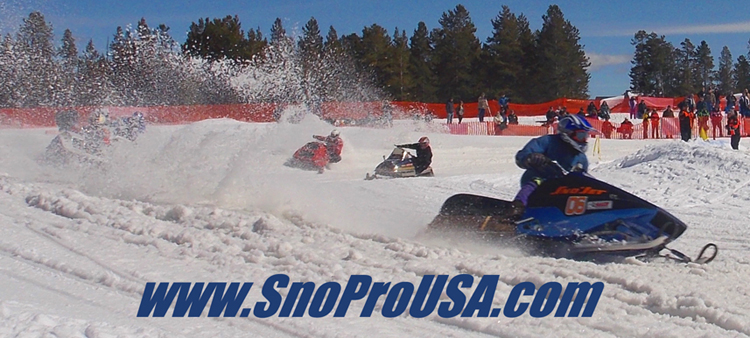 JEFF BIDDISCOMBE set the snow on fire with his SNO JET THUNDERJET.
1st Place - 440 MOD.
Congratulations Champ!


MASTERS' CLASS: JIM SMITH #12 Polaris TX 440 - Bend, Oregon ~ Out in Front !

Tony Crnkovich #7WY on the Yamaha 433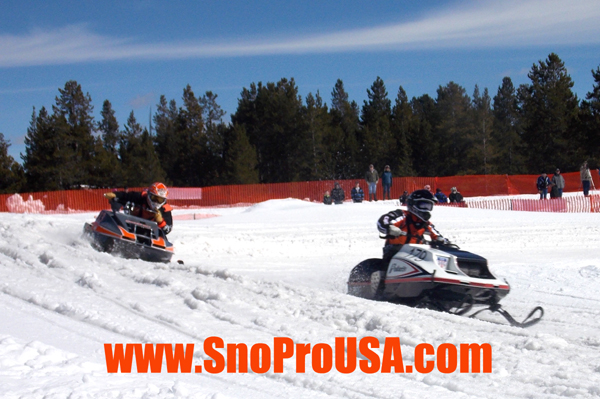 Mike Stratychuk #13 / Canada on the Moto-Ski and the
1976 #179 Polaris from California come out of Corner Two at West Yellowstone !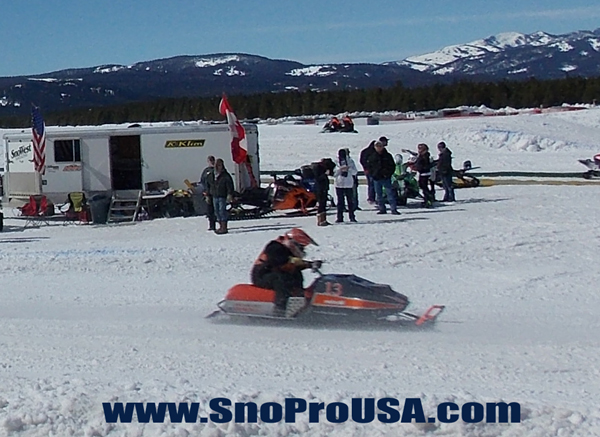 Mike Stratychuk #13 / Canada on the Moto-Ski heads into corner one.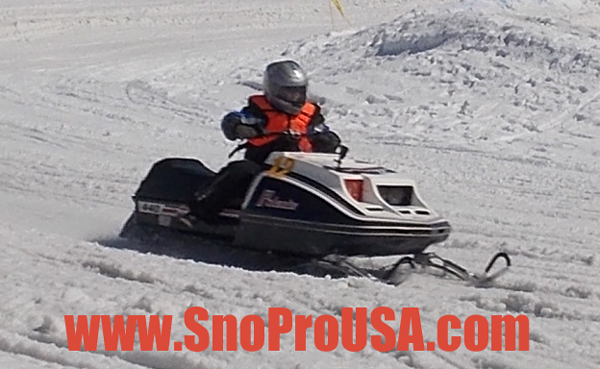 Powder Puff Class 440 F/A
This 1979 Polaris TX 440 of Jim Smith's ran all day long in several classes.
1. Masters Class - Jim Smith
2. 440 F/A Class - [ Mike Campbell ]
3. Powder Puff Class - [ Carrie Campbell ]
---
MORE PHOTOS IN PROCESS !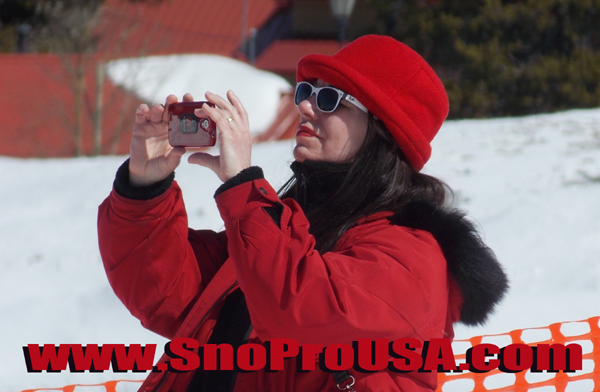 STAY TUNED TO THIS PAGE !
---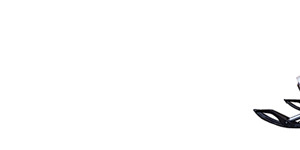 RETURN