---
SPOKANE WINTER KNIGHTS
32nd Annual Snow Show
Saturday November 10th, 2012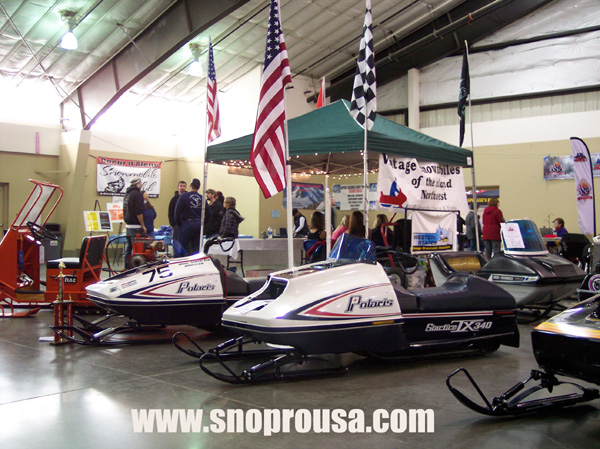 You know that winter "is here" when the Spokane Winter Knights Snowmobile Club
is hosting their Annual SNOW SHOW. This year marks the 32nd show
and it is without a doubt the best organized Snowmobile Event
with the most Friendly Spirited Folks in the Northwest.
If you are an exhibitor or a patron of Snowmobiles, everything is here each year.
The "big four" are present, Arctic Cat, Polaris, Ski Doo & Yamaha with
their NEW snowmobiles and merchandise.
Current "sled-head" bling is available with vendors displaying
apparel, performance parts, oil, used trailers & sleds.
The center of the showroom floor features Vintage Snowmobiles.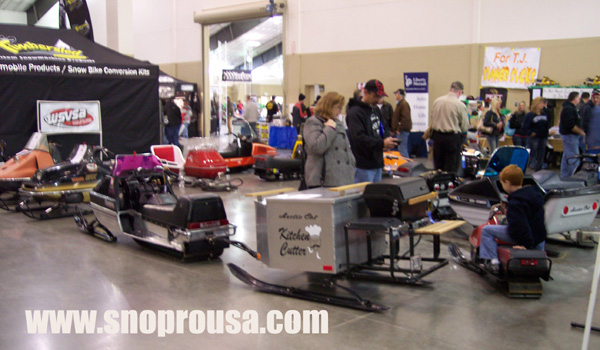 A reminder for some and for others the origin of snowmobiling
introduces the brutal beginning to new sled riders.
Thank you Winter Knights for your continued support
of "The Fastest Sport on Snow".

---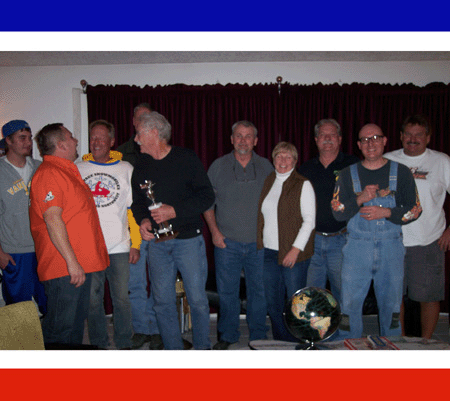 The Vintage Snowmobiles of the Inland Northwest Snowmobile Club.
November 2012 - Roger Biddiscombe receives the Founding Father Trophy.
Roger started the club the Winter of 2000 / 2001.
A great way to kick off the 32nd Annual Winter Knights Event.
Vintage Snowmobiles are gaining popularity in the USA and Canada.
People that grew up snowmobiling look back at the sleds and
either get real enjoyment to see the sled they once rode or
it can be a reminder of the frustration they might have experienced.
Folks that weren't around sleds back in the day or just weren't
born yet and ride new sleds look at the vintage sleds with amazement.
Comments like, "there ain't no suspension" or "look how low it is"
can be heard by the modern sled heads of the sport.
Vintage Snowmobiling can be whatever you want to make it.
Vintage Snowmobile events all over the country can express
enthusiasts from both extremes. You have some folks
that find a free sled, drag it home and get it running
just to have a blast riding the heck out of it with minimal investment.
Then you have the specification artisan that restores sleds back
to new condition just like the day it came from factory.
The other extreme is the custom restoration specialist that
expresses their own final touches with polished aluminum, chrome
and detailed powder coated components.
Vintage Snowmobiling is alot of enjoyment and one thing is
for certain, the sport has maintained a pioneer and competitive
reputation that makes winter unique and for some
the fever exists all year long.
There are many ways to get involved in Vintage Snowmobiling events.
On the local level, if you live where it snows you can typically
find a local club. In the Northwest there are four fine clubs.
Vintage Snowmobiles of the Inland Northwest
Vintage Snowmobiles of Idaho
Vintage Snowmobile Club of Utah
Rocky Mountain Antique Snowmobile Association
The regional level usually has an administrative organization.
In our area we are blessed with the WSVSA.
Western States Vintage Snowmobile Association
Then on the National level there is the VSCA. When you
join the VSCA you get four magazines per year featuring
Vintage Sled stories, Vintage Sled Events Coverage
and alot of Vintage Sled Vendor adverstisements that fuel the sport
with great parts new and used for all of the popular brands.
Vintage Snowmobile Club of America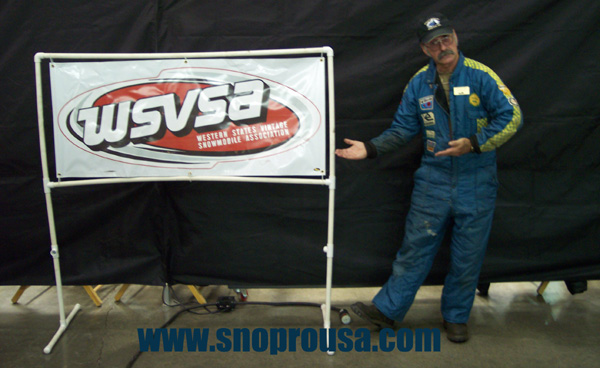 John Nelson is one of the first members in the Inland Club.
Special THANKS to Perry and Thad.
Western States Vintage Snowmobile Association
The best events in the Northwest fly this Banner.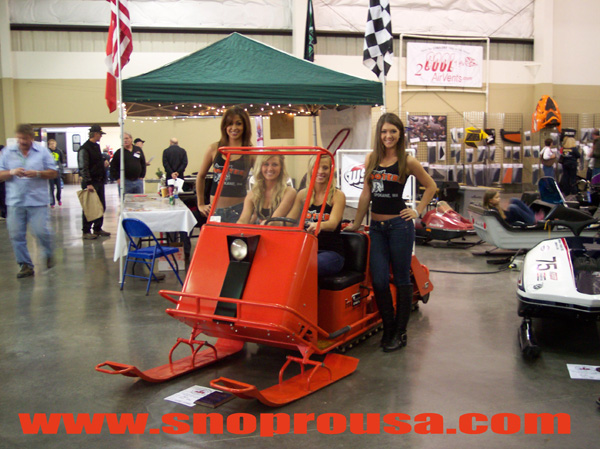 Spokane Hooters' Girls are an annual feature found in the Vintage Snowmobile section.
VINTAGE RESTORED TROPHY
1963 Fox Trac owned by Gordy Kimbel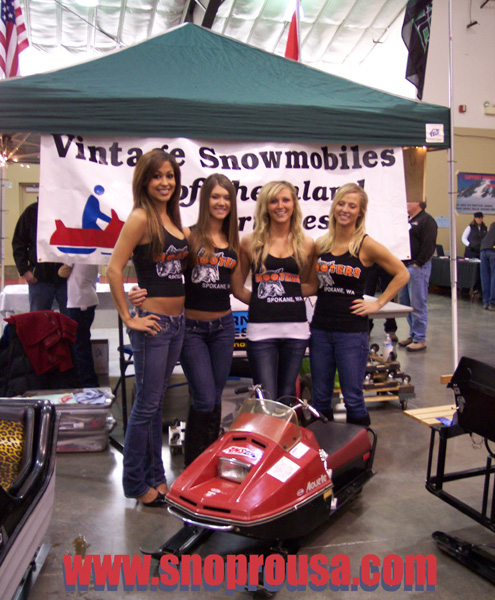 VINTAGE UN-RESTORED TROPHY
1971 Alouette Kid's Sled owned by Eugene Smith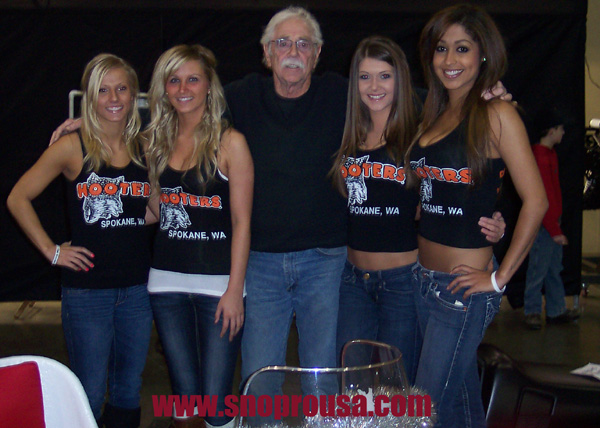 Roger Biddiscombe - Vintage Snowmobiles of the Inland Northwest's Founding Father.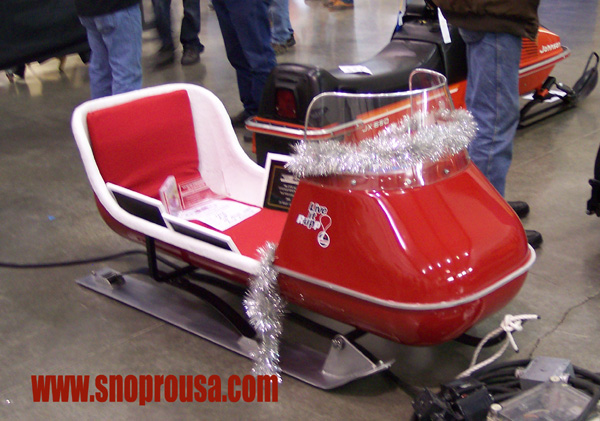 LIVE IT RUPP ! The Rupp Cutter.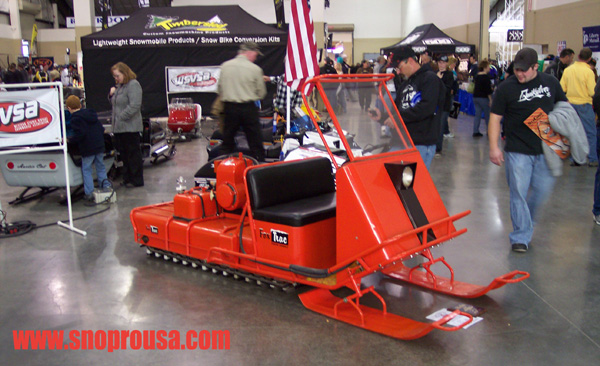 1963 FOX TRAC with a great restoration.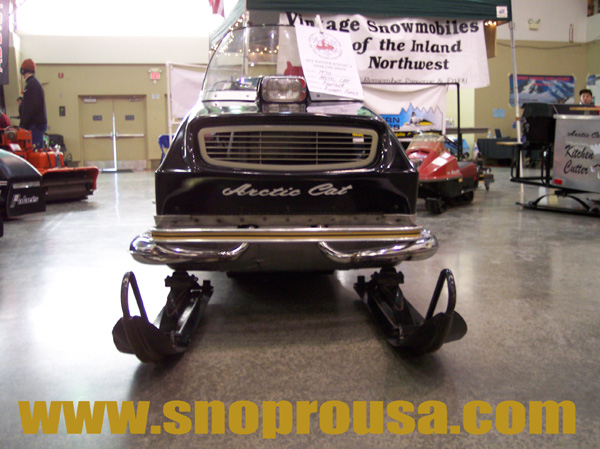 1970 Arctic Cat Panther 634
Willie Ruchert - Pomeroy Washington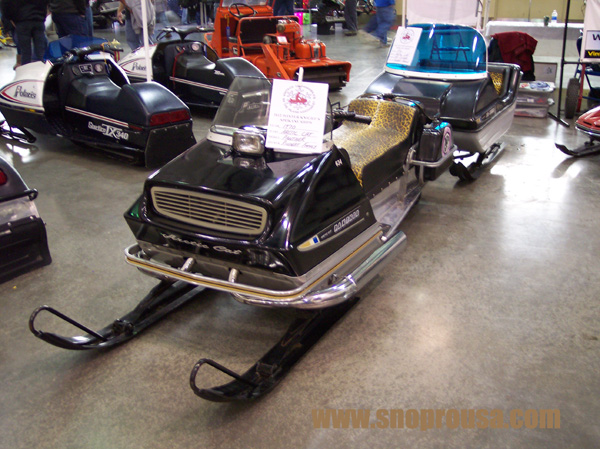 Everyone is always glad to see The Ruchert Family at all of the shows.
This Vintage Arctic Cat Panther features the dual Montana Exhaust Pipes.
The ultimate cruiser and the "Harley" of the trail.
These sleds have a deep cackle out the pipes alot like a Harley.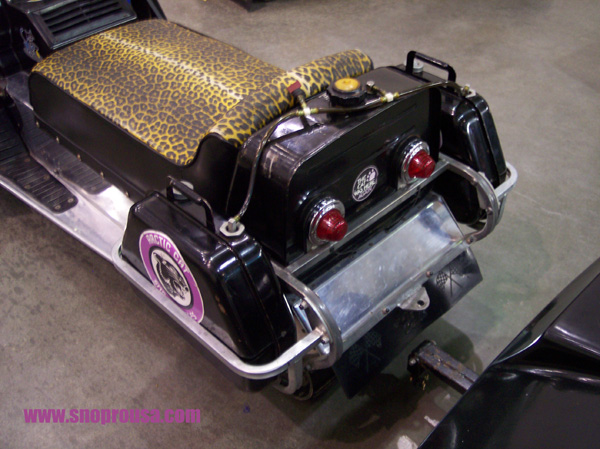 Plenty of fuel capacity for the long haul with a super wide seat like a couch.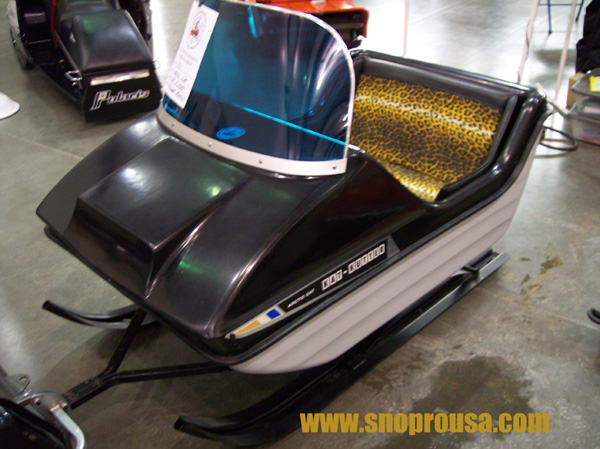 The Matching Arctic Cat KAT - KUTTER with two K's makes the
sled the ulitmate tour guide ride.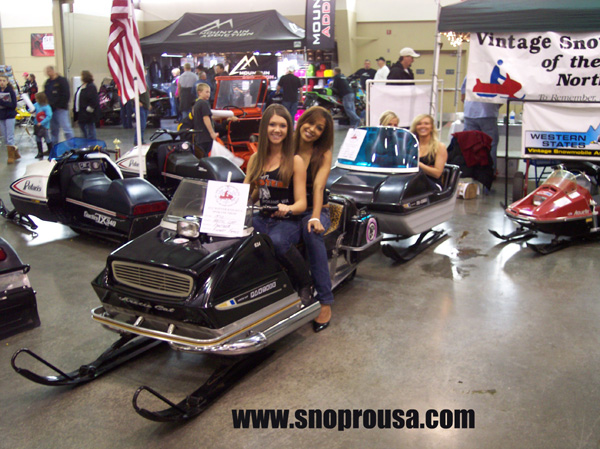 Spokane Hooters' Girls illustrate how to use this rig in good fashion.
Dave Brummer's Cheetah with the Kitchen Cutter and this Panther with the Passenger Cutter
are a great reminder of Edgar Hetteen's love for the sport.
His innovations and passion turned "snowmobiling" it into a family consumer sport.
Did you know that Edgar Hetteen was born on Valentines Day?
Edgar Hetteen was born on February 14th, 1911. His life changed Winter
for all of mankind by his vision expressed with Arctic Cat Snowmobiles.
The Grandfather of Snowmobiles' spirit lives on through Vintage Arctic Cat enthusiasts
and by remaining one of the four industy giants that still provides families
with year around recreational entertainment.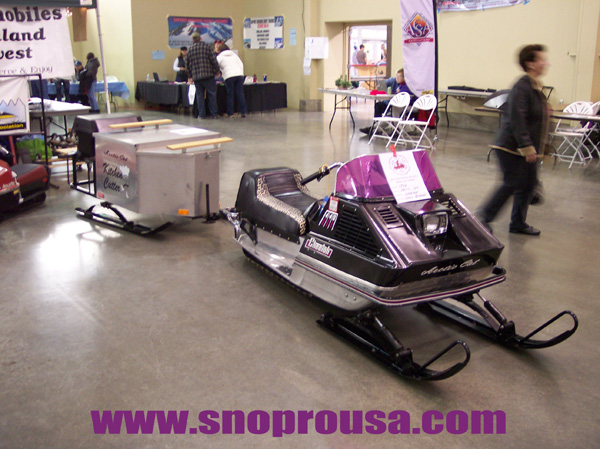 1972 Arctic Cat Cheetah 440 - Dave Brummer - Post Falls IDAHO
This cool jewel is pulling the 1978 Arctic Cat Kitchen Cutter.
March of 2012 Dave cooked and gave over 250 hot dogs to hungry
snowmobile enthusiasts in Yellowstone at the 9th Western Round-Up.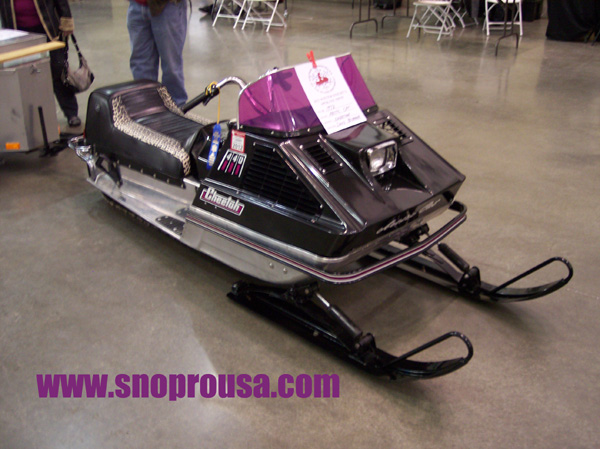 1972 Arctic Cat Cheetah 440 - Dave Brummer - Post Falls IDAHO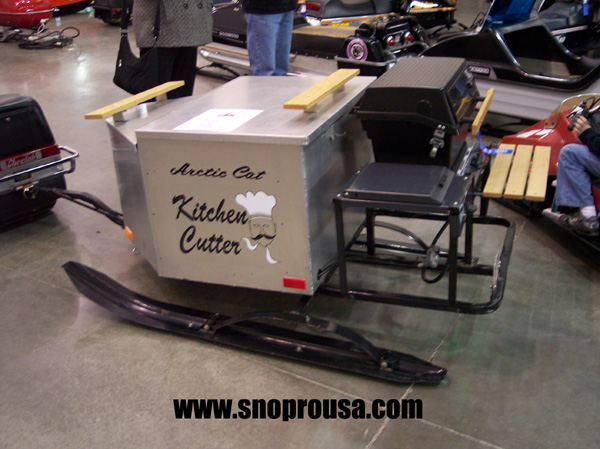 1978 Arctic Cat Kitchen Cutter
Bar-B-Que, Single Burner Range Top and a great storage chest for the cooler.
Arctic Cat was the pioneer in the industry for long haul trail riding sleds
with methods to haul additional people and the kitchen.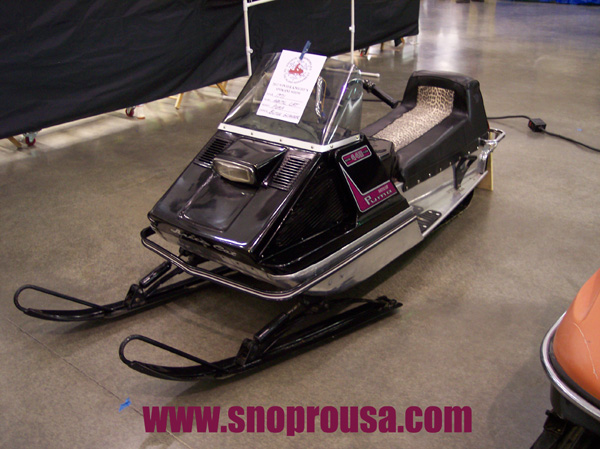 1971 Arctic Cat PUMA 440 - Butch Glander - Colville, Washington

---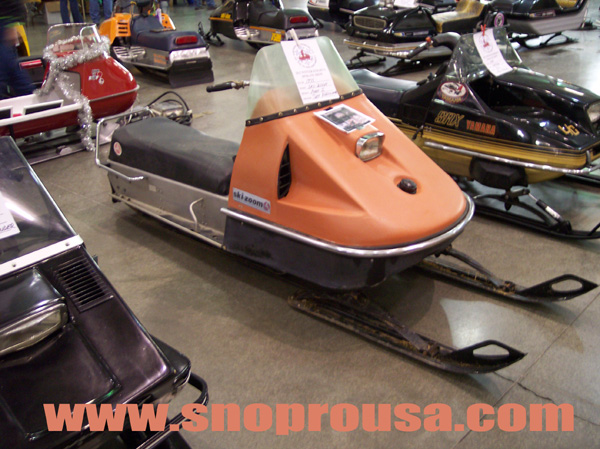 1973 Ski Zoom Mark I - Jeff Biddiscombe - Walla Walla, Washington
This sled traveled 17 hours from Saskatchewan Canada to be at the show.
Jeff collects sleds and our good buddy Mike Stratychuk from
Stratychuk Sleds in Canada made the long haul to bring it,
hang out and to have a great time with everyone.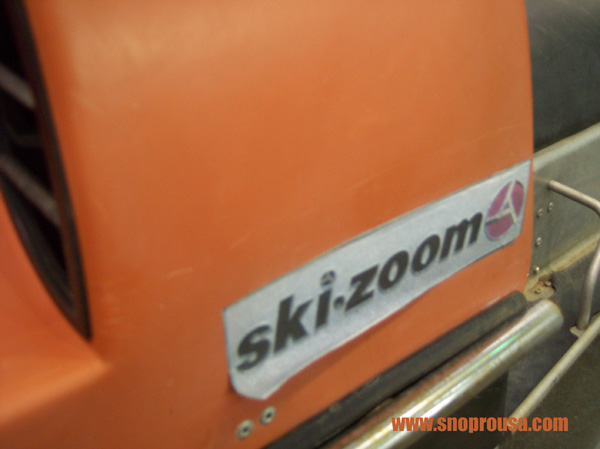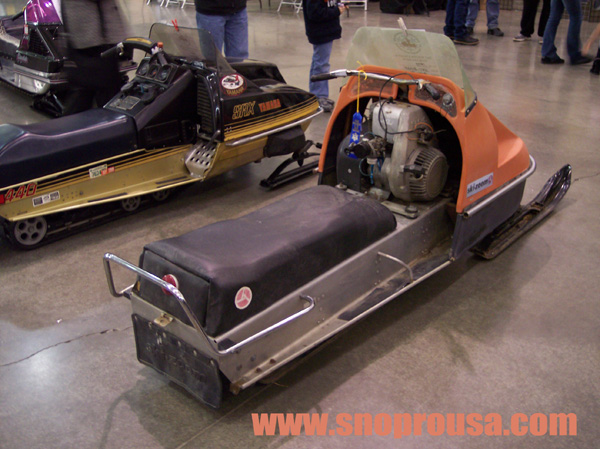 Ski Zoom made a couple basic sleds in the early 1970's that were
available in five colors: Orange, Green, Blue, Yellow & Red.
Basic Aluminum Chassis and Sach's engines.
The sleds were made available from
Autotechnic Incorporated of Montreal, Quebec Canada.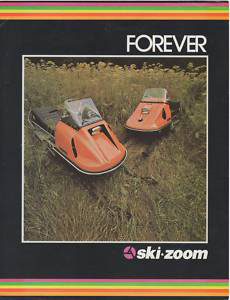 The Ski Zoom Rebel and Ski Zoom Mach I Brochure Cover from 1973.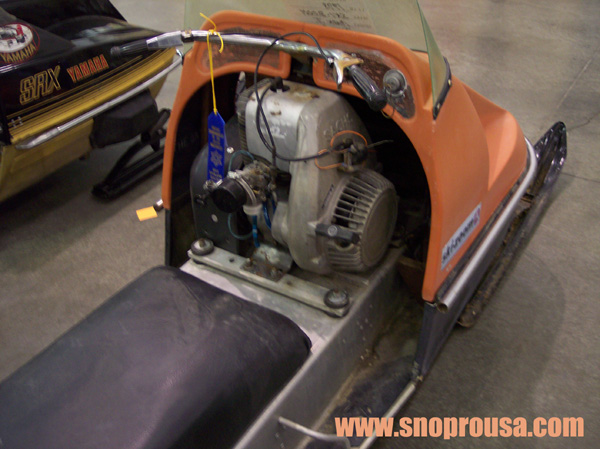 Get Ready to ZOOM !

---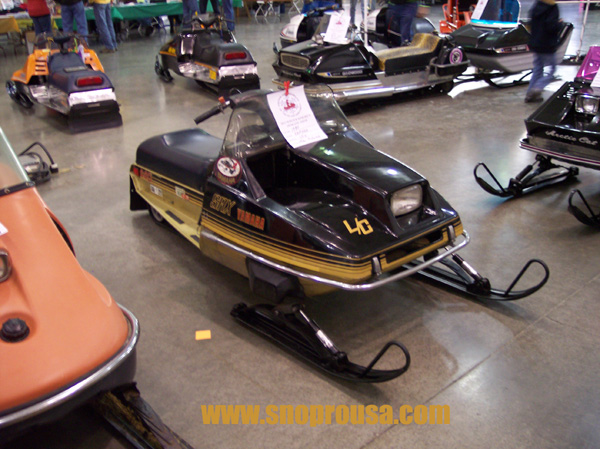 1980 Yamaha SRX 440 Liquid Cool
The last year the SRX had this type of hood and the last year for the leafer front end.
This sled had butterfly type carbs instead of the barrel slides.
The next year Yamaha would introduce their new gas shock front end suspension.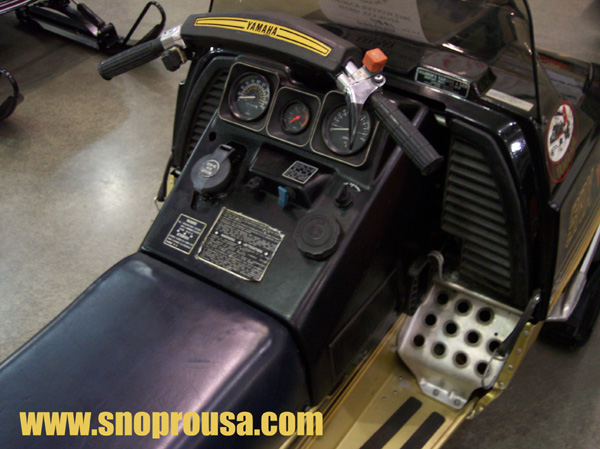 Yep it's a Yamadog !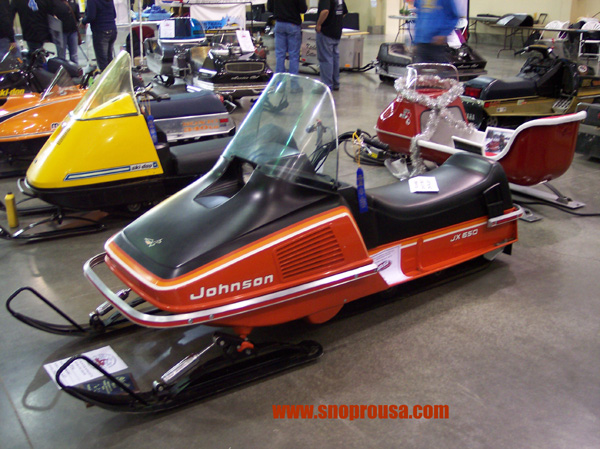 JOHNSON JX 650 with 118 Original Miles.
Electric Start and the engine is almost silent

1972 Ski-Doo Elan - Perry Hesteness - Southern, Idaho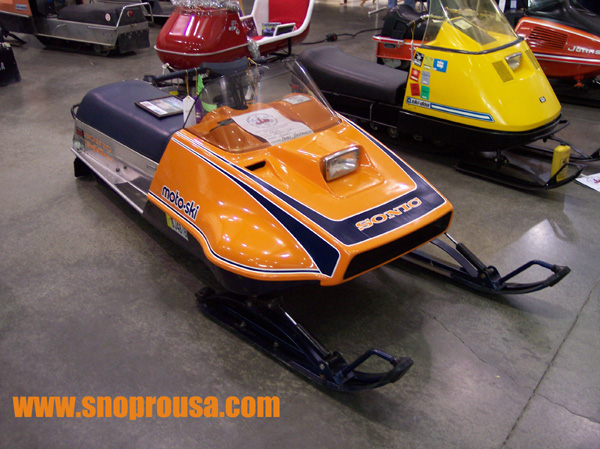 1976 Moto-Ski Sonic 340 - Perry Hesteness - Southern Idaho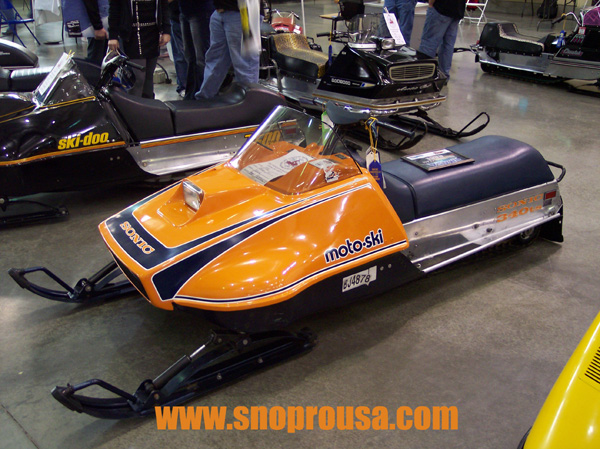 1976 Moto-Ski Sonic 340 - Perry Hesteness - Southern Idaho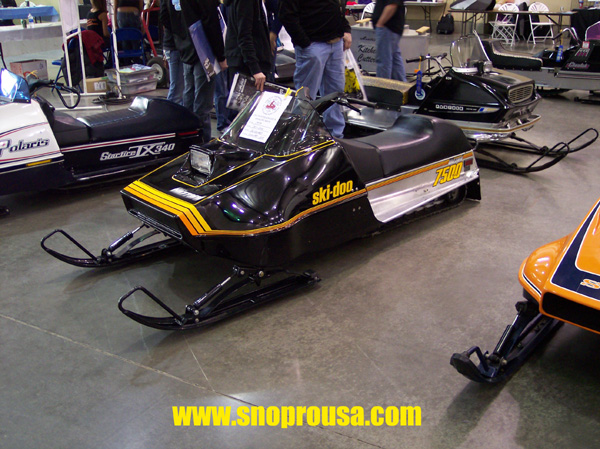 1979 Ski-Doo Blizzard 7500 PLUS - Sno Pro USA
The Ski-Doo advertisement in 1979 said:
"Liquid Cool horsepower with Instant Torque Drive snaps power to the 16.5" wide track."
The engine that dominated the 1979-80 Race Season was introduced
in this sled. This 339.2cc Bombardier Rotax rotary valve, liquid cool engine
won Ski-Doo the World Title at Eagle River on January 20th, 1980.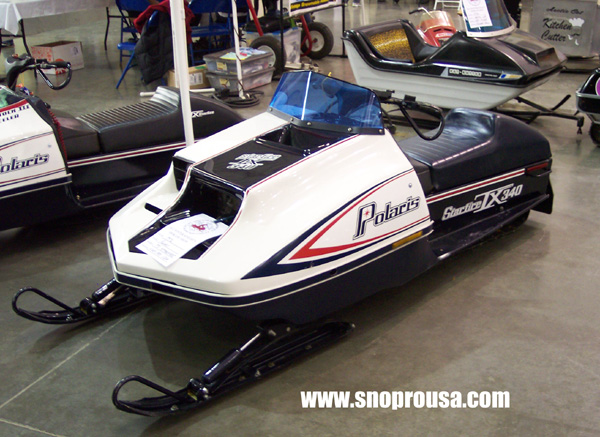 1976 Polaris TX Starfire MOD II - Sno Pro USA
This Polaris TX Starfire 340 has the SLP big bore liquid kit.
The 404cc Liquid Engine was an upgrade for factory riders like Bernat and Omdahl
that were racing for Polaris back in the day when these innovations were new.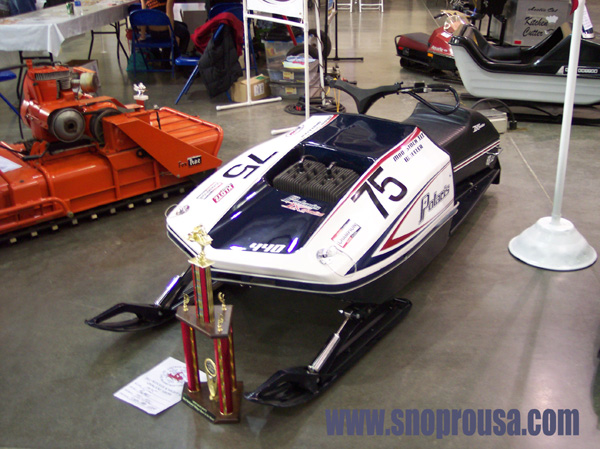 1976 Polaris TX MOD III - Sno Pro USA
This vintage modified race sled features the 1975 Polaris PDC hood and other
Polaris Starfire race parts. The shovel head skis on this sled are identical to the
skis seen in the 1974 Polaris promotional photo that stated in red:
"Get Performance in the First Place!"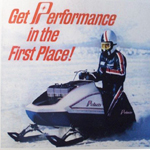 Introduced in 1974, Polaris Factory Racers used this PDC hood type
with matching belly pans or later mounted on stock 1976 TX pans.
In 1975 Jim Bernat won the World Championship "big engine class" at Eagle River
on his Polaris PDC 650 3 cylinder version.
Polaris PDC Sleds were raced in 250cc, 340cc, 440cc & 650cc class.
[Professional Drivers Circuit]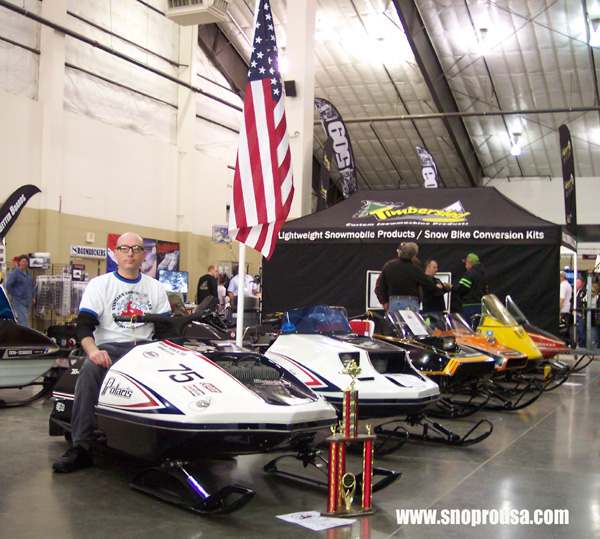 Another Vintage Snowmobile Event comes to an end, but the season
has actually just begun !
Special thanks to:
The Winter Knights - for all of their dedication and perpetuation of the sport.
The oldest snowmobile club in Washington State that makes it possible
to ride sleds on groomed trails in our mountains. Great bunch of folks.
WSVSA President, Perry Hesteness - when it comes to Vintage Sleds
you are "The Dudeman". Thank you for driving 12 hours each way
and making this event special in Spokane for everyone.
SnoPro USA wouldn't be nearly as cool without your interest and support.
Vintage Snowmobiles of the Inland Northwest - Dave, John & Brenda,
The Ruchert Family Jeff & Roger and Jerry .
Your support and friendship is wonderful.
---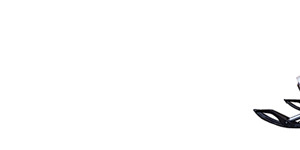 RETURN TO SNO PRO USA's MAIN PAGE
---
all rights reserved 1999 - Sno Pro USA
West Productions, INC