SNO PRO USA Goes To The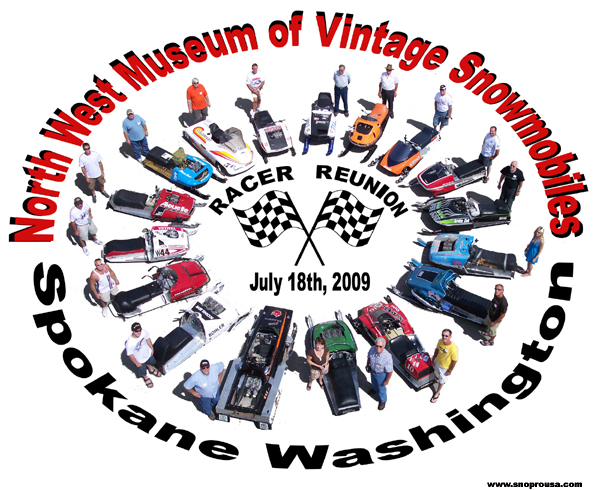 [Click on this image above to view each Vintage Racer's Information]
North West Museum of Vintage Snowmobiles
OPEN HOUSE - RACER REUNION
~ JULY 18th, 2009 ~
Jerry Kienbaum definately knows how to cater a great Open House and Racer Reunion.
Last year Sno Pro USA went to visit the North West Museum of Vintage Snowmobiles
and had a blast talking with Jerry and checking out each sled. This year Jerry and his
wife Janice contacted us with an invitation to this years event, with the thrill of being
80 feet above 17 select vintage race sleds. Jerry's vision was prepared with a precise
chalk circle for these sleds and someone affiliated with it to be photographed.
The excitement was overwhelming looking at each sled and being lost in thoughts
of what a "fistful of throttle" on ice each one is. Spokane Washington was 96 degrees
out on the asphalt in front of the museum and the heat had no effect on the winter passion.
Jerry has over 100 Snowmobiles inside the museum. Another 60-80 Race Sleds arrived
at the show and some of them came with their original riders. Snowmobile Hall of Fame
racer Duane Eck from Idaho, who raced from 1967 to 1988 was present with another
great rider from the Northwest, Meryl Schroeder. Lee Fredrickson, owner Classic
Muscle Sleds traveled all the way from Marine Minnesota to perform Master of
Ceromonies and gave Duane Eck and Meryl Schroeder the mic to share with the rest
of us how they "swapped alot of paint" in the 70's racing with and against each other.
Standing next to Steve Thorsen's Polaris RXL's was a thrill combined with the honor
to photo the late Dorothy Mercer's 1973 Polaris Starfire owned by Jerry Swanson.
Harvey Waldron from Issaquah Washington was there with his Arctic Cat Z that he
won the 1980 World Series on and had some great stories to share with us.
Washinton Pro Racer Jeff Biddiscombe, his sisters Lisa & Shelly were there with some
really great vintage race sleds. Their father, Roger Biddiscombe received a plaque
from Jerry Kienbaum /NWMOVS for his dedication and help over the years.
All the way from the midwest, I was super surprised to shake hands with Larry Preston
from VintageSleds.com! Larry is high octane fuel for all who have Polaris FEVER.
A great 1973-1979 TX / RXL source. Look for his book Star*Fire*Kids !
Dwayne Grant and his son Kelly Grant loaded up 10 Moto Ski Race Sleds, 1 Kohler,
a n d "the" twin track Ski-Doo, then did a two rig caravan from Calgary Alberta Canada
to be at Jerry's Reunion.
Clear Sky, Hot Sun, Bar-B-Que, Home Made Ice Cream churned by a combustion engine,
loads of cool sleds and a bunch of super nice folks. Long live the American Spirit !
---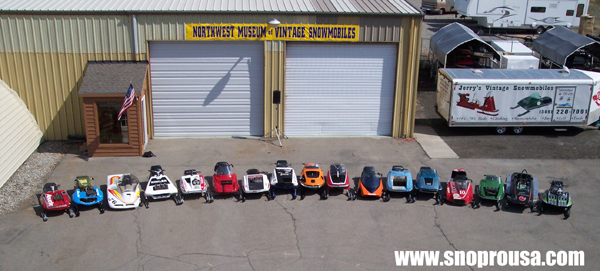 17 Race Sleds Present and Ready to form the 2009 Racers' Circle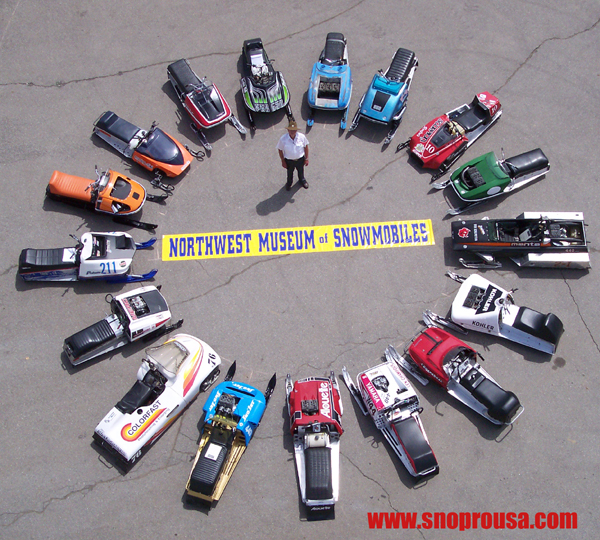 Jerry Kienbaum, Northwest Museum of Vintage Snowmobiles Owner and Curator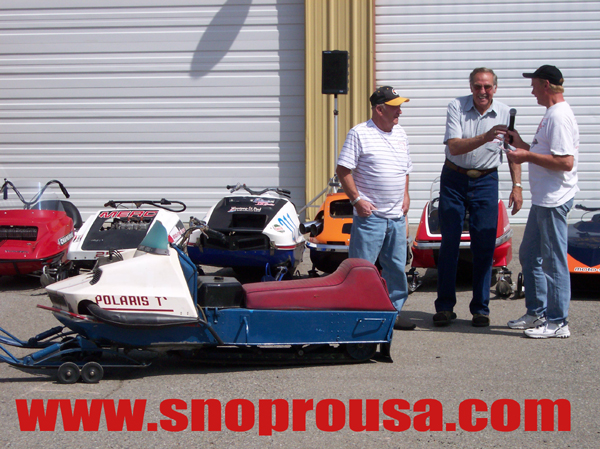 Duane Eck and Meryl Schroeder remembering the Golden Era of Sno Pro
as they share stories with the crowd hosted by
Lee Fredrickson owner of Classic Muscle Sleds in Marine Minnesota.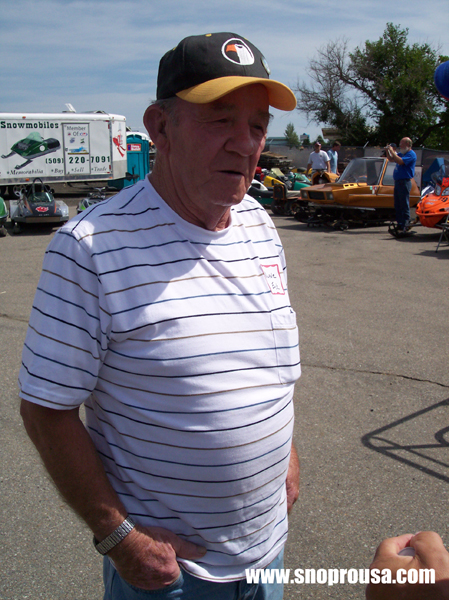 Duane Eck - Raced from 1967-1988.
Snowmobile Race Champion
In 1969 Duane Eck set the World Speed Record in West Yellowstone
on a Ski Doo Double Eagle. He then became a factory racer for Ski Doo.
Duane was innovative and expressed his design talent to Ski Doo and they adopted
his improvements to the machines. Later Duane raced for Polaris, then Arctic Cat.
Duane Eck was inducted into the Snowmobile Hall of Fame January of 1990 at 55 years old.
It was exciting and a pleasure to shake hands with the USA Legend, Duane Eck from Idaho
that I had read about and seen photos of growing up in the 70's.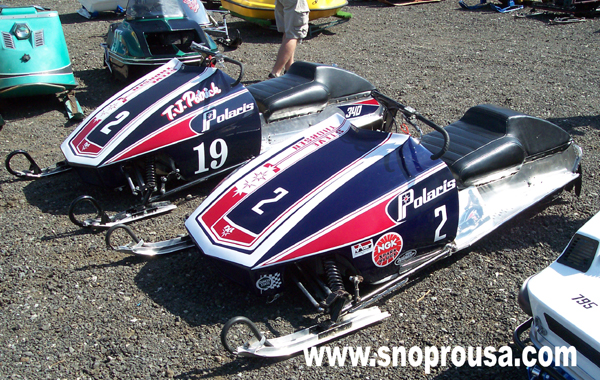 Steve Thorsen's Polaris RXL's - Midnight Blue Express !
Back-to-back World Championships at Eagle River, racing and winning 1977 and 1978
on Polaris sleds he built to match his personal racing philosophy.
Steve Thorsen was one of the original Team Frustration Drivers of the early 70's.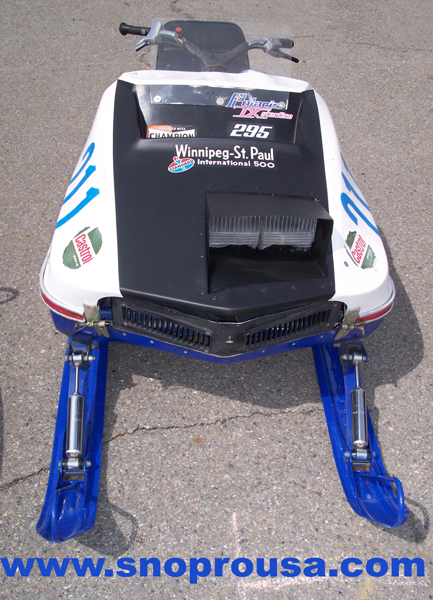 Dorothy Mercer's 1973 Polaris TX Starfire.
[Owned by Jerry Swanson / Hamilton Michigan]
The late Dorothy Mercer raced from 1965-1973.
One of the most competitive women in Snowmobile History and the only
women to race with a Factory Sno Pro Team in the 70's.
Dorothy set the Women's Speed World Record in West Yellowstone, Montana
on the Polaris X2 with a drag strip run at 106.9 MPH.
1972 Dorothy Mercer set a record for women in Cross Country Racing
as she placed 3rd in the intense Winnepeg to St. Paul I-500 Race.
That I-500 record remains unbroken to this day.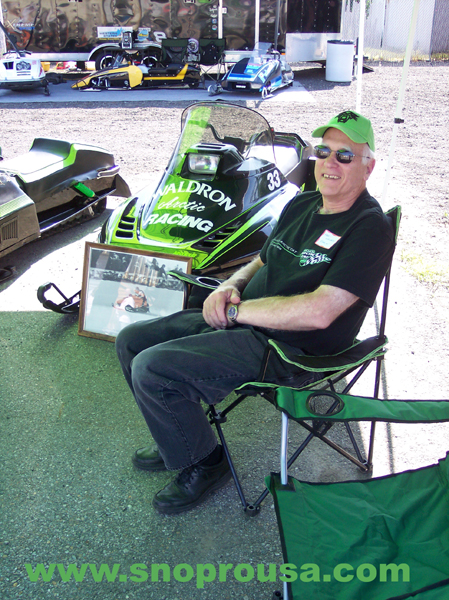 Harvey Waldron - Waldron Arctic Cat has dedicated his life to
snowmobiles and snowmobile racing.
Harvey was a ground up racer that purchased a stock Arctic Cat oval racer
in the 1972-73 season and started racing in the North East circuit.
He then moved out to the North West.
Racing from 1976-1980 Harvey was the Northwest #1 Mod Class Racer.
Focused, maintained and dedicated to winning.
When you ask Harvey what type of sled's he rides without hesitation he smiles,
"Arctic Cat, always have, always will... Green and Black !"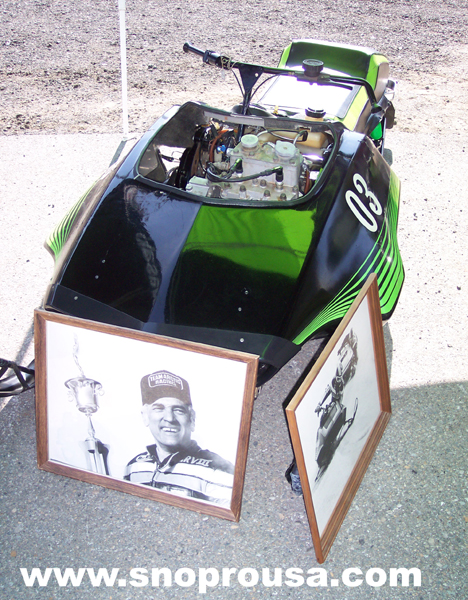 1980 Harvey Waldron was invited to the International World Series and won.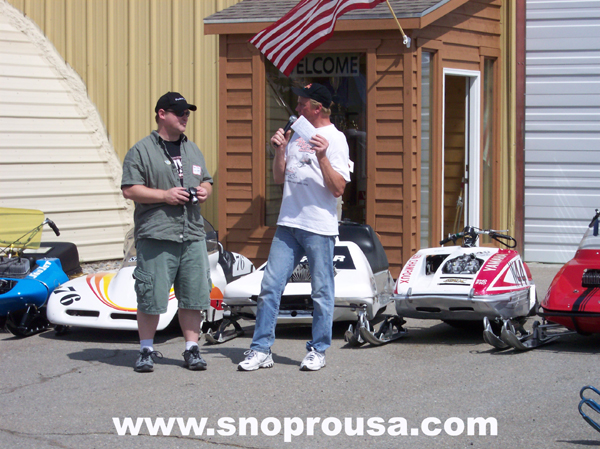 Larry Preston / VintageSleds.Com being introduced by Lee Fredrickson.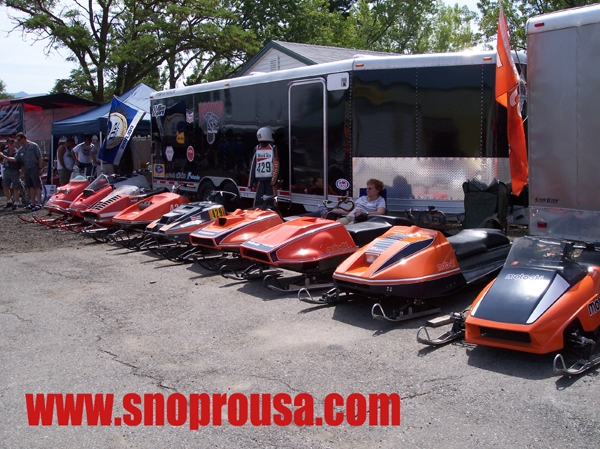 Dwayne Grant and his son Kelly Grant's Moto Ski Collection from Calgary, Alberta Canada.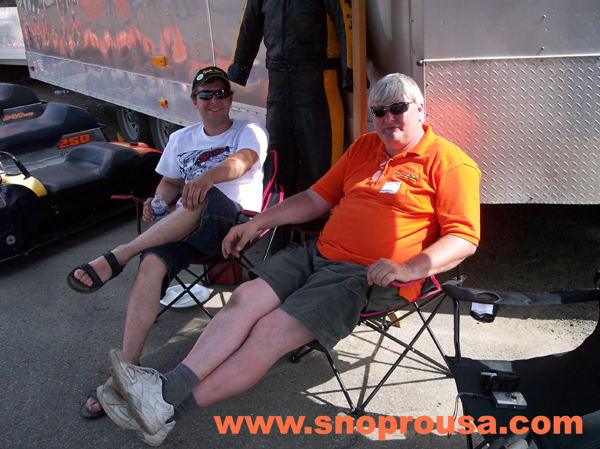 Father-Son / Moto-Ski Collector Mania from Canada. Dwayne Grant raced Moto Ski in the
1970's for Mark Ten Cigarette Team on his #429 Moto Ski. His son Kelley shares his
father's passion for Moto Ski and also works at the Polaris Dealership in Calgary.
Joyful gents to talk sleds with and a great collection of sleds to view.
Thank you for hauling two trailers full of sleds 12 hours from Canada to Spokane !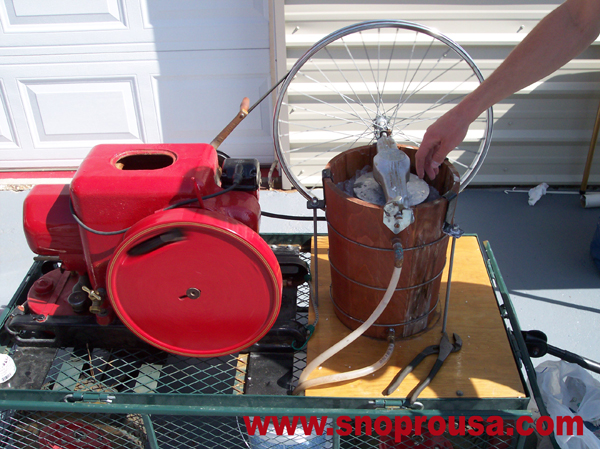 Jerry's Combustion Engine Churned Ice Cream Machine.
Chug - Chug - Chug - Chug from the engine gave the event the essence of being at the State Fair.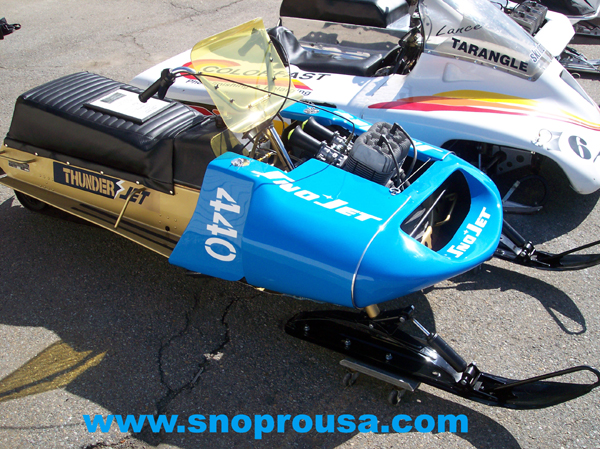 F=ma : Force equals mass times acceleration.
The "Independent" racer's sled of the 70's.
SnoJet put up a 2 million dollar race purse, and paid indy racers every week for proof
of winning on SnoJet's. SnoJet didn't have a factory team, and for that period in
snowmobile racing, they didn't need one. Whenever I see a Thunder Jet "F=ma" is the first
thing on my mind. I remember how loud they were, and they were a guarantee
to be consistant with the hole shot and both skis off the ground.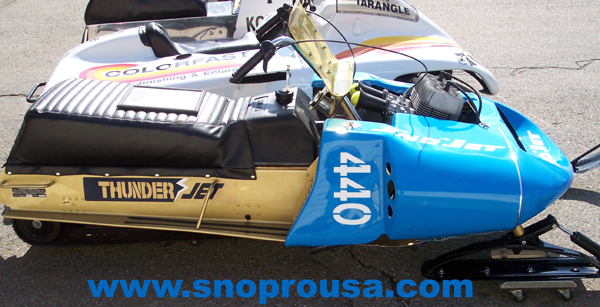 This particular 1972 SnoJet Thunder Jet is owned by Steve Gustin of Lewiston Idaho.
Trophy winner in 1972, and 37 years later deserves many trophy wins for it's
incredible restoration.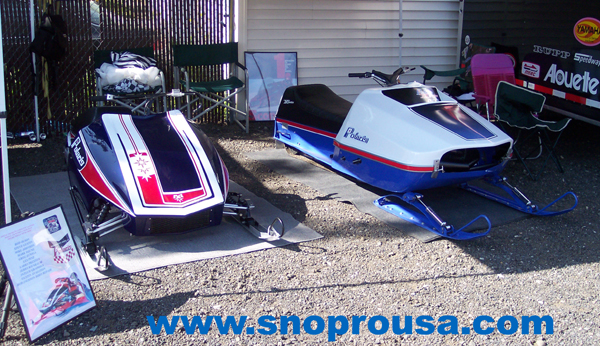 Polaris - Red White and Blue. Beautiful Restorations on these sleds.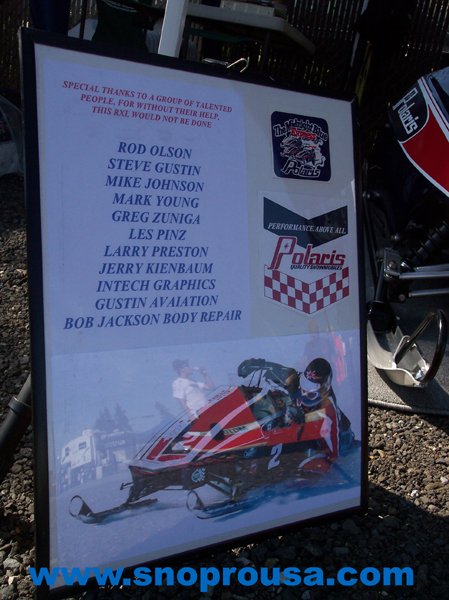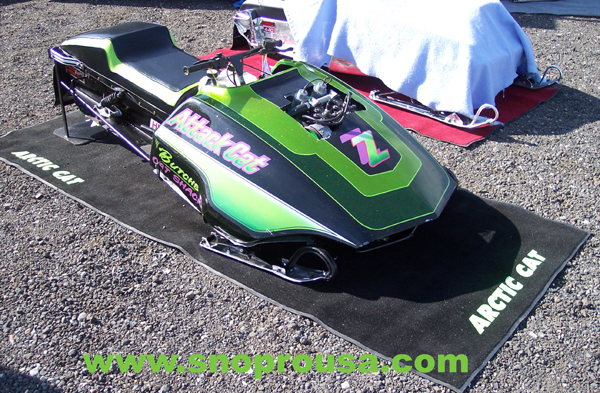 Custom Painted Arctic Cat "Attack Cat". Great looking sled.
Look for the engine shots in the thumbnail gallery.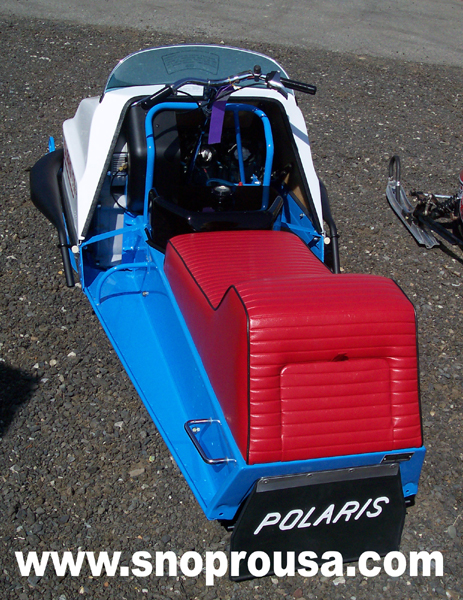 WOW ! Man this sled is so clean and tight. Great sled.
Make sure to check out the photos we have of this machine.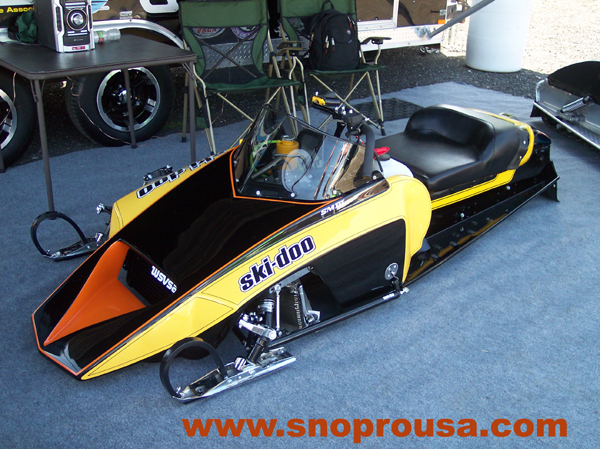 The "Nascar" of Sno Pro. This Ski-Doo SM-III was Virgin !
This tent [Perry and Tony] has serious time/money invested into polishing aluminum and
other innovative restorations and mods to view. True Show Quality Muscle Sleds.
Every sled you will see in the photo gallery by Perry Hesteness has incredible
polish and detail craftsmanship.
Perry Hesteness President of Vintage Snowmobiles of Idaho and WSVSA
IdahoSnowBiz.com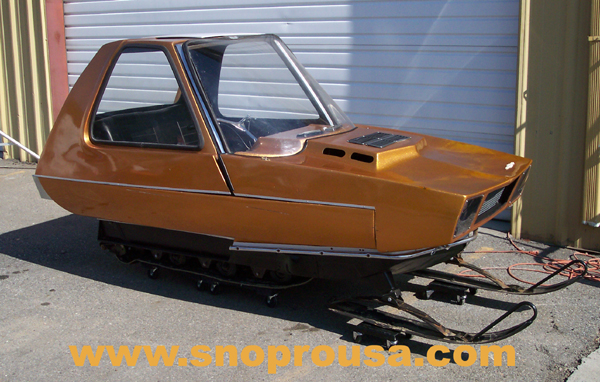 Jerry Kienbaum's 1971 Sno Coupe.
The cab top half slides back and two people can hop in.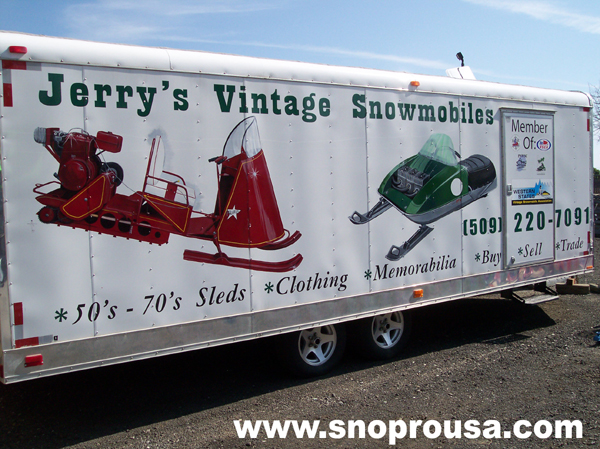 Jerry Kienbaum's Mobile Museum Trailer for bringing a sample of his Museum to your City !
---

Vintage Snowmobile Photo Gallery
North West Museum of Vintage Snowmobiles
Open House & Racer Reunion
July 18th, 2009
[Click on Gallery Image to View Large.]
---
THANK YOU JERRY & JANICE KIENBAUM for the Invitation !
Sno Pro USA

---

Order Racer Reunion Posters and Shirts Direct from Jerry at NWMOVS !
---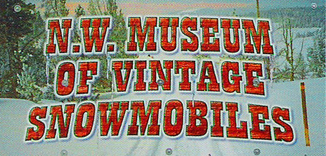 CLICK HERE FOR MUSEUM DETAILS

---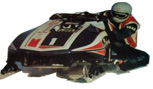 RETURN

all rights reserved - www.snoprousa.com